RocketBody Reviews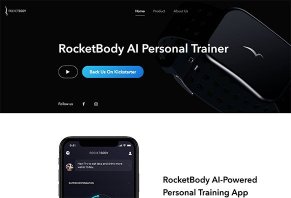 RocketBody is the first system to track your peak supercompensation training periods, and then use a proprietary algorithm to provide personalized insight that can help maximize your fitness.
About RocketBody
Whether you're a runner, bodybuilder, cyclist, or general fitness enthusiast, the RocketBody AI personal training and nutrition system reads your EKG, tracks your metabolic rate, analyzes the data, and then identifies peak training periods known as supercompensation.
It then sends you instructions on what to eat and how hard to work out during these periods, which will optimize your level of fitness and increase your performance.
In fact, the company indicates that you can expect up to 120 percent better results with the system. All you have to do is pair the RocketBand wearable to the companion app, and you're ready to go.
Will RocketBody really help you "learn to speak your body's language," as advertised on their website? We'll help you make a more informed decision, starting with a discussion about the system's foundational concept.
What is Supercompensation?
In his book "Athletic Development," Vernon Gambetta explains that supercompensation involves four basic steps:
Training stress (i.e., running, lifting weights, etc.), which causes fatigue and results in decreased performance.
Recovery, where performance and energy levels will return to baseline. He emphasizes, though, that different physical qualities can have different recovery times. Creatine phosphate, for example, might only take a couple of minutes, while the production of new enzymes could take days.
The supercompensation phase, where the body "is essentially rebounding from the low point of greatest fatigue." This is the peak training period referenced on the RocketBody website.
De-training, which occurs when new training stress is applied (ideally, at the peak of supercompensation), resulting in the process starting all over again.
Together, he explains that this process can provide athletes with increasingly greater performance capacity during each subsequent training period—similar to gradually stepping up a ladder.
While this might sound simple, Vernon emphasizes, "Different physical qualities respond at different rates, so it is misleading to think that there's one generalized supercompensation curve."
As a result, he explains, "The art is designing these curves of adaptation so that they coincide at the proper time. Working out the timing of the various components is possibly the most difficult aspect of planning. It is as much an art as it is a science. The best way to perfect this is with practice."
How does the RocketBody system gather all this data, crunch the numbers, and potentially make it easier for you to better gauge—and take full advantage of—your supercompensation periods?
Taking a Closer Look at How the RocketBody System Works
The RocketBody system is comprised of two main components: the RocketBand wearable and the companion smartphone app.
RocketBody RocketBand
The RocketBand looks a lot like many other smart wearables on the marketplace, with a sleek industrial design, an adjustable and replaceable 18mm band, a magnetic charger, and a curved capacitive touchscreen with an OLED display that's constructed of Gorilla Glass. There are a total of three electrodes; two on the bottom that take wrist readings, and one on the top for finger readings.
Housed inside the aluminum case is a 9-axis accelerometer that tracks movement, an EKG sensor, and a 100mAh battery that's advertised to last up to five days on a single charge (no indication regarding how long the full recharging process takes).
Using these components, RocketBand reads your EKG and measures workout efficiency, nutrition quality, heart rate (and heart rate variability), metabolic rate, sleep quality, and stress level, and then synchronizes the data it collects with the app via Bluetooth (more next).
The wearable can store up to 30 consecutive readings, so you'll have plenty of time before needing to upload the data.
In addition to its identifying-identifying ability, RocketBand also functions as a watch, including the ability to display texts and call alerts, and send vibration notifications.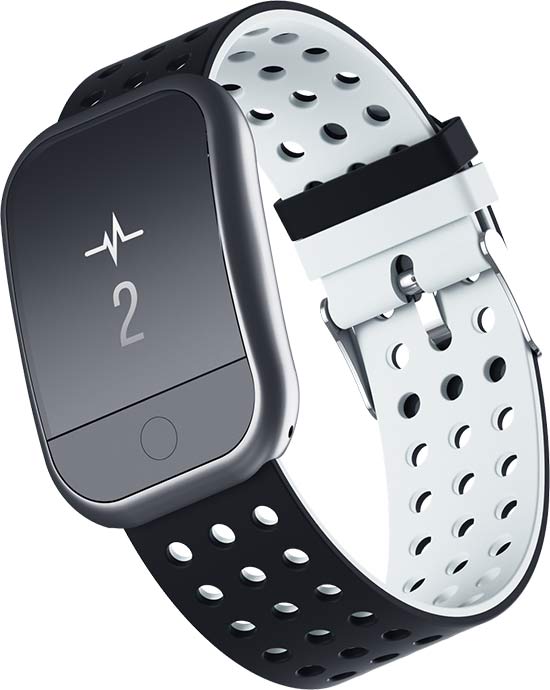 The RocketBand wearable uses three electrodes and a variety of sensors to collect EKG data and send it to the companion app via Bluetooth. Credit: RocketBody, Inc.
RocketBody App
Currently only available for iOS devices (Android support is expected August 2018), RocketBody's app is where all the data collected by RocketBand is translated into actionable advice, using the company's patented algorithms.
This includes:
Defining your body's metabolic rate (i.e., calories spent during workout and calories gained with food) and supercompensation peaks
Analyzing these changes over time and displaying trends as a curve
Personalized workouts based on your fitness goals (e.g., burn fat, build muscle, stay in shape, etc.)
A variety of strength and cardio workouts that can be performed inside and outside of the gym to mix things up
Daily nutrition plans that are unique to your needs and based on your favorite foods, including calorie and macros calculations
Sleep and stress recommendations (coming soon) based on your patterns
The ability to share some wellness data (training details, heart rate, steps taken, weight, sleep) with Apple HealthKit
Daily health tips
RocketBody's smartphone app uses a patented algorithm to create actionable advice based on the data collected by the RocketBand wearable.
How Much Does RocketBody Cost?
The RocketBody system is currently available for pre-order via the company's Kickstarter campaign, with an estimated delivery sometime during October 2018. Pledges range between $99 (Super Early Bird) and $199 (Super Triple Pack).
Kickstarter doesn't offer refunds, although all RocketBody systems will come with a 1-year warranty. To request one, you'll need to send an email to support@gorocketbody.com.
What Do We Know About the Company Behind the RocketBody System?
RocketBody, Inc. was founded in 2015 by CEO Tim Lipsky and is based out of Newark, DE, although their Kickstarter campaign explains that the team is gradually relocating to San Francisco. According to their bio, Tim came up with the idea after suffering a spinal and knee injury and was determined to recover as quickly as possible.
Note: Based on what's shown in a video on their Kickstarter campaign, it appears that only a working prototype of the RocketBand exists at this point. As a result, the screen currently doesn't look anything like the renderings shown on their website.
Also, during this video presentation, it took the prototype 45 seconds to calibrate each time it was put it on, which involved manually holding down the button on the front. Furthermore, it took another 15-20 seconds to pair with the app and transmit its data.
RocketBody vs. Vi: Are There Other AI Personal Trainers?
While you'll find hundreds—potentially even thousands—of different smartwatches, fitness trackers/bands, pedometers, and heart rate monitors from popular manufacturers like Fitbit, Garmin, Jawbone, Apple, and Samsung (to name just a handful), we only encountered one other device during our research advertised as an AI personal trainer: Vi.
Compared to RocketBody's RocketBand, though, Vi is quite different. It monitors heart rate, motion, elevation, proximity, and touch while the wearer is running, using a pair of Harmon Kardon bio-sensing headphones, which have enough battery life for six to eight hours of active use.
Vi also includes real-time coaching and motivation, can adapt your training based on your specific goals, plays music and takes calls, and integrates fitness data from other platforms like Apple HealthKit and Strava. The price is $249.
Bringing this together, the end goal of both of these devices is the same: to help you maximize your fitness.
While their form and functionality is certainly distinct, perhaps the biggest difference between RocketBody and Vi is that the former is intended to track supercompensation, regardless of your sport of choice, whereas Vi only acts as a personal motivation coach specifically for runners. Vi is also meaningfully more expensive.
Bottom line: If you're looking for an AI personal training system that also tracks supercompensation and provides advice based on this data, RocketBody is the only game in town. Does this necessarily mean that you should go ahead and place a preorder?
Our Final Thoughts About RocketBody
As technology advances and each new entry tries to distinguish itself in this increasingly crowded market segment, the lines between traditionally distinct devices like smartwatches, fitness trackers and bands, pedometers, heart rate monitors, and health and wellness trackers are becoming blurred.
Despite the potential complexity this might cause when choosing the 'best' option for you, we've learned after years of writing about new tech and electronics that it largely comes down to two core factors: 1) your budget, and 2) your must-have features.
With this in mind, if one of your must-have features is the ability to measure EKG and translate the data into a measurable supercompensation curve, your only choice is the RocketBody system.
Just keep in mind that pledging money to any crowdfunding campaign is not the same as purchasing a finished product (there aren't any refunds available through Kickstarter, as but one example), and that delays are common.
Also, while the company indicates that RocketBody can be used for many different sports activities, it's not advertised as waterproof, so it appears you're out of luck if you're a swimmer.