RocketLoans Reviews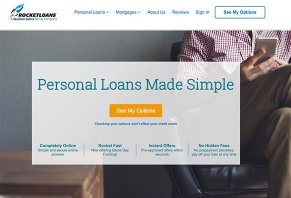 RocketLoans is a personal-loans lender whose loans range in amount from $2,000 to $35,000. Their interest rates are average and origination fees tend to be higher than the competition.
About RocketLoans
RocketLoans is a lender who provides personal loans to borrowers seeking money for a variety of reasons.
Their application process takes place online and, in some situations, loans of up to $25,000 can be funded the same day in which you apply for them.
RocketLoans is a part of the Quicken empire, an empire that also includes RocketMortgage/QuickenLoans, an online platform where you can get a mortgage. Quicken is based in Detroit and is one of the most prominent lenders in the nation, even among brick-and-mortar banks.
As you consider whether or not RocketLoans is right for you, it's important to understand that its services are part of a reputable, well-known parent company. However, just because the lender's parent company is well known doesn't mean that it offers the best options for you.
We've done in-depth research of RocketLoans' personal loans to figure out how much you can get, what your interest rates might be and which factors contribute to your eligibility and your rates.
When we work through the information related to those various topics, will give you a quick snapshot of RocketLoans' fees, talk about how the company's loans compare to other online lenders and review customer feedback about the company.
We'll wrap up with a conclusion that will include general pros and cons, and who we think these loans are good for.
RocketLoans' Personal Loans: What They Are and How to Qualify
Personal loans are typically offered to individuals who have specific reasons for getting a loan. RocketLoans points out that some of the ways you can use your loan are consolidating debt, making a big purchase, doing home improvements, auto/medical expenses, paying off credit cards and a few other motivations.
According to their site, you aren't allowed to use their loans to pay student loans or to use for illegal activity.
Loan amounts range from $2,000 to $35,000 with interest rates of 5.983% to 29.99%. According to a RocketLoans phone rep, the range of APR you get varies by the state you live in.
Your repayment period, however, will always be 36 months or 60 months.
According to their FAQ's section, the company will take multiple factors into account as they determine whether or not you can qualify for one of their loans.
Here is a list of the qualifications we compiled:
Credit score
Monthly income
Existing debt
Basically, RocketLoans wants to get a clear understanding of how much you're making every month, your reliability as a borrower and how much money you already owe to other lenders.
Income is important because it represents the resources you have to pay back your loan. Your credit scores tell them if you're the kind of person who pays on time every month or if you pay late or, even worse, don't pay at all. If any one of those categories is off, there's a chance that they might not approve you for a loan.
If you have credit scores above 680, you have a consistent monthly income source and you don't have much debt, there's a good chance you could be approved. However, nothing is guaranteed.
As for the interest rate you get, RocketLoans says they're going to look at the following factors:
FICO score
Monthly income
DTI Ratio
Number of credit inquiries
Loan term
Your FICO score is a credit score calculated a little differently than the scores you'd get if you sign up for a free credit score website that offers Equifax, TransUnion or Experian scores. Usually, your FICO is higher than those scores.
"DTI" is another factor that you may not know about. This represents your debt-to-income ratio which is, in its simplest form, the total amount of debt payments you have each month in relation to the total amount of income you have.
A higher DTI is worse than a lower DTI because it means that adding another monthly payment may put enough financial strain on you that you might not be able to pay your personal loan back.
We talked with a RocketLoans phone rep about why home ownership is a factor and were told in a roundabout way that it influences DTI but that the information is taken only as part of an overall financial picture.
As far as number of credit inquiries go, the more you have in the past couple of years, the more poorly it reflects on your financial profile because it's an indication you're trying to get more credit to cover your bills and expenses.
The final factor is the length of your loan repayment. A shorter repayment period means higher payments, payments which you may not, in their opinion, be able to make on a consistent basis.
This sums up how RocketLoans determines if you get a loan, how long you'll have to repay that loan and what your APR will be.
RocketLoans' Fees
Whenever you get a loan with this company, you'll pay an origination fee, which refers to a common fee that lenders charge that covers processing your loan, paperwork and other things.
RocketLoan's origination fees range from 1% to 6% of your total loan balance. So, a 3% fee on $10,000 would be $300.
RocketLoans Compared to Other Personal Loan Lenders
There are many lenders out there willing to hand out personal loans to borrowers. The table below highlights RocketLoans and two others that we've reviewed: FreedomPlus and Prosper.
| | | | |
| --- | --- | --- | --- |
| Company | RocketLoans | FreedomPlus | Prosper |
| APR | 5.983%-29.99% | 4.99% - 29.99% | 5.99% - 36% |
| Origination Fee | 1%-6% | 0% - 5% | 0% - 4.95% |
| Repayment Length | 3 years or 5 years | 2-5 Years | 3-5 Years |
| Loan Amount | $2K - $35K | $10K-$35K | $2K - $35K |
Compared to the other lenders on this list, RocketLoans has some strengths and weaknesses. First, the low-end APR is nearly a full percent higher than FreedomPlus. It's a shade lower than Prosper but that's because the APR listed is what you'll get with a discount for making autopay payments each month.
The loan repayment lengths the company offers are more rigid than what you'll get with FreedomPlus and Prosper, however, like Prosper, you get sub-$10K loan options that FreddomPlus doesn't offer.
The final point of comparison is the origination fee, which, as you can see, bottoms out at 0% for FreedomPlus and Prosper. This is a big advantage over RocketLoans but, remember, those 0% fees are usually given to people with excellent credit and/or those who add a co-signer to their loan.
The Final Word: Pros, Cons and Who RocketLoans is Good For
Based on our research, we believe that RocketLoans greatest strength is that it's part of the Quicken umbrella of lending companies, which is a good thing because Quicken is a reputable company and one of the leading lenders in the nation.
However, online lenders are pretty common and, because of that, RocketLoans faces some stiff competition from sites that can offer APR's and origination fees that are better than what they've got. In the brief comparison we did earlier, both FreedomPlus and Prosper offer better origination fees, while FreedomPlus offers better APRs.
In our opinion, you'll be better off narrowing down your choices and getting loans quotes from all three. Obtaining a quote for a loan will show you the APR, loan term and origination fee without doing a hard pull of your credit report and lowering your credit scores.
As for who might enjoy RocketLoans the most, we'd say it's the person who prefers to use lenders who have a good reputation and big market share, two things which Quicken has.