Rocksbox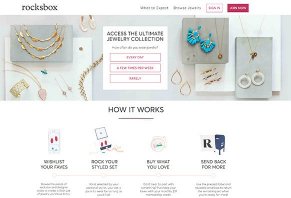 Rocksbox is a jewelry rental service that lets you try out designer jewelry for a flat monthly fee, and purchase the pieces that you love the most.
Rocksbox Reviews - Does Jewelry Rental Make Sense?
If you're interested in experimenting with designer jewelry without committing to paying the cost of each piece, Rocksbox offers an innovative solution. For $21 per month, this jewelry membership service lets you try out three pieces of jewelry at a time and purchase the ones you like.
Rocksbox offers jewelry selections from over 30 designers (including big names like Kate Spade, Kendra Scott, Gorjana, Jenny Bird, Sophie Harper, and Wanderlust + CO). They promise that their collection is constantly evolving. Their jewelry styles tend to be on the trendier side, with delicate, modern looks and bold statement pieces.
Is the company a smart way to try out new pieces, or are you better off purchasing them the standard way? This article will cut out the confusion for you.
How Does Rocksbox Work?
The central premise behind Rocksbox is that members receive shipments of jewelry that matches their tastes to experiment with as frequently as they like, with the option to purchase the pieces they don't want to part with.
To start a Rocksbox membership, you are first asked to fill out a style profile on the site. This lets you specify your jewelry tastes, including whether you prefer gold or silver pieces and what styles of necklaces, bracelets, and earrings you most like to wear.
From there, you can browse the website's extensive jewelry collection and save the pieces you like most in your online "wishlist." The company suggests you keep at least three articles on your wishlist at all times to give them a better sense of your jewelry style.
These selections, along with your style profile, give your personal jewelry assistant inspiration to select three pieces to ship to you. These pieces are yours to keep and wear for as long as you like, so long as you continue paying the monthly fee.
When you're ready to try new pieces, you can return the jewelry to Rocksbox within the included prepaid shipping package, and the company will send you another sample of jewelry soon after they receive it. You can leave feedback for the pieces on your online profile to increase the odds you receive jewelry you love.
You must send back each piece of jewelry to get your next installment unless you are making a purchase. If so, just keep the pieces you love, and the company will charge your card on file for their purchase price, minus the $21 from the monthly membership fee that is applied to the purchase. This is called your "Shine Credit". Each $21 in credit expires at the end of the month before you receive the next one.
Rocksbox also offers ways to purchase jewelry outright without the membership fee through their "new shop'" of unworn jewelry and their "clearance store" of gently used pieces that are priced up to 50 percent off.
How to Change or Cancel Your Rocksbox Membership
According to the company website, it's easy to pause or cancel your Rocksbox membership at any time by logging into your online account or calling the company at 1 (877) 478-0450.
The brand makes it clear you need to cancel before the monthly billing date to avoid getting charged again, and that they need the return tracking information of your last shipment before this date.
Gift memberships will cancel automatically once they expire, though you must return the jewelry within seven days of expiration if you don't want to pay its purchase price.
What Happens with Broken Rocksbox Jewelry?
According to the company FAQ, Rocksbox will cover the cost of normal wear for all jewelry products, like lost earring backs or missing stones.
The company makes it clear that they don't cover excessive damage, as defined on a per-case basis. You can direct any questions to the company at members@rocksbox.com.
For purchased jewelry, the company offers a 180-day warranty, meaning that they will replace damaged pieces within that timeframe.
Customer Reviews of Rocksbox
Should you transition to renting your jewelry instead of buying it? We looked at previous customer reviews of this service on Influenster and My Subscription Addiction to see what the consensus was.
After 84 reviews, Rocksbox averages three stars out of five on Influenster. One thing that stood out to us was that many reviewers were confused about the company's business model and thought they were paying a subscription price to keep each piece they received.
As Rocksbox offers numerous deals online for a free first month of service, it's clear that many customers aren't reading the fine print and don't realize they need to return their jewelry or they will continue getting billed for it.
We also noticed numerous reviews from people who thought that the jewelry was overpriced and that they wished more pieces cost the same amount as their monthly subscription ($21) so that they wouldn't have to pay more to keep them.
Others found it unhygienic that the pieces they received were pre-worn, and a few mentioned finding hairs or signs of wear like tarnishing with their orders.
That being said, we read dozens of glowing reviews from people who loved Rocksbox. Many people wrote that they appreciated that the pieces within every order tended to match and that the company offered attractive referral bonuses for getting other people to try the service.
Those who needed to look business-professional appreciated the membership as an easy way to try new trends without committing. Many people reported that customer service was quick to respond to their concerns.
Overall, it seemed to us that women who loved to switch up their jewelry and understood Rocksbox's membership terms before enrolling had the best luck with this service. Others seemed to feel blindsided by the reoccurring fees or found the company too expensive to commit to for the long term.
Are Their Similar Subscription Jewelry Companies to Rocksbox?
If the idea of a jewelry subscription service intrigues you, the good news is that there are numerous options to consider. We think fans of Rocksbox will also find a lot to like in companies such as Bijoux Box, Penny + Grace, Cate & Chloe, and Emma & Chloe.
Some of the details behind these companies are highlighted below:
| | | | | | |
| --- | --- | --- | --- | --- | --- |
| | Rocksbox | Bijoux Box | Penny + Grace | Cate & Chloe | Emma & Chloe |
| Price Per Month | $21 | $39 (Save with longer subscriptions) | $19.99 | $19.99 (Save with longer subscriptions) | $35 (Save with longer subscriptions) |
| Jewelry Type | Three pieces of modern, trendy pieces from 30+ designers. | Three to four pieces of bold, blingy jewelry. | Three coordinating minimalistic jewelry pieces with a total retail value of $55+. | One piece of jewelry that tends to silver and sparkly, plus a bonus cosmetic product. | One piece of French jewelry that features a new designer each month. |
| Purchase or Rental? | Rental (membership cost will apply to purchases) | Purchase | Purchase | Purchase | Purchase |
| Customer Input on Pieces? | Yes, members can create a style profile and jewelry wishlist. | Customers can specify "no earrings" for unpriced ears, but all other pieces are standardized. | Subscribers specify ring size, earring preferences, and whether they want silver, yellow gold or rose gold pieces. | No | Customers can select between gold and silver pieces and traditional or clip-on earrings. |
The first thing you'll likely notice about this comparison is that Rocksbox is the only company that offers a rental program for subscribers. This means that you will get to keep each piece of jewelry you receive from the other companies at no additional cost, which is either a positive or a negative depending on whether you like the pieces.
Rocksbox's style quiz and wishlist format also mean that it offers the most ways to customize what you receive of the companies we looked at, though there's still no guarantee for specific pieces.
The company also offers the widest variety of brands to choose from, which potentially makes it a good deal for those who like turnover with their jewelry but know what styles they're looking for.
Looked at the other way, while your membership fee can be applied towards jewelry purchases, there's still a good chance you'll pay more for each piece than subscribing to the other companies we've mentioned here.
To reiterate, Rocksbox offers an alternative option for trying out designer jewelry before committing to buying it. If you prefer to keep what you receive each month – and love the surprise factor -- a more traditional subscription company might be a better fit.
Our View: Should You Subscribe to Rocksbox?
To summarize the points we've made here, Rocksbox is a jewelry rental service that lets you try and wear as many pieces as you'd like for a flat $21 per month. You can keep each piece for as long as you want, and the company lets you put your membership fee towards purchases each month.
We think Rocksbox offers an innovative way for you to experiment with jewelry trends. The company lets you share your style preferences, preferred pieces, and feedback from past orders with them so that they will help you receive the pieces you love.
The majority of negative reviews we saw online came from people who didn't understand the rental aspect of Rocksbox's business model, or who found it unhygienic to wear used jewelry. If you share these concerns, there are other subscription jewelry services to consider instead that will let you keep every piece you receive.
We think Rocksbox makes the most sense for people who need to look professional and on-trend, and who don't want to commit to buying every piece of designer they like to wear. For that demographic, this company fills a niche like no other.
If you're on the fence about trying Rocksbox, we suggest looking for first-month discounts online and taking special care of the pieces you receive in case you decide to return them. The last thing you'll want to deal with is paying the purchase price for jewelry you lost.