Rodent Sheriff Reviews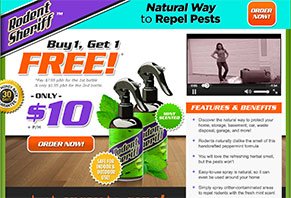 Rodent Sheriff's peppermint formula claims to naturally help you repel pests like raccoons, mice, ants, and many other insects, without harmful side effects.
About Rodent Sheriff
You want to keep critters out of your home, but you also don't want to resort to dangerous chemicals or inhumane traps. Rodent Sheriff promises to provide a solution with their natural, peppermint-based liquid repellent that's safe for indoor and outdoor use.
Simply spray Rodent Sheriff around the trash, garage, basement, attic, entry points around your house, and just about anywhere else, and its handcrafted formula will keep mice, roaches, raccoons, and other rodents away. Each bottle of Rodent Sheriff is made in the USA, tested by an independent lab, and contains enough liquid for 1,000 sprays.
Did you have any idea that some pests hate the smell of peppermint? We sure didn't! But does this neat fact mean that Rodent Sheriff is a good value? That's exactly what we'll explore in this review.
The Link Between Peppermint & Pests
It's not quite clear in all instances why peppermint repels many common pests so well, but the fact of the matter is that it works, whether as a spray, crushed and scattered about, or as an entire plant. This includes insects like mosquitoes, fleas, aphids, some beetles, ants, and more. Not only will peppermint keep these little boogers at bay, but it can actually kill them if they crawl over areas soon after spraying.
Peppermint is also commonly used to repel rodents like mice (apparently, the overwhelming smell confuses their senses). Raccoons also hate the smell.
Are there any downsides to using a peppermint-based repellent?
Are Peppermint Sprays Like Rodent Sheriff Safe For Pets?
Although peppermint oil is generally safe for humans, because many furry pests find its smell to be repulsive, you might be wondering if the same holds true for your furry four-legged friends.
Briefly searching online, you'll find there are some who swear by peppermint's ability to keep their pets flea-free all year round. On the other hand, many claim that peppermint oil may induce aspiration pneumonia in cats, although it seems to be mostly safe for dogs.
In either case, just like humans, some dogs and cats may be especially sensitive to certain substances like peppermint, so be sure to speak with your veterinarian before using it to repel pests.
Are peppermint sprays like Rodent Sheriff expensive?
How Much Does Rodent Sheriff Cost?
When it comes time to buy Rodent Sheriff, you'll have two purchasing options:
1 Bottle (8oz): $10 plus $7.95 S&H
4 Bottles: $30 plus $7.95 S&H
Regardless of which option you choose, can also purchase 1 "free" bottle at checkout for $1.95 S&H
All Rodent Sheriff orders come with a 30-day money back guarantee, less S&H charges. Important note: By the time you ship Rodent Sheriff back to the company, you could lose well over $10 in S&H charges, which could be considered a decent chunk of change.
In order to request a refund, customer service can be reached at 866-881-1975.
We also found Rodent Sheriff for sale at a local Walmart for $9.98, which can save you S&H charges, as well as make the refund process easier if you're dissatisfied. But in reality, you might not need to purchase a peppermint spray in the first place.
Why? Keep reading to find out…
Can You Make a Peppermint Spray Similar to Rodent Sheriff?
Peppermint sprays like Rodent Sheriff are extraordinarily common, which you can quickly see by searching for them online. The problem is that most of these are priced somewhere around the $10 mark, but can probably be formulated in the comfort of your own home for much less.
Don't believe us? Type the phrase "DIY peppermint spray" or "homemade peppermint spray" into your favorite search engine, and you'll find dozens of different formulations. However, they're all similar in that they can be made in minutes using ingredients that might only cost you a few pennies.
Perhaps best of all, when you run out, you can simply whip up a new batch instead of getting in your car (or ordering online) and paying a premium.
Granted, your formulations might not feature the "invisible natural time released gateway" found in Rodent Sheriff, but if we're being honest, this doesn't sound like much more than marketing hype. At the very least, the company doesn't provide any information about this, or how it's different than anything else on the market.
Finally, these formulations won't be "tested by an independent lab" like Rodent Sheriff—but again, we're not told what Rodent Sheriff is tested for, or how this is meaningfully different than the competition or what you can create on your own.
Will Rodent Sheriff Help You Lay Down the Law?
When it comes down to it, we have little doubt that Rodent Sheriff could help you keep away unwanted pests like mosquitoes, fleas, aphids, some beetles, ants, mice, raccoons, and more.
In this case though, we think it's less a question of effectiveness than it is one of value. In other words, considering that you could formulate something very similar to Rodent Sheriff for a couple bucks or less in your kitchen, some might think it's difficult to justify the higher price and extra effort (e.g. ordering online or driving to the store) associated with a pre-made peppermint spray like Rodent Sheriff.
If you decide to place your order, the good news is that Rodent Sheriff comes with a 30-day refund policy. However, you'll probably end up losing more in S&H charges than you'll receive as a refund, so only you can decide if it's worth rolling the dice.
Before you go: Talk about your experience with Rodent Sheriff by writing a review below!
39 out 41 people found this review helpful

Don't buy

Rodent Sheriff is no good. I sprayed and sprayed, but all it did was choke me with the strong scent, but the mice ignored it. It did not help at all. A total waste of money, unless you like to choke of off a peppermint scent, which only last about 15-30 minutes, then nothing.

Bottom Line: No, I would not recommend this to a friend

---

38 out 40 people found this review helpful

Blah

By Mary Q.

,

Pittsburgh, PA

,

Mar 16, 2017
Verified Reviewer

I moved into an apartment complex for a temporary duty station. I wanted to avoid the roach issues that plague most apartments. This did not work and made my cat sick. It cost me $10 for the bottle and $856 for the vet bill and medication.

Bottom Line: No, I would not recommend this to a friend

---

Advertisement

---

38 out 39 people found this review helpful

I'm very disappointed

New York City, NY

,

Mar 25, 2017
Verified Reviewer

First of all, I was on the phone trying to order the product and I changed my mind on the order because it was asking too many questions, so I hung the phone up after putting my Visa card information in over the phone.

Then some days later I see where they took the money out of my account ($20.79) and I never actually finished with the complete transaction of paying for the items. Then on top of that, when I got the products, the peppermint spray doesn't even work; it seems like it attracts them to it more.

So I'm very disappointed, and I would like all my money back, plus the shipping and handling because I didn't authorize the transaction in the first place. The nerve of them.

Bottom Line: No, I would not recommend this to a friend

---

35 out 43 people found this review helpful

Trying to get a refund.

I ordered Rodent Sheriff, and less than 24 hours later I changed my mind. I called them to cancel but was told it was too late because the order was already being processed.

I received the package but did not open it. I called Rodent Sheriff for a return number to put on the package.

Rodent Sheriff received the product back already, but it's been two weeks and I am getting the run around concerning my refund.

Bottom Line: No, I would not recommend this to a friend

---

Advertisement

---

29 out 33 people found this review helpful

Unhappy

I bought this product after seeing it on TV. I immediately called and bought the product after it was showing that it also repels against ants, which I have a problem with in my home.

After receiving the shipment, I automatically started using it. I deep cleaned my kitchen then sprayed the product in every crook and cranny I could see them coming from. But come the next morning, they were right back. Thinking that I may have applied it wrong, I made another attempt, and another, and another.

So, needless to say, at this moment I am a very unhappy customer. The one thing I like the most about this product is the fresh minty smell. But, we both know I didn't just buy it for the smell. Sending it back would just be a hassle for me, so I'm choosing to keep it, but if I'm asked about the product by any of my friends (on social media or in the real world) how I like it, I'll have to honestly say "It works if you're trying to deodorize your home but not for repelling rodents."

Sorry for giving such a negative review. I was really looking forward to being amazed at how quick the Rodent Sheriff actually worked, but was completely disappointed with its results. God bless.

Bottom Line: No, I would not recommend this to a friend

---

25 out 27 people found this review helpful

Save your money

By Barbara

,

Jamaica, NY

,

Apr 25, 2017
Verified Reviewer

I sprayed my mother's kitchen because of ants. The next day the ants were worse than they were when I sprayed. Save your money; this product is useless.

Bottom Line: No, I would not recommend this to a friend

---

24 out 37 people found this review helpful

There's a new Sheriff in town.

By Starr

,

Ladonia, Texas

,

Jan 12, 2017
Verified Reviewer

It's hard to believe, but this spray bottle is small, but it does a SUPERB job. It really runs rodents away. Thanks!

Bottom Line: Yes, I would recommend this to a friend

---

24 out 25 people found this review helpful

Doesn't work

By Jodie Radel

,

Monument, CO

,

Apr 19, 2017
Verified Reviewer

I was excited to get my Rodent Sheriff order and when it arrived, I sprayed my garage where I keep my dog food. I sprayed all the way around the food and entry way and set a test of four pieces of dog kibble next to the container. Next morning I ran to the garage and opened the door and not only was the food gone, they actually pooped on my door threshold, which was also sprayed.

Very disappointed and will return the product.

Bottom Line: No, I would not recommend this to a friend

---

20 out 27 people found this review helpful

Rodent Sheriff

I had trouble keeping mice out of my shop where I keep my travel trailer. I sprayed Rodent Sheriff around the inside edges of the building and so two months later, haven't seen any mice. Also, to make sure that Rodent Sheriff was working, I placed sticky traps around the trailer and still haven't seen any mice or bugs of any kind. Works great!

Bottom Line: Yes, I would recommend this to a friend

---

19 out 22 people found this review helpful

Don't waste your money

I purchased this product from Walmart, and it is one of the worst purchases I have ever made. Not only does it not work, but I swear the mice threw a party. They did not seem to mind, in fact, they were braver just going back and forth through the area that was treated. I purchased two bottles in hopes that it would work. I treated everything from entry ways to counter tops and nooks and crevices. It does NOT work as advertised!

Bottom Line: No, I would not recommend this to a friend

---

18 out 20 people found this review helpful

Don't waste your money

By Neet

,

California

,

Sep 25, 2017
Verified Reviewer

It only smells of peppermint maybe a day or two. I used it on counters on the mop and even sprayed doorways. I still see mice which I trapped on the sticky traps, so I would recommend making the peppermint spray if that's what you prefer; it's much cheaper because you will need to use it daily.

Bottom Line: No, I would not recommend this to a friend

---