Roofstock Reviews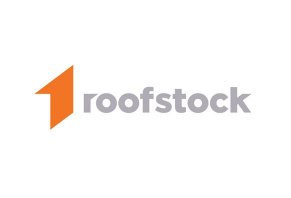 Roofstock is a turnkey rental property investment marketplace where you can buy investment rental properties or sell your rental property to buyers. Single homes and portfolios of multiple homes are available.
What Is Roofstock?
Roofstock is an investment site in which the "stock" is rental homes that you can buy individually or as a portfolio of multiple rental homes.
The company works with a network of property management companies to ensure that your rentals are taken care of. They also connect you with their financing and insurance partners to give you an end-to-end purchasing process that sets you up for earning rental income as soon as possible.
The company started under the leadership of four founders: Gary Beasley (CEO), Gregor Watson (Chairman) and Rich Ford (CDO) and Devin Wade, who is no longer with the company.
The beauty of the model, according to an Oct. 2017 article from TechCrunch, is that the houses can be bought and sold without ever having to make renters leave the home. They keep on renting while the home's owners change.
Is Roofstock the right choice for you? How does the process work? What do experts say about investing in rental properties?
These are the questions we will answer in this review as we do an analysis of the following topics related to Roofstock:
How the buying process works
The 30-day guarantee
What the fees are
What the experts say about the company
At the end of our review, we'll talk a little bit about the site's pros and cons as well as who we think it's good for.
Pro tip: At the time of publishing, Roofstock's listings were sourced only from the following states: Alabama, Arizona, California, Florida, Georgia, Illinois, Indiana, Michigan, North Carolina, Nevada, Ohio, Tennessee and Texas.
How the Buying Process Works
The two most important questions you should ask when considering a service like Roofstock are how the site picks its houses and prices and how the purchase process work.
According to Roofstock Directory of Client Advisory Services Zach Evanish, the company has a team of data scientists who identify areas and homes that present good value and the potential to increase in price over the coming years. It's important to know that Roofstock doesn't own the homes they list – they're a marketplace who connects sellers to buyers.
"Our marketplace has a variety of sellers, ranging from institutional all the way down to individual mom-and-pop homeowners," Evanish said. "Regardless of who the seller is, we vet the property, lease and tenant by the same criteria, and we are very discerning about the properties listed on our marketplace."
Once they select a home to be a part of their marketplace, investors can go to the site and check out the home.
Roofstock provides the investor with various tools they can use to assess the value of the home, identify potential problems and get clear data on the rent that's being charged and the payment history of the current tenants.
The full suite of data tools, including 3D tours of the home and inspection reports, are reserved for Roofstock Certified homes, and not every home has this certification.
The ads also have modules that estimate the return you'll get on your investment over time.
Our Observations of a Roofstock Listing
We did a quick overview of a listing available on Roofstock; it's a nice perk that they let you view the listing and give all the tools a test run without creating an account. The home we looked at was a 3 BD, 1 BA home in Euclid, Ohio.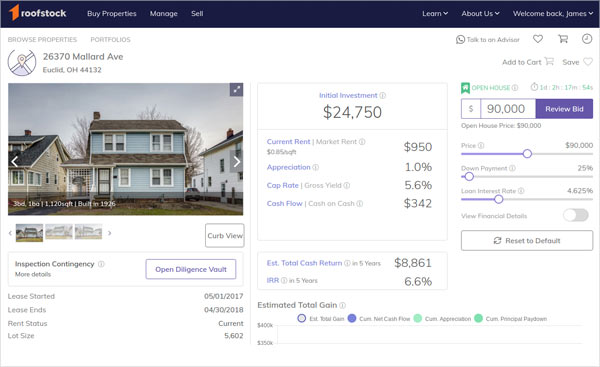 The page showed an initial investment $24,750, which represents down payment and closing costs, and, if required, the cost of repairs that need to be done.
Keep in mind that this isn't the listing price, which is posted next to the initial investment amount.
What was missing from this page were documents related to any past inspections. This led us to find that some homes are "Inspection Contingent," which means Roofstock will order an inspection of the home during closing.
Other homes are "Roofstock Certified" which means, in part, that Roofstock has done an inspection on the home. There is also a 30-day guarantee on these homes, which we'll talk about in a few minutes.
Since our Ohio property didn't have an inspection report, we checked out a home in Indiana that did. The report we saw covered 12 different areas including roof, heating/central air, electrical and plumbing.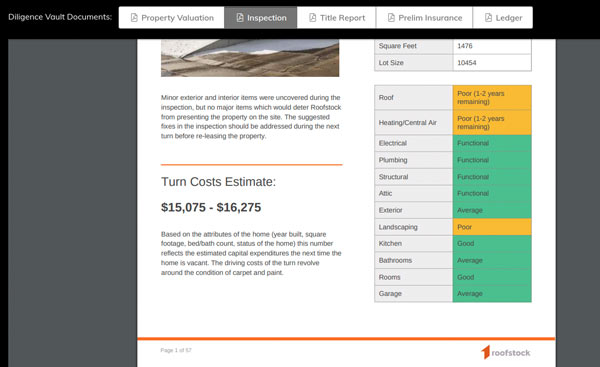 The report gives each area a color-coded grade, with green indicating functional, average, or good, and yellow indicating poor.
In the case of the Indiana home, the report noted that the roof and heating/central air were in poor condition and had 1-2 years remaining before replacement. The report estimated those replacement costs to be between $15,075 and $16,275.
Basically, all of this data is meant to equip you to make the best decision you can about the home.
Based on our research, we believe it's vitally important for you to do your research ahead of time before buying a home on this site. If you're at all worried about the condition of the home, then we suggest sticking with listings that are Roofstock Certified because the home inspection has already been done.
You can wait to have the inspection done, but, at that point, you've already accepted the listed price and have entered escrow. If you aren't averse to risk, then getting the inspection after you've agreed to a price probably isn't as big of a deal to you.
When you're ready to buy, you can either accept the price listed on the site or you can offer a lower price.
If your price is accepted, Roofstock says cash purchases take an average of 15 days to close and financed purchases take about 30 days.
A Quick Word About Portfolios
Roofstock also offers its users portfolios of multiple rentals. You'll typically have to pick multiple rentals in order to invest in the portfolio.
You can click on any of the rentals in the portfolio and access the same information you'd get for a non-portfolio purchase.
Financing a Purchase With Roofstock
It's important to remember that these homes are investments, not houses you buy so you can live in them. Because of that, the mortgage you'll need to get isn't the same as a mortgage you'd get if you were buying a home you're going to live in.
According to a Roofstock phone rep, at least a 20% down payment is typical for the home you want to buy. Also, interest rates will most likely be higher.
Both of these aspects of investment property mortgages indicate that lenders consider investment properties higher risk, which is why they want more money up front and higher interest payments over time.
Roofstocks' 30-Day Guarantee
The company's website says that every Roofstock Certified property comes with a 30-day guarantee. If you aren't happy with the home, you have 30 days from closing to request a refund.
To provide a refund, they guarantee they'll sell the home within 90 days of taking it back or they'll buy it themselves.
The guarantee only applies if your investment meets specific requirements:
No major changes to the property since closing
You have to pay all taxes and fees during the 90-day period they give themselves to sell the home
You have to maintain the home during the 90 days
Now, keep in mind that you'll lose out on your closing costs and your buyer's fee if you return a home, a fact that we confirmed with Roofstock.
The money you get back is money that you paid directly for the cost of the home, not toward closing costs or fees.
Roofstock Fees
The site charges sellers a 2.5% fee or $500 (whichever is greater) and buyers pay a 0.5% fee or $500, whichever is greater.
Reviews About Roofstock
The investing sites we looked through to get a sense of how investment pros view Roofstock were all positive, noting that Roofstock makes a typically cumbersome process easy.
Based on what we've read via these sites, we believe that there's a good chance you'll be happy with the service and value you receive from the site.
Pros and Cons
Based on our research of this company, we believe the advantages are clear. Buyers can have access to rental properties in other states that present good opportunities for return-on-investment.
The information the company provides about each property is, in the case of Roofstock Certified properties, a top-to-bottom experience that equips you to make a sound decision about the home you want to buy, whether it's a one-off investment or multiple homes in a portfolio.
The downside to using Roofstock is that they aren't available in all areas of the country right now, although that may not deter some buyers. The other part of it, of course, is that you never actually get to set foot in the home if you're buying from the other side of the country.
There's a lot of trust that goes into the transaction, which is something that not every buyer may be comfortable with.
In our opinion, Roofstock is a good fit for real estate investors who specifically want to invest in rental properties in which renters already reside. It's also a good fit if you want a site that can provide you with financing, insurance, inspections and appraisals via their preferred list of partners.