Rosland Capital Reviews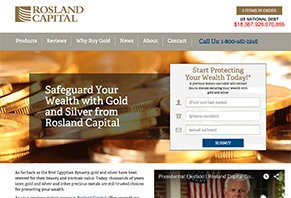 Rosland Capital promises to help diversify your portfolio with gold, silver, and palladium numismatic coins and bullion, as well as precious metals-backed IRAs.
About Rosland Capital
Whether this is your first time investing or you're a seasoned pro, Rosland Capital is a precious metals asset firm that promises to help you plan for the future. How?
By helping you safeguard your financial assets with gold, silver, and other precious metals, as well as through precious metals-backed IRAs.
On top of this, Rosland Capital claims to offer high-quality customer service and provide helpful information about adding precious metals to your portfolio, regardless of whether you're ready to buy or are just looking for some details.
But is investing in gold or other precious metals a wise decision? Can it really help you "protect your retirement and wealth"? And if so, is Rosland Capital necessarily the right company to help?
You've got a lot of questions about Rosland Capital, and HighYa's here to help you find some answers. First, is investing in gold and other precious metals considered wise?
Is It Wise to Invest in Precious Metals?
According to Rosland Capital, "Through market crises and economic downturns, gold has stood the test of time as a reliable store of wealth, especially in unstable times."
They go on to note that you should, "Protect your hard-earned savings, no matter the state of world affairs, by including a gold-backed IRA in your portfolio."
Does either of these statements match reality?
While this is a vast subject, most financial professionals will tell you that your portfolio needs to be diversified, and one way to accomplish this is by purchasing gold and other precious metals.
On the up side, commodities like precious metals always have some inherent value, since they're tangible goods. This is in contrast to stocks, which are essentially just pieces of paper that have been assigned a value.
As a result, even if the stock market were to crash tomorrow, one of the most attractive features about precious metals is that you'll still have something of value in your portfolio.
However, like any other type of investment, this doesn't mean that the price of precious metals won't swing wildly, based on factors you have no control over, such as general economic volatility, the current political climate, and even the state of the stock market.
Also, like any other type of investment, you stand to make the most money with gold when you purchase low and sell high. But despite what many companies might like you to believe, gold doesn't always increase in price.
In fact, as the US experienced after 1980, the price of gold can experience sharp run-ups, followed by decades of lackluster performance.
More recently, we saw this very same thing happen when the price of gold peaked at $1,900 per ounce in 2011, which has since steadily declined to a current price of about $1,230 per ounce (as of 11/11/16).
What's the point? While there are some obvious advantages to diversifying your portfolio with gold and other precious metals, it's anything but a sure bet that you'll make money over the short- or- long-term.
In the end, successful investing depends on your level of knowledge (we'll come back around to this in the final section).
How Can Rosland Capital Help You Invest in Precious Metals?
Rosland Capital focuses primarily on helping you purchase physical gold, silver, and palladium numismatic coins, as well as bullion bars. The company can also help with precious metals-backed IRAs.
Let's quickly take a closer look at each of these options.
Numismatic Coins vs. Bullion
What's a numismatic coin? Compared to standard bullion, which is produced on a year-to-year basis, numismatic coins are no longer being manufactured, and as a result, are considered collector's items.
Compared to bullion, which is priced at market value (depending on the metals it contains), numismatic coins can be priced much higher than their face value. On one hand, this is good news for the investor, but on the other, the value can swing wildly based on what someone's willing to pay, versus where the current market price is set.
In short, numismatic coins are collector's items and don't necessarily have a bottom-line value, like bullion.
Physical Gold vs. Gold-Based ETFs
When investing in gold, for example, you'll typically have one of two options: 1) purchase the physical gold and store it wherever you'd like (as with Rosland Capital), or 2) through a gold-based ETF. What's the difference?
Ultimately, you're investing in the same thing, but purchasing gold-based ETFs is as easy as buying a mutual fund. Essentially, this is a piece of paper that states you own a certain amount of gold, which can make it easier to liquidate if the time comes.
On the other hand, purchasing physical gold is a more involved process, since you'll have to make sure you're purchasing from a reputable source and that your gold is tested for purity. Then, you'll be required to store your gold in a secure location and pay insurance on it, which can meaningfully increase your costs.
Sure, ETF gold can come with transition costs (e.g. expense ratios, broker commissions, etc.), although this is usually less than the purchase, storage, and insurance costs of physical gold.
Given all of this, it's easy to see why businesses like Rosland Capital are so popular. But you probably already noticed that there are dozens of precious metals companies out there, most of whom offer very similar (if not identical) services.
How does Rosland Capital compare from a customer satisfaction standpoint?
Rosland Capital's Online Investor Reputation
We've reviewed several of the most popular precious metals companies here at HighYa, including Lear Capital, Merit Gold, and Regal Assets, and Rosland Capital claims that all of their orders ship in 14 days or less.
Is this what their customers are saying?
TrustLink.org
Based on 64 Rosland Capital customer reviews on TrustLink.org, the company had an average rating of 4 stars (as of 11/11/16).
Most of these appeared to reference specific Rosland Capital representatives, and common complaints centered around rude customer service, no response to information requests, receiving different coins than what were ordered, and high spread fees (one customer noted 33%).
ComplaintsList & Reach150
There were also 8 customer reviews (along with dozens of comments from additional customers) for Rosland Capital listed on ComplaintsList.
Many complaints referenced misrepresentations by sales staff (bait-and-switch, quoting higher values than reality, etc.), less-than-stellar customer service, long waits for refunds or cashing out accounts, and high-pressure sales tactics.
On Reach150.com, we also found 480+ individual recommendations for different members of the Rosland Capital team.
Better Business Bureau Feedback
Rosland Capital was founded in 2005 by Marin Aleksov, and had an A+ Better Business Bureau rating at the time of our research, based on 22 closed complaints.
Common complaints referenced being overcharged for coins, inflated prices over market value (sometimes as much as 65%), long delays in receiving coins (or money for selling coins to the company), and not receiving the coins they ordered.
In each of these instances, the company seemed to respond quickly in an effort to rectify the situation.
Where does all of this leave you?
Is Rosland Capital the Right Precious Metals Company for You?
Rosland Capital has been in business for more than a decade, and overall, seems to have a mostly positive online customer reputation.
And based on their website, they also seem focused on providing prospective investors with as much information as possible, including speaking with a live representative, before they hand over their hard-earned money.
However, this doesn't mean that investing in precious metals—whether through Rosland Capital or another company—is right for you. In order to figure this out, it's up to you to speak with your financial planner and to learn as much about gold and other precious metals as possible.
Don't get their gold IRA

By Ronald T.

,

Snowflake, AZ

,

Mar 30, 2020
Verified Reviewer

These guys recorded our conversation while they told me that my investment may lose value. Then they sold me gold coins for about 145% of their market value. Then later after I figure out that I've been had, and go to cash out, I get market value for the coins and I lost $27,000.00. They were telling the truth about losing value. I complained to the Arizona Corporation Commission and they ignored me.

Bottom Line: No, I would not recommend this to a friend

---

Concerned!

By Janice N.

,

Cedar Rapids, IA

,

Oct 14, 2019
Verified Reviewer

We have been trying to contact Rosland Capital for over 2 months now. My husband's grandmother passed away and she invested a lot of money into this company. He has called over and over - requesting to speak to someone to get the money cashed out due to her death. We keep getting the same responses - "oh I can't help you out with this I will have to have someone else call you back." Days go by and nothing. Again call the customer service # and the EXACT same response. This has been going on since the end of August - we are now dated at October 11th. Still no answers nor responses as to what has been invested or how to move forward in this matter. We have any and all paperwork that is needed to verify the death. Still have not been able to provide this to them as they will not allow us to speak to anyone. All of the calls we have made are all being recorded on our phones. On top of this, my father-in-law has also invested in this company - he has called many times to find out where his account stands - not to cash out - same response for him for months - "oh I can't help you with this and need to have someone call you back." NO one has called back. This is leading me to believe that this is a scam and the elderly are being taken advantage of. This is not right. All other investment companies that they have dealt with have been nothing but forthcoming. We will continue to try.

Bottom Line: No, I would not recommend this to a friend

---

Advertisement

---

Fraudulent and corrupt!

By Susan L.

,

Florida

,

Jan 5, 2019
Verified Reviewer

We invested over $40,000 of our life savings and were told by "Tyler" (who has since been fired) that there was no fee or charge WHATSOEVER when liquidating or selling back the gold that we had purchased. Had we been told the truth, we never would have trusted them with our savings. The truth: they keep/take 30-35% of the value of your gold and you only receive a 65-70% return. Luckily, we recorded all phone conversations of their lies and are now looking for a good lawyer.

PLEASE, PLEASE don't give this unethical company your hard earned money. These people are corrupt and fraudulent! Record every conversation! These corrupt people will lie and say anything to get you to buy gold from them.

Bottom Line: No, I would not recommend this to a friend

---

Price

By Dan V.

,

Pennsylvania

,

Nov 28, 2018
Verified Reviewer

They advertise that they will meet any price anywhere...but you have to send an invoice of what you bought. Plus, they are more expensive than sellers on eBay, and you have to buy at least $1500 worth of metal. Go to eBay and save at least $2/coin.

Bottom Line: No, I would not recommend this to a friend

---

Advertisement

---