Roto Sweep Reviews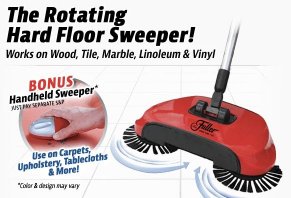 Roto Sweep from Fuller Brush Company features three rotating brushes, lightweight construction, and a built-in dustpan to help clean all your hard flooring surfaces.
What Is Roto Sweep?
Brought to you by Fuller Brush Company, Roto Sweep is a scuff- and- scratch-free rotating hard floor sweeper with a built-in dustpan that promises to work on wood, tile, marble, linoleum, and vinyl.
Without the need for cords, batteries, or bags, Roto Sweep weighs in at less than two pounds and creates no sound, making it ideal for cleaning while the baby is sleeping or while the family is watching TV.
Despite this, its three brushes rotate 360° and work to loosen, lift, and channel debris. Roto Sweep's convenient fold flat handle also allows you to easily reach under furniture & appliances, as well as to store it away when you're finished.
These are some seemingly beneficial features to have. But you're here to find out whether or not Roto Sweep will perform as advertised, as well as if it's worth your money.
To help you decide, let's start off by talking about the pink elephant in the room: Namely, Roto Sweep's competition.
Roto Sweep vs. Turbo Tiger, Hurricane Spin Broom, & Other Rotating Hard Floor Sweepers
If you're in the market for a rotating hard floor sweeper, the good news is that you have several options to choose from. In fact, you'll find that most of the options are functionally identical.
For example, take a look at Roto Sweep and then compare it to other rotating hard floor sweepers like Turbo Tiger Sweeper, Hurricane Spin Broom, and the EasyEdge Lightweight Hard Floor Sweeper sold on QVC. Other than their color choices, these options appear to be indistinguishable.
Pro tip: If you'd like to see more of these sweepers in action (versus the products' quick commercials), the above QVC link provides a nearly nine-minute video outlining features and functionality.
Given the prevalence of these sweepers, are customers reporting that they're getting their money's worth?
What Kind of Customer Reviews Has Roto Sweep Generated?
While it's common for newly released ASOTV products like Roto Sweep to lack customer feedback, the essentially identical EasyEdge Floor Sweeper sold on QVC.com had nearly 350 reviews at the time of our research.
There, most compliments appeared to revolve around ease of use, lightweight design, along with effectiveness at picking up dirt and debris.
But many complaints also related to design issues (handle too short, only moves forward, requires a lot of pressure to make brushes turn), functionality (wasn't effective at picking up debris), and that it didn't stand up to regular use.
Obviously, these are two different products from two different companies, so we do not intend to insinuate that you might expect any of the same with Roto Sweep. But given their clearly similar designs, we think it's worth providing you with this information.
From a company perspective, although the Fuller Brush Company has technically been in business since 1906, it's been a subsidiary of other companies since 1968. Currently, it's part of Victory Park Capital and manufacturers more than 2,000 individual products.
Despite only two Better Business Bureau complaints, Fuller had an F as of 3/9/17. One of these referenced problems obtaining a refund, while the other referenced product problems. The company hadn't responded to either complaint.
How Much Does Roto Sweep Cost?
One Roto Sweep hard floor sweeper and one bonus handheld sweeper (for use on carpets, upholstery, and tablecloths) is priced at $19.99 plus $15.90 S&H.
In addition, a $2.00 web surcharge fee will be applied to all orders, bringing your grand total to $35.89.
Comparatively, most competing models are priced somewhere between $22 and $30, including shipping.
Like many of these other options, though, Roto Sweep comes with a 30-day money-back guarantee, less S&H. This is important because it means you'll immediately lose the nearly $16 in S&H if you decide to process a return, plus whatever it'll cost to ship back to the manufacturer.
Roto Sweep customer support can be reached at 877-604-9465.
Our Final Thoughts About Roto Sweep
Having reviewed so many ASOTV products over the years, we've learned that it's not uncommon for two (or more) companies within the industry to sell essentially identical products at the same time.
With this in mind, when we first wrote about Turbo Tiger Sweeper, we thought it featured a unique design. But based on the number of direct competitors that have since been released, we can clearly see this is no longer the case.
Given the number of hard floor sweeping products you have to choose from, along with their carbon copy designs, we think the most important factor comes down to price. And at $35.89 (including shipping), Roto Sweep is the most expensive version we've reviewed to date.
Now, we didn't test Roto Sweep firsthand to be able to provide any feedback about whether or not it performs better than these other options. But its brushes appear to extend horizontally (versus downward, toward the floor), so we'd have to wonder just how well they'll "loosen and lift" debris.
Also, as consumers ourselves, we think it's important to reiterate that you'll be putting at least $16 of your hard-earned money on the line for giving Roto Sweeper a try, should you end up dissatisfied.
2 out 3 people found this review helpful

This sweeper is good for elderly seniors who cannot bend to sweep

By Deborah M.

,

New York

,

Aug 17, 2018
Verified Reviewer

I am a 76-year-old senior who has Fibromyalgia, Osteoarthritis as well as periodic lower back pain. Even though one cannot sweep backward with this sweeper, going forward, it picks up trash on the floor. Of course, it doesn't work on carpets. I would recommend it for elderly seniors who wish to do their light sweeping.

Bottom Line: Yes, I would recommend this to a friend

---

149 out 159 people found this review helpful

Highway robbery

To see an item advertised for $19.95 and receive a "bonus" handheld sweeper as part of the deal, then during the ordering process you're presented the opportunity to get a second one "for the same price," only to get a final invoice for $86, is highway robbery to me.

What happens is you are charged a $7.95 shipping and handling fee four times (once for each sweeper, and once for each hand-held unit), AND you get charged $19.95 for that "free" sweeper. Then the real kicker is you are charged $14 for a warranty that was never even mentioned during the sales presentation.

So, doing the quick math, $20+$20+$8+$8+$8+$8+$14 equals $86, when you're led to believe that you will be paying $28 ($19.95 + $7.95).

The most irritating part of the whole process is that you never know what your total price will be until after they have already charged your card without asking you if it is okay.

Highway robbery, I tell you.

Oh, and when I tried to cancel the order, I was asked for the "order number," which they never gave me. There was a confirmation number, (which is what I gave) but no order number. So, I don't know if I was successful in canceling or not.

Do NOT buy anything from these crooks! It is highway robbery.

Bottom Line: No, I would not recommend this to a friend

---

Advertisement

---

41 out 42 people found this review helpful

Save yourself the trouble and skip this

Pacific Northwest, USA

,

Apr 27, 2017
Verified Reviewer

I placed the order in late March on a Friday evening. Over the weekend I had a change of heart and canceled the following Monday or Tuesday. I was told it was canceled, and I checked my order status and never saw a pending order. I assumed it was canceled. Yesterday (mid-April) I received an email stating the order was sent. Odd, since I canceled it. I checked my bank account and would you know, they also charged me.

Today I called and spent 30 minutes on hold before someone calling himself "George, agent J.O." answered. I called complaining, and he would continually put me on mute, not coming back until several moments of silence. I asked him if they recorded phone calls and if he could find my call. All he kept saying was that they had no records of my call. He never notated anything. I never heard anything being typed.

I asked for a manager and "George, agent J.O." claimed he was the top ranking person there. I told him that I know someone was higher up than him and I wanted to speak to that person. He then said he would need to have them call me back. I asked when I would get that call. I was put on mute, and he came back after several moments of silence not answering my question. It took several times of asking him when I would get a call for him to say that it "might be today, might be tomorrow."

It's a nightmare of a company, with people doing customer service who have no clue how to actually do customer service. Save your sanity.

Bottom Line: No, I would not recommend this to a friend

---

46 out 47 people found this review helpful

Don't order!

By Cindy B

,

West Virginia

,

Apr 27, 2017
Verified Reviewer

I ordered a Roto Sweep, one with the little brush for furniture, etc.

The cost was supposed to be $19.99 plus shipping and handling. I checked my account, and I was charged $85.72. When I called the customer service agent told me I had a big order, two of each and some kind of MILK! I replied telling him that wasn't so. I told him that the call continued asking me to buy stuff, so I hung up. Then he says if you hang up in the middle of an offer and you don't say "no," you may be charged for the items anyway.

Oh my God. I tried to say no, but it would not take "no" for an answer. It's a scam! Don't order over the phone. I have not received it yet, but I will be sending it back.

Bottom Line: No, I would not recommend this to a friend

---

Advertisement

---

47 out 47 people found this review helpful

Horrible product! Totally inefficient and ineffective.

It will pick up Cheerios but not grass, small pieces of paper, dust, etc. My broom can do all of that. Then, when I called customer service and asked to send it back, I was told I would have to pay shipping and will only be refunded the price of the product, not the first shipping cost. Thus, I am out $15 in shipping costs.

Do not purchase this item. For all the "lightweight, no motor, etc." talk, it is not worthy of the $19.99 price! Fuller Brush has been around for a very long time, and it is a shame that they have produced such an unworthy product to carry their name.

Bottom Line: No, I would not recommend this to a friend

---

43 out 43 people found this review helpful

Junk!

By DH Stapleton

,

Merrill, WI

,

Apr 30, 2017
Verified Reviewer

I received this product last week. I took it out of the box and used it right away. I took it apart, put it back in the box and requested an RMA. It pushed the dust around, the side brushes barely turned. The product is cheaply made, and the handle is short. I am so disappointed. Fuller Brush used to be a quality product line. Not anymore. They should be embarrassed to have their name on this piece of junk.

Bottom Line: No, I would not recommend this to a friend

---

34 out 34 people found this review helpful

Roto Sweep

Junk! Don't buy this product, it pushes dirt around. The crumb sweeper pushes the crumbs around.

Both should be called pushers rather than sweepers. Shame on you Fuller Brush! How much did you pay the guy to give you a good review?

Bottom Line: No, I would not recommend this to a friend

---

30 out 30 people found this review helpful

Junk

Amarillo, TX

,

May 11, 2017
Verified Reviewer

I just got this in the mail. It looks like a toy, seriously! You put it together as if it were a toy! It DOES NOT pick up but a couple of pieces of grass that my little dog tracks in. It does not pick up crumbs or little particles, and what small lint and dust it does pick up, as you roll it over the floor it catches on the tile grout and knocks the dirt tray open and knocks your particles out.

It's literally junk! It is worth approximately $5. I would be returning and losing a total of $24 in shipping, so I'll just give it to my grand-daughter so she can "help mommy" clean. What a waste of $39!

Bottom Line: No, I would not recommend this to a friend

---

23 out 23 people found this review helpful

Canceled, but sent and charged anyway

By ON Heck

,

May 16, 2017
Verified Reviewer

After several weeks of checking my order status and it remaining on back order, I saw the page had added an option to cancel the order. I did (twice). The page put a statement that a customer service rep would assist in this. A few days later I noticed the charge reappeared on my credit card, a few days after that the product arrived. When I called, I was told I would have to pay to return it, at which time they would refund the purchase price, but I'd lose the shipping and handling fee.

It's cheap and depots anything it may pick up a few feet away.

Don't purchase.

Bottom Line: No, I would not recommend this to a friend

---

24 out 24 people found this review helpful

Useless crap

By Hellne Neiman

,

Forest Hills, NY

,

May 19, 2017
Verified Reviewer

All the other reviewers are correct; it picks up NOTHINGIT. The hand held item they entice you to get by just paying shipping and handling (7 bucks ) is even crappier. I tried to use it to pick up crumbs from my coffee table (the instructions say to move it side to side), and all it does is move the crumbs from side to side, and not one single crumb gets inside the unit. How crumby can you get?

Bottom Line: No, I would not recommend this to a friend

---

23 out 24 people found this review helpful

Terrible

This product is absolutely useless. I would not recommend it to anyone. And it costs more to send it back than it is worth. This company really knows what they are doing. You forfeit your original processing and handling, then pay it again to return it, and they make out like bandits.

Bottom Line: No, I would not recommend this to a friend

---