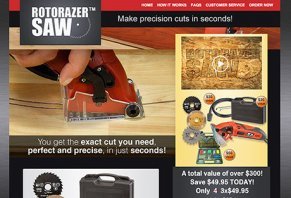 The Rotorazer Saw claims to be a professional and versatile high-power hand saw that allows you to cut any material in any way, and on any surface.
About Rotorazer Saw
Rotorazer Saw is a high-powered professional-grade hand saw that is claimed to be so precise that you can cut any type of material in any way possible, and on any surface you choose. On top of this, the Rotorazer Saw is claimed to help save you money by being useful not only for home construction projects, but for arts and crafts as well. Summer has officially arrived and home improvement projects are everywhere you look, so you're probably interested in learning more about the Rotorazer Saw.
Sure, this all sounds great, but can you expect the same level of performance that you saw in the Rotorazer Saw's commercial, and is it really as versatile and precise as it claims? We cut away the hype to get at the facts, and here's what we found.
Rotorazer Saw Features & Details
If you're a do-it-yourselfer, you know that it often takes several different saws in order to achieve the cut you're after. In response to this, the Rotorazer Saw claims to be the most versatile hand saw on the market by allowing you to make straight, curved, and even plunge cuts. In fact, the Rotorazer claims to take the place of a jigsaw, circular saw, hand saw, band saw, tile saw, hacksaw, and miter saw, and to combine them into one lightweight, portable, and durable handheld saw.
Each Rotorazer Saw claims to come equipped with a 400-watt motor that allows you to cut at more than 3,400 RPMs, and that its construction-grade chassis will fit inside your hand, regardless of size. On top of this, its safety switch means that it won't engage until you want it to, and its Adjustable Cutting Depth Lever allows you to choose the perfect depth (shallow, medium, or deep).
In order to begin using your Rotorazer Saw, the company claims you'll just need to follow these 5 steps:
Attach the appropriate blade based on your cutting surface.
Press the Protective Safety Switch downward.
Slide and hold the Thumb Control Power Switch forward.
Adjust the Blade Guard to your desired cutting height.
Plug the Rotorazer Saw in and begin cutting.
Rotorazer Saw Pricing & Refund Policy
The Rotorazer Saw is only available directly through the manufacturer, and is priced at 3 payments of $49.95, plus $19.95 shipping and handling, bringing your total to $169.80.
Along with your Rotorazer Saw, you'll also receive:
3 quick change blades:
Diamond – Use for hard surfaces such as tile, stone, grout, and other masonry.
Tungsten Carbide – Best for wood surfaces, laminated flooring, PVC, and other similar materials.
Steel – Best for metal and steel surfaces, and even carpet.
In addition to:
Dust Extraction System – Attach to any vacuum for easy, dust-free cleanup.
Case – A durable construction-grade case that can protect your Rotorazer Saw when you're not using it.
Bonus – Professional 310-piece drill bit set (see more about this in the Bottom Line section).
During our research we also found several references to a Platinum version of the Rotorazer Saw, although there was no indication of this on the product's website.
The Rotorazer Saw comes with a 30-day money back guarantee, less shipping and handling charges. In order to begin the process, you'll need to contact customer service at 800-220-7975.
What's the Bottom Line About the Rotorazer Saw?
With all of this in mind, what's the bottom line: Is the Rotorazer Saw a good investment, or is it just junk? When making your decision, keep the following in mind.
Most importantly, remember that the Rotorazer Saw is manufactured by Ideal Living based out of Van Nuys, CA, who also makes Prosvent, WalkFit Platinum, Paint Zoom, and many other "As Seen on TV" products. This often means that it may not perform as well as advertised, and/or as well as its mainstream competition, and you may experience some difficulty processing a return. As such, although Rotorazer is a very new product and has very few online customer reviews at the moment, one of the most common complaints related to other Ideal Living products is very poor customer service, so you'll likely experience the same with this product.
Also, keep in mind that the bonus professional 310-piece drill bit set actually only includes just over 20 drill bits and tips, while the remaining 290-some odd pieces are just an assortment of wall hangers. Also, remember that these can only be used with a drill – not the Rotorazer Saw.
Pros
Claims to allow you to cut any material in any way you choose, and on any surface.
Claims to be lightweight and portable, while replacing numerous other types of saws.
30-day return policy.
Cons
The Rotorazer Saw is an "As Seen on TV" product, which often are lower-quality than their mainstream competition.
Other Ideal Living products have a reputation for poor customer service.
New product, so almost no online customer reviews available.
Scam

By

Jasmine F.

,

New Jersey

,

Jul 19, 2018
Verified Reviewer

Trying to return this product is like pulling teeth! I received this product on June 6th and tried to return it the week of June 11th. A lot of phone calls were made and NOTHING! Anyway, I filed a complaint with the BBB because my lousy "30 days" are up. And Rotorazer told me I "have to keep paying." Ridiculous!

Bottom Line: No, I would not recommend this to a friend

---

13 out 13 people found this review helpful

Malfunctioned 10 minutes into a project

I bought this on Amazon.com FBA and 10 minutes into ripping tile from my shower the motor burnt out doing something they advertise it could do (rip out tile, grout, and plyboard). Luckily I did get it from Amazon FBA, so I returned it to Amazon and got a full refund with no problems. Only because of Amazon FBA's policy I got my money back from these guys as Amazon FBA holds money from FBA sellers for 60 days.

Bottom Line: No, I would not recommend this to a friend

View all 2 comments

Hide comments

May 10, 2018

Hi Frank,

Thank you for the review. We are sorry that the Rotorazer Saw did not work for your job. Can you please tell us if you have the Base unit or Platinum version?

Jun 12, 2018

I just learned I received one of these for Christmas with extra blades. Of course, I will never use this joke for anything, so is there something I can do with it? I have told this good-hearted, but ignorant woman before to never purchase anything advertised on TV. But of course, she is being ignorant, I arrive at the ranch, and here it is, now what the heck do I do with this thing?

---

Advertisement

---

8 out 8 people found this review helpful

I borrowed my son's and tried to use it on three separate projects.

The tool was as useless as tits on a boar. I am pretty good dealing with slow play customer services, but I got nowhere with these cons. Please don't waste your money on this junk.

Bottom Line: No, I would not recommend this to a friend

View all 1 comments

Hide comments

Apr 28, 2018

Hi Neil,

Thanks for the review. We are sorry that the Rotorazer didn't work out for your projects. Can you let us know what you were trying to do and what blade you were using? Also, which version of the Rotorazer does your son have? We would like to hear the call recording from customer service as well, so if possible can you please email marmstrong@idealliving.com with the phone number you called FROM so we can find the call and coach the agent as needed.

---

29 out 30 people found this review helpful

Trying to get a refund!

I received it as a gift from my wife and really had no use for the tool. I sent it back and have not been able to get a refund. Extremely long waits on the phone and then you get someone not helpful. I have waited 30 minutes on the phone as I write this and still have not talked to a person. Horrible customer service!

Bottom Line: No, I would not recommend this to a friend

View all 6 comments

Hide comments

Feb 26, 2018

Hi Devere,

Thank you for the review. Per your review, did you called us on 2/25 (Sunday)? If that is correct, our customer service is not open. There should have been a message saying that you called outside of our hours and to call back. They are open M-F 7am-4pm PT and Sat 7am-3pmPT. Please let us know if you called Saturday within those hours, and we will be happy to review the queue. Hold times should not be that long ever. Thank you.

Feb 26, 2018

Hello again Devere,

I have reviewed your account now that I am in the office, and found that your refunds were issued on 2/22 less s/p as advertised. The unit has not been logged in to date from our warehouse and you did not have a tracking number. As a courtesy, the refund has been issued to the card on file. Would you consider amending your review, please? Thank you.

Mar 2, 2018

I have been trying for nearly a month to get the remaining refund that they owe. So far, you've ignored my emails, and won't print the reviews that I made, they fail to contact me and won't call. I do not recommend this saw. It was no use to me and on top of that, you sent me two saws and won't honor your refund policy. Please beware.

Mar 5, 2018

Yes, thank you. It's much appreciated! I just wish it had not taken so much effort for the refund, but do thank you again!

Mar 5, 2018

Hi Charles,

Thanks for the comment. We are sorry that you have not received all of your refunds. We were unable to locate an order for you in our database. Can you please email marmstrong@idealliving.com with the name and zip code used when placing the order? Thank you!

Mar 6, 2018

You're welcome Devere, we apologize for the delay and the inconvenience.

---

Advertisement

---

35 out 36 people found this review helpful

Depth of cut

Does not cut deep enough. I wanted to cut through a 1/2" plyboard. I had scrap left after they redecked my roof and was using this to build a dog house. It wouldn't cut through plyboard, and I had to use my 7 and 1/2' circular saw. I had the saw set to max depth.

Bottom Line: No, I would not recommend this to a friend

---

32 out 35 people found this review helpful

Zero stars is better

My wife bought it for a present and I hate that she did that because it is absolute junk! Totally useless for any kind of project. My grandsons' toy carpenter tools work better! Need I say more?

Bottom Line: No, I would not recommend this to a friend

View all 1 comments

Hide comments

Jan 10, 2018

Hi Walt,

I can understand that Rotorazer may not be well-suited for every project, but it does work quite well for detail-oriented projects that don't require a large cutting-depth.

---

34 out 36 people found this review helpful

Buyer beware!

I ordered the Rotorazor for my Dad as a Christmas gift almost a month ago. When I tried to track it, I received a confirmation, but when I clicked on the site for the location I received, the following "Oops, there was an error, site no longer available." When I clicked on the site where I ordered from, I received a notice from the Better Business Bureau that this was a scam operation. BUYER BEWARE.

Bottom Line: No, I would not recommend this to a friend

---

38 out 39 people found this review helpful

Used it once, and it scared me

By

Bobby Alford

,

New Hampshire

,

Nov 28, 2017
Verified Reviewer

Thanks so much everyone! You just saved me some money, a lot of aggravation, and to tell you the truth, probably jail time, because I would not have handled all these issues very well. I used one that I found thrown in a box in the back of a basement I was cleaning out. I had to cut some pieces of wood so that they would fit in the barrel. It looked so much like a Dremel tool that I thought it must be able to blast through the junk wood. WRONG! When it jumped back at me during the cut, I thought I just didn't know how to use it properly since you have to keep one finger on one button while your other finger is on a separate button and you push down on the plate. I saw it on TV and thought I would spend the money and figure it out since it seemed to work so well on TV. I won't be going anywhere near this company after reading all the complaints. At least I know it wasn't just me!

Bottom Line: No, I would not recommend this to a friend

View all 1 comments

Hide comments

Jan 10, 2018

Hi Bobby,

Since you were using a Rotorazer you "found thrown in a box," we don't know what condition the tool was in. From what you described, it sounds like it may have had a very dull blade that prevented it from cutting smoothly. A review of a new and properly functioning Rotorazer would have been much more helpful than a review of something you found discarded in a basement.

---

75 out 78 people found this review helpful

Two purchases, two immediate catastrophic failures!

We bought the products at separate times in 2015 as gifts, kept them in storage for a year, then sent them out on the appropriate occasion. Both Rotorazors failed within a day of initial use by different recipients.

Did you see the 70% Off adds late? I surmise they have to unload these products before people find out about them. We paid full load, which with accessories were $259.55 each.

Bottom Line: No, I would not recommend this to a friend

View all 1 comments

Hide comments

Jan 16, 2018

Thank you Mr. Strome for your comments. We are sorry that the units you received did not operate properly. We were not able to locate an order for you in our system, so we are not sure where you purchased your units from. We do run seasonal ads but at most, we offer 50% off. Perhaps the ad is not from us. Our units come with a 30-day money back guarantee, less s/p, and a one year warranty.

---

62 out 63 people found this review helpful

Charged me double!

I was charged double, and they still have not refunded my money. I will never order from Rotorazor, ever. It is not an honest company. So far, it is the worst experience I have ever had. I order online all the time, but not anymore.

Bottom Line: No, I would not recommend this to a friend

View all 1 comments

Hide comments

Jan 10, 2018

Hi Phyllis,

Thanks for the comments. We are sorry for this inconvenience. We reviewed your account, and we see that we received two web orders from you, one on 4/16 and another one on 4/21. You did contact us on 5/2 regarding the two units. We were advised to refuse one of the orders and upon receipt, a refund would be issued. We then received your bank dispute on 8/10 and allowed it, so you received all of your money back from the bank because of your dispute. They either reversed the charge or they issued you a refund. We received your return on 8/11.

---

105 out 107 people found this review helpful

Buyer Beware - Where is Customer Service For Returning This Junk!

By

Sophia Minor

,

Atlanta, GA

,

Jul 17, 2017
Verified Reviewer

Dear Rotorazer Saw Customer Service: My rating is -0.

On Tuesday, July 11, 2017 I made several attempts (over 7 calls) to get information about how to return this merchandise. The customer service line kept saying I was calling outside of normal business hours which is not a true statement. It is now 7:50am (10:50EST) and I have been calling since 10am EST (7am PST). I plan on reporting them to the BBB in Cali. The saw is junk, doesn't cut anything, is hot in your hands and dangerous.

The blades are poor, and the customer service team is missing in action. But if you want to order this SCAM of a product, someone is standing by quickly to take your money and you for a ride!

I need and plan to return this saw and the extra blades that I purchased. I am EXTREMELY dissatisfied with this product. This is poor customer service and I have sent two emails thus far as documentation. Sophia Minor.

Bottom Line: No, I would not recommend this to a friend

View all 1 comments

Hide comments

Jan 10, 2018

Hi Sophia,

Thank you for the comments. We are sorry that you did not like the unit and were not able to get through to customer service properly. We reviewed your account, and see that you did speak with an agent on 7/11. He offered you a discount to keep the unit and you declined. He then gave you an RMA number and return instructions. You called back on 7/18 with your tracking number and the refund was set up in full the same day. We received your BBB complaint on 8/1 and let them know that you had been refunded and that we did confirm that we were having phone issues that day. It was corrected as soon as we let our IT department know that the lines were closed.

Again, we are sorry for the inconvenience this caused.

---