Rotorazer Saw Reviews
Claimed This company has claimed this profile, is getting alerted on any new customer reviews entering this page, and may engage in dialogue with its customers to address their matters.

Companies cannot pay money or provide goods in order to remove or alter customer reviews.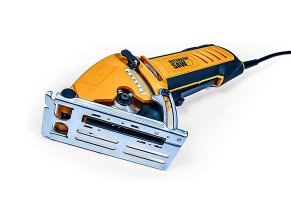 The Rotorazer Saw claims to be a professional and versatile high-power hand saw that allows you to cut material, such as hardwood, laminate flooring, drywall, ceramic tile, and marble in different ways (horizontally, vertically, straight, curved, in a corner, as well as upside-down). Read what customers are saying.
---
Return problems

By Robyn P.

,

Nanaimo, British Columbia, Canada

,

Oct 29, 2020
Verified Reviewer

Length of Use: Less than 3 months

Overall Experience:

Impossible to return it as they will not give an RM number. We have called every day for 20 days. They say their systems are down and they cannot generate an RM number. The return phone number does not work, you have to be creative by calling the order number. We had to file a fraud case with Mastercard in order to get our money back. At any time they send an RM number we will ship back.

Pros and Cons:

No "pros" were specified in this review
They are not taking returns
Overcharged
Did not work

Bottom Line: No, I would not recommend this to a friend

Oct 30, 2020

Hi Robyn,

Thanks for the review.

We are sorry to hear that you would like to return the Rotorazer. Customer Service has been dealing with a system outage since 10/16 and we put a message online advising of our technical difficulties. But good news, the system is back up and running! Now that the systems are up, they are experiencing a high call volume. You are welcome to email marmstrong@idealliving.com and she will ask someone to call you and assist you with the return.

---

Poor customer service

By Dennis B.

,

Tennessee

,

Jul 5, 2020
Verified Reviewer

Length of Use: Less than 3 months

Overall Experience:

We have not yet used the saw so I can't comment on that. BUT, they sent me a letter and bill stating that I owed them $49.00. I sent a check to them with the bill in the envelope enclosed. I received a letter dated 2 weeks later stating I still owed them $49.00, it was overdue, if not paid they would report it to a collection agency and report it to a credit company which may result in a negative impact on my credit profile. My wife called the number on the letter and got NO help from them. All we wanted to know was do they have the check. I called 4 times with NO results. The answer I got was that they only cash the checks once a month and I should wait a couple more weeks. In the meantime according to the letter they may take action. They could not even tell me if they had the check and were holding it or if they never got it. Very POOR business practice.

Pros and Cons:

No "pros" were specified in this review
Customer service
Financial practice

Bottom Line: No, I would not recommend this to a friend

Jul 6, 2020

Hi,

Thanks for the comments. We do see that your final payment did decline when we attempted to charge your card on file. We have not logged your payment into your account yet. We receive mail regularly, however, we are continuing to work on a COVID related work schedule which does cause the process to be a bit slower. As Customer Service told you on 7/2, the notes are in the account and we will post the payment to your account as soon as we receive it. We are sorry for the inconvenience.

---

Advertisement

---

Just don't!

By Susan R.

,

Ocean Park, WA

,

May 23, 2020
Verified Reviewer

Overall Experience:

Problem: The advertisement with the lady using the Rotorazer in competition with a man using a regular skill saw, is ridiculous. This is not the case. It takes so much more effort than what is shown.

The laser is unable to be seen in the daylight and, call me a fool, but I'm not using any saw at night.

It's just as cumbersome and heavy as a regular skill saw.

It's impossible to get ahold of the return department. I'm so disappointed because all I wanted was something to use for little craft projects.

I so seldom write poor reviews but this was a complete waste of my small retirement money. So, I will not give the product or the company a second chance. Don't waste your money.

Bottom Line: No, I would not recommend this to a friend

May 24, 2020

Hi Susan,

Thank you for the review. We are sorry that you weren't completely happy with your Rotorazer.

Were you calling the number below during the hours of operation?

Here is the Customer Service number and hours:

1-800-220-7975

Monday-Friday 7am-4pm PT

Saturday 7am-3pm PT

---

For significantly small jobs

By Cris O.

,

O'Fallon, IL

,

Jun 20, 2019
Verified Reviewer

Overall Experience:

The advertisement is deceiving as it makes it appear and says the saw handles any job but it only can do very small jobs before the blades need to be replaced, which can only be ordered through Rotorazor at $24.99 per set.

Good luck trying to reach customer service as the number provided is not answered and they do not respond to emails. I had to contact the sales team and demand to be connected to a person in customer service. I finally received a return authorization number, I had to pay shipping and contact them again with the tracking number, which again I cannot reach them to provide and get the refund. Horrible service!

Bottom Line: No, I would not recommend this to a friend

Jun 20, 2019

Hi Cris,

The Rotorazer Saw is intended for DIY/hobby/weekend warrior jobs. When we say: One saw does it all. That is referring to the many kinds of materials Rotorazer can cut by choosing one of the three blades that can cut through materials with a wide range of hardness. The video demonstrations show fairly thin materials being cut because it is intended for small jobs.

We are sorry that it did not meet your particular jobs needs. May we ask what you were trying to use it for? Perhaps our Rotorazer Platinum would have been a better fit? We do show that we received an email from you on 5/29 and called you the same day and left a VM. You called us on 5/31 and were given return instructions. We received another call from you 6/12 with the tracking number which is the same day that we received notice from our warehouse that they received your return. We are sorry that your experience was less than stellar.

---

Never worked

By Robert B.

,

Gulfport, MS

,

Mar 25, 2019
Verified Reviewer

Overall Experience:

I just opened the box and tried to use it and it won't come on! If you hit it with your hand on the side while holding the trigger, it tries to come on very little. And this happened right out of the box brand new, and now they want me to pay $20.00 shipping to replace it! That's just not right! What happened to quality control?

Bottom Line: No, I would not recommend this to a friend

Mar 25, 2019

Hi Mr. Bissett,

Thank you for the review. We are sorry that the unit is not working for you. Per the notes in your account, the unit was purchased in July 2018. As you are within the one year warranty timeframe, all you have to pay is replacement s/p. Please continue to try the troubleshooting suggestions that customer Service gave you on 3/21. If they do not work, please fax us your proof of purchase to the fax number they gave you for a warranty replacement.

---

Unwilling to assist with fixing after warranty gone

By Patricia B.

,

California

,

Dec 27, 2018
Verified Reviewer

Overall Experience:

Very unhelpful when they were contacted. Unless you were under their year's warranty, you're out of luck. This is the second time I've gone to use the saw since buying. The blade was frozen and unable to remove. I spoke to a supervisor, Andrew, who said they could do nothing. I spent $137 - will never buy from them again. I tried to pay them to assist in fixing - they refused. I don't recommend using this company!

Bottom Line: No, I would not recommend this to a friend

Dec 28, 2018

Thank you, Patricia, for the review. Our records show that you purchased the unit on 6/2/17. You called customer service on 12/21/18 because you were unable to change the blade. You were given instructions on how to remove it but it did not help and asked to speak to a supervisor.

Clearly, you are past the replacement warranty timeframe, regardless of how many times you have used the unit. We can make a one-time exception and replace the unit for warranty s/p, however, the new unit will not have a warranty. If it does not work again, you will need to buy a new unit. Please let us know if you accept this offer and if so, we will have an agent contact you.

---

Old one giving kick back

By Nora P.

,

Oct 8, 2018
Verified Reviewer

Overall Experience:

I purchased it about six or seven years ago, no problems, except that it was larger than expected and it gave a kickback when you first start to saw. The one they advertise now looks smaller so you can use it with one hand, so I'm going to try it.

Bottom Line: Yes, I would recommend this to a friend

---

Advertisement

---

Horrible customer service - do not buy!

By Ramiro A.

,

Paterson, NJ

,

Jul 31, 2018
Verified Reviewer

Overall Experience:

The saw itself is of low quality and I have been trying to return it and get a full refund for the past three days. Apparently, you have to call a number to be able to return it. Yesterday, I was on hold waiting for a customer service representative for almost two hours, and never got to talk to anyone. Today, I've been on hold for almost 30 minutes. This is absolutely ridiculous. DO NOT waste your time or money!

Bottom Line: No, I would not recommend this to a friend

Aug 1, 2018

Hi Ramiro,

We are sorry that the Rotorazer Saw did not meet your needs. It makes no sense to be on hold for two hours! Please email marmstrong@idealliving.com the phone number that you called. We do see that you did speak with customer service on 7/30 and they gave you all of the return instructions. Again, we are sorry for your experience and we agree, it makes no sense for anyone to be on hold for two hours. Something definitely was not right, and this is the first incident of this kind that we have heard of.

---

Malfunctioned 10 minutes into a project

Overall Experience:

I bought this on Amazon.com FBA and 10 minutes into ripping tile from my shower the motor burnt out doing something they advertise it could do (rip out tile, grout, and plyboard). Luckily I did get it from Amazon FBA, so I returned it to Amazon and got a full refund with no problems. Only because of Amazon FBA's policy I got my money back from these guys as Amazon FBA holds money from FBA sellers for 60 days.

Bottom Line: No, I would not recommend this to a friend

May 10, 2018

Hi Frank,

Thank you for the review. We are sorry that the Rotorazer Saw did not work for your job. Can you please tell us if you have the Base unit or Platinum version?

---

I borrowed my son's and tried to use it on three separate projects.

Overall Experience:

The tool was as useless as tits on a boar. I am pretty good dealing with slow play customer services, but I got nowhere with these cons. Please don't waste your money on this junk.

Bottom Line: No, I would not recommend this to a friend

Apr 28, 2018

Hi Neil,

Thanks for the review. We are sorry that the Rotorazer didn't work out for your projects. Can you let us know what you were trying to do and what blade you were using? Also, which version of the Rotorazer does your son have? We would like to hear the call recording from customer service as well, so if possible can you please email marmstrong@idealliving.com with the phone number you called FROM so we can find the call and coach the agent as needed.

---

Overall Experience:

I received it as a gift from my wife and really had no use for the tool. I sent it back and have not been able to get a refund. Extremely long waits on the phone and then you get someone not helpful. I have waited 30 minutes on the phone as I write this and still have not talked to a person. Horrible customer service!

Bottom Line: No, I would not recommend this to a friend

Feb 26, 2018

Hi Devere,

Thank you for the review. Per your review, did you called us on 2/25 (Sunday)? If that is correct, our customer service is not open. There should have been a message saying that you called outside of our hours and to call back. They are open M-F 7am-4pm PT and Sat 7am-3pmPT. Please let us know if you called Saturday within those hours, and we will be happy to review the queue. Hold times should not be that long ever. Thank you.

---

Overall Experience:

Does not cut deep enough. I wanted to cut through a 1/2" plyboard. I had scrap left after they redecked my roof and was using this to build a dog house. It wouldn't cut through plyboard, and I had to use my 7 and 1/2' circular saw. I had the saw set to max depth.

Bottom Line: No, I would not recommend this to a friend

Jan 10, 2018

Hi William,

That is strange since Rotorazer's cutting depth is 1/2 inch. Are you sure the plyboard was 1/2 inch?

---

Advertisement

---

Overall Experience:

My wife bought it for a present and I hate that she did that because it is absolute junk! Totally useless for any kind of project. My grandsons' toy carpenter tools work better! Need I say more?

Bottom Line: No, I would not recommend this to a friend

Jan 10, 2018

Hi Walt,

I can understand that Rotorazer may not be well-suited for every project, but it does work quite well for detail-oriented projects that don't require a large cutting-depth.

---

Overall Experience:

I ordered the Rotorazor for my Dad as a Christmas gift almost a month ago. When I tried to track it, I received a confirmation, but when I clicked on the site for the location I received, the following "Oops, there was an error, site no longer available." When I clicked on the site where I ordered from, I received a notice from the Better Business Bureau that this was a scam operation. BUYER BEWARE.

Bottom Line: No, I would not recommend this to a friend

---

Used it once, and it scared me

By Bobby Alford

,

New Hampshire

,

Nov 28, 2017
Verified Reviewer

Overall Experience:

Thanks so much everyone! You just saved me some money, a lot of aggravation, and to tell you the truth, probably jail time, because I would not have handled all these issues very well. I used one that I found thrown in a box in the back of a basement I was cleaning out. I had to cut some pieces of wood so that they would fit in the barrel. It looked so much like a Dremel tool that I thought it must be able to blast through the junk wood. WRONG! When it jumped back at me during the cut, I thought I just didn't know how to use it properly since you have to keep one finger on one button while your other finger is on a separate button and you push down on the plate. I saw it on TV and thought I would spend the money and figure it out since it seemed to work so well on TV. I won't be going anywhere near this company after reading all the complaints. At least I know it wasn't just me!

Bottom Line: No, I would not recommend this to a friend

Jan 10, 2018

Hi Bobby,

Since you were using a Rotorazer you "found thrown in a box," we don't know what condition the tool was in. From what you described, it sounds like it may have had a very dull blade that prevented it from cutting smoothly. A review of a new and properly functioning Rotorazer would have been much more helpful than a review of something you found discarded in a basement.

---

Two purchases, two immediate catastrophic failures!

Overall Experience:

We bought the products at separate times in 2015 as gifts, kept them in storage for a year, then sent them out on the appropriate occasion. Both Rotorazors failed within a day of initial use by different recipients.

Did you see the 70% Off adds late? I surmise they have to unload these products before people find out about them. We paid full load, which with accessories were $259.55 each.

Bottom Line: No, I would not recommend this to a friend

Jan 16, 2018

Thank you Mr. Strome for your comments. We are sorry that the units you received did not operate properly. We were not able to locate an order for you in our system, so we are not sure where you purchased your units from. We do run seasonal ads but at most, we offer 50% off. Perhaps the ad is not from us. Our units come with a 30-day money back guarantee, less s/p, and a one year warranty.

---

Overall Experience:

I was charged double, and they still have not refunded my money. I will never order from Rotorazor, ever. It is not an honest company. So far, it is the worst experience I have ever had. I order online all the time, but not anymore.

Bottom Line: No, I would not recommend this to a friend

Jan 10, 2018

Hi Phyllis,

Thanks for the comments. We are sorry for this inconvenience. We reviewed your account, and we see that we received two web orders from you, one on 4/16 and another one on 4/21. You did contact us on 5/2 regarding the two units. We were advised to refuse one of the orders and upon receipt, a refund would be issued. We then received your bank dispute on 8/10 and allowed it, so you received all of your money back from the bank because of your dispute. They either reversed the charge or they issued you a refund. We received your return on 8/11.

---

Advertisement

---

Buyer Beware - Where is Customer Service For Returning This Junk!

By Sophia Minor

,

Atlanta, GA

,

Jul 17, 2017
Verified Reviewer

Overall Experience:

Dear Rotorazer Saw Customer Service: My rating is -0.

On Tuesday, July 11, 2017 I made several attempts (over 7 calls) to get information about how to return this merchandise. The customer service line kept saying I was calling outside of normal business hours which is not a true statement. It is now 7:50am (10:50EST) and I have been calling since 10am EST (7am PST). I plan on reporting them to the BBB in Cali. The saw is junk, doesn't cut anything, is hot in your hands and dangerous.

The blades are poor, and the customer service team is missing in action. But if you want to order this SCAM of a product, someone is standing by quickly to take your money and you for a ride!

I need and plan to return this saw and the extra blades that I purchased. I am EXTREMELY dissatisfied with this product. This is poor customer service and I have sent two emails thus far as documentation. Sophia Minor.

Bottom Line: No, I would not recommend this to a friend

Jan 10, 2018

Hi Sophia,

Thank you for the comments. We are sorry that you did not like the unit and were not able to get through to customer service properly. We reviewed your account, and see that you did speak with an agent on 7/11. He offered you a discount to keep the unit and you declined. He then gave you an RMA number and return instructions. You called back on 7/18 with your tracking number and the refund was set up in full the same day. We received your BBB complaint on 8/1 and let them know that you had been refunded and that we did confirm that we were having phone issues that day. It was corrected as soon as we let our IT department know that the lines were closed.

Again, we are sorry for the inconvenience this caused.

---

Overall Experience:

I bought it over 60 days ago, was planning to use it on building an outdoor cabinet for outdoor kitchen, and finally came the time to start. I wanted to cut Hardi Plank for a trim, but the diamond blade would not even score the material. I tried the other blades, but they were no good either. When I ordered, I was also concerned with the depth of the cut. I was sold on the upgrade to the Platinum Model, which I was told would cut up to one-inch thick, but the blade extends to only 3/4 an inch only. Looks like I am out over $190 for an ugly paperweight.

Bottom Line: No, I would not recommend this to a friend

Jan 16, 2018

Hi Kenneth,

Thank you for your comments. We are sorry that the Rotorazer did not work out for your project. We were not able to locate an order in our system, so we are not sure where you purchased your unit.

---

I was overcharged $100.00

By Gaylen

,

Norman, OK

,

Jun 25, 2017
Verified Reviewer

Overall Experience:

When I tried to get a hold of customer service I was given three other numbers leading to a call center in China and a rep named Joe! When Joe indicated "maybe you were charged for the three free extra saw blades?" I said, "In USA, free means it does not cost anything," Joe hung up.

Bottom Line: No, I would not recommend this to a friend

Jan 17, 2018

Hi Gaylen,

Thank you for the comments. We are sorry that you had an issue reaching customer service; they are not in China. Our records show that you ordered a Platinum Rotorazer Unit and three additional platinum blades on 6/18/17. The order total was $244.60. The Rotorazer was $194.70 plus $19.95 s/p and the additional blades were $29.95 with free s/p. Our records show that you contacted customer service on 6/20 to cancel the order. As it had already charged and was processing, you were asked to refuse delivery of it.

On 6/21 we received an email from you regarding customer service and that your calls were being disconnected. At that time we offered a 25% discount to keep the unit. We received another email from you on 6/28 saying that you and your husband would like to keep the unit if we would still honor the discount of 25%, you thanked us for the offer. We issued a refund of $61.16 on 6/29. We apologize again for the issues you had reaching customer service.

---

Most dangerous tool I've ever used

Overall Experience:

I've been a contractor for over 30 years, and in my experience, I've never used a more dangerous tool ( piece of crap) in my life, I'm lucky to still have a hand left after using it once.

You're better off buying a beaver to cut the wood.

And as far as customer service, they won't answer emails, and if you do get to talk to so called customer service agent (LOL), the only thing that they're trained in is hanging up on you.

I sure this will never be added to their wonderful glowing reviews.

You're forewarned. Run from this so called saw.

Bottom Line: No, I would not recommend this to a friend

---

No bang for the buck

By Jeff

,

Indianapolis, IN

,

Mar 9, 2017
Verified Reviewer

Overall Experience:

It is not as good as advertised, has limited cutting depth, and the "on" switch and lock lever pain in the focus! It is a lot of money for something to cut paneling.

Bottom Line: No, I would not recommend this to a friend

---

Advertisement

---

Overall Experience:

There is not a "zero" on the ratings, or else that is what I would give.

I ordered my Rotorazer on 1/27/2017. For the first time using it today, 2/11/2017, I cut six inches of my metal overhang on my roof, which took me 18 minutes to cut. It now will not cut anymore. It's like the blade has completely dulled. At $24.95 for the blades, who can afford to replace them every six inches? I sure can't.

The Customer Service just told me that it was supposed to cut 1/2 inch metal when I called to return it. Then they told me that I have to pay $40.00 to send it back. What a big rip-off!

Beware of ordering one, as it is deceptive advertising as far as I am concerned. I will pay against my will to send this piece of junk back to Rotorazer. Just a note from a deceived consumer.

Bottom Line: No, I would not recommend this to a friend

Jan 17, 2018

Hi Connie. I'm not sure what type of metal you were cutting, but since there is a wide range of hardness ratings for various metals, the life of the metal-cutting blade will vary quite a bit, depending on what you cut with it. Cutting soft metals like aluminum or copper will yield a much longer blade-life than cutting steel, for example, which is significantly harder.

---

Rotorazer professional junk

By Bob O

,

New York

,

Feb 13, 2017
Verified Reviewer

Overall Experience:

I purchased this tool for specialized woodworking and some tile work for my business. I have had the opportunity to use it twice and really feel it was a total waste of money.

The motor is clearly not very powerful, and I found it jammed too easily going thru any material. But the major issues are the ease of use and the ability to accurately use this tool. Due to the large skid plate on the bottom and very small alignment ports in it, you cannot accurately align the blade to the material you want to cut. Making it worse, you must simultaneously manipulate two switches with one hand (one to unlock the plate and the other to turn on power) while pushing down on the saw (against a stiff spring) to cut your material. It is very difficult to do, especially when trying to find and follow a line.

In both cases, I could not maintain adequate control to make an accurate cut. I might add that I have been using tools for over 30 years, and have the ability to very accurately cut very straight lines with conventional power tools. For this tool to be workable, they need to change the skid plate with one giving a full view of the blade during use, and to simplify the two switch configuration.

Bottom Line: No, I would not recommend this to a friend

---

Bad customer service policy

Overall Experience:

I would have given "0" stars if it was an option.

I don't know how the product works, but the customer service is horrible. The reps were nice enough, but their return policy is programmed, so there are no exceptions. Come on people! Stuff happens.

I bought this as a Christmas gift for my husband. I received the saw on November 23rd, and as Christmas is on December 25th, I was two days over the 30-day return window. There is no documentation in the box declaring this return policy, and now, they won't let me return it, even though on December 5th they changed the policy to 365 days. We're talking two weeks from the time I ordered to the time they extended the return policies. I understand the need for these, but the rigid constraints don't make for good customer service.

They did give me a 25% discount, but since I paid $245 for the thing with shipping, that's not much of a consolation. Won't be buying from or recommending this company. Ever.

Bottom Line: No, I would not recommend this to a friend

---

Rotorazer

By Toni Gipson

,

Wyoming

,

Dec 13, 2016
Verified Reviewer

Overall Experience:

I ordered this for my husband, he used it 2 times briefly, it worked great. It sat unused for 7 months, he went to use it to cut a plastic pipe and it would not turn on. So to me, it is a total waste of good money.

Bottom Line: No, I would not recommend this to a friend

---

Don't do it, don't buy it!

By M Townes

,

Spartanburg, SC

,

Nov 8, 2016
Verified Reviewer

Overall Experience:

This is a piece of junk, it does not cut through thin sheet rock without getting a blade to complete the job. So you can forget commercial grade as mine broke while cutting carpet, burned right up and spit and sparked. I had to send it back and pay for shipping both ways otherwise, they would not give a refund.

They didn't even tell me they were holding it for me to pay the return shipping. When I called 2 months later to find out the status of my return, they said that they are waiting for me to pay the return shipping, like I should have known that and they were doing me a favor shipping me another one.

Their customer service is horrible, that is if you are diligent enough to continue until you reach them. The unit is very heavy. I do have small hands but I do a lot of work and this tool is hard to use.

Bottom Line: No, I would not recommend this to a friend

---