Rover.com Reviews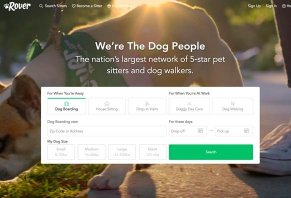 With quick and easy access to more than 85,000 pet sitters and dog walkers across 10,000+ cities, Rover claims to help you love your dog and live your life.
What Is Rover.com?
As the nation's largest network of its kind, Rover.com is an award-winning technology company that promises to help match you and your four-legged friends with more than 85,000 pet sitters and dog walkers in over 10,000 cities. Specifically, the site provides easy access to services like:
Dog boarding, where your dog stays overnight in the sitter's home
House sitting, where the sitter stays overnight at your home
30-minute dog walks
Doggy day care, where your dog only stays at the sitter's house during the day
Drop-in visits that allow sitters to check in on your pet during the day
To use the site, you'll need to choose a service, browse different profiles, and then connect with any professionals you're interested in. Then, you can book the appointment and pay securely.
There's no doubt that you love your dog. But will Rover.com help you live your life easier than the competition? Are there any important considerations to keep in mind? Our analysis will answer these questions and help you decide if this is a good option for you.
How Does Rover.com Work?
We found Rover.com extremely easy to use. We just entered a zip code, chose the service we needed, indicated the start and end dates, and selected dog size (small: 0-15 lbs, medium: 16-40 lbs, large: 41-100 lbs, giant: 100+ lbs).
From there, we were shown a list of potential matches, along with their name, general location, price, star rating, and recent reviews (if any available). To the right of these results, there was also a map indicating each person's location.
From there, we could further filter these results by the rate per night, sitter information (e.g. whether or not they own a dog, have children, have a house, hold a dog first-aid certification, etc.), and other services like puppy care and bathing and grooming.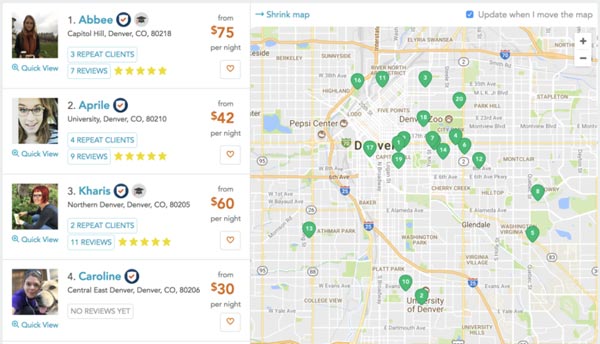 Rover.com allows users to quickly search for dog care professionals within 10,000+ cities and filter results based on important criteria. Image credit: Rover.com
Clicking on any listed profiles will display the professional's reviews, prices for other services they offer (if available), response rate and time, preferences, availability, and the ability to contact them.
There were dozens of sitters listed when we searched and across all kinds of price ranges, so it seemed to provide a meaningful array of options.
Taking a Closer Look at Rover's App
It appears that Rover's iOS and Android apps are largely an extension of the website's dashboard, so you'll be able to book and track services, list your dogs, and view your available balance. You'll also be able to communicate with and receive updates from your sitters, including receiving service report cards, which are accompanied by maps and photos.
As a service provider, you'll also be able to provide your customers with the duration and distance of your walks, any pee, poo, food, and water breaks, as well as any additional notes.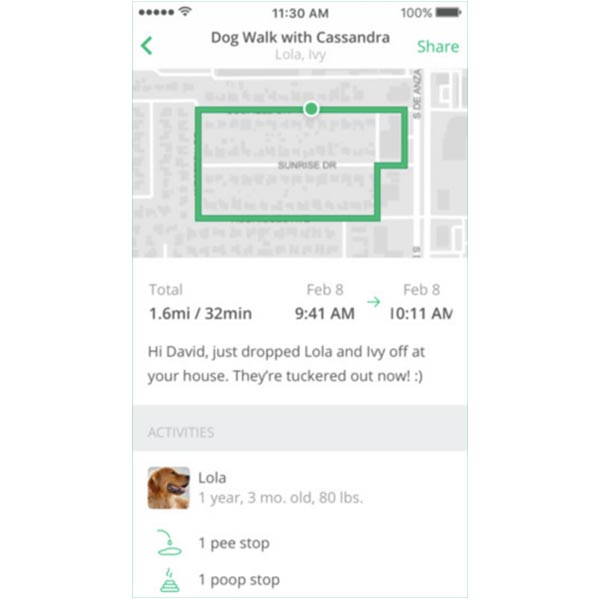 The Rover app allows service providers to send report cards to clients, including distances and maps, notes, and pictures. Image credit: Apple Corporation
What About Safety and Insurance When Using Rover.com?
As a dog lover myself, one of my first questions when researching Rover was, "How will my buddy be protected?" Furthermore, since they'll also likely be in my home, "How are service providers screened? Is any insurance provided?"
Rover Service Provider Screening
According to the Rover website, sitters are required to complete an in-depth profile, "including details about their pet care experience, upload photos, request testimonials, and pass safety quizzes and a background check." Based on this alone, we're told that less than 20 percent of people who start a profile are approved.
Furthermore, all new sitters and dog are subjected to a background check, which will be displayed as a badge on their profile. Here, you'll also find photos of their home, pets, and past stays, as well as reviews from past clients.
Even before booking, you can schedule a meet and greet through the website, where you can have a face-to-face meeting and ask questions about important topics to you. This service is completely free and does not obligate you in any way.
Pet Insurance and Other Services Provided by Rover.com
All services booked through Rover are automatically covered by pet owners insurance, which is valid "for injuries to the pet owner's pet(s) in the sitter or dog walker's care, custody, and control."
Coverage is also available for "injuries to the sitter or dog walker's resident pet(s) as a direct result of contact with the pet owner's pet," as well as general liability for "bodily injury to a person other than the sitter, dog walker, pet owner."
Despite this coverage, the Rover website emphasizes that there are several exceptions (e.g. damage to the sitter or dog walker's personal property, damage made or medical care required as a result of meet and greet, etc.).
Furthermore, this coverage is considered secondary, which means it likely won't kick in until other insurance (such as liability available under a homeowner's or renter's policy) is exhausted. Or, if underlying coverage is non-existent.
In addition to insurance, Rover's sitters and dog walkers have access to veterinarians and other pet care professional if a health or medical issue arises, along with a dedicated Trust & Safety team who's available 24/7.
How Much Do Rover's Services Cost?
As a client, the exact price you pay will depend on the service you need, as well as the specific prices of your chosen provider. During our research, prices ranged anywhere from under $20 to well over $80.
However, clients can book and pay directly on the site or through the app, where all credit card information is encrypted and never shared. This way, you won't have to worry about tips, writing checks, or having cash on hand.
Each sitter will classify their cancellation policy as strict, moderate, or flexible. Depending on this, your refund—if any—will be applied to your account within one to three days should you need to cancel. The company also offers a Rover Reservation Guarantee, which means if your provider cancels at the last minute, they'll work to find you a new one.
As a service provider, the company claims you could earn $1,000 per month, with payments that are automatically applied to your account. Rover will take 25 percent of your earnings as a fee.
What Are Rover Clients Saying in Their Reviews?
We found a whole lot of online customer feedback for Rover at the time of our research. For example, on TrustPilot, the company had more than 3,300 individual reviews and an average rating of 9.6 stars (excellent).
There, most compliments appeared to revolve around ease of use, as well as the quality of the service providers and the peace of mind they provide. Complaints (what few there were) frequently referenced poor service and dog injuries.
Among more than 6,000 combined reviews across iTunes and Google Play, the Rover app had a similar average rating of about 4.5 stars, with many of the same compliments found on TrustPilot. Many older complaints (again, of the few listed) referenced functionality concerns, which admittedly could have been addressed in more recent updates.
Our Interview with Rover
We had the opportunity to email several questions over to Rover's Community Manager. Here's what we learned from their response:
What kinds of background checks are run on new sitters and walkers?
Furthermore, what kinds of information might disqualify an applicant? After initial hiring, are service providers' backgrounds re-screened at any point?
Although few specifics were provided, they told us that all "background checks are completed via Checkr and include the national criminal database, sex offender registries, and global watch lists."
Compared to the competition, what are the top three factors that differentiate Rover?
In a nutshell, they told us Rover's main difference is that it "connects pet parents with dog people in their neighborhood."
Anyone looking for a pet care provider can easily find, message, and book through the company's straightforward website and app, and the sheer number of sitters available means it's "easy to book pet care you can trust, no matter where you go."
They also emphasized that every service provided by Rover is backed by premium insurance, 24/7 support, and the company's reservation guarantee.
What's the biggest challenge that Rover currently faces?
The manager let us know that the company's biggest hurdle—and their biggest opportunity—is to increase awareness that solutions like Rover exist.
"Generally, dog owners only use a commercial solution 10 percent of the time when they travel," they noted. "The majority relies on friends, family, and neighbors. However, that is changing, since our data shows 65 percent of users are people who, prior to Rover, would not have used a commercial service to watch their pet."
What updates/additions does Rover have in store for the future?
While they didn't note anything specific, the manager emphasized that Rover has "a number of things in development, and we plan to grow our suite of offerings that make it easier than ever to be a pet parent."
Alternatives to Rover
While Rover claims—and certainly seems to be, based on our research—the "largest network of 5-star pet sitters and dog walkers," there were several national search engines competing for the same customers. These included:
WagWalking
Perhaps the service most similar to Rover, they also offer site access, iOS and Android apps, and the ability to search for walkers and sitters and filter results. Users can schedule a meet and greet if they need recurring walks, track walks via GPS, receive reports (including pictures) after each one, and book overnight stays.
WagWalking is insured and bonded, although it doesn't appear they perform background checks on their providers like Rover. However, they do claim to "thoroughly vet and test all our walkers on dog-handling experience."
Based on a cursory review, though, they don't appear to be as extensive as Rover.
Care.com
Another extensive site that allows users to search by location, browse profiles, view rates, learn about a provider's years of experience, as well as their qualifications. Most ranged between $10 and $15 per hour at the time of our research.
DogWalker.com
While searchable, this site only relates to dog walkers (no sitters, day checks, etc.). Furthermore, they seemed to be more of an advertising service, since providers were required to pay to list their services.
How to choose the right option for you? Writing for CesearsWay.com, Josh Weiss-Roessler indicates that, when searching for a dog walker, sitter, or other professional, you'll want to:
Ask for recommendations and read online reviews
Meet with potential candidates, including with your dog
Ask logistical questions, such as where your dog will be walked, how long they'll be, if they can accommodate special needs or requests, and so forth
The provider's training and background experience
Finally, go for a test walk
The Bottom Line
Given these criteria, it seems like several of the competitors we mentioned in the previous section could fit the bill, although services that allow you to read reviews and detailed profiles, such as Rover, WagWalking, and Care.com, might make the process easier.
And the fact that many professionals are screened and/or tested prior to being employed can be a bonus.
But if you're looking for the widest number of professionals across most aspects of dog care while you're away, it might be difficult to beat Rover. We found their site easy to use and their service completely free, so you won't have much more to lose than a few minutes of your time by giving them a try.
In addition, based on our experience, their willingness to answer questions and openness indicates they place a solid emphasis on creating informed customers.
---
A Rover sitter lost our 2 Golden Retrievers and they are STILL missing

Overall Experience:

On 6/18/19, Tuesday, at 10 pm, our Rover sitter lost our 2 golden retrievers while letting them out for a late-night potty. Because my husband and I were on vacation, they were staying at her apartment complex and they reportedly ran towards the corner of Babcock and Camp Bullis Rd.

The sitters lived in a gated apartment complex with a gated dog park behind her building. Instead of using that lit green space, she brought our dogs outside the fence onto a pitch dark lawn near the road and woods, carrying both extend leashes in one hand after fireworks were set off by Six Flags just an hour earlier. She was informed Ripley was scared of the dark on paper and I believe verbally as well but we have no proof of the verbal. She said she looked until 3 am. Later in her rebuttal to our review on her Rover profile, she said she wasn't informed and deflected her negligence onto our dogs/lac of info. We are not allowed to respond to it.

My husband and I caught the next plane home. We saw the sitter once but never seen her face again. Most of, if not all, the conversations were initiated by us. There was little communication from her and it seemed forced. We had a news interview and I (Tricha S) called her out on her lack of participation and she became abrasive, acted victimized, accusatory, and added to our stress rather than helping us. After that, she was almost impossible to talk to in a constructive manner because she was so uncooperative. Please note, we asked for a picture of the dogs the day before they were lost and she did not give us any.

Rover printed flyers for us, made a few robot phone calls, called nearby sitters to help look (not one shown up), offered a $100 reward and said they looked online. At week 3, they stopped what little help they offered per policy. We have requested additional search services but they refused. They told us they may reimburse us for some vet bills or will offer us the worth of the dogs if they are found dead. So since week 3, we have been on our own.

There was a sighting of 2 golden retrievers running around a baseball field alone very close to where she lives earlier the day she claims she lost them by a gentleman that confirmed his story twice with us and once with a supporter of ours. Our PI said he thinks we should take that particular tip seriously. If it is true, that means she lost them much earlier than she says she did and was attempting to cover it up.

Rover never shut down her profile (that we can tell) and just days later she was meeting new clients. We asked Rover if they would tell us about her background check or if she had prior incidences and they would not. I felt it was very relevant to know if she did.

This is my understanding, but I could be wrong, Rover is a bait and switch company. Basically, they make these commercials of assurance, trust, and responsibility and take credit for that. IMO, almost like an insurance or liable company but the moment anything goes wrong however, all legality is placed on the sitter even though they take 20%+ of their fees.

We have been told that we can't sue Rover but only the sitter for a maximum of $5k. With lawyer/legal costs and the long drawn-out process of suing someone that might not even have the money/you might not even win, it's better to take the "dead dog money". The thing is, again, as far as I know (could be wrong) they have you sign a non-disclosure agreement at that time so you are unable to tell anyone about it. To me, this is super shady stuff and it makes me wonder how many other people have gone through this with Rover?

We have a community behind us in which has got the attention of other rover clients that have called up sobbing because they did this to them too. Its absolutely horrific and something needs to be done.

Looking for other Rover clients to talk.

Bottom Line: No, I would not recommend this to a friend

---

My dog died a few hours after being picked up from a Rover.com sitter

By Mario L.

,

Florida

,

Jan 21, 2020
Verified Reviewer

Overall Experience:

My dog caught a fatal disease while being boarded by a Rover.com dog sitter named Roseli in Delray Beach, FL, 33445. I noticed that he was not normal when I picked him up from a 7-day stay with a Rover Sitter in Delray Beach, FL near Military Trail and West Atlantic Blvd. When I brought him home, he seemed different. A few hours later we noticed he was shaking and in pain. We immediately brought him to the Animal Hospital. He was treated with pain meds, and had a blood test. The next day he was worse. We sent him to the main Vet Hospital in West Palm Beach. He died a few hours later. He was perfectly healthy when we dropped him off. He had been with this Rover Sitter two previous times. With no problem. We suspect that he was poisoned, bitten by a poisonous snake or caught a serious disease from another dog that was in the sitter's house.

Neither the sitter or Rover were of any help in this situation. I even paid extra for Vet services through Rover. Also, there is a Vet hospital within walking distance of the sitter's house. I also reminded the sitter that if there was any problem, to use my vet, and he would bill me. The sitter obviously did not check for dog shots which she is supposed to do. She didn't even ask me about shots. They are supposed to. When at the vet, he was weighed and lost over 2lbs, that's a lot for a Chihuahua Mix. Also his temp was 103. He must have been in this condition for days, and the sitter did nothing, didn't even contact us.

We miss our dog dearly, he was the most beautiful little guy. If you need boarding, please do not work with Rover.com. Spend the extra money and board with a Veterinary Hospital. It would be a lot cheaper than losing your beloved pet, and paying over $5K in Vet fees to try to save him. Rover.com does not stand by its guarantee...and this sitter is back in service after being off for a couple of weeks. That must be Rover's cooling-off period policy.

Bottom Line: No, I would not recommend this to a friend

---

Advertisement

---

The sitter who paralyzed my dog is still available and recommended by Rover.com

By Marybeth H.

,

Minnesota

,

Jan 17, 2020
Verified Reviewer

Overall Experience:

Rover is absolutely not safe and I have all the proof.

The sitter responsible for permanently paralyzing my dog is still available and recommended for hire on Rover's website.

You have no idea if any sitter has a prior record of complaints, incidents or accidents, because Rover will NOT disclose that information.

Even worse, they won't remove those sitters even when they've apologized for a sitter paralyzing a dog in her care.

Bottom Line: No, I would not recommend this to a friend

---

Disgusting manager protects irresponsible sitters

By Rachel L.

,

New York

,

Dec 27, 2019
Verified Reviewer

Overall Experience:

As a Rover sitter myself, whenever I speak with potential clients I always let them know what environment we have at home - I have one dog, I am not boarding or watching any other dogs, etc.

I booked with a woman who did not let me know she had any dogs. Her profile said no pets and she did not inform me she was hosting other dogs.

Though my dog gets along with other dogs - I am only comfortable with booking a reservation with an owner who has a dog because she would be able to watch her own and mine. I am not comfortable with several other strangers' dogs in the home with only one supervisor.

The day of the booking, a few hours before drop off, I inform the sitter I'll let her know when I'm on my way. She adds "I'm boarding two other dogs, they're playful and friendly."

She doesn't give more information until I ask, and she responds, "they've just been chilling all day."

1. She should have let me know before I even booked.

2. She did not give a thorough response.

I contacted the manager of Rover and she word for word said to me, "You have a responsibility to ask the sitter if she has any other dogs."

Essentially blaming me for not asking - or rather, for trusting what the sitter listed on her profile: "has no pets."

It is common courtesy and should be a standard to let the potential client know what environment they are stepping into.

The manager refused to refund me and blamed me for not asking if she had any dogs - even though her profile listed she had no dogs, and doesn't even state that she hosts multiple dogs.

I contacted another woman to re-book a reservation, and the first thing she asked me was, "Is your dog ok to play with other doggies? We are boarding one at the moment."

THAT'S how you communicate. As a sitter myself, I can 100% say it is the sitter's responsibility to let other owners know what environment they have at home. It's common sense.

OWNERS, BEWARE. There are responsible dog sitters on Rover but the system will not protect them - they only care about making money. The manger is disgusting and blamed the customer for not asking the sitter to disclose something she would have shared right off the bat.

Bottom Line: No, I would not recommend this to a friend

---

Advertisement

---

They lost my dog!

By Grant W.

,

Vaughan, Ontario, Canada

,

Dec 23, 2019
Verified Reviewer

Overall Experience:

Three days into a one week in house sitting, they lost my dog! Sitter decided to let him off leash after I specifically instructed him never to let them off leash. I'm looking into legal action now as this is unbelievable and not what is represented in level of care.

If you love your dog, find someone else!

Bottom Line: No, I would not recommend this to a friend

---

Our dog died

By Stacey K.

,

Nevada

,

Dec 19, 2019
Verified Reviewer

Overall Experience:

Our perfectly healthy dog collapsed and died shortly after getting her back from a Rover.com sitter. Rover.com refused to answer our questions or help in any way. I would not recommend Rover.com to anyone. Our hearts are broken and Rover.com does not act like it cares.

Bottom Line: No, I would not recommend this to a friend

---

Buyer beware

By Sandy T.

,

Richmond, VA

,

Nov 9, 2019
Verified Reviewer

Overall Experience:

I paid for the sitter to remain at my home. We have security cameras all around the perimeter of the house (the sitter was apprised of this) and they documented the absence of the sitter on the first night. When she failed to walk the dogs, keeping one locked up in a small room for 14 hours, we fired her. Rover claimed that the sitter was an independent contractor and that they could not refund all of our money even though there was a clear breach of our agreement with them. After numerous email interactions, as a "one-time customer service gesture," the company agreed to refund my money. Refunding my money for services not provided, neglect of my dogs bordering on abuse was a "one-time customer service gesture?" I will not be using this service again and advise potential customers to consider how they responded to this situation: Is this a company with which you want to entrust your pets?

Bottom Line: No, I would not recommend this to a friend

---

Never trust them or their guarantee

By Richard G.

,

Redwood City, CA

,

Nov 7, 2019
Verified Reviewer

Overall Experience:

Rover.com should never be trusted. The promises "local, loving pet care" and what I got was the opposite. My dog was so badly neglected that it's criminal animal abuse. I needed to board my dog for 28 days and when I got my 9-pound dog back he had lost 16% of his body weight. He was dehydrated and in deplorable condition. I rushed him to the vet who was horrified by his condition.

I filed a complaint with Rover as they have a guarantee to cover vet bills. Followed all of their long list of requirements to get some of the $900 in vet bills paid back and in the end they came up with a BS reason that they won't explain. That I'd have to file an appeal and blocked my emails to the person handling my claim. I have a statement from my vet stating the facts of the condition my dog was in on the day after I got him back. I have videos showing he was skin and bones and very weak, covered in fleas.

Please spread the word and don't ever use Rover.com or trust their guarantee.

I have the evidence and I don't mind sharing it.

Bottom Line: No, I would not recommend this to a friend

---

Been trying to register but site not working?

By Michael K.

,

Des Moines, IA

,

Oct 26, 2019
Verified Reviewer

Overall Experience:

Been trying to register but the site does not seem to be working. I could not reach a real person so I started to do some research online and was shocked to read about so many people who are having so many issues with this company. Thanks but no thanks.

Bottom Line: No, I would not recommend this to a friend

---

Overall Experience:

I will never recommend anyone to work for Rover. A customer complained a dog was sick in my care and that was far from the truth. I am owed 6 doggie daycare days. They won't pay me because there isn't any proof but I have an email saying those days have been booked. I worked them. I have pictures. They closed my account and told me I am banned from being a sitter. If I did something wrong - especially when you work for a company for over 3 years, you get a warning before you get fired. When you choose strict policies about cancellations - it's BS you don't get paid a percent like it claims. You lose money. As a sitter, if you're watching a dog - you shouldn't lose money if your dog is out of control, or if dog is argusive. I only watch one dog at a time or one family at a time. So if you book time and dog has to leave early because of behavioral issues, why should I lose out on income. I also had to pay PayPal fees to receive my money. So they were taking 25% plus I was paying PayPal their fees to get paid.

Bottom Line: No, I would not recommend this to a friend

---

How low can I rate them

By John H.

,

Maryland

,

Oct 6, 2019
Verified Reviewer

Overall Experience:

My experience with Rover was horrible. They claim to check backgrounds. They claim to have guaranteed service. Nothing is further from the truth. I had a problem where my sitter didn't uphold the agreement we had. I was 500 miles from home and had to find someone else to watch my dog on the fly. I asked for my money back and Rover told me I should talk it out with the sitter as they are all independent contractors. Rover takes your money before the service is given. But when there is bad service, they don't want to be part of giving you your money back. They are the worst. Buyer beware.

Bottom Line: No, I would not recommend this to a friend

---