Royal Gold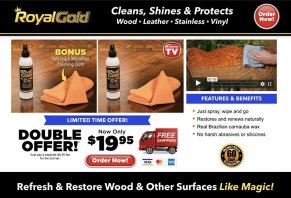 After spraying Royal Gold's carnauba wax-based formula onto just about any surface and wiping away, the company advertises it will help clean, protect, and renew.
Royal Gold Review
Manufactured by Emson, Inc., Royal Gold contains a proprietary, super-concentrated blend of natural oils and conditioners that promise to clean, shine, and protect any wood, leather, stainless steel, glass, or vinyl surface like magic.
The As Seen on TV product's commercial advertises that you simply spray the carnauba-based formula onto each surface, and wait a minute while it gently penetrates and separates gunk, wax buildup, decades of dirt and grime, and smoke and sun damage. It also moisturizes and conditions.
Then, wipe off with a soft cloth, and you'll immediately restore and renew the surface's natural glow and shine, without relying on harsh abrasives or silicones, or worrying about leaving behind a tacky wax residue.
Together, we're told Royal is the restoration professional's "go to gold standard for cleaning, refreshing, and restoring." But, is it necessarily the best option for your circumstances?
We'll help you answer this core question in this article, starting with what you'll pay.
How Much Does Royal Gold Cost?
An 8-ounce bottle of Royal Gold is priced at $19.95 and includes free shipping. You can purchase a second bottle during checkout for a $6.95 shipping fee. Each bottle includes a free bonus microfiber cloth.
All orders also come with a 60-day money back guarantee, which you can request by calling E. Mishan & Sons, Inc. ("Emson") customer support at (855)870-3718.
Are There Other Multi-Surface Cleaners Competing With Royal Gold?
Although the process of choosing between Royal Gold and other multi-surface cleaners isn't exactly rocket science, there are a couple of critical points to remember that can help you select the best formula.
Let's quickly break it down into three core questions:
Do some multi-surface cleaner ingredients work better than others?
What surfaces do you need to clean?
How much money do you want to spend?
#1: How Do Multi-Surface Cleaner Ingredients Compare?
We searched popular online resources like Google Shopping, Amazon, and Walmart, and didn't encounter any other carnauba-based multi-surface cleaners like Royal Gold.
In other words, competing formulas that were advertised as suitable for everything from wood and leather to stainless steel and vinyl, both inside and outside the home, often lacked any kind of wax-based ingredient, carnauba or otherwise.
However, we did come across multiple popular products that promised to clean many of the same surfaces as Royal Gold, including:
| Brand | Price | Quantity | Active Cleaning Agents | Safe for Use On |
| --- | --- | --- | --- | --- |
| Royal Gold | $19.95 | 8 oz. ($2.49 per oz.) | Brazilian carnauba, natural oils and conditioners | Wood, Leather, Stainless Steel, Glass, Vinyl |
| Pledge Wood, Leather, & Stainless Steel Enhancing Polish | $7 | 14.2 oz. ($0.49 per oz.) | Hydrocarbons, C7–C9, isoalkanes | Wood, Leather, Stainless Steel |
| Scott's Liquid Gold Wood Care, Surface Care Protection | $5 Aerosol; $6 Pourable Liquid | 14 oz. ($0.35 - $0.43 per oz.) | N/A (contains no silicone or wax) | Wood |
| Puracy Natural All Purpose Cleaner, Streak-Free Household Multi-Surface Spray, Green Tea & Lime | $7 | 25 oz. ($0.28 per oz.) | Purified Water, Decyl Glucoside (Sugar-Based Cleanser); C6–C12, C12–C15, & C9–C11 Alcohol Ethoxylate (Sugar-Based Cleansers); Citric Acid & Sodium Citrate (Plant-Based pH Neutralizers) | Most non-porous surfaces (countertops, tile, stone, wood, glass) |
| Mrs. Meyer's Clean Day Multi-Surface Everyday Cleaner | $4 | 16 oz. ($0.25 per oz.) | Decyl Glucoside, Sodium Citrate, Sodium Methyl 2-Sulfolaurate, Citric Acid, Tetrasodium Glutamate Diacetate | Most sealed stone surfaces |
| Method All-Purpose Cleaner | $3 | 28 oz. ($0.11 per oz.) | Corn and Coconut Derived Biodegradable Surfactants, Corn-based Cleaning Salt, Soda Ash, Potassium Hydrate | Most non-porous surfaces (countertops, tile, stone, wood, glass) |
| Windex Vinegar Multi-Surface Cleaner | $3.50 | 23 oz. ($0.15 per oz.) | N/A | Plastic, Stainless Steel, Vinyl, Glass |
It's not uncommon for cleaning products to contain proprietary formulas, so we can't necessarily hold it against Royal Gold, Scott's Liquid Gold, and Windex Vinegar for not disclosing all of their ingredients. However, this does make head-to-head comparisons more difficult.
We called several customer support representatives looking for details about Royal Gold's formula, who advised they didn't have additional information outside of what was available on the product's website.
With this in mind, we think it's interesting to point out that Royal Gold contains carnauba wax, which is often found in candles, car waxes, shoe polishes, floor and furniture waxes, and even some cosmetics, to name just a few. This is because it's renowned for its ability to leave behind a bright sheen.
As a result, we think you might want to maintain realistic expectations regarding the manufacturer's claim that Royal Gold won't leave behind any waxy residue. You'll notice that none of the other formulas above contain wax as an ingredient; even those marketing for use on wood furniture.
However, you can minimize potential buildup by avoiding applying too much to surfaces, while also quickly wiping away any excess spray with a soft, dry cloth.
Let's carry this thought over to the next section.
#2: What's the Intended Use for Your Multi-Surface Cleaner?
We didn't test any formulas while writing this article, but based on our years of consumer research, we've found customers often report that multi-use products and formulas often don't perform as well as the standalone versions they're intended to replace.
While we certainly can't say if this is the case with Royal Gold, it's important to point out that many of the competing multi-surface cleaners above focus on specific areas of the home (e.g., non-porous surfaces, outdoor applications, indoor furniture, etc.).
So, depending on how and where you'll primarily use your cleaner (e.g., indoor wood furniture, outdoor vinyl patio equipment, industrial surfaces like stainless steel, etc.), you might get more bang-for-your-buck with a formula designed for use on one or two specific surfaces.
#3: What's Your Budget?
We can see in the table above that at $2.49 per ounce, Royal Gold is priced five times higher than the closest competitor, Pledge Enhancing Polish, and more than six times higher than the next closest option, Scott's Liquid Gold.
And without knowing exactly what its formula contains, there's no way to know what kind of value you'll achieve after paying its meaningfully higher price.
After we pull all of these details together, should you go ahead and place an order for Royal Gold?
Our Final Thoughts About Royal Gold
Like any other household product, choosing the right multi-surface cleaner will primarily revolve around which factors you emphasize most.
For example, if the lowest price is your primary concern, Method and Windex come in the lowest in the table above, although their formulas are only suitable on non-porous surfaces like countertops, tile, stone, wood, and glass.
If your biggest requirement is something to address wood surfaces, you'll need to go with Royal Gold, Pledge, or Scott's. And if you want to minimize the chances of sticky buildup, you might want to opt for a completely wax-free formula like Scott's Liquid Gold or Pledge.
With all of this said, if you decide to place an order for Royal Gold and give it a try in your home, Emson stands behind it with a 30-day refund policy, which should be more than enough time to decide if it meets your needs.
Just remember that you'll have to pay to send your bottle(s) back. You'll also lose the $6.95 fee if you ordered the second bottle.
» Related: DIY Natural Cleaning Products That Actually Work