Rype Reviews
Claimed This company has claimed this profile, is getting alerted on any new customer reviews entering this page, and may engage in dialogue with its customers to address their matters.

Companies cannot pay money or provide goods in order to remove or alter customer reviews.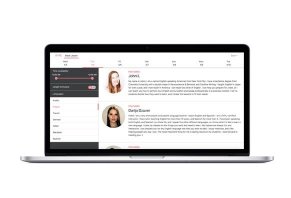 Rype is a website that offers expert language teachers for 30- and 60-minute sessions. Their price structure uses simple monthly subscription tiers that afford you unlimited sessions.
About Rype
Rype is a subscription-based language-learning site through which you can access 30-minute or 60-minute language lessons with a top-notch tutor.
The languages available through the site are: English, Spanish, French, German, Mandarin, Italian and Arabic. According to a Medium post by founder Sean Kim, the site is working toward making Japanese, Russian, Portuguese available, too.
Kim launched the site because he saw an opportunity to provide a website for language learning that combined expert teachers, fair prices and was designed for busy people.
Language learning has been a big business for a long time. Language schools, private tutors, and software reigned supreme for many years. As apps have emerged first through Facebook and then through mobile phones, language learning has become more accessible than ever.
Therefore, it's important to be discerning about how you learn a language. It takes a lot of time and, in most cases, a lot of money.
Our review will help you make the right decision by doing an in-depth analysis of the following aspects of Rype
How the site works (signing up, doing lessons, etc.)
How much it costs
How it compares to language school and software
Once we've covered each of these areas, we'll conclude our review talking about the site's pros and cons, then let you know who we think is a good fit for the site.
How Rype Works
To understand what the user experience is like, we signed up for a seven-day free trial. Because of this, we were able to set up an account, search through their teacher database and get a pretty hands-on grasp of what the service does and doesn't do.
If you're like us and sign up for the free trial, the process will require a credit card number, your full name, email address, and a password. You'll also be asked which language you want to learn.
Once you have this information entered, your free trial kicks in and you click through a couple of screens to get to your dashboard, which is comprised of a booking page and a reservation page.
When we clicked on the option to book a lesson, Rype's strength really shined: the booking engine. The site allows you to pick days and time ranges during which you're available, kind of like how you can choose flights based on dates and departure times.
The site will narrow down your search results and provide you with a real-time list of which teachers are available at the times you're available.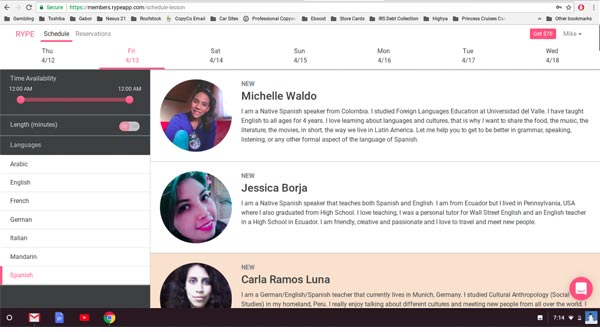 Booking a time is as simple as clicking one button and, if necessary, leaving a few notes for your teacher.
Head to the Reservations tab to view the upcoming lessons you've reserved and to cancel them or reschedule them.
As for the quality of the teachers you find, Rype's website claims that all of their teachers "have professional teaching experience and have their own resources when it comes to teaching you a language. This means that language lesson plans will vary from teacher to teacher, language to language, and so on."
Rype's teachers have professional teaching experience and will work with you to come up with a lesson plan that will help you reach your language-learning goals.
The Rype Language Hacking Course and eBook
One of the things we noticed Rype's home page is their Masterclass language series, a four-part video course designed to expedite your learning process by providing tips gleaned from linguists and language-learning experts.
Basically, this course is intended to supercharge your language learning through advice from people who know languages inside and out.
Rype's founder says that Rype users who do the course show more progress in their lessons than those who don't. The video series is free for those who enter their email address.
Rype also offers a free ebook with helpful tips for learning languages quicker.
Rype's Support
Based on our research of Rype, the two easiest ways to reach them are by the chat support they have on their website and by scheduling a call with their support specialist Michele, who, according to her chat profile, is based in Cape Coral, FL.
We asked Michele if it was possible to book same-day sessions. After two hours, we'd yet to receive a response, which isn't entirely out of the ordinary. Many companies who use chat support will respond by email later in the day or the following day.
However, a few days later, we sent an email requesting that our free trial be canceled and Michele responded within minutes.
Rype's Fees
Rype has a two-tiered fee structure: Rype GO and Rype X. Rype GO gets you unlimited 30-minute sessions each month. Rype X gets you unlimited 1-hour sessions.
Here's a table of the cost of each of these plans...not that the "12 months paid monthly" means you're signing a 12-month contract to use Rype but you're paying monthly instead of yearly:
| Membership type | Rype GO | Rype X |
| --- | --- | --- |
| 12 months paid yearly | $1,380 annually | $2,580 |
| 12 months paid monthly | $135 per month | $235 per month |
| Month-to-month | $175 per month | $295 per month |
Rype X presents the better value because you're getting lessons that are twice as long as Rype GO but the fees are less than twice as much. However, you'll have to decide for yourself if you have the time for the one-hour sessions that come with X.
Rype's FAQ section notes that you could be on the hook for cancellation fees if you end your contract early.
How do these prices compare to other types of language learning like language schools and software? That's what we'll cover in the next section.
How Rype Compares to Language Schools, Language Software and Other Sites
Rype offers an advantage over language school because you get to do your lessons from the comfort of your own home. If you want to learn Spanish in bed, you can learn Spanish in bed. Also, you can work with your instructor to come up with a personalized lesson plan tailored to your ability and skill.
Software like Rosetta Stone, on the other hand, is equally as convenient but it doesn't leverage real-life conversations between an expert and a student, nor does it tailor a lesson plan to your ability.
And, speaking as someone who went to language school and was learning Spanish in Spain, it's the face time with real humans – the listening, processing and responding – that really sharpens your skills.
The main advantage to software, though, is that it's cheaper than language school and Rype. A one-year subscription costs $179.
As far as language schools go, my experience is that their curriculum is designed for groups at certain skill levels.
Basically, they group everyone together based on how good they are at the language, then teach them in bulk. This isn't necessarily a bad thing if their classes are conversation-heavy and your goal is to be conversational.
There isn't nearly the customization that you could get from a Rype lesson plan, but, then again, some language schools offer private sessions where you can fine-tune your skills in a one-on-one setting. However, these lessons come at an additional cost, in most cases.
As far as cost goes, language schools in the United States can be more expensive or cheaper than Rype's annual or monthly fees.
For example, taking a Spanish course at a local community college may be around $400 for a four-month semester, whereas four months of Rype GO at the month-to-month rate would be more than $700.
The advantage Rype has over taking language courses at a community college is that you can take lessons at any time during the day because you can form your lesson schedule around your work and family schedule.
Colleges and/or language schools tend to offer courses at specific times during the day, times that don't change to accommodate your situation.
Pros, Cons and Who Rype Is Good For
Rype's strengths are that you can choose lesson times that work for you and you can take as many lessons as you need for one flat rate. We also like how their teachers have, according to Rype, professional teaching experience.
The downside to the site is that, while you get to spend 30 or 60 minutes with a private tutor, the monthly fees you'll pay may not be doable for you if you're on a tight budget. Granted, those fees are cheaper than what you'd pay for a language school or weekly sessions with a tutor in your area.
In our opinion, Rype is an excellent choice for someone who doesn't have much time to take language lessons and wants a way to get private lessons at times that are convenient for you.
Also, based on our research, we think this site is best for someone who is disciplined. Your Rype membership could easily turn into a gym membership in which you're paying every month but not using Rype's teachers.
My 2 years with Rype!

By Kani N.

,

Earth

,

Feb 12, 2020
Verified Reviewer

I have used Rype for 2 years. I have both good experiences and bad experiences!

Their customer service is so so. They're not so helpful.

Their marketing and mindset are great. A lot of meaningful and motivational articles.

Their teachers - some are really cool and awesome. Some are so so. Not all of them are native.

Their billing system is bad. They charged me a lot for no reason and refused to refund. Sometimes they charged me twice per month! I tried to ask why their customer support is not so good, so you know the result.

Bottom Line: No, I would not recommend this to a friend

---

Updated review

Good to know

By Maria B.

,

Panama

,

Nov 14, 2019
Verified Reviewer

Bottom Line: Yes, I would recommend this to a friend

Previous review
Aug 2, 2019

Good experience as a Teacher

I have been a professional teacher for more than ten years and teaching with Rype for three of those years. It's been a wonderful experience and it has provided me the opportunity to meet students from all over the world, help them enhance their language skills and to share our cultures during the process.

I've seen that the platform has evolved to be more efficient and the scheduling system has expanded to allow students to access specific times where teachers are available and they can also select the language they'd like to learn. It's a welcome change.

I would encourage any language learner to explore Rype and provide feedback to the support staff because they care about meeting the needs of students and teachers. They are continually working to improve it and make it the best option available for online learning.

My personal experience with Rype has been excellent and I look forward to continuing my teaching career with them and growing professionally.

(

read more

read less

...)

---

Advertisement

---

Scam

By Lucas G.

,

Gent

,

Aug 13, 2019
Verified Reviewer

Rype is a SCAM. You will be able to sign up for free trials but they will request your payment. It will be difficult to unsubscribe and you will find that you have been locked into costly repeat payments. Stay away.

Subscription traps are common with gyms, music, and video streaming services and delivery services and now it has reached online language learning.

Bottom Line: No, I would not recommend this to a friend

---

Updated review

Update

Eventually, I did a get a refund, but only after the founder himself involved. I appreciate what they did, but, I still think they could have a better process.

Bottom Line: No, I would not recommend this to a friend

Previous review
Mar 2, 2019

Lack of teacher selection and ridiculous policies

In today's tech day and age, this the first time I've had a company refuse to refund me when I didn't use their services at all. I was late in canceling my free subscription one day, and even then, they would not refund me. That's how they get you.

I wanted to cancel because their services are subpar. Their teacher selection is tiny compared to services like iTalki, and the teachers are not certified. Literally we are paying these teachers significantly less than minimum wage, and this is really unfair after Rype takes a cut.

Jul 30, 2019

Hey Stephany!

Sorry to hear about this - we sent you an email about this as we can verify that this matter was resolved for you with a full refund and that we have closed your account. It looks like this was posted before everything was resolved, so please let us know if you received the email from us or feel free to reach back at help@rypeapp.com.

Teacher wise, we do handpick each teacher on the platform and while not all teachers are professionally certified from a language school, they all need to have professional teaching experience to join our community. For this reason, we do limit the number of teachers that are displayed for our members, compared to other platforms where there isn't an in-depth selection process.

Keep in mind that we also don't take any cuts from teachers, and teachers are paid a flat fee per hour depending on their level of experience, how long they've been on our platform, student ratings, and other factors we take into account.

We are onboarding new teachers on a weekly basis to meet the growing demand of our students, and we'd be happy to offer you some free credits if you ever want to try us out again. It seems like it has been nearly 6 months since you were with us, so we'd love to show you the new features and teachers we have in place.

As mentioned above, we have verified that you've received a full refund from us on April 12, 2019, but please reach out to us at help@rypeapp.com if you have any other questions or feedback!

Thanks so much Stephany.

(

read more

read less

...)

---

Advertisement

---

Simple to use for anyone

By Henry L.

,

Mexico City, Mexico

,

Aug 6, 2019
Verified Reviewer

As a designer with experience working for other consumer products, I appreciated how simple the product is to use. Perhaps it is due to the early stage of the company, but that could be an advantage for Rype's product now.

Having used other platforms like iTalki or Verbling, Rype is up there and the gym membership model is what's most interesting. It does have some psychological incentive to keep you motivated that the other lesson platforms didn't offer. Pricing wise, it's comparable to the other platforms so no major advantage there but it's a flat pricing system which makes it easy to understand.

Enjoying it overall.

Bottom Line: Yes, I would recommend this to a friend

---

My experience of Rype

By Orla C.

,

Limerick, Ireland

,

Aug 2, 2019
Verified Reviewer

I was recruited in August 2018 by the late Tom Armbruster, and what I assumed would be a bog-standard interview was actually him setting me up in the system - getting me to download the schedule, sorting out passwords, and generally explaining how Rype works, and how to deal with students. Tom was very down-to-earth and professional, which was why I was happy to go along with getting started.

Previously I'd had a lot of experience with one-to-one and small groups, mainly with adult professionals who needed help with work-related English. Compared to European-based language teaching companies, Rype actually pays very little, so I spend as little time as possible on preparation, but do keep a record of what we cover in the chat on Skype - these also serve as notes for the students. That said, I've found some very useful materials online that are essentially the likes of National Geographic magazine articles that are modified to the needs of the average ESOL learner - and the internet provides fantastic opportunities for self-study, which I encourage.

The one-to-one format works very well for students of lower intermediate levels who wish to improve their speaking skills in particular, as they have subjects that interest them that they wish to discuss (frequently work-related) and initially I listen for repeated mistakes and tackle those first by doing the 'time out' sign, and present the correct form, and give them plenty of chances to practice getting it right. I have one Spanish student who has worked with me for a considerable time and right now I am encouraging him to bring his family on a little holiday to one of the English-speaking countries, he has improved so much but needs to test himself a bit.

A couple of things that could be addressed, however: First of all, you could raise the rate teachers are paid. Perhaps a little more for every year worked? Second: I have no problem at all getting into the OnSchedule portal, but I cannot otherwise access my profile on Rype. For some reason, the system does not recognize me. I would love to see my portal because I believe I've had a review and I'd love to see what the student said. Finally, I think that it would be worth telling the students that a laptop or PC or other large screen is the best way to make the most of the Skype program, rather than a tablet or phone, but you might already have something like that on there.

It might also be helpful, particularly for teachers new to the profession, to have a kind of informal online get-together to discuss any issues that they might encounter - certainly pertaining to cultural issues. Could be in the form of a Facebook Live session perhaps? Or Facebook could be used to advertise it? Being a solo operator working remotely does have its downsides, after all...and sometimes this is the lack of immediate feedback.

All in all, I like the autonomy, and the flexibility to set my own hours, it allows me to work around my text-related work and my art. I have worked on my own for almost 20 years and got back into TESOL teaching online because it is nice to talk to people during the day! And I enjoy teaching English, I always have. I'm so glad the technology is available.

At the time on writing this review, I am in the middle of a two-week holiday and am using my phone to make little videos of the places I visit in Ireland to send to my regular students (Spain, Bulgaria, Taiwan, Mexico). I so love the Internet...

Bottom Line: Yes, I would recommend this to a friend

---

Flexible bookings, happy I found it!

By Cynthia L.

,

Austin, TX

,

Jul 31, 2019
Verified Reviewer

After moving to Austin into a new role and noticing the Hispanic population here, I started browsing online for a way to take lessons virtually.

I found Rype and while hesitant at first, took their 7-day trial offer. The system itself was fairly buggy when I first joined last year, but they have improved it by a big margin in the past few months.

For me, the most important thing is who I'm learning from and my teacher Maria has been nothing short of amazing!

Bottom Line: Yes, I would recommend this to a friend

---

Love my French teachers on Rype

By Carlos N.

,

Mexico City, Mexico

,

Jul 27, 2019
Verified Reviewer

A friend of mine from work told me about Rype after she used it last year to learn English. I was used to learning a language at school but it was my first time doing it online.

Overall, I couldn't be more satisfied with my experience so far. It's my 4th month as a member and I've worked with my teachers Gabriela and Marie consistently to improve my speaking skills.

My only recommendation is I wish there was a standard curriculum to follow and track my progress on the platform. Otherwise, it's friendly for just about anyone.

Bottom Line: Yes, I would recommend this to a friend

Jul 30, 2019

We appreciate your feedback Carlos!

---

Great value, service, and convenience

By Linnea C.

,

Michigan

,

Oct 21, 2018
Verified Reviewer

I'm a graduate student and am therefore very tight on time and money. After weighing all of my options, I decided to give Rype a try. I have been thoroughly impressed with the quality of the language coaches. I say "coaches" instead of tutors because this system is made for those who are motivated to learn a new language and can do some independent study. The coaches provide lots of resources and activities for you to practice. They are professional, yet approachable and friendly. Experience in language teaching seems to be a prerequisite for the job.

I chose Rype because it was cheaper than classes or peer-tutoring offered through the University. I have found Rype to be a terribly convenient way to get one-on-one language lessons. I like to book my sessions for first thing in the morning. It's a great kick-off to the day and helps me feel like I've accomplished something even before I've had breakfast or left the apartment! Many of the language coaches are overseas, which I actually prefer because it means I can book sessions outside of the usual 9-5 hours for my timezone.

I have also been impressed with Rype's customer service. I wish they had a phone number to call, nonetheless, they are responsive on the website's live chat feature and via email. When I sent emails, I got responses nearly immediately, often from the CEO himself, Sean. The website itself is well set up, naturally navigable, and aesthetically pleasing. Designing a website like this is easier said than done. I even like the name. Yes, these things matter to me, especially if I'm paying for it and have to look at it nearly every day. Rype is a great resource, I highly recommend it.

Bottom Line: Yes, I would recommend this to a friend

Jul 30, 2019

Thanks for the extensive review and feedback on your experience Linnea!

---

Most flexible method I've found

By Max H.

,

Washington, DC

,

Oct 18, 2018
Verified Reviewer

On top of being able to find pre-vetted teachers (saves me time from interviewing or doing background checks), Rype allows last-minute cancellations when something has come up.

I've been learning with the service for over a year now and even got my son to start using it to learn Spanish.

I can't recommend it enough.

Bottom Line: Yes, I would recommend this to a friend

Jul 30, 2019

Thanks Max, glad your son is enjoying his experience with us!

---

Great value, very convenient

By Andrew H.

,

Washington, D.C.

,

Aug 3, 2018
Verified Reviewer

I've been learning with Rype for about 15 months now, and they've made significant improvements with their platform and overall experience. I've been learning Spanish over the past year and now moving on to French with the app. Given how much time I can save versus learning from an in-person classroom, which is what I was doing before. I'm not sure about the browser issue, because I use the platform on Safari and Chrome, so I highly doubt that this is an issue for everyone.

Bottom Line: Yes, I would recommend this to a friend

---