Saatva Mattress Reviews
Claimed This company has claimed this profile, is getting alerted on any new customer reviews entering this page, and may engage in dialogue with its customers to address their matters.

Companies cannot pay money or provide goods in order to remove or alter customer reviews.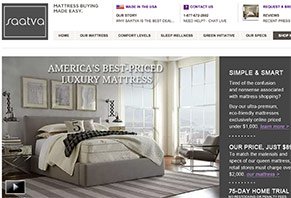 Saatva is an online-only company that sells 3 different types of mattresses featuring their 2-layer dual support system at up to 70% off retail prices.
About Saatva Mattress
Saatva Mattress is an online, direct-to-consumer company that claims to manufacture ultra-premium, eco-friendly mattresses at up to 70% off retail prices. Because of this, Saatva claims to make mattress buying easy and to offer "America's best-priced luxury mattresses."
In order to accomplish this, Saatva mattresses are claimed to feature the most advanced, dual support coil-on-coil technology, in addition to green, eco-friendly components, such as organic cotton outer covers, bio-based foams, and recycled steel rod coil units.
On top of this, Saatva Mattress claims to have disrupted the existing business model within the industry by eliminating manufacturer's markups, inefficient middlemen, and high retail costs and then passing the savings along to consumers.
All Saatva mattresses are handcrafted in 12 independent American factories along with 35 American fulfillment centers and are claimed to last 10-15 years based on normal usage.
Sure, this is all well and fine, but you came to find out: How easy is the buying process? Will you really receive ultra-premium comfort from Saatva for a lot less money? Consider the following:
Saatva Has Some Competition
First, keep in mind that there are numerous up-and-coming online-only mattress companies out there, including Casper, Tuft and Needle, Yogabed, Leesa, Sapira Mattress, and many more.
Among these, there are many similarities, including lengthy in-home trials, direct-to-consumer prices, and more. In fact, if you didn't know and better, you'd almost think that many of these mattresses are essentially the same product.
However, when it comes to Saatva, there are some meaningful differences, which we'll discuss next.
Saatva Mattress Comfort Levels
One of the biggest differences between Saatva and other online-only mattress companies is that Saatva offers different firmness levels. These includes:
Luxury Firm – A 5-7 on the firmness scale, Saatva claims these mattresses use a dual coil system that provides contour while remaining responsive to any body weight, shape, or sleeping position. Then, on top of the coils are premium foam cushion layers claimed to assure proper spinal alignment.
Firm – An 8 on the firmness scale, Saatva claims these mattresses offer a firmer core with less flexibility than the Luxury Firm model. According to the company, this will provide you with "excellent balanced resistance from head to toe."
Plush Soft – A solid 3 on the firmness scale, these models are claimed to feature individually pocketed coils with softer foams on top to provide more flexibility and give.
Regardless of which firmness level you choose, your Saatva mattress will include a blended organic cotton cover with hypoallergenic fibers and a natural thistle barrier to provide flame retardation, while remaining gentle to the skin.
What is Saatva's Dual Support System?
In addition to different firmness levels, Saatva mattresses also feature coil springs (which they call a dual support system, since the springs are spread across 2 layers, with Bonnell Coils on the lower base layer), whereas all of the other companies mentioned above manufacture foam-only mattresses.
According to Saatva, their dual support system includes individually wrapped springs that balance contouring and responsiveness, while eliminating motion transfer (we'll talk more about this in the Reviews section). This is because your body weight is evenly distributed among the coils, which helps you sleep better for longer periods of time.
The Primary Components in Saatva Mattresses
Based on the Saatva website, the primary components in their mattresses are:
Organic Cotton backed with hypoallergenic fibers, plant based Natural Thistle which consists of wood pulp and a polyester bonding agent, Cotton, Plant based foams of 30% soy and corn oil coupled with polyurethane and Dacron, recycled steel springs/ coils, bio based visco memory foam, rayon and Kevlar thread.
What Are Saatva's Bio-Based Foams?
According to Saatva, their bio-based foams use at least 30% soy or corn oil, although this shouldn't be taken to mean that they're 100% organic, or that you won't experience any off-gassing.
In fact, the company specifically notes that a small amount of off-gassing is handled by the supplier's facility, although most of this will occur in your home. This means you'll likely notice a distinct smell for 5-7 days after unboxing.
Customers Talk About Saatva Mattresses
Overall, Saatva mattresses appear to have very positive online customer reviews.
SleepingLikeALog.com claimed they chose the Luxury Firm Saatva mattress because they felt it offered the ideal balance between comfort and firmness and that its quality rivals mattresses that cost $2K more.
Compliments included comfort, value, and eco-friendliness, while some of the drawbacks were that they're not 100% organic, and are not ideal for adjustable bases. In all, the reviewer claimed that if you're willing to take a small risk by buying your Saatva mattress online, you'll be pleasantly surprised.
There were also 73 Saatva reviews on TrustPilot at the time of our research, with an Excellent rating of 5 stars. Common compliments included a high level of comfort, speedy delivery, great price, and great customer service. In fact, no one rated their Saatva experience anything less than 4 stars.
Finally, SlumberSage noted that the Saatva mattress gave them a better night's sleep than they had experienced in a long time, based on its perfect balance of comfort and support, its eco-friendliness, and its well thought out construction.
In fact, Saatva was even listed at #67 on Forbes's list of America's Most Promising Companies, and their highly successful business model was featured in Fortune. On top of this, Saatva is the best-reviewed mattress on Google, with an average rating of 4.8 stars (as of 4/21/15). However, as noted in this TheMattressUnderground forum thread, many of these reviews may have been acquired before customers even had the opportunity to test their mattresses.
From a company perspective, Saatva, Inc. was founded in 2010 and is based out of Westport, CT. The company held an A+ rating with the Better Business Bureau at the time of our research, with 2 closed complaints. Only one complaint detail was provided, though, which appeared to reference incorrect/damaged merchandise.
Saatva Pricing & Refund Policy
Saatva mattresses are available in custom slim (11.5" thick) and premier (14.5" thick) sizes, and are priced as follows:
Twin (38" x 75"): $599
Twin XL (38" x 80"): $699
Full (54" x 75"): $849
Queen (60" x 80"): $899
King (76" x 80"): $1,299
California King (72" x 84"): $1,299
With your order, you'll also be able to purchase a 4" low profile/split or standard 8" foundation for between $150 and $300.
Finally, delivery and in-home setup will cost you about $100, although this can vary depending on your location. Saatva will also remove your existing mattress for an additional $35.
All Saatva mattresses come with a 75-day in-home sleep trial. This is less than Casper, Yogabed, and Leesa, who offer 100-night trials, but more than Tuft and Needle, who offers only a 30-night trial.
If you decide to return your mattress, Saatva doesn't charge any restocking fees or penalties of any kind, although they won't refund your original delivery charge.
Saatva also provides 15-year warranties against defects in workmanship and materials on all their mattresses. There are some caveats, though, so be sure to read through their Warranty page for additional details.
In order to speak with Saatva customer service, you'll need to call 877-672-2882.
Is Saatva Mattress Right For You?
Chopping to the point: Compared to many of the other online mattress companies we've reviewed, Saatva's products break the trend by including 2 layers of individually wrapped coils, as well as 3 different firmness levels. However, since buying a mattress is such a personal experience, whether or not this translates into real-world comfort benefits largely depends on your preferences.
With this said, all Saatva mattresses come with a 75-night trial, which should be more than enough time to discern whether or not it's right for you. Unlike the competition, though, you will be out about $100 in non-refundable delivery charges.