Safe Auto Insurance Company Reviews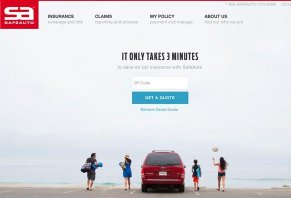 Specializing in state minimum coverage and high-risk drivers, Safe Auto Insurance Company promises to offer competitive pricing, ease of use, and 24/7 customer support.
About Safe Auto Insurance Company
In business for more than 20 years, Safe Auto Insurance Company is a nonstandard carrier specializing in minimum coverage across 17 different states.
Whether you choose to visit their website or speak with a representative over the phone, Safe Auto can get your policy started right away and send your Proof of Insurance via fax, e-mail, or mail.
Once coverage is in place, the company also offers low down payments and affordable monthly installments, which can also be processed online, over the phone, or through Safe Auto's smartphone apps. And you can talk to a live representative 24/7 to report a claim or make changes to your policy.
After partnering with Augeo Benefits and their carrier network, Safe Auto also offers a variety of major and short-term medical, dental, critical illness, accident, and life insurance policies.
Whether you're looking for state minimum coverage or otherwise, is Safe Auto the right insurance company for you? In this article, we'll explore many of the important factors that can help you answer this question—starting with the basics.
What's a Nonstandard Insurance Company & State Minimum Coverage?
Investopedia defines a nonstandard insurance company as one that insures "drivers considered to carry the most risk. Nonstandard auto insurance for a driver takes into account the driver's characteristics, and is offered to drivers considered the most likely to file a benefits claim. These drivers pay the highest premiums for coverage."
In layman's terms? Nonstandard auto companies accept drivers with more activity (accidents, violations)—and as a result, charge higher rates—than standard companies.
When shopping around, you'll often find that nonstandard companies tend to focus on providing state minimum coverage. Like it sounds, this term references the minimum liability limits legally allowable to drive in a given state. Like most auto insurance providers, Safe Auto also offers collision (collision with a fixed object) and comprehensive (falling objects, animal damage, and so forth) coverage.
How Much Does a Safe Auto Insurance Policy Cost?
As we learned when researching how much car insurance rates go up after a ticket or accident, there can be a big difference in what you'll pay between various insurance companies for the same activity. In fact, this can even be the case with the same insurance carrier and driver, but in different states.
With this in mind, since nonstandard companies typically accommodate higher risk drivers, this means their premiums are often higher than standard carriers.
What We Learned From Our Safe Auto Insurance Quotes
Exactly how much will you pay, though? To give you an idea, we ran six different quotes through Safe Auto's system, which we found was quick and easy to use. Here were the parameters:
2015 Honda Accord sedan garaged in the 77018 zip code
Married couple
No insurance lapses over 30 days
Homeowners
Average credit score
30/60/25 liability coverage (no other option was available)
$2,500 PIP
30/60 UM/UIM BI
25/250 UM/UIM PD
With no activity and liability coverage only, our six-month premium came in at $519. Adding a $1K comprehensive and collision deductible increased the price to $1,047.
Interestingly, adding a speeding violation didn't increase the premium. Adding one alcohol and drug violation for each driver bumped the liability-only premium up to $627, or $1,309 with a collision.
Adding a second alcohol or drug violation for each driver brought the liability and full-coverage premiums to $846 and $1,874, respectively.
Keep in mind that, according to the FAQ on Safe Auto's website:
"Sometimes it is necessary for us to adjust your rates after the start of the policy if anything changes from your original quote. Some of the items that may have changed include additional violations returned on the Motor Vehicle Report (MVR) for you or a driver on your policy, or required forms not returned by the due date."
In other words, the rate you're quoted isn't always the rate you'll end up with once your policy goes into effect.
What About Safe Auto's Payment Options & Fees?
Safe Auto provides their customers with several payment options, including through their website, via their Phone Pay Program, and even MoneyGram, Western Union, and ACE Cash Express:
Monthly – Start with a down payment and then pay five equal installments
Bi-Monthly – 33% down, with two remaining payments every other month
Paid In Full – In some states, Safe Auto offers a paid in full discount
Outside of this, if you make a payment past your policy's cancellation date and time, Safe Auto will add a reinstatement fee to your policy. The company doesn't charge for SR-22s (DUIs, at-fault accidents while driving without insurance, reinstating a suspended license, etc.), although they note that the state may require a small fee.
Each time we made a change when running our quotes, Safe Auto's system quickly updated to clearly show our new monthly payment amounts.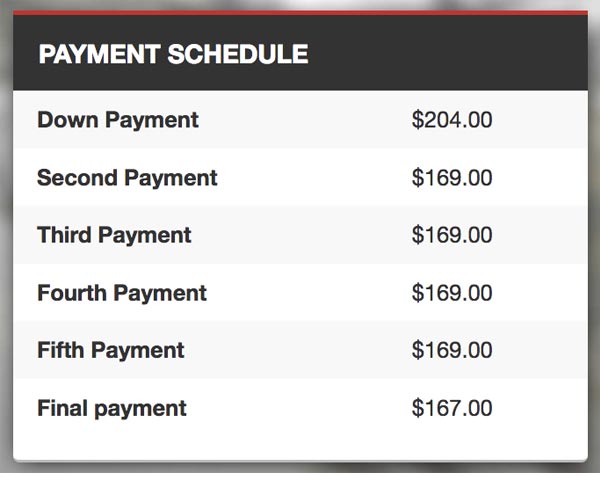 Based on the information you provide, Safe Auto's quoting system allows you to immediately see what each of your monthly payments will cost.
Have other policy cost questions? Safe Auto customer service can be reached at 800-SAFE AUTO (723-3288).
What Are Safe Auto's Eligibility Guidelines?
While we didn't locate a generic Safe Auto policy jacket during our research to review specific coverages and exclusions, the company currently offers minimum coverage policies in 17 states.
In fact, when pulling quotes, we weren't given the option to increase liability coverage beyond state minimum requirements (a variety of other coverage options were available, though, like comprehensive and collision, rental reimbursement, and towing).
Also, when quoting, a notification appeared letting us know that "Proof of your prior car insurance will be required after your purchase," so be sure to keep something handy.
How Does the Safe Auto Claims Process Work?
In order to file a Safe Auto claim, you'll need to call customer support and provide key information like the date, time, and location of the accident; the year, make and model of involved vehicles; all driver information, including insurance details; as well as how the accident happened.
Once your claim is filed, an adjuster will thoroughly investigate the facts and evaluate them in light of your state's laws in order to determine fault and any applicable coverage.
After the investigation, the "nature and amount of the loss is determined," after which payment is made to the lien holder and/or the insured.
If repairs are required, you can choose any shop you please, although Safe Auto's Select preferred shop program can recommend one if necessary. On the other hand, if your vehicle is deemed a total loss (if the cost to repair is more than the actual cash value), Safe Auto will determine the fair market value of your vehicle, less any applicable deductible.
Considering everything we've discussed so far, what can we learn from Safe Auto's policyholder feedback?
What Are Safe Auto's Policyholders Saying in Their Reviews?
There were nearly 3,000 reviews on Safe Auto's website at the time of our research, with an average rating of about 3.8 stars. What was everyone saying?
Most compliments appeared related to ease of starting a policy and convenient website and payments options. On the other hand, many complaints seemed related to frustrating claims and customer service experiences, high prices, and low coverage limits.
What about elsewhere online?
We found 84 policyholder reviews for Safe Auto on ConsumerAffairs.com, where the insurance company had an average rating of about 1.5 stars. However, the company had much higher 4-star average ratings on WalletHub and the Better Business Bureau, with many of the same compliments and complaints found elsewhere online.
The company, founded in 1993 and based out of Columbus, OH, also had an A+ BBB rating, with 162 closed complaints as of 4/18/17. They also held an A (Excellent) rating with A.M. Best.
Is Safe Auto's App Useful?
While you won't be able to make policy changes (this requires a call to customer service), Safe Auto's app offers several functional features, such as the ability to review policy basics, access ID cards and other policy documents, see amount due, make a payment, set your policy up on automatic payments, and even report a claim.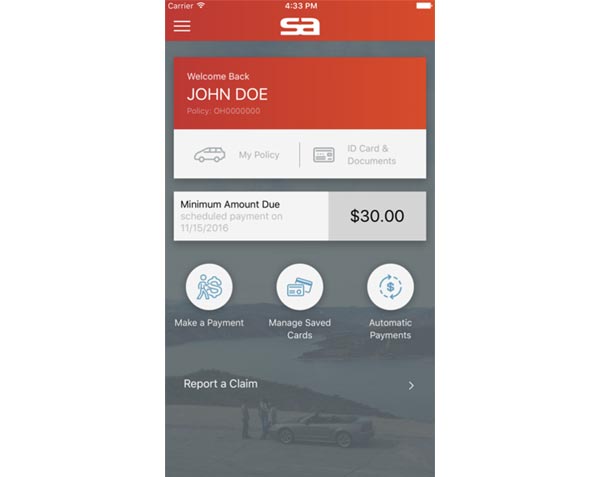 Safe Auto's iOS and Android app gives policyholders quick access to policy information and documents, payment options, and claim filing. Image credit: Apple Corporation
Among hundreds of user reviews between Google Play and iTunes, Safe Auto's app had an average rating of about three stars. Common compliments referenced ease of use, especially for pulling new ID cards.
Despite the payment options visible in the screenshot above, though, most complaints seemed related to difficulty making payments through the app, along with general bugginess and crashing.
App aside, how does Safe Auto stack up against the competition?
Save Auto vs. Other Nonstandard & State Minimum Insurance Companies
Type phrases like "state minimum auto coverage," "nonstandard auto insurance policy," or "high-risk auto insurance" into any search engine, and you'll find that there are many insurance companies like Safe Auto competing for the same type of drivers.
Popular options include Acceptance, Direct General, Access, Infinity, and United Automobile. Even some standard carriers can also accommodate specific high-risk drivers, including State Farm. How do these compare?
Using all of the same parameters from earlier, of those with quoting systems available, here are the rates we received (liability only) for a six-month term:
| | Save Auto | Acceptance | Direct General | Infinity | United Automobile |
| --- | --- | --- | --- | --- | --- |
| No Activity | $519 | $1,886 | $957 | $355 | $305.36 |
| 1 Citation Each Driver | $519 | $1,979 | $1,509 | $464 | $305.36 |
| 1 DUI Each Driver | $627 | $2,592 | $1,539 | $464 | $337.27 |
The reality is that—other than what you'll pay—state minimum auto insurance is state minimum auto insurance, regardless of the company you choose. In other words, they'll provide the same basic coverage, so your choice could ultimately come down to premium.
However, keep in mind that each of these companies offers special features, such as State Farm's Drive Safe & Save program, Acceptance's nearly 350 physical locations, or Direct General's kiosks, which could be right up your alley.
Also, be sure to read through customer feedback on consumer-oriented sites like HighYa before making your decision, as well as investigating each carrier's A.M. Best rating, which signifies their overall financial strength.
Our Bottom Line About the Safe Auto Insurance Company
Based on our many quotes, it appeared Safe Auto offered some of the more competitive six-month rates among the nonstandard competition. In addition, they seemed to have mostly positive online customer feedback—but based on these reviews, you might want to take any quotes you receive with a grain of salt until you're policy is in effect.
Looking to obtain more nonstandard auto quotes? Find out what we learned about the pros and cons of using auto insurance comparison websites.