SafeSound Personal Alarm Reviews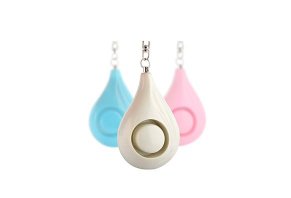 The SafeSound Personal Alarm claims to be more effective at thwarting would-be attackers than mace or pepper spray thanks to its 125dB sonic deterrent.
What is the SafeSound Personal Alarm?
Claiming to be saving millions of lives, the SafeSound Personal Alarm promises to provide you safety, protection, and peace of mind when out and about.
The device is meant to look inconspicuous on a keychain, but with a quick pull of the pin on its top, it will unleash a roaring, constant 125dB (decibel) noise.
The product's creators state that it requires no training or skills to operate and that both men and women can use the system to feel safer as they go about their day.
Though the device is clearly focused on preventing aggressive attacks, they state that it's also ideal for seniors who have fallen and can't get up, or for individuals that have gotten themselves lost in a remote area.
They also mention that the SafeSound is proven to be more effective than mace or pepper spray as a defense tool, though we didn't encounter any evidence for this statement anywhere on the website.
So, based on the information we're given, just how loud can you expect the device to be, exactly?
Is the SafeSound Loud Enough to Deter Would-Be Attackers?
As mentioned above, the website states that the product is capable of putting out a continuous, 125dB screech for up to half an hour. For reference, a lawnmower is about 90dB, while a loud rock concert reaches roughly 110dB.
At right about 150dB, you begin to run the risk of having your eardrums ruptured due to the sheer force of the sound waves being emitted.
So, knowing this, it's clear that the 125dB put out by the SafeSound is extremely loud, and it stands to reason that a sound of that magnitude could certainly make a world of difference in several frightening situations.
For instance, if you were being followed or attacked at night while others are around, activating the SafeSound might help to draw immediate attention to your area, causing your potential attacker to flee instead.
Of course, if you were in a very remote setting this might not be nearly as effective, which is important to keep in mind.
One thing we aren't told is how the device is powered, or how long this power source is expected to work before needing to be replaced.
We reached out to the support number listed on the website but were unable to get through to a human operator as of the time of our research.
If we had to guess, we'd say the product was likely powered by replaceable watch-style batteries, but without official word from the company, we cannot confirm that this is the case.
SafeSound Personal Alarm Pricing & Return Policy
As of this writing, the SafeSound Personal Alarm was only available directly from the product's main website. It is offered in three different quantities:
Two SafeSound Alarms: $39.95
Five SafeSound Alarms: $79.95
Ten SafeSound Alarms: $119.95
Shipping is free, and each order is covered by a 90-day satisfaction guarantee. To initiate a return, you'll need to ship it back to the following address in its original packaging:
Shipping Department (SafeSound Personal Alarm)
10024 N Taryne St.
Hayden, ID 83835
You'll be required to pay any return shipping fees associated with getting the product back for processing.
Purchasing a Personal Alarm Like SafeSound
Typing "personal alarm" into Google or the Amazon marketplace brings up hundreds of different results, many of which feature extremely similar designs to the SafeSound.
The bulk of the devices we encountered during our research had alarms that ranged from 120dB to 130dB, with the highest we saw being listed at a whopping 140dB.
Crucially, these products all tended to be quite a bit less expensive than the SafeSound, ranging from just $7 to around $15-$20 at most. All of the options listed on Amazon were also available as a single purchase, whereas the SafeSound is only available in multiple quantities.
Finally, many of the products we encountered also had additional features, such as an LED safety light that can be activated whenever needed.
If you are searching for the right personal alarm for your needs, consider the following questions when looking around online:
Is a personal alarm like the SafeSound ideal for your needs in the first place? Consider where you live, and where you often find yourself on a daily basis. If you are frequently in high-traffic areas like the city, a personal alarm may be a very useful choice, but if you live in a more remote or isolated place, more direct alternatives such as mace or pepper spray may also be ideal.

If you've settled on a particular device, be sure to look around for reviews online. Places like Amazon are great for this. Just be sure to stay alert and watch out for fake reviews.

Always understand the return policy going into your purchase. During our research into personal sonic alarms, we encountered a number of reviews for products similar to SafeSound in which users complained about high failure rates and other issues. Due to the importance of ensuring your alarm actually works when you need it to, always read through the return and refund policies thoroughly before pulling the trigger on a particular device.
The Bottom Line: Is the SafeSound Personal Alarm Right for You?
Bringing together everything that we've learned about the SafeSound Personal Alarm, can you truly expect it to provide protection from even the most vicious criminals, as the manufacturer states?
On the one hand, we learned that the product features an incredibly loud 125dB output, which is more than enough to draw immediate attention to you (and your attacker) when you need it most–provided you are in an area where others are nearby.
On the other hand, though the manufacturer says that the SafeSound has been proven to be more effective than conventional deterrents such as mace and pepper spray, we did not find any evidence for this claim on the company's website, nor did we encounter any online during our research.
When coupled with the fact that dozens of similar options exist online for much less, slowing down and taking a look at all of your choices before deciding on one may be the best course of action for most.
This is especially true when you consider that many of these products feature hundreds of five-star reviews.
If you'd like to simply dive in and give the SafeSound Personal Alarm a shot, be sure to keep the 90-day return policy in mind, should you decide that it isn't the right fit for you in the end.
SafeSound

By Linda C.

,

Mesa, AZ

,

Mar 19, 2020
Verified Reviewer

Can't get to step 3, check out and receipt. Credit card info put in, never got to order number. It's a great idea, but having trouble ordering by computer. Either there is a glitch in your program, or you just forgot to put a step in when setting up your site.

Bottom Line: No, I would not recommend this to a friend

---

Don't be fooled

By Sharynne J.

,

Victoria, Australia

,

Mar 13, 2020
Verified Reviewer

1. It is only loud enough if there are people close by.

2. I tested it after 12 months and it no longer worked.

3. I bought the LR44 batteries needed.

4. I replaced the 3 batteries as shown when I got my magnifying glass to see the was to place the batteries.

5. It still will not work.

6. The batteries work in my clock that takes LR44 so it is not the batteries.

7. This unit is either faulty or the lifespan is only 12 months.

8. I bought 5 for the female in my family and none were happy with it or felt it offered extra security.

Bottom Line: No, I would not recommend this to a friend

---

Advertisement

---

"Blacklisted"

By Abelardo M.

,

Hoschton, GA

,

Mar 5, 2020
Verified Reviewer

Several months ago I purchased 7 or 9 of the alarms. They worked and I was happy with it. Would like more of them to give away as gifts but was declined because I was "blacklisted"!

I wanted to know why I was blacklisted but I can't find a telephone number to call. Please correspond with me about my inquiry.

Bottom Line: No, I would not recommend this to a friend

---

Scam

By Naomi S.

,

Coeur d'Alene, ID

,

Feb 28, 2020
Verified Reviewer

I placed an order on 1/6/2020. My account was charged $134.00, and $15.99, and $10.99. I had planned to give extras to girlfriends. I never received the products. I called the company on 2/24/2020 to inquire. I spoke with someone who barely spoke English. The warehouse is 15 miles from my home in north Idaho. The items I purchased were never delivered to me, and had been returned to the warehouse! I requested a refund!

Bottom Line: No, I would not recommend this to a friend

---

Advertisement

---

It took the shipment too long until I received it.

By Gerri P.

,

Canada

,

Feb 13, 2020
Verified Reviewer

I ordered some alarms around the 5th of November, 2019 for CHRISTMAS GIFTS and did not receive them until 2 months later. I was told I could return them, which I did early January 2020. She said once received it would take about 10 business days. Since Christmas is over I told her that it shouldn't take that long for them to get them. The money would be credited to my account but so far no results even though I emailed her a few times. I will continue to email her so she won't forget me.

Bottom Line: No, I would not recommend this to a friend

---

Does not work

By Suzanne B.

,

Brisbane, Queensland, Australia

,

Feb 10, 2020
Verified Reviewer

As I did not immediately try the alarm when it arrived, I missed the 90-day return policy. Having contacted the company about the 2 alarms (neither of which worked, even with new batteries), I received a rather curt response about being over the 90-day warranty. I spent about $100 on the alarms and have ended up tossing both alarms in the trash where they belong. Now have to find a legitimate personal alarm - more expense.

Bottom Line: No, I would not recommend this to a friend

---

Goods not received

By Debbie N.

,

United Kingdom

,

Jan 25, 2020
Verified Reviewer

An order was placed on the 3rd of January, 2020 and still has not been received. Three requests for a delivery ETA, have provided a referral to a tracking link which says the package has been transferred to our local Post Office for delivery, with San Bernadino, USA being the last transfer. Given we are in the UK I still await a response from this company.

Bottom Line: No, I would not recommend this to a friend

---

The alarm doesn't work

By John S.

,

Harrisburg, PA

,

Jan 23, 2020
Verified Reviewer

I gave the alarm to my wife. The first time she pulled, it worked. The second time, it pulled out with no sound and it sat there without going back in. I bought 5 of them as Christmas presents. I hope that when my family members need to pull the tab, it saves them from being injured and robbed!

Bottom Line: No, I would not recommend this to a friend

---

Doesn't live up to billing

By Thomas W.

,

San Antonio, TX

,

Jan 15, 2020
Verified Reviewer

Received two devices as ordered. One was going to be a gift, so I decided better check them out. The first one is nowhere near 125dB, I don't own a decibel meter but would guess around 70dB. The other made one little weak chirp and nothing else. Fortunately, I had replacement batteries and when changed batteries, works fine, probably close to the advertised level. I called customer support to let them know about this issue and all they would say was "sorry for the inconvenience". I recommended ensuring fresh batteries were put in the devices and I was told: "We always put new batteries". Obviously there is a chink in their quality control.

Bottom Line: No, I would not recommend this to a friend

---

False advertising

By Linda C.

,

Detroit, MI

,

Jan 13, 2020
Verified Reviewer

This product advertises 3 colors of the alarm - white, blue, pink. They DON'T have pink or blue but they don't tell you that. That is false advertising. Also, their customer service sucks. There was no invoice with the order so how would I know the order number? I called twice to inquire about returning 6 WHITE alarms and both times the 2 girls I talked to hung up on me when I inquired how to make a complaint against this company. I ordered 6 alarms - 2 white, 2 blue, and 2 pink. They sent me 6 white alarms. It was over $100.00. They can keep their products. I don't give my business to such a poorly run company.

Bottom Line: No, I would not recommend this to a friend

---

Delivery issues

By Craig C.

,

California

,

Dec 9, 2019
Verified Reviewer

I ordered two SafeSound alarms on November 21st, I received a thank you for my order, no coorespondance since.

There is no contact email working, phone calls are not returned, I'm thinking this is a scam and I've been cheated out of my money. If not received by December 07, 2019 I'm filing a complaint with the BBB.

I simply want my order or a refund, I hope this company is legit, doesn't appear that it is...Be careful, I guess I wasn't.

Bottom Line: No, I would not recommend this to a friend

---