Sallie Mae Student Loans Reviews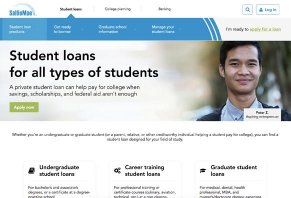 Sallie Mae's private student loans boast excellent interest rates as good or better than the competitors. That perk along, with access to four months of free academic services, make it a solid choice.
About Sallie Mae Student Loans
Sallie Mae is a lender who provides private student loans and college savings plans, all with the intent of providing the financial means with which you can attend college.
What makes the company unique is its history. The company started out as a government entity that serviced student loans. Over time, they became both a servicer and a lender. And, in 2014, their company split into two: Sallie Mae and Navient.
Sallie Mae is now a student loan lender and Navient is a student loan servicer. As a student loan lender, Sallie Mae is one of the more well-known names.
However, choosing a student loan is really about understanding the pros and cons of the lender. We're going to help you do that by analyzing the types of loans that Sallie Mae offers, the fees related to those loans as well as how their loans compare to private student loans from Discover, Citizens Bank and Wells Fargo.
At the end of our review, we'll give you a few quick thoughts on the strengths and weaknesses of Sallie Mae student loans.
The Types of Private Student Loans Sallie Mae Offers
Sallie Mae provides five different types of student loans depending on how old you are, whether you're a parent or a student and in which type of school you're enrolled.
Undergraduate Student Loans
Sallie Mae's "Smart Option" undergrad loans are intended for students who will enroll in an undergraduate program at a four-year university or college. The loan amounts equal the expenses related to your education – tuition, books, housing and other costs.
The interest rate you pay on your loan comes in two forms (also true for the other loans in this section): variable and fixed. Variable-rate loans have interest rates tied to the baseline interest rates set by the Federal Reserve of LIBOR. Basically, if interest rates rise, then your loan's interest rate will rise. If interest rates drop, your loan's rates will drop.
The interest rates for these two types of undergrad loans are:
Variable: 4.12% - 10.49%
Fixed: 5.74% - 11.85%
As is common among nearly all loans, the variable rate is significantly lower than the fixed rate. The idea here is that it starts out low but will eventually surpass the fixed rate.
You have three options for repaying this loan: deferment, fixed payments and interest-only. If you choose the deferment, then you won't make any payments until the seventh month after you graduate or drop below half-time. This is great if you don't have the money to make payments during and after school but interest is building when you aren't making payments.
If you want to slow the rate at which your interest builds during school, then you can choose to make fixed $25 payments each month or you can choose to make interest-only payments. These payments are covering the interest part of your payments, not the principal (amount borrowed without interest).
Both of these options are more affordable than a full-fledged payment that includes interest and principal. Plus, you can continue your payments up to six months after you graduate or drop below half-time before the full payments kick in.
According to Sallie Mae's website, going with the fixed payment will save you 13%, while the interest-only option will save you 27% over the deferment option. These savings come because you're paying down your interest early, which cuts down on how much time it has to compound.
The fine print notes you can participate in their Graduated Repayment plan in which you can do 12 months of interest-only payments once your full payments are scheduled to begin.
A few reminders about these undergraduate private loans:
Your credit score will be checked
You may need a co-signer if you have bad credit
Non-U.S. citizens must have a co-signer w/good credit
Repayment period is 10 years
Along with your undergrad student loan, Sallie Mae will give you four free months of access to tutoring site Chegg's "Chegg Study" service and a free 30-minute tutoring session from Chegg. You also get four months of proofreading and editing services from EasyBib, an editing service that includes, according to their site:
Free citation service for all popular style guides (APA, Chicago, etc.)
Grammar proofreading and editing
Spell checking
You get the same set of free services if you get one of Sallie Mae's parent loans.
Technical & Career Training School Loans
These loans are designed for students who attend career-focused schools that teach trades or technical schools. Many of these schools are two-year institutions, while some are four-year.
Sallie Mae's terms for these loans are very different from undergraduate private loans. You don't get a fixed rate option. Rather, you get a variable-rate loan with an APR ranging from 6.37% to 13.47%.
And, rather than getting the option of deferring payments until six months after graduation, for example, you have to choose between interest-only or fixed payments.
Aside from this, the same rules apply as those for undergrad loans. Your credit will get checked when you apply for a loan. The better your scores, the better your interest rate. If you aren't a U.S. citizen, then you'll be required to have a co-signer with good credit scores.
Graduate Student Loans
This class of student loans from Sallie Mae is the most extensive, as they have specific loans for the type of degree you're getting. Here's a quick list of those degrees:
MBA
Medical school
Medical residency
Dental school
Dental residency
Health professional
Law school
Bar exam
Other programs
The lender's graduate loans, regardless of program, are more similar to the undergrad loans than they are to the technical/career schools.
You have your choice of variable rate (4.12% - 9.16%) and fixed rate (6.25% - 9.16%), and you have the same three repayment options: deferment, fixed $25 payments or interest-only payments while you're in school and in your grace period.
Also, you may have the options of extending you interest-only payments 12 months beyond the end of your grace period.
You get some additional perks, too, that you don't get with undergrad degrees. For example, since internships and fellowships can be tough financially for young doctors, you can defer your payments for up to four years "during your internship or fellowship", Sallie Mae's site says.
Plus, your repayment period is 15 years instead of 10.
Parent Loans
Parents of students who are ready to enroll in undergrad, technical/career or graduate school can take out a loan on their student's behalf. The parent is responsible for repayment.
These loans are similar to the career school loans in that you don't get a deferment period. You do, however, get to choose between a variable interest rate (5.62% APR – 11.99% APR) and a fixed interest rate (5.74% APR – 12.87% APR).
The parent's repayment options differ, too. Either you'll pay interest and principal while your child is in school or you can defer for up to 48 months and then make your monthly payments.
K-12 Private School Loans
The final category of student loans that Sallie Mae offers are loans for children and teenagers who are attending private schools.
These loans are different from the rest of the offerings we listed above:
Up to a 3% disbursement fee
Payment begins immediately
Repayment length is 3 years
In addition to these three differentiating factors, K-12 loans from Sallie Mae, you have to make full payments and cannot do interest-only or $25 payments.
Also, you are limited to variable-rate loans with APR's of 9.11% - 15.76%. These rates are considerably higher than the other loans on this list and that may have to do with the fact that parents who want to take out loans for children and teenagers aren't, statistically speaking, as financially stable as those who have kids headed off to college.
So, instead of 5.62% and 11.99% for the parent loan in the previous section, you're paying 9.11% - 15.76%.
Sallie Mae's Fees and Discounts
You will not be charged any fees for getting a Sallie Mae loan for a graduate or undergraduate degree. You will, however, have to pay a disbursement fee of up to 3% for K-12 loans.
As for discounts, Sallie Mae will give you a 0.25% if you make automatic bill payments via your bank account.
How Sallie Mae Compares to Other Private Student Loan Lenders
The following chart provides a comparison of the fixed-rate private student loans that Sallie Mae, three other banks and the Federal Student Aid department offers. The rates you'll see here include the max discounts you can get with each lender:
| | Sallie Mae | Wells Fargo | Discover | Citizens Bank | Federal Aid |
| --- | --- | --- | --- | --- | --- |
| Undergrad loans | 5.59% - 11.60% | 5.94% - 12.15% | 5.99% - 12.99% | 6.45% - 12.05% | 5.05% |
| Graduate loans | 6.00% - 8.91% | 6.84% - 11.17% | 5.99% - 13.99% | 6.39% - 11.44% | 6.6% |
| Law/MBA | 5.99% - 8.91% | 6.84% - 11.17% | 5.99% - 12.99% | 6.05% - 10.05% | 6.6% |
| Medical doctorate | 5.99% - 8.61% | 6.66% - 9.68% | 5.99% - 11.24% | 5.56% - 9.21% | 6.6% |
| Max discount | 0.25% | 0.50% | 0.60% | 0.50% | 0.25% |
Sallie Mae's rates are the best of the three other private student loan lenders on this list. Their lowest APR's are as good as Discover's, but the lender distinguishes itself when it comes to the highest APR, all of which are lower than the competing banks.
Now, when it comes to comparing Sallie Mae's loans to federal loans, you're only getting a bargain if you have excellent credit (720 and above). If you have high credit scores, there's a good chance that you'll get the lender's best rates, which are better than the federal rates for all graduate loans.
However, if, as a grad student, you have bad credit scores (650 and below), then there's a good chance the rates you get from the federal government will be lower because they only have one rate and they don't check credit scores.
In our opinion, Sallie Mae's low rates make them a better fit for you than Wells Fargo, Discover and Citizens Bank because both those with good credit and bad credit will get industry-leading APR's.
Pros and Cons of Sallie Mae Private Student Loans
Based on our research of this lender and other private student loan lenders, we believe that Sallie Mae's greatest strength is that it offers excellent interest rates on their loans. While their discounts aren't as substantial as other companies, their rates are low enough to where that doesn't matter.
We also like how they give you the four free months of Chegg Study and EasyBib, two sites we think are important for helping new college students understand citations, footnotes, spelling, and grammar.
Another advantage is that the company offers loans for K-12 education, which is something that isn't listed on any of the other three private lenders we mentioned in our comparison chart.
The downside of the company is that, like the other lenders mentioned in this review, they don't offer the wide range of repayment plans that the federal government.
Whereas the Department of Education allows you to choose between eight student loan repayment options that provide various types of monthly repayment amounts, Sallie Mae has between a 10- and 15- year repayment period with no more than 12 months of interest-only payments. After that, you'll pay the principal and interest, which is a higher amount.
In our opinion, Sallie Mae is an excellent choice for someone who has good credit scores (720 and above) and is looking for a graduate degree. Your good credit scores may be able to get you a better rate for a loan than you would with federal student loans.