Samsung Gear IconX Reviews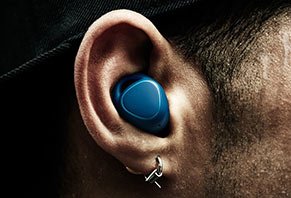 Samsung Gear IconX wireless earbuds promise to help you track your fitness and keep you motivated, with pair-and-play usability and quality components.
About Samsung Gear IconX
Even as recently as a couple years ago, truly wireless earbuds were little more than a pipe dream. Today however, you have a greater number of choices than ever, with more options making their way to market each month.
One of the newest releases is the Samsung Gear IconX, Bluetooth powered, cordless earbuds the company claims are designed to stay in place, whether you're running, jumping, or anything else.
Compared to the competition (more about this soon), Samsung's Gear IconX earbuds also feature a built-in fitness tracker, giving you the ability to track core stats like speed, distance, duration, heart rate, and calories burned. We're told they even feature a dedicated voice guide that can help you push your limits.
According to Samsung, their pair-and-go IconX earbuds aren't just cord-free, but they're also hands-free. Simply use the touch and voice activated prompts to take calls, play music, or activate the ambient sound mode.
The good news? You have several different wireless earbuds to choose from. This is also the bad news. But here, we'll help you gain a better understanding of what Samsung Gear IconX has to offer, how it stacks up against the competition, and whether or not it'll deliver a solid value.
How Do Samsung's Gear IconX Earbuds Work?
IconX Specifications
Each IconX earbud is about ¾" wide, 1" long, and 1" high. Inside, you'll find a heart rate monitor and accelerometer, 3.5GB of usable memory (or enough to hold about 1,000 MP3, M4A, AAC, WAV, and WMA music tracks), and 2 microphones.
IconX earbuds automatically activate as soon as you place them in your ears, and if streaming, will connect to other devices via Bluetooth 4.1.
If listening to music stored directly on your earbuds (more about this next), you'll have about 3.5 hours of battery life. However, if you're streaming from another device, the run time drops to about 1.5 hours. In either instance, you'll receive several alerts before they power off.
IconX's storage case doubles as a charger, which takes about 1.5 hours to fully recharge your earbuds.
On the outside, IconX's P2i Nano Coating is splash resistant, and the three different sizes of mix-and-match eartips and wingtips promise to provide "the perfect fit."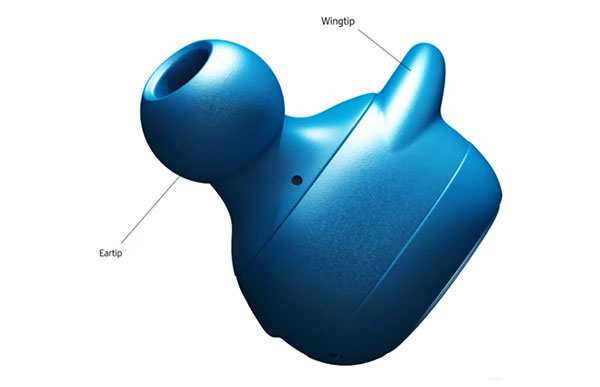 Each of Samsung's Gear IconX earbuds comes with three interchangeable wingtips and eartips to provide a customized fit.
What Devices Is Gear IconX Compatible With?
Samsung developed their Gear IconX earbuds to only be compatible with devices that run Android 4.4 KitKat and above—specifically, they seem to be optimized for Galaxy phones—and have a minimum of 1.5GB RAM. In other words, if you own an iPhone or an older Android phone, IconX earbuds won't be your first choice.
When transferring music directly to your Gear IconX, whether from your phone or PC, this can be accomplished via the included USB connectors and cables.
IconX Fitness & Audio Features
As mentioned earlier, IconX earbuds can track activity and provide updates on data like speed, distance, duration, heart rate (its heart rate monitor is built in, so you won't need an external device), and calories burned. All of this if delivered via a dedicated voice guide.
According to Samsung, this voice guide can also help you "reach your vigorous-intensity zone" and keep you motivated in 15 different languages.
If you're exercising in the real world (versus inside a gym), you can activate IconX's ambient sound mode to listen to music while remaining aware of what's going on around you. You'll also be able to use IconX's touch and voice prompts to do everything from taking and rejecting calls to changing modes:
Single Tap: Play, pause music
Double Tap: Next track, answer/end calls
Triple Tap: Previous track
Swipe: Volume up, down
Tap & Hold: Menu readout (Workout, Ambient Sound)

​Your Gear IconX earbuds can be controlled via different voice commands, as well as touch prompts.
After your workout is complete, you'll be able to check your stats and monitor your progress using the S Health app.
How much will these features and the wireless technology cost you?
How Much Will You Pay for Gear IconX Earbuds?
Samsung priced their Gear IconX earbuds at $199, which are available in black, blue, and white colors.
In addition to directly through the company, you'll also find IconX earbuds sold through third-party retailers like Amazon, Verizon, and B&H Photo and Video.
Regardless of where they're purchased, though, your IconX earbuds will come with three different size cushions, a micro USB to USB adapter, and a USB charging cable.
Are There Any Online Customer Reviews for Gear IconX Earbuds?
Samsung released the Gear IconX on August 15, 2016 to quite a bit of fanfare, so despite the short amount of time the earbuds had been on the market during our research, we came across a fair amount of usable feedback.
Digital Trends' IconX Review
Digital Trends provided a short hands-on video about the IconX earbuds, although they didn't get to use them in the field (on a run, for example). Overall, they liked the fairly powerful fitness tracking features, comfortable fit, quick recharging (with two additional charge cycles provided by the case), and that you can sync your data with S Health.
On the other hand, they found that the 1.5-3.5 hours of run time (depending on whether you're listening to music directly, or streaming from another device) was less-than-desirable. In fact, they called it IconX's "Achilles heel." They also noted that the touch controls may take some practice, but seemed easy to activate, and that they're fairly expensive.
In the end, they concluded: "Hopefully Samsung's Gear Icon X will fare better in our testing than the Bragi Dash, but even if Bluetooth works better and the touch controls prove easier to use, the limitations of battery technology will still exist." Keep this brand name in mind, since we'll reference it again shortly.
Amazon Customer Reviews
There were also 15 IconX customer reviews on Amazon, where the earbuds had an average 3.5-star rating, which were fairly evenly mixed. There, common compliments referenced comfortable fit, attractive design, quality construction, and ease of use.
However, the biggest complaint referenced IconX's relatively short battery life, while a couple claimed the sound quality was mediocre.
AndroidPit.com
AndroidPit.com gave the Samsung Gear IconX a slightly lower rating at 2.5 stars, based on the short battery life, poor music audio quality, and erratic charging (they often found that, when placed in the case, one earbud would fully charge, while the other remained uncharged). They also experienced a lot of heat, even enough to hurt their ears, although we didn't encounter this complaint elsewhere online.
In the end, they concluded, "After more than two weeks of use, I've realized that the Gear IconX is a good idea that's not worth $200 price tag – even with little direct competition in this market."
What's the Feedback For IconX's Android App?
From an app perspective, Gear IconX's plugin had a 3.6-star average rating on Google Play, based on 44 total reviews. Only three of these users actually provided feedback; one found the app useful, one found their v700 phone wasn't supported, and another found the software unreliable.
How does all of this compare to the competition?
Samsung Gear IconX vs. the Competition
With so many new options entering the market, it might be difficult to easily see how the Gear IconX stacks up against the stiff competition from popular brands like EARIN, Apple's AirPods, Kanoa, and Bragi. So, to help make sure you have the core data you need to make a more informed purchase, let's quickly run through some of their key points.
EARIN
EARIN's wireless earbuds are priced at $249. Unlike IconX, though, EARIN's products don't offer any fitness or tracking capabilities, and seem to be focused primarily on delivering high-quality audio. You also won't have a microphone either, so you can't take any calls.
Each EARIN earbud weighs about 3.5g, works with any Bluetooth 3.0 and 4.0 compatible device, and provides up to 3 hours of playtime (streamed; nothing can be stored on the earbuds themselves), with a 75-minute charge time. Recharging is handled via a machined aluminum recharging capsule.
Apple AirPods
Although they won't be released until late October, Apple's AirPod earbuds are expected to retail at $199. Unlike IconX, you'll be able to use AirPods with all devices, although they automatically sync with other Apple devices and allow you to switch between them seamlessly.
While there isn't any fitness tracking with AirPods, the custom-designed Apple W1 chip (among other things) promises to provide up to 5 hours of listening time on a single charge. If you're in a pinch, the included case can recharge your AirPods to last another three hours in just 15 minutes.
You won't find the interchangeable silicone tips common with other third-party models, but you will be able to use the dual beamforming microphones to activate Siri, take phone calls, and filter out background noise.
Kanoa
Kanoa's wireless earbuds are available for the preorder price of $179, with a current shipping date of November 2016 (the original date was May, although this has been pushed back several times by the company).
Similar to Samsung's Gear IconX, Kanoa can track your heart rate, calories burned, distance traveled, and time. They're also claimed to deliver 4-6 hours of playtime, with a 1.5-hour recharge time.
From a features standpoint, Kanoa tells us their earbuds provide safe, crystal clear, lossless audio; a built-in microphone, and the ability to connect to any Bluetooth device. Perhaps the biggest feature that sets Kanoa apart from the competition is their waterproof ability, which allows them to be used in water (surfing, doing laps in the pool, etc.).
Related: Rowkin Mini Review
As of writing, three HighYa readers had provided feedback about Kanoa, all of which complained about the shipping delays.
Bragi
Bragi's $299 wireless earbuds also connect to any Bluetooth device and feature exterior touch controls, although they appear to be more button-like, without the touch-sensitive surface or ability to swipe (you can single, double, and triple tap, though).
You'll also find three different FitTips for sizing, digital MEMS microphones, passive noise isolation, and VersantTM technology from Knowles that allows you to "hold hands-free conversations even in the most challenging conditions."
When in use, you'll get up to six hours of play time per charge, which will take less than two hours to fully recharged. There is no fitness tracking.
Alright, we've given you a lot of information to think about up to this point, so let's go ahead a summarize everything as we wrap it up in the next section.
Who Might Benefit Most From Samsung's Gear IconX Earbuds?
With so many new entrants into the wireless earbud market lately, we're beginning to see some common features emerge. These include Bluetooth connectivity, silicone tips for custom fitment, at least a couple hours of run time, portable carrying cases that double as recharging stations, pair-and-go usability, and more.
What does this mean for you? In the end, there aren't a whole lot of differences between each of the existing wireless earbud models—but those that exist can have a meaningful impact on your overall satisfaction. Here are a couple quick examples of what we mean:
If you're looking for built-in fitness tracking, Gear IconX and Kanoa appear to be your only options. If you're also looking for coaching functions, then IconX will be your sole option.
Do you own anything other than a late-model Android phone (and ideally, a Galaxy phone)? If so, IconX isn't for you.
Do you work out in the water frequently, and still want the option of listening to music? Kanoa is the only brand currently offering this feature.
Looking for a bare-bones model focused on audio quality, without the capability to make or take calls? EARIN might be the way to go.
Focused squarely on price? Of those listed above, Kanoa is the least expensive option, although the startup seems to have experienced several shipping delays already, so it might be a while until you have yours in-hand.
If you're looking to leave your phone (and other fitness trackers) at home, but still enjoy music while working out, IconX is also currently the only earbud brand that allows you to do so. Additionally, this will more than double your battery life.
But if you still count on your phone when working out, then you'll have to get used to only about an hour and a half of operating time before your Gear IconX earbuds run out of juice. In the end, although these earbuds seem to offer several meaningfully different features than the competition, we think this might be its biggest downfall.