Samsung POWERBot Reviews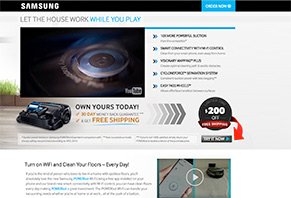 The Samsung POWERBot promises to deliver the most advanced technology available in a robotic vacuum, along with better suction, app connectivity, and more.
About Samsung POWERBot
As their sixth-generation robotic vacuum, Samsung POWERBot promises to deliver smart connectivity with Wi-Fi control, 10X more powerful suction, advanced sensing and navigation technology that effectively avoids obstacles, and more. In fact, Samsung claims POWERBot represents the "biggest breakthrough in robotic vacuum history."
Like everyone else who needs help with their to-do list, you want clean floors without breaking a sweat, and POWERBot's technology seems like it might fit the bill. Is it really the most advanced, though? And even if it is, does this make POWERBot a better value than the competition?
Here, we'll help you find answers to your important questions. First, let's take a deeper look at exactly how the details behind Samsung's POWERBot.
How Does the POWERBot VR9000 Work?
At 14.88" W x 5.31" H x 14.25" L, the Samsung POWERBot is almost a perfect square. It weighs in at 10.5 pounds, features 30W of suction, and its dust bin can hold 0.7L of debris.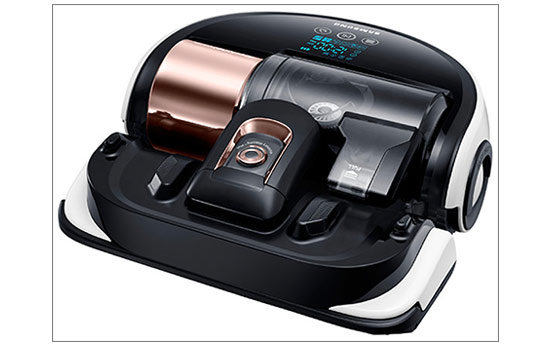 The Samsung POWERBot. Image Credit: Samsung
The company tells us one of their goals when creating the POWERBot was to add "more power and more convenience features than any other competitor on the market." Let's see what it includes:
Visionary Mapping Plus Technology
To navigate effectively and to calculate the best cleaning path, POWERBot's Visionary Mapping Plus system uses a built-in digital camera to "read" the room's ceiling. Combined with its nine other onboard sensors, it uses this data to build a complete map of your home, "including walls, furniture and stairways."
Then, as it goes about cleaning, your POWERBot's FullView Sensor—and its 170° viewing angle and 250mm (about 10") distance capability—will allow it to move around objects with ease. This means POWERBot can clean in a methodical back-and-forth pattern, while minimizing furniture scratches.
Together, Samsung calls this "the most advanced navigation on the market."
POWERBot's CycloneForce Technology
Samsung tells us POWERBot addresses suction from two different angles: First, they claim their digital inverter technology provides 10X more powerful suction than the competition. Also, their CycloneForce separation technology provides "consistent suction power with less clogging" by separating larger dirt and debris into an outer holding chamber, before it can affect suction.
As POWERBot moves about your home, it automatically increases suction power when it reaches a corner. It will also clean the corner three times in order to ensure it gets as clean as possible.
When the time comes, POWERBOT's sponge filter is washable and easy to replace.
POWERBot's Cleaning Modes
Speaking of cleaning, Samsung claims that, as long as you leave your doors open, POWERBot will clean every room on the floor while your away. It does this through six different modes:
Auto Clean – This is POWERBot's default mode, and where most of your daily cleaning will occur.
Spot Clean – Here, you'll just guide POWERBot to the mess, press the Spot Clean button, and it will start cleaning in a concentric pattern around the area.
Max Clean – If you're looking for the most thorough clean, this mode will continuously run your POWERBot until it's out of battery power.
Silent Mode – If you're on a phone call, the baby's sleeping, or you otherwise need some quiet time, this setting will lower the noise while cleaning.
Manual Mode – If you only need a specific area cleaned, you can guide POWERBot to the area and let it do its job.
Schedule Mode – This mode is useful if you'd like POWERBot to clean at a specific time each day.
While it's cleaning, POWERBot's Easy Pass Wheels allow it to easily transition between surfaces (carpeting, hardwood, tile, etc.) and move over obstacles. Its 12" wide combo brush and sturdy rollers will also leave behind "deep, visible" lines for a clean you can see, including picking up pet hair and dander.
What About POWERBot's App?
POWERBot's website provided very little information about their app, and we didn't encounter an iOS POWERBot app on iTunes. The only option we came across on Google Play was for their 2014 Smart Robot vacuum.
Assuming this version also works for the most recent POWERBot, it appears to allow you to connect with your robotic vacuum wherever you are, giving you the ability to check status, control the device, receive notifications, monitor the camera, and more.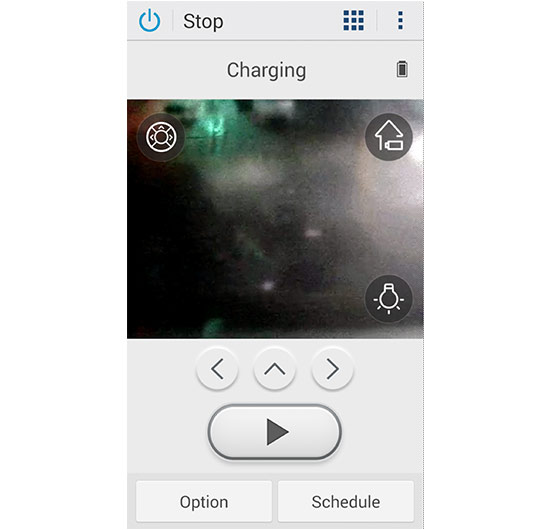 POWERBot's app allows you to control the device, see through its camera, and more.
What Kind of Battery Does POWERBot Use?
POWERBot uses a li-ion battery, which we're told can clean up to 1,500 square feet in one charge. Then, it will return to the docking station, recharge for up to 160 minutes (if the battery is fully depleted), and then clean another 1,500 square feet.
And if POWERBot isn't finished cleaning when it's time to return to the docking station, it'll come back to where it left off once it's recharged.
How much will all this technology set you back?
How Much Does the Samsung POWERBot Cost?
Each Samsung POWERBot is priced at $699.99 (normal retail price was listed at $999) and comes with an extra sponge filter, cleaning tool, and AAA batteries for the remote.
You'll also get a free 10.1" Samsung Galaxy tablet (which will ship 6-8 weeks after purchase if you decide to keep your POWERBot), along with free Standard shipping. Express and Expedited shipping can be added for more money.
You can purchase POWERBot vacuums through many third-party retailers as well, including Home Depot, Target, Amazon, NewEgg.com, and more. If purchased from Samsung, your order will come with a 30-day refund policy, less S&H.
Regardless of where it's purchased, your POWERBot will come with a 1-year warranty for parts and labor against manufacturing defects in materials and workmanship, a 10-year warranty for the motor inverter (parts only), and a 6-month warranty for the battery from the date of purchase.
Replacement parts are priced at:
Sponge Filter: $26.99
Docking Station: $89.99
Combo Brush: $29.99
Considering this price, do POWERBOT's customers fell like they're getting a solid value for the money?
Does the Samsung POWERBot Come With Positive Customer Reviews?
CNET reviewed the POWERBot a little over a year ago, and felt that, while it delivers some unique features, top-of-the-line models from other manufacturers (more soon) delivered a better clean at less expensive price points.
Gizmodo had a lot of good things to say about the POWERBot, including its strong suction, along with its mapping/object avoidance capabilities. However, they noted that areas where the vacuum can't squeeze through (such as some furniture configurations) or reach (such as under cabinets and next to walls), will still need to be cleaned manually, so it's not a fool-proof cleaning solution.
64 Amazon customers provided their POWERBot feedback at the time of our research, giving it an average rating of 3.5 stars. There, most seemed pleased with its suction power, ease of use, and light weight. On the other hand, common complaints referenced loud operation, errors/difficulty finding base station, and ineffective dirt/debris collection.
As mentioned above, we only found the POWERBot app listed on Google Play, where 70 reviewers had given it an average rating of 3.6 stars. Of those who left feedback, it seems the most common complaint was inability to connect.
How does this compare to other robotic vacuums?
Samsung POWERBot vs. Other Robotic Vacuums
The good news is that if you're in the market for a robotic vacuum, you have more choices than ever. However, it can be difficult to decide which one's the best, so here are a few side-by-side comparisons with other popular models.
Samsung POWERBot vs. Roomba 880
Roomba's 880 model features a round design that might not access corners quite as well as POWERBot's square design, along with its less "smart" and navigational technology. The 880 weighs a couple pounds less than POWERBot and can still be scheduled to meet your needs.
However, POWERBot is higher than the Roomba, meaning that it might not fit under furniture quite as well, and it's currently priced about a hundred dollars more.
Samsung POWERBot vs. Dyson 360 Eye
If there was a single closest competitor to the Samsung POWERBot, we think it would be the Dyson 360 Eye. After all, it features similar room mapping technology, camera-based "vision" system, cyclonic action, lithium-ion battery, the ability to cross difference surfaces with ease (although it uses tracks instead of oversized wheels), app connectivity, and more.
Where these two robotic vacuums are not similar is price; you'll be able to purchase nearly two POWERBots for the price of one 360 Eye.
Samsung POWERBot vs. Neato
Neato's top-of-the-line Botvac 85 also features a combo brush, the ability to map rooms (albeit using a laser-guided system), room-to-room cleaning, multi-stage filtration, the ability to return home after cleaning or when it's time to recharge, and more.
On the other hand, Neato's vacuums use nickel metal hydride batteries (NiMH), feature a shorter profile, and weigh about a pound less. Again, one of the biggest differences is that Neato's 85 model comes in a few hundred dollars less than POWERBot.
Samsung POWERBot vs. Robo VacMop
Unlike any of the other models we've discussed so far, the Robo VacMop doesn't just vacuum flooring, it can also mop hard flooring as well. Robo VacMop comes in a couple hundred less than POWERBot, although it seems to come with a wider range of complaints from customers.
Will the Samsung POWERBot Make Your Life Easier?
Whether you suffer from allergies, love walking into a clean home at the end of the day, or just want one less item on your to-do list, there's no doubt that the Samsung POWERBot has the capability to do your vacuuming for you.
Does this mean that it's right for you? While most professional reviews mentioned that the POWERBot is the best money can buy (second only to the Dyson 360, perhaps), only you can decide if this will translate into a solid value.
We've certainly given you plenty to think about here, but there are a few parting thoughts as we wrap things up:
Pros & Cons of Li-Ion Batteries
Lithium ion batteries are common in consumer electronics like smartphones, tablets, and other mobile electronics, typically because they can hold a charge for a long time, pack a lot of power in a small space, and can be recharged many times. However, they're not without their downsides. These include:
A tendency to become permanently damaged after a relatively short drop or mistreatment. This might be especially pertinent in the rough-and-tumble universe of robotic vacuums.
Most li-ion batteries have a useful life expectancy of 2-3 years. There's no mention if POWERBot's battery is replaceable, although this would be far outside your warranty, so expect to pay full price for a replacement.
Speaking of which, li-ion batteries are often more expensive than other battery types.
POWERBot's Edge-iness
Although Samsung claims POWERBot features unparalleled suction, and that it vacuums corners three times before moving on, it may not vacuum other edges around your home quite as well. In fact, even the Gizmodo article we referenced above mentioned that it's not a solid edge cleaner.
So, while POWERBot might work great for cleaning the open areas of your home during the week, you'll almost certainly have to freshen up areas next to walls (especially under cabinetry) on a regular basis.
Where Will You Put the Docking Station?
Next, keep in mind that you'll need to plug your POWERBot docking station into a standard power outlet, and rest the dock on the floor. As a result, you might not have as clean of an appearance as the commercial and website make it seem.
Is It Like Having Your Own Maid Service?
Finally, while we have no doubt that POWERBot will deliver cleaner flooring, it's important to understand that—unless it can also dust, wash clothes, mop, do the dishes, clean windows, and much more—it's nothing like a traditional maid service.
Given all this, if you're in the market for a top-of-the-line robotic vacuum and money is no object, it might be difficult to beat the Samsung POWERBot. If not, it seems there are several options from other manufacturers that might provide a similar level of clean, but at a meaningfully lower price point.
» For Further Reading: Best Robotic Vacuum Cleaners Buying Guide
1 out 1 people found this review helpful

Likes dog poop

By Mary T.

,

Wisconsin

,

Oct 8, 2018
Verified Reviewer

Before I purchased my POWERbot R9250, I asked the salesman what would happen if the bot ran into dog poop. I have an older dog and occasionally she might have an accident. I was told the sensors would see this and avoid it. Well, upon my return from work, there was the bot going around in circles trying to super clean a dirty spot. The dirty spot was dog poo. The brushes, wheels, and interior are now full of dog poo. When I went to the chat, I was advised to clean it. Can anyone say "DUH"?

The bot also comes with a magnetic strip that the bot is supposed to avoid. It has taken some tumbles down the stairs.

It is to avoid furniture. It tries to go under my end tables and gets stuck. It also gets stuck on the legs of my dining room chairs. It gets too close and tilts up on them.

Suction is good, but I don't know if all this is worth the price. Are you willing to follow the bot around and rescue it? You may as well just vacuum by had and save a butt load of money.

Bottom Line: No, I would not recommend this to a friend

---

1 out 2 people found this review helpful

Buyer beware

By Gary Bernier

,

Cincinnati, OH

,

Jan 14, 2018
Verified Reviewer

I purchased a POWERBot 9350 on the 24th of November and received it on the 28th of November. It was a Christmas present for wife. I wrapped it and she opened it on the 25th of December.

We tried to get it to work on the 28th of December and could not, so I called Support to see if they could help. They could not get it to work either, so I told them I would just return it and get another replacement. I was informed that the 30-day return policy is out and I would need to send it in for service. Their return policy starts when you buy directly from Samsung, not when you have possession, which is a crack of crap.

I did get it shipped back for repairs and after 5 days, they sent me an email asking me to send it and they have not received it yet. I looked up the tracking number, and it said they received it three days after I shipped it. I tried to use Chat to get it sorted, and they could not help me and told me to call. I called and was told they do have it and it's being repaired. When I asked why I got an email about not having it, they said it was an error. When I asked for ETA for getting it back, I was told they have no idea, and to just wait.

Samsung has convinced me to never, never to purchase another one of their products again. Extremely poor customer service.

Bottom Line: No, I would not recommend this to a friend

---

Advertisement

---

1 out 1 people found this review helpful

Powerbot is a major piece of junk.

By Charles Daniel

,

Monticello, Arkansas

,

Dec 27, 2016
Verified Reviewer

Bought it in September. It worked for 2 weeks. Now I have a $550 vacuum that doesn't work. I will never buy Samsung anything again. Their service department people are idiots. Also, they don't even have the part to fix my machine. And on top of that, instead of sending me the $5 part to fix it, (its the crappy piece of plastic that holds the roller brush in -- it just snaps out, and snaps in), they want me to send the vacuum to a service center and be without it for another month. BUYER BEWARE. IT'S JUNK.

Bottom Line: No, I would not recommend this to a friend

---

1 out 3 people found this review helpful

A bit disappointed.

By Dubber Zorza

,

Portland, OR

,

Aug 31, 2016
Verified Reviewer

I purchased two PowerBots. I was supposed to receive two Samsung 10.01 Tablets. I only receive one however and Samsung customer service knows nothing about transaction.

Bottom Line: No, I would not recommend this to a friend

---

Advertisement

---