SaunaSpace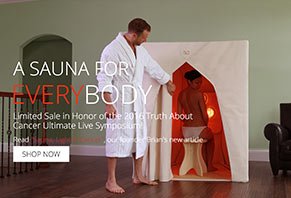 Using natural materials, low-EMF bulbs, and heat, SaunaSpace's products promise to provide near infrared therapy that provides a wide range of benefits.
SaunaSpace Review: Is It Really Worth It?
Whether at a ski lodge, recreational facility, or perhaps even your home, you've probably experienced a traditional sauna before, which uses hot temperatures and steam to help you feel refreshed.
Instead, though, SaunaSpace tells us their portable near infrared saunas use light and heat therapy to deliver detoxification, cellular regeneration, anti-aging, and "natural self-healing"—without the EMF-emitting heat lamps found in much of the competition.
On top of this, we're told SaunaSpace's heirloom quality, natural products contain no VOCs, feature hypoallergenic wood and bamboo, and use chemical-free cotton that's grown, spun, and woven in the U.S. Together, they claim you can expect a lifetime of pleasant, dependable use.
Despite its handcrafted and hand-tailored design, according to SaunaSpace, their infrared saunas are easy to setup and work in three simple steps:
Preheat your sauna by turning on the infrared bulbs and closing the door.
Wait about 10 minutes and strip down to your undies.
Hop in and rotate clockwise about every 10 minutes. Sessions last 20-30 minutes.
Wow! SaunaSpace's infrared therapy certainly sound like it might solve a variety of problems. But is this really "where healing happens"? Can you expect to "re-optimize" your body using it?
Here, we'll address the company's claims so you can make a more informed purchase.
How Does SaunaSpace Work?
SaunaSpace's Complete Cabanas
When it comes down to it, there are only three basic parts to each complete SaunaSpace Cabana:
A dual-layer enclosure made of hypoallergenic, natural material that's supported by a wooden frame,
A wooden light panel featuring 3 or 4 built-in low-EMF near infrared tungsten lamps, and
A wooden stool.
According to the company, each Cabana features a 52" entrance and overall depth, a height of 63", and a rear width of 24". This way, we're told you'll be able to place it in the corner of the room, whether in the basement (including concrete slabs), garage, or anywhere else.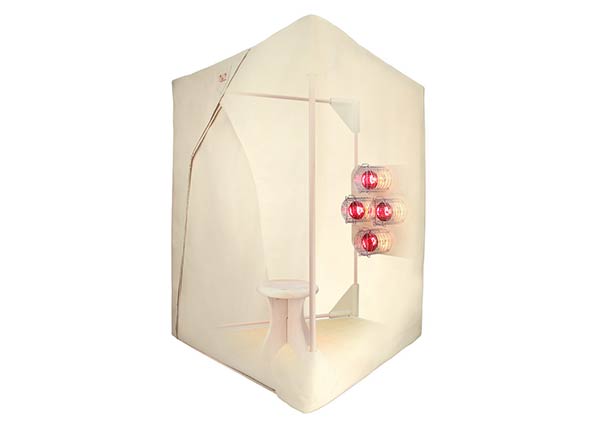 A complete SaunaSpace Near Infrared Cabana (shown here in Basswood). Image credit: SaunaSpace.
We're told that all of SaunaSpace's hardware is custom made, including the handle, mounting clamps, lamp guards, and grilled doors, and that their light panels can be connected to a grounded outlet on any standard 15 or 20 A-rated circuit.
SaunaSpace's Infrared Lamps
Mounted in each light panel are three or four (depending on the model) ultra-low EMF tungsten lamps that emit near infrared light, which the company claims can penetrate up to 9 inches into the body and heat you up from the inside out.
What's more, SaunaSpace tells us that their bulbs aren't coated with anything other than tempered glass, unlike others that could be coated with substances like Teflon. They'll typically last for 5,000 hours of use.
When sitting approximately 24-30 inches from the Light Panel board, SaunaSpace claims the penetrating near infrared light emitted by these bulbs can help "treat and prevent many illnesses" and provide a variety of other benefits, including:
Increased cellular metabolism and blood circulation,
Improved tissue oxygenation and collagen production,
Improved athletic and physical performance,
Reduced joint and muscle pain,
Skin rejuvenation,
Reduced overall body fat,
… and much more.
Alright, now that we've covered the basics of SaunaSpace's light and heat therapy, let's dive into the nitty-gritty details, while also taking a look at some of the available clinical evidence.
The Basics of Electromagnetic Frequencies and Infrared Light
Important note: There are a ton of highly technical concepts introduced on the SaunaSpace website. And from an everyday consumer's perspective (at least for those of us without postgraduate science degrees), you might've gone cross-eyed trying to make sense of all the information.
What Are Electromagnetic Frequencies?
In a nutshell, the electromagnetic spectrum is "the collective term for all known frequencies and their linked wavelengths of the known photons (electromagnetic radiation)."
At the higher end of this frequency spectrum, we have ionizing radiation like gamma rays and x-rays, followed by visible light (such as UV rays emitted by the sun), microwaves and radio waves, with ultra-low, super low, and extremely low frequencies at the other end of the spectrum.
Each of these frequencies has different wavelengths; specifically, SaunaSpace's bulbs emit near-infrared light, which includes wavelengths between about 1 mm and 750 nm. This spectrum of light is generally what you'll see when viewing a body temperature thermal light.
Near Infrared vs. Far Infrared
Infrared light can be further divided into three spectral regions known as near, mid, and far. The biggest differences?
Compared to the other two, near infrared's wavelength allows it to be absorbed more deeply by human tissue. In fact, this is why some medical imaging technologies utilize near infrared waves to detect structures deep under the surface of the skin.
Now, will regularly exposing your body to the narrow band of infrared waves provide any real-world benefits?
Is Infrared Light Therapy Effective?
Near infrared therapy (more commonly known as low-level light (laser) therapy, or LLLT) has been extensively studied for decades related to everything from chronic pain and dental issues to hair loss and speeding up the wound healing process.
Overall, there is mixed clinical evidence for these benefits (and many others), although it seems LLLT might provide the same level of pain relief as any other method of heat delivery.
In short, while near infrared light might have been shown to increase cellular metabolism or athletic and physical performance (to use a couple of examples from SaunaSpace's website) in some studies, according to many medical authority sites, it appears the overall body of clinical evidence remains largely inconclusive about its benefits.
How Much Do SaunaSpace Products Cost and Where Can You Buy Them?
SaunaSpace products are priced as follows:
Cabanas (everything you need to get started, including enclosure, light panel, and stool): $2,597 - $2,997
Light Panels: $597 - $997
Stools: $197 - $247
Cabanas (enclosures, frames, covers, mats, etc.): $147 - $1,787
Replacement Bulbs: $10 - $16
Educational Books: $10 - $30
Many of these products are also available through Amazon for the same prices.
If purchased directly through the company, SaunaSpace's products come with free U.S. shipping.
Their complete Cabanas also come with a 100-day trial, which begins on the delivery date and involves no additional charges if in "like new" condition when returned.
If not, the company notes that "We may deduct a proportional amount from the refund to cover the cost of repair of the damaged component."
Finally, all SaunaSpace systems come with a lifetime warranty against defects in materials and workmanship as a result of normal individual use.
To request one, customer service can be reached at 844-999-5858 or support@saunaspace.com.
How Much Will It Cost to Operate Your SaunaSpace?
According to the company, their 4-lamp panel uses about 1kW, which on average (at the time of writing) would cost you about $0.13 per hour.
Given these steep entry costs but relatively low ongoing costs, what are customers saying about SaunaSpace?
A Look at SaunaSpace Customer Reviews and Feedback
On SaunaSpace's website, their Basswood Cabana had an average customer rating of 5 stars at the time of our research, with common compliments referencing ease of use, quality construction and materials, and effective results (improved skin, detoxification, etc.).
Outside of this, SaunaSpace's Poplar Cabana and their 4 Light Panels in Basswood and Poplar had a combined total of 5 reviews on Amazon—again, with a 5-star average rating and most of the same compliments.
Interestingly, while some of these reviews go back as far back as September 2014, none of the purchases were Amazon Verified.
From a company perspective, SaunaSpace is based out of Columbia, MO and was founded by Brian Richards, who claims to have completely healed his insomnia, acne, adrenal fatigue and other toxin-related ailments using a homemade near infrared array.
With SaunaSpace, Brian tells us that he's focused on building "an accessible consumer product that provides a high-quality and convenient NIr sauna therapy experience."
How Does SaunaSpace Stack Up Against the Competition?
Speaking of Amazon, while you're checking out SaunaSpace's listings, scroll down the page a little further, and you'll find that you can purchase attractive wooden infrared saunas for about the same price as SaunaSpace.
However, most of these feature far infrared bulbs and permanent construction, so it's not exactly like you're comparing apples to apples.
But here's the bigger question: Isn't the only difference between the far infrared featured in these other options, and the near infrared featured in SaunaSpace the bulbs? It certainly seems so.
As a result, there doesn't appear to be anything preventing you from purchasing an existing far infrared system and switching out the bulbs.
In fact, you can even make your own 4-bulb near infrared array in your home for less than $60! Obviously, this wouldn't include an enclosure, although you might be able to use it in a small space (like a bathroom) to achieve much of the same effect.
Alright, we've now covered a whole lot of ground in this article. Given everything we learned, should you place an order for a SaunaSpace product?
Will SaunaSpace Deliver a Solid Value?
Whether or not a product provides you with value isn't only a question of price; it also factors in how much benefit, usefulness, and enjoyment you get from using it.
From this perspective, based on online customer reviews, it appears many are experiencing great value for their money when it comes to SaunaSpace. Just remember to hydrate, since you'll sweat quite a bit!
However, because of what we learned above from many authoritative medical websites, these (almost wholly) positive experiences seem to be in contrast to the existing clinical evidence for infrared light therapy.
With this said, SaunaSpace provides 100-day trials and lifetime warranties on their systems, which we think indicates they stand behind their products.
But considering the fact that you can build your own array for about 60 bucks, you might consider going this route if you're relatively handy and looking to see what kinds of benefits near infrared therapy might give you—without having to make a big purchase beforehand.
Great product for detoxing.

By Michael P.

,

Gibraltar, MI

,

May 30, 2018
Verified Reviewer

I have used the near infrared sauna for many years, and I really love the results it has on my overall health and on detoxification. It is very relaxing, is good for my skin, helps with detox, and I always sleep better after using the sauna.

I would recommend this safe, near infrared sauna to anyone.

Bottom Line: Yes, I would recommend this to a friend

---

Advertisement

---