Say Auto Insurance Reviews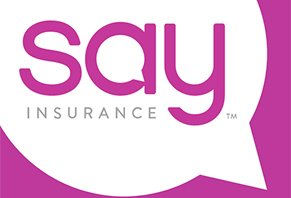 Geared toward a younger demographic, Say Insurance claims to provide a no-nonsense approach to auto coverage, including competitive rates and great support.
What is Say Auto Insurance?
By providing clarity and transparency, Say Auto Insurance promises to deliver clear-cut car insurance that allows you to fully understand what you're paying and why. Or, as the company claims, "car insurance made simple."
Instead of following the rest of the auto insurance world, Say is out to change things up by talking about coverage in uncomplicated terms and delivering outstanding support, whether on their website or over the phone with one of their personality-filled customer service reps.
Specifically, Say Insurance claims to differentiate themselves by providing insurance scores (more soon) at no charge, letting customers know what they can do to reduce their rates, how they can minimize their risk, and how they can have more control over their policy.
Does any of this sound familiar? Probably so. In fact, if you've been researching auto insurance carriers for long, you could probably replace Say's name with any other company and not notice much of a difference.
From this perspective, is Say Insurance meaningfully different than the competition, or is it all just marketing? That's exactly what we'll help you answer here.
Let's start off with some background information.
Some Important Fact About the Insurance Industry
Before beginning my writing career, I spent the better part of a decade as an underwriter for a national top 10 insurance carrier. During that time, I learned a lot about the industry, so let me quickly share a couple of important insights:
With the exception of banking and commerce, there's perhaps no more tightly regulated industry than insurance. Every aspect of it—from rates and eligibility to policy language and advertising—is closely monitored by state and federal authorities; specifically, the Department of Insurance.
For the purpose of our discussion, this means three key things:
First, most of the wording contained in your policy jacket (the long, boring document that outlines your coverage) is boilerplate. So, assuming you had identical coverage, much of this legalese would be identical, whether you choose Say or another auto insurance carrier.
Second, nearly all auto insurance carriers provide the same types of discounts, such multi-car, multi-policy (combining auto and home), good driver (no accidents/violations within a certain timeframe, etc.), and more.
Lastly, although it might not feel like it due to all the confusing wording, the reality is that you pay good money for coverage, so you own your insurance policy. Within the limits of the law, of course, this means you're always in control over it.
Let's carry these thoughts over to the next section.
Say vs. Other Auto Insurance Companies
Because most auto insurance carriers use the same language in their policies and offer the same discounts, there are really only three meaningful differences between each one. (We'll talk about how Say compares to these factors in just a second. First, though, we need to lay a solid foundation.):
1. Their Underlying Rates
Insurance policies are rated based on risk factors. For example, if you received a minor speeding citation two years ago, you would likely have a lower risk factor (and subsequently, a lower rate) than someone who received a more recent, or more severe, violation.
Now, depending on the type of customer they're looking to attract, insurance companies can file different rates with the Department of Insurance.
So (to use an overly simplistic example), if a carrier wanted to focus on acquiring drivers with less than two violations, they could file a new risk factor (or rate) that makes their prices uncompetitive for drivers with 2+ violations.
Which brings us to the second difference.
2. Their Eligibility Criteria
In addition to rates, insurance companies can further focus on attracting certain segments of the market by pinpointing their underwriting criteria.
So, Company A may specialize in only top-notch drivers, company B might focus on high-risk drivers, such as those with major accidents or violations (e.g. DUI, license suspension, etc.), while company C might focus on younger drivers (such as those under 25) without any activity on their driving record.
3. Their Special Coverage Endorsements
Finally, since the bulk of their policy language is the same, companies often attempt to differentiate themselves by offering special coverage endorsements.
For example, Company A might provide full replacement value (vs. actual cash value) if your car is totaled in an accident, while Company B might offer complimentary towing and roadside assistance.
What Differentiates Say Insurance?
Unfortunately, while the Say website certainly provides a lot of down-to-earth information about otherwise complex insurance topics, it tells us very little about what specifically distinguishes them from the competition.
In fact, the only meaningful differentiating factors we're told about is that they'll:
Help you fully understand what you're paying (and why) in uncomplicated language,
They have great customer service,
They'll put you in control of your coverage, and
They may not offer the lowest rates.
That's it.
The issue here is that just about every other auto insurance provider makes many of these same claims. And even if they don't, the independent agents who represent them will often deliver the customer service and down-to-earth coverage explanations you desire.
What about Say's eligibility criteria? Is it any different than the competition?
Talking With Say Insurance About Rates & Eligibility Criteria
When I attempted to obtain a quote on Say's website, even after entering three different states, I was unable to get past the first screen.
Instead, I kept receiving the following error: "Stop! Your quote has been stopped and you may not continue!" No further explanation or instruction was provided.
For help figuring out what was going on, I called customer support at 800-CALL-SAY (225-5729) and spoke with a very pleasant, helpful representative who let me know that Say Insurance only provides auto coverage in the state of IL.
If you live in another state, you'll have to go through Say's parent company Shelter Insurance, although the rep told me they have completely different rates and eligibility criteria.
Regarding this, the only specifics they could give me were that Say offers competitive rates, transparent business practices, and the ability to make changes to your policy. Not much distinction here.
As far as discounts, they also offer many of the same as other carriers, such as a paperless (electronic documents), advance purchase, pay in full, and more.
Perhaps the biggest differences I learned about were that 1) Say provides a no-cost insurance score—a cumulative number involving factors like credit score, the number of claims you (or others in your household who will be listed on your policy) have made, DMV points/citations, and payment timeliness, which helps them assess your overall level of risk—along with 2) a discount after you've been with the company for six months.
Granted, this is what I learned after spending a relatively short amount of time speaking with the friendly customer service rep. What are Say Insurance's real-world customers saying?
Where Are All the Say Insurance Reviews?
On their website, Say Insurance admits that they're the "new kid on the block," which is probably why we found zero online policyholder feedback during our research (note: you can help change this by leaving a review below!).
On the other hand, Columbia, MO-based Shelter Insurance, Say's parent company, has been in business for more than 70 years and currently holds an A.M. Best financial strength rating of A (excellent).
From a customer perspective, we found a handful of Shelter Insurance reviews on poplar websites like Consumer Affairs and Credit Karma, where the carrier had an overall average rating of 4+ stars.
Here, most compliments referenced helpful customer support, easy claims processes, and competitive rates. The only complaint we encountered related to a less-than-stellar claims experience.
ValuePenguin gave Shelter Insurance kudos for their financial strength, business practices, and a lower than an average number of complaints, but noted that their rates are often higher and that they're only available in Midwestern and Southern states.
Finally, Shelter Insurance had an A+ rating with the Better Business Bureau with 18 closed complaints (as of 12/1/16). These referenced everything from problems obtaining refunds and canceling policies to claims issues.
Should You Make the Switch to Say Insurance?
It's easy to see that Say Insurance has invested time and effort into creating an easy-to-navigate website that does a solid job of explaining complex topics in everyday language. This includes insurance score, coverage types, factors that can affect your rate, common discounts, and more.
However, much of this information is generic, and something you could just as easily learn after a quick Google search. Most importantly, it doesn't tell us how Say Insurance is meaningfully different than its vast competition, or why they're more deserving of your money.
True to their word, though, we found Say Insurance delivered on their promise of great support, so—along with their free insurance score—it might be worth giving them a call and obtaining a no-obligation quote.
Bottom line: While Say Insurance's "claim to fame" is transparency, other than a solid website and helpful customer support, we remain unsure how they're distinctive among dozens (even hundreds) of other auto insurance carriers.
Did you call for a Say auto insurance quote? Or, are you a policyholder? Talk about the details in your review below!
Bad service

By Alula M.

,

Denver, CO

,

Apr 4, 2019
Verified Reviewer

This is the poorest auto policy that I have seen in my life. This is not recommended insurance at all. I am not satisfied at all because they have bad service at. They consider only money; the customer is nothing for Say Auto Insurance.

Bottom Line: No, I would not recommend this to a friend

---

Best rate for 21-year-old single male

By Joseph R.

,

Chicago, IL

,

Mar 19, 2019
Verified Reviewer

After a ton of searching, I found Say Insurance. I thankfully have had no claims yet, but I am very satisfied with the ease of signing up. I could easily choose my deductible and compare rates depending on coverage. I started my new car with Progressive and they jacked up my rate $300 after 6 months of no accidents, claims, or tickets. For someone in the most expensive insurance bracket, I am happy to have found them. People are saying that they only offer service in Illinois, I live in Illinois, so I don't know how valid these claims are, but I am happy.

Bottom Line: Yes, I would recommend this to a friend

---

Advertisement

---

Horrible service

By Gerald O.

,

Colorado

,

Dec 12, 2018
Verified Reviewer

I had Say Insurance for a few months. I was hit by a non-insured driver. The adjuster was easy to work with and always answered the phone, but the claims department never returned a call or email. This is going on five months now. Seems like they don't care about returning my refund or at least customer service.

Bottom Line: No, I would not recommend this to a friend

---

Horrible claim experience

By Jeremy B.

,

Colorado

,

Dec 7, 2018
Verified Reviewer

I was sent a check to cover repairs for my truck. I also received a check to pay my ER bill. I deposited it into my personal bank, then along with a few other bills, I paid the ER bill. A day later my bank sent me a notification that the check I deposited was stopped. My bank thankfully covered the charges but charged me a ton of overdraft fees. My account is now negative almost what my paycheck is. They stopped the check because they said they had to pay the ER directly. Shouldn't they have known that before they sent me the check? Now I am broke and am waiting for them to take their time to reimburse me. This is my first claim, and wow, this is horrible. I can't even rent a Redbox movie. I really hope they can make everything good, if not, I will be seeking legal consult.

Bottom Line: No, I would not recommend this to a friend

---

Advertisement

---

No glass coverage

By Dmitry C.

,

Colorado

,

Oct 2, 2018
Verified Reviewer

I have got my windshield broken and was trying to claim it. After 15 minutes spent on a phone with claim rep, I am being told that my windshield coverage is the same as comprehensive, which is a $500 deductible. So, on the website, you will never find about that.

Only an issue for now. Rates are good.

Bottom Line: Yes, I would recommend this to a friend

---

They are new and small and it shows

By Brandon S.

,

Colorado

,

Sep 10, 2018
Verified Reviewer

My wife and I found Say Insurance as an incredibly low-cost auto insurance alternative during a tight financial period. Things were uneventful for a couple of months until an issue arose with my debit card and the autopay failed. My wife caught this, and made the payment manually.

Since events did not happen exactly the way Say expected it, their automated system went haywire, and sent us a hail of emails saying our insurance policy had been canceled, our payment is late (it wasn't), we would owe a $20 late fee (ludicrous), and that our back-paid amount would go to collections if not paid (it clearly was). Clearly, not the best way to treat customers. Once I called customer service, things straightened out and everyone was on the same page again, even if we continued to receive emails that our payment was late.

Bottom line: it's legit, cheap insurance, but you need to stay on top of them since they're new and rely a lot on automation. Some others had the same thing happen to us and they weren't so lucky.

Bottom Line: Yes, I would recommend this to a friend

---

Cancellation fees

By Yezzir A.

,

Tennessee

,

Sep 7, 2018
Verified Reviewer

So apparently if you can't afford insurance for some financial difficulties, they go ahead and charge you an extra 15 days, and on top of that, they charge a $20 fee payment processing fee. Customer service does not help either. Oh and that payment goes to a collection agency after 30 days.

Bottom Line: No, I would not recommend this to a friend

---

Bad customer service

By Melissa S.

,

Colorado

,

Sep 7, 2018
Verified Reviewer

My husband and I joined Say Insurance a couple of months ago after moving to Colorado. We were so happy because the rates were cheap. Everything was going great until this month. My husband had his debit card listed for automatic payments but for some reason when Say Insurance tried to charge his card it would not go through, so I added my card and submitted a payment. I got an email that night saying we were going to be canceled due to no payment. I immediately sent a reply and sent proof of the payment. I thought everything was settled, but yesterday I get an email saying we have been dropped, so I resent proof of the payment and their response is "okay we will send this to billing." We have not heard from them all day. This is very frustrating. Apparently they are disorganized. If not, they would have clearly seen that the payment went through.

Bottom Line: No, I would not recommend this to a friend

---

Poor customer service

By Tomasz T.

,

Colorado

,

Jul 26, 2018
Verified Reviewer

I have been a customer with Say Auto Insurance for over a year and I have to say, I had little contact with the company (that is often considered a positive if you know what I mean). I also had an automatic payment which debited my card once a month. I have not realized that my card has expired (again, fairly standard thing), and they canceled my coverage for no payment.

When I realized my card was expired, I attempted to renew the payment option, but the representative informed me that it had been 15 days and I was dropped, and will not be able to apply any changes or renew my policy. No accidents, tickets, just an omission on my side. Just 15 days, and no possibility to renew! Poor customer service. In the time I was with them I had no tickets, points or negative information.

Bottom Line: No, I would not recommend this to a friend

---

You are wrong for taking elderly people through conflict,

By Sallie H.

,

17

,

Jun 11, 2018
Verified Reviewer

The services they offer are reasonable, but it's hard to believe them. When a problem arises instead of solving the problem they go on and on reading from their manuscripts. They say they wanted me to prove the funds were there before they can reinstate my policy. Where's the logic? You all put in the wrong expiration on the debit card or the three-digit so the system can reject it the payment and Say Auto Insurance makes another twenty dollars for being late. This is a pattern of their practices. Makes me wonder, will they pay off on an accident? Cheap, but a rip-off, not worth the frustration every other month. Is Say Auto Insurance a scam?

Bottom Line: No, I would not recommend this to a friend

---

I believe the negative reviews are propaganda, formulated by the big insurance companies butt buddies.

I was paying State Farm a fortune every year and then Liberty Mutual. I'm not saying there is anything wrong with either one of them except how much they extorted from me every year.

"Extortion?"

Yes, because that is exactly what it is.

When I shop convenience I pay an incredible mark up for that convenience. That is my choice.

Where is the value in paying an extreme markup for a name?

I have only needed to call upon Say Insurance one time since I've been with them, a little under a year now. They were instantly on my side and had my back, and my business was taken care of like lightning. Not with wholesale service either! They performed their service and took care of me in Cadillac style.

I live in Tennessee. The people in Memphis are really problematic in their driving, however, Say Insurance still offers the people of Tennessee an incredible value at an incredible price with class and stellar professionalism.

I'm just saying. Don't be buffaloed. Keep your money in your pocket and go with what you need. Keep the money where you need it! In your pocket, not in some greedy uppity jerk's pocket.

Word.

Bottom Line: Yes, I would recommend this to a friend

---