Schwab Intelligent Portfolios Reviews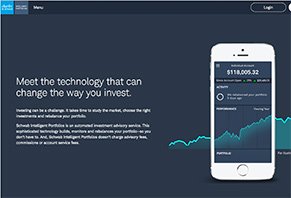 Schwab Intelligent Portfolios is a robo-advisor that automatically trades ETFs across 20 different asset classes to help you reach your financial goals.
About Schwab Intelligent Portfolios
If you're just getting into investing, robo-advisors like Schwab Intelligent Portfolios can help automate the trading process so you can worry about more important things in life.
But robo-advisors aren't for everyone, so keep reading to find out if SIPs is the right option for you.
Schwab Intelligent Portfolios & Your Investments
Schwab Intelligent Portfolios (SIPs) is an investment advisory service that automatically builds, monitors, and rebalances your portfolio—otherwise known as a "robo-advisor"—without advisory fees, commissions, or account service fees.
Schwab Intelligent Portfolios (SIPs) is accessible from any desktop computer or Apple or Google-based mobile device, and works by filling your portfolio with low-cost exchange-traded funds (ETFs), spread across up to 20 asset classes. This includes stocks, fixed income, real estate and commodities, as well as an FDIC-insured cash component.
Once your ETFs are selected, their performance will be continuously monitored by Schwab professionals, so that your portfolio consistently performs as you need. If it's not, underweight or overweight assets classes might be exchanged in order to stay within your risk profile. SIPs even offers tax-loss harvesting (don't worry, we'll talk about all of this shortly).
Not only does Schwab Intelligent Portfolios help you invest easily, but they also claim that you can get set up over 3 simple steps:
Assess your risk profile using a short, 12-step questionnaire.
Receive and review recommendations.
Complete the enrollment process.
New to investing? Then you've probably got a whole lot of questions, which we'll help you answer. To begin, what in the heck is a robo-advisor?
What Is a Robo-Advisor? Who Are They Good For?
Investopedia defines a robo-advisor as "an online wealth management service that provides automated, algorithm-based portfolio management advice without the use human financial planners." Answer a few questions, fund your account, and the software will automatically manage your investments to provide the best return based on its algorithms.
It sounds pretty advanced (and it is), but the truth is that there are dozens of robo-advisor services out there, including WealthFront and Interactive Brokers, as well as other popular options such as Betterment, WiseBanyan, and FutureAdvisor.
Despite their recent popularity, is a robo-advisor even right for you?
Most financial professionals will tell you that there isn't a one-size-fits-all financial solution that will meet every investor's needs. And because robo-advisors like Schwab Intelligent Portfolios are exactly that, they might not be your cup of tea.
If you're a young, beginning investor, are looking for some straightforward, no-nonsense help, and have $50K or less to invest, then robo-advisors might be a good fit. It's this demographic that these services are largely targeted toward.
Do you like to pick and choose all your investments? Do you require detailed financial advice, especially outside of investing (e.g. tax planning, budgeting, etc.)? Will you be retiring soon? In these instances, personalized investing might be your best option.
In either instance, you'll want to consult a financial professional before making a decision.
With one confusing term out of the way, let's dissect some of the other common terms used on the Schwab Intelligent Portfolios website.
The Schwab Intelligent Portfolios Glossary
As an inexperienced investor, you might have felt like you were reading a different language on some parts of the Schwab Intelligent Portfolios site. To help settle this confusion, let's put everything into layman's terms.
Risk Profile
Your investing risk profile references 2 main characteristics:
The amount of risk that's required to achieve your financial goals. If you need to quickly build your portfolio, you'll often utilize higher risk—but higher paying—investments. If you're close to retirement, you might choose lower-risk investments.
Portfolio balance aside, you'll need to determine the level of risk your more comfortable with. A lot of this can come down to personality.
Assessing your risk can be an involved process, although Schwab Intelligent Portfolios claims to accomplish this using a short, 12-step questionnaire.
Exchange-Traded Funds (ETFs)
You're probably familiar with stocks, which are small pieces of ownership in a company.
Well, ETFs are similar to stocks in that they're publically traded on stock exchanges, except they can represent any kind of asset class. You're not limited to just shares of a company. You can also indirectly own bonds, foreign currency, gold bars, and much more.
As such, ETFs can allow you to trade a variety of things on the stock market, which can help you diversify your portfolio and hedge off downturns in the market (known as volatility).
Rebalancing
Another method of strong-arming downturns and helping ensure your investment portfolio continues performing is through something known as rebalancing. Basically, this just involves buying or selling assets in your portfolio to optimize returns.
Schwab Intelligent Portfolios claims to do this automatically, although if you choose a non-robo-advisor, this will be up to your or your financial professional and can represent a labor-intensive process.
Tax-Loss Harvesting
Just like any other income you earn, the profit you make on your investments is taxable. However, the losses on some of your individual investments can help offset some of your profit on others, so that you'll ultimately pay less in taxes.
This process of scouring your portfolio and calculating profits and losses in order to pay fewer taxes is known as tax-loss harvesting.
Certainly, it seems like Schwab Intelligent Portfolios takes care of a lot of the nuances (and terminology) associated with investing. But are other clients happy with the service?
What Are Investors Saying about Schwab Intelligent Portfolios?
InvestorJunkie gave Schwab Intelligent Reviews an average rating of 3.5 stars, who liked that the service comes with no fees and automatic rebalancing, as well as the fact that most ETFs are Schwab-based.
On the other hand, they noted that SIPs uses a more complex ETF selection process, which might not appeal to investors with less than $100K in their account. Also, that the 6%-30% cash allocation cannot be changed, which might cause "a significant drag on returns."
A March 2015 Forbes article also lamented SIP's large cash percentage, in addition to the fact that it blindly harvested capital gains, limited ETF selection, required a liquidated portfolio, and that the algorithm is self-focused. Overall, they recommended:
"Robo-advisors, like SIPs, will never fully understand your goals and your needs. Automated support is better than not being invested. But better still is having a fiduciary who knows your particular case intimately and is legally bound to act in your best interest."
If you're a more experienced investor, InvestingToThrive provides some very useful information about Schwab Intelligent Portfolios, and outlines who might be most pleased with it. Overall, they liked the no-fee structure, but were concerned that you can't know the details of each portfolio component before making a purchase.
As a company, Charles Schwab held an A+ BBB rating based on 33 closed complaints (as of 8/27/15), which ranged between not getting free trades promised and closing accounts without explanation, to NSF fees and undisclosed credit inquiries.
Should You Use Schwab Intelligent Portfolios?
Schwab Intelligent Portfolios—like most other robo-advising platforms—might be best suited for those who are new to investing, or for those who are too busy to manage their own investments and don't want to hire a expensive professional to do it for them.
Remember that SIPs requires you to maintain a minimum balance of $5K in order to be eligible for automatic rebalancing, and $50K or more for tax harvesting. These are arguably 2 of the service's biggest benefits, so this is certainly something to keep in mind.
Ultimately, as we talked about earlier, it's always a good idea to speak with a financial professional before deciding on the best portfolio management option for you. If you're looking for a hand-off solution though, Schwab Intelligent Portfolios seems to offer a worthwhile service from one of the largest and most respected brands in the industry.