ScrubTastic by Clorox Reviews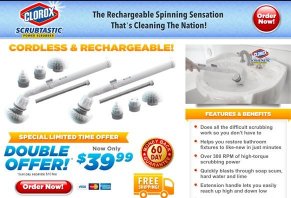 The ScrubTastic by Clorox is a spinning cleaning brush that features an extendable arm, three scrubbing heads, a rechargeable battery, and a 300 RPM motor.
What Is ScrubTastic by Clorox?
The ScrubTastic by Clorox is an extendable electronic scrubbing device that claims to be able to quickly clean hard water, soap scum, and lime from your bathroom appliances and certain home surfaces such as grout, tile, and air vents. The product promises to offer an alternative to hand scrubbing that often involves bending over and kneeling, hopefully providing a more convenient cleaning experience.
The product's website claims that it operates at a speed of over 300 RPM, or revolutions per minute. A rechargeable internal battery powers the motor, which in turn spins the various tips in order to provide the cleansing action seen in the website's explainer video.
We reached out to customer service about the battery, and they told us that it should last "about a week" under normal usage. They also let us know that it takes just under an hour to charge the device back up when it's depleted.
For convenience, the product also comes with a storage hook that can attach to a towel bar in the bathroom or laundry room.
In order to better understand how the ScrubTastic might fit into your lifestyle, let's take a closer look at how the device is supposed to operate.
How to Use the Clorox ScrubTastic
The explainer video shows what it's like to use the device, and based on this alone, it looks relatively straightforward.
The ScrubTastic features three different types of heads; round, flat, and angled, each of which can connect to the end of the powered extension wand, as the company calls the main handle. This section is cordless and houses the internal battery, which can be recharged using the included cable that plugs into a standard 110 power outlet.
Using a button on the side, you can also extend the device out to 39 inches for those areas that may be harder to reach. Together, the makers of the ScrubTastic show it being used to clean cooktops, ovens, windows, toilets, sinks, vents, grout, tile, and shower doors in the product's explainer video.
So, now that we know how it works, how much will it cost you to get your hands on a Clorox ScrubTastic of your own?
Clorox ScrubTastic Pricing & Return Policy
The Clorox ScrubTastic Power Scrubber is available both directly through the manufacturer online, as well as on Amazon.com. If you opt for the former, the product is sold for $39.99 (shipping is free
On Amazon, the product will run you $29.95.
Should you need to purchase replacement heads for the device at some point, customer support told us that a pack of three heads (one of each kind) can be purchased directly through the company for $12.95.
As for returns, the manufacturer provides a 90-day satisfaction guarantee for the purchase price, minus shipping and handling (which in this case is free, though you'll need to cover return shipping). You can reach out to support at 855-721-3340 to initiate a return. For Amazon, you have 30 days to return the product.
ScrubTastic by Clorox vs. Alternative Cleaning Options
Looking around online, we were able to find a variety of different scrubbing brushes, both electric and manual. A few products even shared similar designs and functionalities to ScrubTastic, down to the three cleaning heads, rechargeable design, and 300 RPM operating speed.
One such product, the Turbo Scrub 360, is available for $35.99, coming in a few dollars cheaper than the ScrubTastic, while providing all of the major features it includes. Though both the ScrubTastic and the Turbo Scrub 360 had numerous reviews on Amazon, the former had more, and featured a higher all-around rating at the time of our research.
Common praise revolved around the convenience the devices provided, with many elderly customers chiming in about how the extendable arms helped to reach areas that might otherwise be hard for them.
On the other hand, common complaints for both products included multiple reports that the bristles did not spin fast enough, and that they were not hard enough to be able to remove dirt and grime. Another stemmed from weak or failing batteries that either would not hold a charge, or would only last a period of several minutes after charging for a substantial amount of time.
In both instances, it's important to emphasize that these complaints made up the minority, and we encountered similar issues with other competing products. But what does this mean?
Ultimately, if you're looking for the least expensive option available, the Turbo Scrub 360 seems to be priced a few dollars less. It features a cordless design, three different interchangeable heads, and a rechargeable battery, just like the Clorox branded product. It is also extendable to 38", according to the product's Q&A section on Amazon (the ScrubTastic claims to extend to 39", as reported earlier).
If you value brand recognition, or which product is a more popular seller on markets like Amazon (or even if you'd just like to take advantage of the available double offer directly through the manufacturer), then perhaps the ScrubTastic is right for you.
The Bottom Line: Is The Clorox ScrubTastic Worth It?
The Clorox ScrubTastic Power Scrubber has several key features (as outlined above) that seem as though they could be quite useful, in general. That being said, we've determined that there exists some competition, and a few of the products we came across utilized all the same functionalities that the ScrubTastic does, at less expensive prices.
Between the most popular of these products available online, the ScrubTastic by Clorox appears to be the most well-reviewed (on Amazon, as of the time of our research). If you are in the market for an electronic cleansing brush and don't mind paying a bit more, the ScrubTastic might be the way to go.
The product might also be well-suited for those with movement disabilities, as many reviewers have noted, since the extending arm reportedly can make it easier to get into otherwise troublesome areas when cleaning.
With all of this said, the strength of the cleaning solution itself in terms of the impact on dirt and grime removal could be a very important factor to consider when planning your purchase.
Finally, for some users (like those with wrist or hand issues), we could imagine that the 300 RPM torque provided by the device might have potential to get tiring, especially when trying to hold it in one place while cleaning an especially nasty stain.
Outside of these considerations, the Clorox ScrubTastic looks as though it could foreseeably serve you well as an addition to your cleaning arsenal, based on everything that we've learned above.
It stopped working.

By Deborah F.

,

Memphis, TN

,

Jan 22, 2020
Verified Reviewer

It worked fine for 3 bathroom cleanups. I recharged it and put it on but it would not come back on. I am very disappointed because it helps with cleaning the tub with me not having to get on my knees to scrub. My daughter gave it to me.

Bottom Line: No, I would not recommend this to a friend

---

Bad buy

By Gary B.

,

Kansas City, MO

,

Oct 29, 2019
Verified Reviewer

Piece of crap. Switch hard to operate. Stopped working after 5 seconds, fully charged. Don't waste your money. Bought at Walmart. Don't buy this piece of crap. Total waste of money.

Bottom Line: No, I would not recommend this to a friend

---

Advertisement

---

Bad!

This product did not work for me at all! I had high hopes for a powerful scrubber to help me get my bathroom clean. But this machine is not powerful enough and does nothing more than me using a brush myself. As a matter of fact, I get it cleaner doing it myself. Highly disappointed, with a bad back, I was really looking for something to help ease the burden on my back, shoulder, arm, etc. I feel I totally have been taken and wasted my money.

Bottom Line: No, I would not recommend this to a friend

---