ScrubTastic Reviews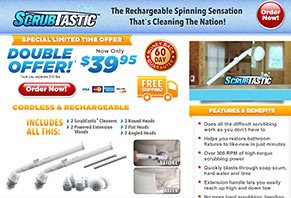 Using three interchangeable heads and an extension handle, the ScrubTastic spinning brush claims to deliver easy cleaning power without bending over.
About ScrubTastic
When you realize it's time to clean the grout, tile, and shower door, does it send chills up your spine? Does the hair stand up on the back of your neck?
Well, according to the maker of ScrubTastic, a cordless, rechargeable brush that spins over 300 RPM, its high torque scrubbing power will do "all the hard work for you."
We're told you'll be able to quickly blast through soap scum, hard water, and lime, while the extension handle helps you reach high—and low—without hard scrubbing, bending, or kneeling.
Look, nearly everyone loathes the thought of cleaning the shower and bath, but up until now, we just had to suck it up and get it done. Has ScrubTastic changed the situation, though?
In other words, is it the "rechargeable spinning sensation" claimed by the manufacturer, or is it an overhyped piece of plastic? Will it help you "restore bathroom fixtures to like-new in just minutes," or will it break within a week?
We did the research to help you find answers to these important questions.
How Well Can You Expect ScrubTastic to Work?
Imagine you have a car that's capable of going 300 MPH. Pretty fast, right?
The only problem is that it's low on torque; i.e. a twisting force that causes rotation. So low, in fact, that even once it reaches 300 MPH, just a slight breeze could seriously impact its performance. This certainly wouldn't be a very effective car!
As you can see in this admittedly simplistic example is that, while overall speed is important, being able to 1) quickly reach this speed and 2) maintain it for an indefinite period of time is equally as important. And to do this, you need torque.
What's the point? Even if ScrubTastic does spin at 300 RPM, if its motor doesn't feature enough torque—meaning that it takes very little friction to slow it down (such as lightly pressing against tile or a shower door), it ultimately won't provide much value.
And while the manufacturer claims ScrubTastic comes with a high-torque motor, they don't provide any further details and it seems like the spinning head meaningfully slowed down in the commercial when pressed against hard surfaces.
Now, we didn't test ScrubTastic firsthand, so we're fully willing to admit that this might only appear to be the case. However, we certainly think it's something to consider after watching the commercial yourself.
Does ScrubTastic Have Any Competition?
Type "spinning cleaning brush" or "rechargeable cleaning brush" into your favorite search engine and you'll quickly find that, in addition to ScrubTastic, you have several other options from which to choose.
While most of these are meaningfully different, you'll find several options that offer the same extension handles and interchangeable brushes, if not eerily similar designs. In fact, ScrubTastic appears to be identical to another As Seen on TV product named Turbo Scrub, which was still available for purchase at the time of our research.
From a price perspective, you'll find that much of ScrubTastic's handheld competition falls between $15 and $35, while the more robust, longer-handled options are priced anywhere from $45 to $100+.
What about ScrubTastic?
How Much Does ScrubTastic Cost?
One ScrubTastic spinning brush will cost you $39.95 plus free S&H. You'll be able to purchase another brush at checkout for an additional $10 fee.
Each set comes with 1 ScrubTastic Cleaner, 1 powered extension wand, 1 round head, 1 flat head, and 1 angled head.
All ScrubTastic purchases come with a 60-day refund policy, less S&H. In order to request one, you'll need to contact customer service at 855-721-3340.
Why Is ScrubTastic's Arbitration Important?
In a nutshell, arbitration agreements dictate that, in the event you experience any damages, you'll be required to go through private arbitration proceedings.
This means you'll be giving up many of your legal rights as soon as you place an order, including joining a class action lawsuit or a trial by jury.
Does ScrubTastic Come With Any Online Customer Reviews?
The HighYa team is focused on helping you make more informed decisions about popular products as soon as they're released, so they often don't have any customer feedback yet. It was the same with ScrubTastic.
However, while we can't be sure of the company's name, ScrubTastic's manufacturer also appears to make One Second Slicer and Cabinet Brite. Can we learn anything from their feedback?
One Second Slicer had 5 reader reviews here on HighYa at the time of our research, with an average rating of 1.2 stars. Why? Common complaints referenced that they didn't meet expectations, in addition to much higher charges than expected and difficulty processing returns.
Again, without any reviews for ScrubTastic and without having tested it ourselves, there's no way to know if you can expect to experience the same.
However, since this is common among all ASOTV products (not just those from ScrubTastic) it seems worthwhile to keep in mind.
Let's go ahead and wrap everything up, shall we?
Is It Worth Taking a Risk on ScrubTastic?
At HighYa, we say it often when investigating products, but only because it always rings true: we're not here to tell you how to spend your money. After all, you earned it.
However, we are here to help you make more informed purchases, which we do by compiling publically available information, along with our personal experience reviewing hundreds of products and writing dozens of in-depth guides.
Given this, do we think you should you buy ScrubTastic? We have no reason to believe it won't help you clean tile, grout, and shower doors. But will it actually make it easier? Will its motor provide solid cleaning power? Will it last?
We'll just have to wait until customer feedback starts rolling in to learn more.
In the meantime, keep in mind that if you order the BOGO ScrubTastic offer and decide to process a return, you'll immediately lose $10, plus whatever it'll cost to ship the devices back to the manufacturer.
Did ScrubTastic deliver on its cleaning promises? Tell us about your experience by writing a review below!
Now Read: Super Simple, Natural, & Cheap Cleaning Solutions Already In Your Kitchen
Never received product

By Doris G.

,

Florida

,

Nov 6, 2019
Verified Reviewer

I ordered this scrubber from a commercial on TV. They have my money but it's been over 2 months and when I check status it says "Out of Stock." Can't find a number to contact to cancel order. Very frustrating. Not sure if this is legit or a scam.

Bottom Line: No, I would not recommend this to a friend

---

Turn-off switch is defective - won't turn off

By Fred E.

,

South Bend, IN

,

Sep 21, 2019
Verified Reviewer

I found the ScrubTastic to be very effective in cleaning my walk-in-shower and it removed soap scum and ground-in dirt.

The problem is that the second time I used it, when I tried to turn it off, it refused to turn off. I flicked the switch several times and it would not turn off. I had to disconnect the three pieces in order to box it up and return it to Walmart.

Bottom Line: No, I would not recommend this to a friend

---

Advertisement

---

3 out 5 people found this review helpful

It is NOT a scam

By Marty D.

,

Key Largo, FL

,

Aug 30, 2018
Verified Reviewer

I love it. It surely is worth the costs, and it does what it says.

Some personal comments - it could use more torque, the seals could be more waterproof, I would prefer an even longer wand, and I only need the one hemispherical brush.

They stand by their guarantee.

I would buy it again, and I recommend it.

Bottom Line: Yes, I would recommend this to a friend

---

2 out 4 people found this review helpful

A huge help!

By Janet Rose

,

Stonington, CT

,

Nov 8, 2017
Verified Reviewer

I am less than three months post op from a major neck surgery and still don't have my scrubbing power back, so I was looking for something to help me clean my shower without hurting myself. I purchased the ScrubTastic from Amazon for $39.95 and received it in two days (Prime member). I was not only anxious to try it out but more importantly, clean my shower without the help of a family member or friend.

After opening and charging the unit I put it to the test. I used my own natural bathroom cleaner by Attitude (Attitudeliving.com, fabulous products!). I was extremely happy with the results. Not only was it easy to use, it really did a great job cleaning the entire shower with very little energy and no pain for me, which was biggest concern.

I would definitely recommend this product based on my first experience with it. I just hope it holds up because it's really great!

Bottom Line: Yes, I would recommend this to a friend

---

Advertisement

---

5 out 6 people found this review helpful

ScrubTastic worked great for me!

By Sue H

,

Little Rock, AR

,

Sep 8, 2017
Verified Reviewer

I bought my ScrubTastic from Hammacher-Schlemmer because of the lifetime guarantee. I was skeptical, but loved the idea of being able to clean the shower ceiling, walls and floor more easily.

I just finished the job, so I've only used it one time, but I was impressed, and my shower is clean without a stool for the ceiling or getting on my knees for the floor.

Bottom Line: Yes, I would recommend this to a friend

---

10 out 11 people found this review helpful

Lousy

The turn-off switch does not work on either of the three that I bought. I bought three, one for me and one each for each of my daughters. The turn-off switch does not work on any of them. A switch of this type is very simple. My goodness, at least one of them should work properly.

Bottom Line: No, I would not recommend this to a friend

---

48 out 49 people found this review helpful

Where is my product?

By Lucy

,

Toronto, Canada

,

Feb 10, 2017
Verified Reviewer

Well, I can't judge the product because I have been waiting for it for over a month. Their customer service is useless. I called, and they told that they are waiting for their shipment from Las Vegas, but this already came off of my credit card! Like, where do we go from here?

Bottom Line: No, I would not recommend this to a friend

---

49 out 50 people found this review helpful

Shipping

By Velda Baker

,

San Antonio, Texas

,

Jan 18, 2017
Verified Reviewer

It is very hard to write a review on this product when you can't get them to ship it to you. I placed my order on 11/7/16, today is 1/2/17 and still no product. Sure, hope this is a legit company and not a scam. Very disappointed so far!

Bottom Line: No, I would not recommend this to a friend

---

50 out 51 people found this review helpful

I have not received

I ordered the ScrubTastic 11/4/2016 and have yet to receive the order, although my credit card has already charged. I wanted to receive by Christmas and it's already 12/18/16 and I still have not received it. Time is running out.

I talked with their customer service two weeks ago and was told it would ship that week. I'm not very happy that it is taking so long.

Bottom Line: No, I would not recommend this to a friend

---