Sebonic Financial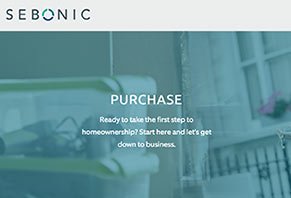 Sebonic Financial is a website where you can get pre-approved for six different mortgages or a refinance, depending on what your needs are.
What Is Sebonic Financial?
Sebonic Financial is an online mortgage lender offering you six different types of mortgages and a set of refinancing options.
What sets Sebonic apart from other mortgage marketplace companies like Lending Tree is that they lend directly to you; you don't have to go through a third-party.
The company behind Sebonic is Cardinal Financial, which is based in Charlotte, N.C. Though it might seem confusing, Sebonic is Cardinal's website for capturing leads for borrowers who want to get a mortgage or refinance their existing mortgage.
A comparable website would be Rocket Mortgage, which Quicken Loans uses to get people to borrow from them.
The company's website doesn't have an About Us section, nor does their LinkedIn page include any company history.
To find out that information, we had to go to Cardinal Financial's About Us page, where we discovered that the company started in 1987 and they have more than 900 employees.
According to WhoIs.net, the Sebonic.com domain name was registered in 2012, though we couldn't find an exact date when Sebonic.com was launched. Either way, the website is one of many in the new wave of online mortgage lenders.
Because mortgages consist of a lot of money – the average mortgage in 2015 was $294,000 – we think it's important to know exactly what Sebonic offers and what people are saying about them.
Without these two areas of knowledge, it can be virtually impossible to know if Sebonic is a good fit for you.
We're going to take you step-by-step through those two topics, digging into the details so you can get a good overview of Sebonic. We'll end our review with a few overall conclusions and recommendations.
What Does Sebonic Offer?
Sebonic offers purchase mortgages and refinance mortgages, the difference being purchase mortgages are what you use to buy a house and refinance mortgages are what you use to get a lower rate on your current mortgage.
Sebonic's Purchase Mortgages
Mortgages aren't a one-size-fits-all solution. Lenders have created many different types of loans to meet the needs of consumers and the lenders themselves.
Sebonic's six types of mortgages are: Conventional, Jumbo, FHA, VA, USDA and Expanded.
Conventional Loans
These types of mortgages are the ones you are probably most familiar with. They include fixed-rate mortgages of varying lengths, as well as multiple adjustable-rate mortgages (ARM).
Fixed-rate mortgages have one interest rate for the life of the loan, while ARMS have interest rates that, in a very simple sense, move up and down as the economy rises and falls. Some ARMS offer five years of fixed-rate interest, then change to adjustable rates.
Sebonic's conventional mortgages require that you have a FICO score of at least 620 and are able to make a down payment of at least 5% of your purchase price.
Jumbo Loans
These mortgages are designed for more expensive homes, which is why you can only get this loan if your purchase price is between $417,000 and $3 million (the minimum is higher in Alaska and Hawaii).
These loans are designed for people with FICO scores above 700 and who can pay a 20% down payment.
The requirements for these loans are higher because the bank takes on more risk by giving such big mortgages.
They want to be sure that you can pay them back, which is why you'll need a far better credit score for these loans as compared to fixed-rate and ARMs.
FHA Loans
"FHA" stands for Federal Housing Administration, the organization who backs this type of loan no matter who your lender is.
The FHA created these loans to provide Americans an easier way to get a home, which is why you can secure an FHA loan with a 3.5% down payment and a credit score of at least 600 (both lower than conventional and jumbo loans).
VA Loans
"VA" stands for Veteran Affairs, the government department who backs these types of loans. VA loans are created specifically for military service members to get a home as easily, financially speaking, as possible.
Those who qualify for these loans don't have to make a down payment or pay private mortgage insurance (PMI), a fee normally paid when you can't make a 20% down payment on a home. Also, interest rates tend to be low on these loans.
USDA Loans
Like the previous two loans we talked about, this acronym loan is part of a federal program. This time, the backer is the United States Department of Agriculture.
These loans were designed to promote homeownership in rural areas for Americans with low to medium income. People who qualify for these loans have a 0% down payment.
However, USDA loans are reserved for homes under a certain price and located outside urban areas.
Expanded Loans
The final category of loans Sebonic offers are called expanded, which means they've expanded their basic criteria for a loan in order to include people with lower income.
Sebonic's site doesn't list many details about these loans, only noting "credit scores as low as 560 may be eligible", tax returns might not be required to verify income and they can be used for purchases or refinancing.
Sebonic's Refinancing Mortgages
Like we pointed out earlier, Sebonic offers refinancing in addition to purchase mortgages.
The concept of refinancing is pretty simple. Let's say you bought a home with a fixed-rate mortgage at 6% interest. A few years later, mortgage rates drop down to 3.5%.
You know that you could save a lot of money each month if you had a mortgage at 3.5% instead of 6%, so you apply for refinancing.
If approved, you'll get the mortgage at a lower rate and the bank will use that loan to pay off the first mortgage you took out.
How You Get Sebonic Financial 's Loans
When you apply for a mortgage with Sebonic, you go through a common two-step process of pre-approval and approval.
The pre-approval is a preliminary amount that Sebonic thinks you're eligible for based on your income, credit scores, and existing debt.
To get pre-approved, you have to answer 18 questions about the house you're looking for, your income/credit as well as your name, email address, and phone number.
Once you fill out the survey, you have to sign off on Cardinal Financial calling you about your pre-approval, as well as any subsequent real or robo calls from the company.
Once you answer the 18 questions and submit them, Cardinal will call you and let you know the amount you're pre-approved for.
From there, you'll work with a Cardinal loan officer to submit the necessary paperwork to get approved for the loan as well as take care of home-buying details like inspections, title, and other things.
Once you buy your home, you have the option of making your monthly payments through the Sebonic website.
Pro tip: Don't assume what type of loan you'll get. Sebonic will most likely match you with the loan that best fits your financial situation, along with the home that you want to buy.
Sebonic Financial Reviews: What Other People Are Saying About Sebonic
Word-of-mouth can be really helpful when you're figuring out which mortgage lender you want to use to purchase or refinance a home.
When you read through reviews, make sure you examine the positive and negative comments; focusing on one or the other can give you a skewed perspective.
We've gathered up customer reviews from several different popular websites. Two of those sites, Lending Tree and Zillow, are third-party sites that connect consumers to Sebonic for mortgages.
Lending Tree, 550+ reviews, 4.7 stars: Multiple customers said their loan officer was patient and attentive, noting how pleasurable the loan process was. Negative reviews centered on drawn-out paperwork processes and escalating fees.
Zillow, 2270+ reviews, 4.5 stars: The positive feedback here was similar to Lending Tree. Customers loved the attentiveness of their loan officers and were pleased with the interest rates on their loans. They also noted they enjoyed the speedy paperwork process. Negative reviews were similar to Lending Tree, too. Clunky paperwork processes and rates that were higher than expected popped up in recent bad reviews.
Bankrate, 980+ reviews, 4.7 stars: We found much of the same feedback here. Positive comments praised the ease and friendliness of the loan process, while negative reviews said rates were higher than published and the paperwork process was frustrating and repetitive.
Our Conclusions About Sebonic Financial
Finding the right mortgage lender is important because you want a company who will make the process as easy and responsive as possible.
Sebonic's website makes pre-approval really simple, and the offer a variety of loans to fit consumers' needs.
Just remember that you may not be approved for the loan you want; the mortgage process can have its hiccups and everything is based on your income, credit, and other financial factors.
From all that we've read, there's a good chance you'll have a positive experience with Sebonic. However, there are a segment of past customers who said the paperwork process is a headache and Sebonic Financial wasn't as responsive as they needed them to be.
If you don't mind doing your mortgage through a website, we think Sebonic could be a good fit for you.
We can't guarantee that the loan process will be flawless, though, so be prepared to follow up on your loan officer if it seems like you haven't heard from him or her in a while.
If you feel like you're the kind of person that likes to do important business face-to-face, then you may want to consider getting a mortgage through your local bank or credit union.
Doing so means you'll be able to sit down with your loan officer, get to know him or her and work together, in person, to find a good solution.
We understand that every consumer is different. If anything you've read here makes you think you want to explore your options before committing to Sebonic, we understand.
Should you find yourself wanting to compare rates between mortgage lenders, try a website like Better Mortgage, who is a direct loan originator as well.
---
Top shelf company

By Michael L.

,

North Carolina

,

Oct 1, 2019
Verified Reviewer

Overall Experience:

Sitting at the closing table right now...John Ruskin was is our Loan Officer and was on top of everything! Attorney even stated it was the lowest rate that he has seen and couldn't believe how low the lender fees are. As a former loan officer myself, I have to say that John Ruskin went over and above to take care of us. Minor delay with processing and closing department but Mr. Ruskin got it straightened out almost immediately. I highly recommend him and Sebonic!

Bottom Line: Yes, I would recommend this to a friend

---

Very fair, great communication, excellent rate

By Robert K.

,

Baton Rouge, LA

,

Sep 20, 2019
Verified Reviewer

Overall Experience:

My loan officer Michael Fienberg was very helpful and communicative through the entire process. I was kept informed by email at every point when documents needed to be signed, what fees to expect, and when something needed attention. A quit deed needed to be executed near the end, that was delayed for reasons beyond Mr. Fienberg's or my control and as such, the rate lock was extended. I have nothing but compliments for how efficiently and professionally my refinance was handled.

Bottom Line: Yes, I would recommend this to a friend

---

Advertisement

---

Complete incompetence and disregard!

By Kaj H.

,

Concord, NH

,

Jun 20, 2019
Verified Reviewer

Overall Experience:

My husband and I both have excellent credit, had a full 20% to put down on a loan. We understood the mortgage process (this was our third purchase - additionally, in a past life, I used to be a realtor) so we understood the value of being proactive with their demands. We started the process 60 days out! Quality companies can close in as few as two weeks or less - these clowns were still screwing things up in the last 24 hours!

Our loan officer just went away the last week of our processing/underwriting without any heads up or anybody to turn to for problems. Our loan coordinator was great but the underwriters had the file for almost a month and even the night before hadn't even completed verifications of employment! They asked why I quit my job (we were moving across country - apparently this was a difficult thing to figure out) and I told them I had a new job lined up - they started freaking out about an offer letter (which had been emailed to them two months earlier - please explain why we are having this discussion in the last eight hours before closing?). This was just one of the COUNTLESS examples of screw-ups! I asked to speak to a manager - never had the respect to even call me!

In my time as an agent, my buyer's agents experience, the listing agent's experience, builders experience - nobody had ever seen a more poorly handled mortgage. Almost lost the house because of them!

Never! Never! Never!

Bottom Line: No, I would not recommend this to a friend

---

Warning: Incompetent! Unethical! Lied! Deceived!

By Michael C.

,

Seabeck, WA

,

Apr 30, 2019
Verified Reviewer

Overall Experience:

Wasted a huge amount of our time! Now having to file a complaint with the Consumer Financial Protection Bureau.

This was a basic loan. Sebonic was so incompetent, we had to intervene at every step of the way to do their job for them, to do Sebonic's job they were being paid thousands of dollars to do, or it would have taken weeks longer to close. Even then, Sebonic still funded 11 days late.

I have an MBA and finance experience. Would you have been able to spot all of these illegal charges and errors? Would you have been able to intervene and unblock stalled processes to get your loan moving towards close?

Most borrowers would never even know they were ripped off because they don't understand the paperwork and processes. Further, Sebonic never discloses changes. It's up to you to find them. Buyer beware. Look upon any positive Sebonic reviews with skepticism as these are likely naive customers that were taken advantage of.

Do yourself a favor, stay away from Sebonic, stay away from Faith Milot!

I supervised a refinance for my ex-wife's house. Faith at Sebonic sucked her in with promises of reduced fees due to a business referral from my former brother-in-law. Except, then Sebonic just kept changing written agreements, adding fees, and ignoring numerous requests to explain them.

Worse, error after error after error kept delaying close, then delaying signing after close, then delaying loan funding. A.) We had to find these easter eggs ourselves, B.) We had to fight tooth and nail to get only some of them fixed, C.) Sebonic refused to credit excess interest charges piling up at $21/pay. In the end, my ex-wife was charged $214 in excess interest for Sebonic errors for which they refused to reimburse.

As an example, Sebonic charged $396 for a rate-lock extension due to their ongoing errors. We had to fight Sebonic for days. We were told time and again it was removed. Except it wasn't. They lied, attempting to deceive us. Fight after fight after fight.

All of this dishonesty consumed over 80 hours of our time scrutinizing, calling attention to mistakes, arguing, fighting for our rights via over 100 emails and dozens of phone calls and conference calls. Do you have 80 hours to waste?

At closing, Sebonic tried to illegally charge $456 in excess fees after having stated 2 months prior (in writing no less) these fees were waived as a courtesy when negotiating the loan structure.

After 80 hours of fighting, this was reduced to $267 of illegal fees my ex-misses ended up being ripped off for. Example, we explicitly negotiated $600 for an appraisal. At close Sebonic changed this to $675, violating the truth in lending loan estimate.

We had a competitive bid from a trusted mortgage broker we'd worked with for 2 and 1/2 decades with a dozen refi's done within our family. We were fools. Instead of trust this great lender, we believed Sebonic claims they would save us $1100. By the time we were done, it would have only cost us $40 (due to illegal extra costs at Sebonic) to have stuck with our trusted lender. We were stupid. Do not trust Faith, do not trust Sebonic.

And, we never would have spent even 1 extra hour with our trusted lender. Even had we saved $1100, the 80 hours of our time was never worth it. RIP OFF!

Lie upon lie upon lie, error upon error upon error. Do not trust Faith, do not trust Sebonic.

At the signing, they illegally snuck in new fees that they had to issue lender credits to cover after they failed an internal audit causing yet another delay and more interest charges piling up.

Again at signing, we had to print our own docs, because the docs they sent with the notary were WRONG! Twice! There was even a math error in the cash to close - only possible when done by hand and not a computer. Do you want your lender computing values by hand?

Sebonic violated Real Estate Settlement Procedures Act of 1974 [12 U.S.C. 2601 et seq.] and the Truth in Lending Act [15 U.S.C. 1601 et seq.]. I asked for a compliance investigation. My ex-wife was furious with Sebonic, but fearful Sebonic would somehow retaliate and screw her even worse. In FEAR, she backed out of that investigation request.

Should not even matter. When a client alleges you have done something illegal in a regulated industry, you should launch a compliance investigation NO MATTER WHAT. These firms are audited and the penalty for non-compliance is worse than reversing the fees. Now I'll have to file a complaint with the CFPB. Just more time wasted!

Bottom Line: No, I would not recommend this to a friend

---

Advertisement

---

Watch out for increasing fees

By Frank L.

,

San Rafael, CA

,

Mar 30, 2019
Verified Reviewer

Overall Experience:

The Bad: Fees kept on going up, then could not close in 30 days. This added more fees of $1800. They kept conditioning for strange items to drag my loan longer. The loan officer was not in touch. Classic bait and switch. I would not use them again.

Bottom Line: No, I would not recommend this to a friend

---

Very bad service

By Qing T.

,

Tulsa, OK

,

Nov 8, 2018
Verified Reviewer

Overall Experience:

I found out this company by web searching. They offered me a great deal on an interest rate - 4.25%, 30-year fixed with a $550 appraisal fee. Two weeks later, the rate increased to 4.5% and they told me the appraisal fee is $3,250! After I finally paid for it, they came back for another $150. Nightmare.

Stay away from this company, big trap!

Bottom Line: No, I would not recommend this to a friend

---

Not too friendly

By Gil E.

,

Houston, TX

,

Nov 1, 2018
Verified Reviewer

Overall Experience:

I am in the middle of purchasing a second home. These people make everything sound so sweet and smooth. After you signed the paperwork, all these fees and estimates start showing, making the sweet and smooth process a hell. Then, I called my loan officer, Jason, to see if he can explain my concerns, and he started screaming and having an ugly attitude towards me! His own client.

I am so disappointed.

Bottom Line: No, I would not recommend this to a friend

---

Overall Experience:

Sebonic Financial is a great company, and my loan officer, Justin Fry, was amazing! He was very patient and willing to explain all the things I didn't understand about my mortgage refinance. He was extremely responsive to my emails and phone calls, and really knows his stuff. The outcome was way above my expectations, and I couldn't be more thrilled. I will recommend him to anyone who has financial needs, and I would use Sebonic again in a heartbeat.

Bottom Line: Yes, I would recommend this to a friend

---