Second Nature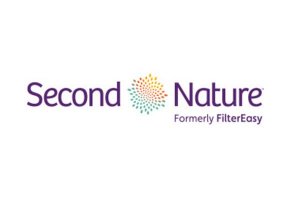 Formally known as EasyFilter, Second Nature ships their USA-made HVAC filters to your doorstep each month, saving you time, convenience, and energy usage.
FilterEasy Review: A Detailed Look
Second Nature's subscription service ships them directly to your home on the date they need to be replaced while saving you all the hassle.
The company lets you choose the HVAC filter sizes you need, the quality you prefer, and how often you'd like to receive them.
Is their air filter delivery service right for you, though? After analyzing Second Nature's functionality, pricing, and competition, this is the central question we'll help you answer in this article.
How Does Second Nature Work?
Second Nature high-quality filters are available in every size, between one-inch and six-inch thicknesses. The company can also manufacture custom sizes at slightly higher prices (more soon).
The website also tells us their filters are manufactured in the U.S.A., and feature "the same quality as the top-end, high-efficiency filters you can find at your local hardware store—but we send them right to your door for a price that is comparable or lower."
In addition to thickness, sizing, and quality, Second Nature filters come in three different qualities:
LiteAllergen (MERV 8) – Provides basic filtration against pollen, dust, mold, dust mites, and bacteria.
MicroAllergen (MERV 11) – Adds filtration against pet dander, potentially making it ideal for pet owners and allergy sufferers.
SuperAllergen (MERV 13) – Adds filtration against even the smallest particles like cooking oil and cigarette smoke, virus carriers, and smog, also making it ideal for pet owners and allergy and asthma sufferers.
To take advantage of their automatic home delivery service, you'll simply need to complete a short five-step questionnaire on the Second Nature website, including the number of filters you require, as well as their sizing, quality, and delivery frequency (e.g., every one, two, or three months, or on a custom schedule).
As we'll discuss in a moment, the answers you provide to these questions directly impact your pre-filter price. First, though, let's briefly examine the essential roles that air filters play in keeping you comfortable inside your home.
Why Is It Important to Regularly Change Your HVAC Air Filter?
HVAC (heating, ventilation, and air conditioning) filters are made from a wide variety of materials, although the most common include spun fiberglass or pleated paper or cloth, which are cut into squares or rectangles and enclosed inside cardboard frames.
Like any other filter, they're designed to trap particulate matter—dirt, dust, pollen, etc.—in this instance, from the air as it's drawn into your system's return duct.
Otherwise, this debris could end up damaging sensitive parts that could cost a lot to repair or replace, decrease your system's efficiency and increase your monthly utility bills, or be sent back into your home where it can wreak havoc for allergy sufferers and other sensitive individuals.
Not all HVAC filters are created equal, though, since some feature larger microscopic openings than others, through which this particulate matter can pass.
Therefore, the "tighter" a filter's construction, the better it removes increasingly smaller airborne particulates. And a filter's density is rated in MERV units, which stands for Minimum Efficiency Reporting Value—something that's frequently referenced on the Second Nature website.
In general, a MERV rating of four or below means a filter captures less than 20 percent of large particles (three to 10 microns), which increases to between 20 percent and 69 percent for MERV ratings five to seven.
Once you reach MERV ratings between eight and 10, filters capture 85 percent of large particles and 50 percent of small particles (1.0 to 3.0 microns). This increases to more than 95 percent for large particles and 60 percent small particles when you reach or exceed a MERV rating of 11.
How Much Does Second Nature Cost?
You can get your first Second Nature order free simply by entering your email address on their website.
Once your trial ends after 30 days and your recurring orders begin, the most you'll pay for a Second Nature filter is $11.97, which always comes with free shipping. And like many other subscription services, the more filters you order, the lower the price you'll pay.
For example, when we choose one 20 x 20 x 1 filter, their website returns the following pricing for LiteAllergen, MicroAllergen, and SuperAllergen filters: $11.97, $15.97, and $19.97. You can add $3 per filter if you need custom sizes.
However, if we increase the number of filters per order to three, their prices drop $1–$2, each.
After entering your payment details and checking out, Second Nature will start shipping your filters as instructed, with no commitments or membership fees. You're only charged when each order is shipped, and you can delay shipments or cancel your subscription at any time.
Orders come with a 30-day refund policy, which you can request by calling (800)308-1186 or filling out their online contact form.
Overall, these prices are relatively in line with filters from popular brands like Honeywell, Filtrete, and Rheem, many of which are sold through popular online retailers like HomeDepot, Lowes, and Amazon. At least in the instances of HomeDepot and Amazon, you can also set up recurring shipments you can pause, change, or cancel at any time.
Are There Other HVAC Filter Subscription Services Like Second Nature?
While having HVAC filters delivered to your doorstep might seem like a novel concept, there is a handful of third-party services competing in the same marketplace as Second Nature.
They also offer customizable, set-it-and-forget-it filter subscriptions that promise to help save you time and convenience, a wide assortment of filters from which to choose, MERV ratings up to 13, free shipping, customer support teams, and satisfaction guarantees.
Here are a couple of popular competitors, as well as how their core criteria compare:
| Company | Per-Filter Price | Details |
| --- | --- | --- |
| Second Nature | $11.97 and up | First order free (with subscription signup), filters made in the USA, available in every size and thickness between 1" and 6", 5-part questionnaire can have your subscription set up in minutes |
| FilterBuy | Varies ($15.93 and up for a single 20" x 20" x 1" MERV 8 filter) | Can shop filter selection by MERV rating, offers pleated and deep pleat filters up to 4" thick from most major manufacturers |
| QualityAirFilters.com | $11.47 and up | In-house filters made in the U.S.A., only accommodate filters up to 5" thick |
Like most other consumer purchases, choosing the best option will largely depend on which factors you emphasize.
For example, if you want to focus on in-house, U.S.A.-made brands, Second Nature and QualityAirFilters.com are the way to go among popular competitors above. On the other hand, FilterBuy offers filters from dozens of popular third-party manufacturers, if this if one of your top must-haves.
Price-wise, we can see there's only a $0.50 per-filter price difference between Second Nature and QualityAirFilters.com, whereas FilterBuy's website quoted us $15.93 and up for one 20-inch by 20-inch by 1-inch MERV 8 filter—which also decreased in price as we increased the quantity of our subscription.
However, FilterBuy only offers filters up to four inches thick, whereas QualityAirFilters goes up to five inches thick, and Second Nature's the thickest at size inches, depending on your needs.
Among competitors in the chart above, we can see that Second Nature's filters come with the highest starting price, although you can set up your subscription the fastest, they're the only option that currently offers your first order free after signing up for their trial, and who also offers the thickest options.
Let's find out if all of this means Second Nature is the right HVAC filter subscription for you.
The Bottom Line: Will Second Nature Save You Time and Money?
Based on how Second Nature's prices compare to other filter subscription services, as well as brick-and-mortar retailers like Home Depot and Lowes, it seems like the most prominent advantage offered by Second Nature is convenience. So, if this is your may concern, their subscription service might be right up your alley.
After all, their service can help you avoid making an extra trip for HVAC filters, while also providing timely reminders to switch your filters out every time new ones arrive at your doorstep.
But, unless you need to order custom sizes, we think you could also avoid much of this inconvenience by picking up filters locally when you grocery shop. This way, you could avoid having to sign up for another subscription service, while also taking advantage of the competitive prices offered by neighborhood big-box retailers.
Pulling all of these details together, Second Nature's starting prices are higher than many competing filter subscription services, as well as those available locally, and they don't seem to offer any significantly different features. As such, they might not deliver the most value for your money.
OVER-PRICED

By Cheryl P.

,

Indiana

,

Sep 26, 2019
Verified Reviewer

Overall Experience:

I was told by HomeRiver office that I had to enroll to receive a filter every 3 months, and I am being charged $120 (ten bucks a month). When your website clearly states there no more than $60 for three, if that much.

Bottom Line: No, I would not recommend this to a friend

---

Advertisement

---