Secret Escapes Reviews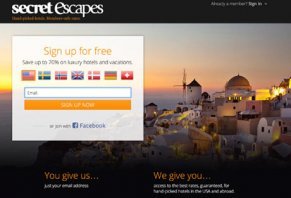 Secret Escapes is a UK-based company that claims to send weekly email newsletters to members, which contain deals for luxury accommodations at up to 70% off.
About Secret Escapes
As a service designed to tempt you away from your hectic life for some spontaneous travel, Secret Escapes claims to offer exclusive flash deals for last-minute reservations, including highly desirable lodgings and locations, delivered directly to your inbox.
Secret Escapes's hand-picked selection of four and five-star luxury accommodations gives you the chance to enjoy high-end hotels, resorts, destination spas, and even complete boutique holiday packages at prices that are promised to be the lowest anywhere on the web.
The process is fairly straightforward: Secret Escapes advertises deals to members via a weekly newsletter released every Monday.
Signing up is free, but the lowest rates are limited in number and are only available for certain dates, which means you'll need to act fast and be flexible if you're hunting for the best deals.
How To Book A Secret Escape
When you receive an email notification that piques your interest, there are three ways to lock down your booking dates and the advertised discount rate:
Pay it all upfront! There may be a small broker's fee for reservations over £99 (pounds sterling), but never above a fee of £25.
Put it on hold. For a fee of £25 you can "reserve" your opportunity to book an accommodation at the advertised rate for the 10-day listing period, and ensure another Secret Escapes member doesn't snatch up the vacancy you have your eye on.
This feature is supposed to be helpful if you need a little time to plan, confirm with your travel partner, or arrange days off. However, the website does caution that a "hold" is not a booking confirmation, and explains:
"Unfortunately, because the hotels and holidays that we feature are available to buy elsewhere (albeit not at the exclusive rates our members enjoy), the supplier may occasionally sell out while you're deciding. If that does happen, the date will be closed to sale and all holds will automatically be cancelled and the money refunded as credit on your Secret Escapes account. We will, of course, notify you if this should happen."
Pay a deposit. Some holidays, particularly all-inclusive packages that involve airfare, allow you to put a down payment with Secret Escapes to reserve your spot. Unlike putting a deal "on hold," paying a deposit locks you into a rate and travel dates.
When to pay the remainder? Their website states the company you're lodging with will contact you "at some point" before your holiday to collect the rest. Be warned however that if you decide to back out, your money is lost.
How Do They Do It?
Essentially a travel flash-sale site, Secret Escapes allows members to capitalize on unreserved rooms in luxury vacation spots. Because no hotel or resort wants to eat the cost of an empty bed, they'll lower a last minute rate to try and recoup at least some of their costs.
Secret Escapes members are promised discounted prices of up to 70% off the average rate for "boutique hotels and luxury holidays." The prices advertised are per person, not per room, so remember to factor in the cost for each if you and a partner are tempted to sneak out for an impromptu weekend away.
Anyone can join Secret Escapes, and even more reassuring is the fact that you can opt out of the Monday emails at any time. With nothing upfront for membership costs, Secret Escapes works hard to make deal hunters feel like there's nothing to lose.
What Secret Escapes Promises
Secret Escapes's advertisements promote their service as "The worst kept secret in luxury travel." Each Monday, members will receive an email promoting prices for a hodgepodge of hand-picked destinations at prices they swear "can't be beat."
Secret Escapes "guarantees the best prices online," and if you find otherwise, you're encouraged to message their support team.
Secret Escapes Reviews
Forum chatter is supportive of the great deals offered by Secret Escapes, but cautions would-be savers to do some comparison shopping before booking.
Multiple users stated that they've found better prices offered on other sites, or by contacting the accommodation directly. Others suggest confirming the rating of a hotel or resort beforehand, and some feel their Secret Escape booking was disappointing and sub-par to what was initially promised.
Accountability is also a concern, as Secret Escapes is simply a third party broker who may not take responsibility for any problems once your booking is paid for.
Additional complaints mention that the service is less convenient for anyone who isn't based in the UK, since the majority of Secret Escapes holidays packages depart from London's Gatwick airport.
Final Thoughts on Secret Escapes
For last-minute travelers looking for a great deal, signing up for Secret Escapes provides a handy service, and prospective members have nothing to lose by signing up.
But it pays to be an informed consumer, so before you get swept up in photographs of luxurious destinations and slashed prices, be sure to compare prices, check ratings and reviews, and ensure that there are no extra fees after booking.
Secret Escapes may not be the Holy Grail of travel resources, but for those looking for a good deal, you can never have one resource too many.
READ NEXT: Getting the Best Deal When Booking Your Next Hotel
---
Cancelled Cruise

By Thomson

,

Thailand

,

Mar 10, 2016
Verified Reviewer

Nov 2015 - Booked a Haimark cruise for April 2016 via Secret Escapes.

Feb 2016 - Cruise company (Haimark Ltd) writes to say they are overbooked and is cancelling the cruise. So far we're out USD 4000 and Secret Escapes claims to be helping to get the money back, but they have no status updates to provide.

We're out hundreds of dollars in expenses getting to the cruise port and back. That aside, all we want is our cruise ticket refunds.

It also doesn't seem like Secret Escapes has any real leverage with the advertisers using their platform. In the end, it could be a platform for desperate businesses and wouldn't be surprised to see this happen again and again. Secret Escapes could end up being a dumping site for deals that the provider has no intention of honoring.

Bottom Line: No, I would not recommend this to a friend

---

Shh! It's a scam!

By KM

,

Bristol, England

,

Apr 16, 2017
Verified Reviewer

I've booked with Secret Escapes twice.

First occasion: I received a phone call directly from the hotel a few days later to cancel my booking and advise Secret Escapes were aware they had no rooms and they did not understand why they were still advertising availability.

Apparently, I was not the first customer to be affected. I heard nothing directly from Secret Escapes and had to call them myself to arrange a refund and suggest they update their website. Not a straight forward process and I had to wait for several call backs and many days before actually getting my money back.

Second occasion: I booked a deal which included flights and a hotel stay. Concerned not to have received any further info about flight times, etc.occurence, I called to chase a couple of days later and was told my booking was part of a backlog waiting to be processed. They had taken my money fine, just not got around to booking any of the services I had paid for.

Later I received an email which looked suspiciously like a template (indicating this was a far occurrence) which advised me "due to an error with availability" they could not provide my holiday. I emailed back to assure them the hotel could accommodate the booking and that there were plenty of flights (I checked). They then admitted that yes there was availability but not for the price they had advertised and charged me.

They arranged to refund me which would take up to 5 working days. The credit of £50.00 they gave me was an interesting choice of compensation as I made it clear I would not be using them again.

The most infuriating part of my poor customer experience with Secret Escapes is the overall lack of care or concern they demonstrated. When things go wrong, they are less luxury and dodgier second-hand car dealership! No responsibility, no effort to put things right.

As I pointed out to them, they could have easily fulfilled my booking. Doing so would not have left them out of pocket, they just would have had to wait to see some profit from the repeat business they would have secured from me.

Bottom Line: No, I would not recommend this to a friend

---

Advertisement

---

Misleading information

Please be aware when booking holidays that you check transfers. They might not be included, which happened to me.

They gave misleading information, and it has cost me another £500 on top to get from the airport to the resort. Please check before booking and how far away the hotel is! The arrival of the flight is very late, and the hotel is 3 hours away, and it's a mountainous trip, and very dark and dangerous for strangers to the area.

Secret Escapes did not do anything to help and completely ruined our experience with them. I would AVOID using them!

I originally asked them for a refund, which they said no to, which after investigating I found out that I could, but it was too late when I retried. One team member was very kind but kept saying that the above people keep telling her she can't do anything. I have yet to speak to any manager because you can't get a hold of them!

Absolutely unhelpful. They have just gotten greedy and good service has gone.

Bottom Line: No, I would not recommend this to a friend

---

Worst experience of our lives

By David A.

,

Milton Keynes, Buckinghamshire, United Kingdom

,

May 23, 2018
Verified Reviewer

It was my partner's birthday on the 10th of May so I thought what better surprise than to fly her to Rome for a few days.

We arrived in Rome just after 11 pm with just one hour until her 39th birthday. After waiting an hour for our transfer to the hotel, we arrived to find the doors locked and nobody on site. We phoned Secret Escapes only to be greeted by a voicemail explaining that the offices are closed and nobody will be available to take our call until 9 am, 10 am for us at the time in Italy. After trying the door continuously we began to attempt to phone all the numbers we could find for the hotel online. Only to get no answer. Eventually we gave up as we realised it was hopeless.

We ended up walking the streets of Rome with our luggage throughout the night and into the early hours of the morning looking for another hotel, only to find everywhere fully booked. Over the night we hailed several taxis and travelled to various hotels to find them all booked up. In total we spent over €200 on taxis and coffee and spent the night in the street.

A night experiencing homelessness in Italy's capital, was not the desired birthday gift I intended to give her.

In the morning having found ourselves freezing cold, Angela's feet with blisters, we got another taxi back to the hotel, and still no one there. We then phoned all the numbers for other hotels in the chain once again. Eventually, we got an answer. The lady said she would contact the owner and ring us back. We didn't get a call, so I called her. She assured me the owner will ring me. He didn't. So we went back to the hotel, and after buzzing the door several times we eventually got an answer. A gentleman buzzed us in, and after scaling the stairs with our luggage and explaining we have been out all night he said sorry it was his day off. He said he will call the owner. He called the owner who said the mix up was with Secret Escapes who canceled our booking. We were then told that they had no rooms available. At this point, we were stuck in Rome with no place to stay and return flights 36 hours away. On top of this we were supposed to be going on a Vatican and Sistine Chapel tour, also booked through Secret Escapes.

The owner and staff at the hotel were fantastic and managed to move things around to give us a room but it was three in the afternoon before it was available. Whilst waiting we met another couple who were in exactly the same situation. Again they had also booked through Secret Escapes.

Later we also discovered there was a third couple the day before. In their case the hotel managed to find them a room for one night and helped them find somewhere else to stay.

When Secret Escapes opened I eventually got through to their customer service team. At first they offered me £30 off my next booking with them. I tried as politely as possible to explain that having spent a night on the streets in Rome it was highly unlikely that I would book another holiday with them.

Eventually after speaking with her manager (who was too busy to speak to me directly), the lady offered me a refund for the one night hotel stay that we did not have. Eventually after some haggling they also offered to refund me for the excursion I paid for but was unable to attend.

Of course none of the above is compensation for ruining my girlfriends birthday. Neither does it compensate for spending a night in the streets of Rome with our luggage. However, Secret Escapes assured me they would be in contact to discuss further compensation. For now they assured me they will email to confirm everything discussed and action the agreed refunds immediately.

The reason I am making this public post is simple. Despite their promise, Secret Escapes failed to email me confirmation of the refunds they promised. They have also failed to make any refund into my account.

On a positive note, my partner did eventually have a good birthday despite Secret Escapes.

We managed to extend our flights directly with the airline and found another hotel to extend our stay. We then booked our own replacement excursions, however all in all the city break literally cost me twice as much. Not to mention the calls on my mobile to Secret Escapes 084 number. Having spent almost two hours holding and discussing this, I'm not looking forward to receiving my mobile bill.

I am so disappointed that not only have Secret Escapes failed to keep their word, they didn't even have the decency to wish my partner a happy birthday and offer any gesture of goodwill.

As a small business owner myself, I find it inconceivable that an organisation the size of Secret Escapes can behave so unprofessionally.

Not only have they offered no compensation and no gesture of goodwill, they have also failed to provide a refund for a night in a hotel we did not receive and an excursion we were unable to attend through no fault of our own.

At this point in time, I would strongly advise anybody not to book a holiday through this organisation. I just thank god that this was a romantic break for two, and that we did not have the children with us.

Bottom Line: No, I would not recommend this to a friend

---

Advertisement

---

Secret Escapes, a scam in my view.

By Charles V.

,

Dallas, TX

,

Jul 26, 2018
Verified Reviewer

Secret Escapes is a scam in my view. They will send you an email that they are holding a room for you, and you have a certain number of days to confirm the reservation at a lower rate than what is being offered by the hotel. But, they are NOT communicating with the hotel to actually hold or prepurchase a room. So, if the hotel loses availability, you will get an email before your hold was due to expire, that your hold, in fact, has expired. Meanwhile, prices have gone up.

If Secret Escapes is actually unable to obtain the room at a lower rate with the hotel when you try to confirm it, they will tell you that the room is no longer available at that rate. Meanwhile, prices have gone up. They explain this away by pointing out to you an obscure, easily overlooked link on their website that tells you that their "hold" is not really holding anything. Their supervisor actually told me over the phone this morning that he wished that language was more prominent on their website. So, they know its obscure, and they don't fix it.

Bottom Line: No, I would not recommend this to a friend

---

Buyer be aware

By John H.

,

Shropshire, United Kingdom

,

Sep 17, 2018
Verified Reviewer

I booked a holiday at Bel Jou, St. Lucia. I thought that I was getting it at the originally offered price, but I did not realize that they had increased the price by a considerable amount. Within hours, I found a better deal through TripAdvisor, but Secret Escapes has no cooling off period and do not allow cancellations even within hours of making a booking. The lesson for me is to double check that you are really getting a good deal.

Bottom Line: No, I would not recommend this to a friend

---

Have nothing to do with this company

By Andrew C.

,

Luton, England

,

Oct 12, 2018
Verified Reviewer

I had a £250 gift voucher from my daughter as a thank you for the help with her wedding. It expired, and when we rang to ask for an extension, we were told we had lost our money. I will never use this company and will do my best to put other people wise to how bad their customer service is.

Bottom Line: No, I would not recommend this to a friend

---

Stay away from them

By Afonso Z.

,

Rugby

,

Oct 17, 2018
Verified Reviewer

Secret Escapes business conduct is appalling, stay away!

I had a huge car crash a few weeks before my booking, and I obviously tried to cancel my booking and get a refund, but here's what happened:

I sent several emails to them weeks before my booking, because calling is useless - they NEVER answer the phone. My emails were ignored until the day I was supposed to come back from holidays and said:

"Thank you for your email and your feedback about your booking.

I'm sorry to read that you were not able to attend your reservation.

Our offers are always pre-negotiated with our hotels and suppliers and as such are non-amendable and non-refundable according to our terms and conditions.

Any amendment or cancellation request must be approved by the hotel/supplier prior to the check in date. Therefore, unfortunately as the booking has now passed, this is no longer possible.

We are sorry for any inconvenience that this will cause but unfortunately cannot override the decision of the hotel/supplier, as the booking is now considered to be a no show.

Should you have any further queries please don't hesitate to contact us."

In the meantime, I had spoken to the hotel, who told me they were happy to cancel given the circumstances, and they told so to Secret Escapes, but Secret Escapes waited for the day I was supposed to get back, to answer me and say "sorry, it's too late."

A business like this doesn't deserve to be a business.

Bottom Line: No, I would not recommend this to a friend

---

Human error - not even empathy

By Tricia B.

,

United Kingdom

,

Nov 14, 2018
Verified Reviewer

I made a mistake in dates and cost booking a hotel in London. I thought I had booked two nights but had in fact booked one night, and the price was per person, not room, so it was a hugely expensive mistake. I have never made that mistake before but it was the anniversary of my father's death a year ago and family were meeting up. I wasn't thinking straight.

I called Secret Escapes within 2 minutes.

There was no empathy, no interest in me as the consumer, the call assistant said he would call the hotel and see what could be done, he called back and said not possible. He advised me to sell the room reservation to friends!

I don't think he had called, and I did, and the manager said she would discuss with her manager and had no knowledge of Secret Escapes call.

His manner was unpleasant and not interested in finding a way forward. He was unbending and inflexible wanting to know my actions and position, almost like an army official. I had a call this morning from Secret Escapes, same person. I wasn't expecting this call, and it was not in my interest but to see what the hotel had said. I asked to speak to a manager and was told I could only speak with him. I asked him why he had called as it was a chilling experience. It felt as if it wasn't about my situation but about keeping his booking. He complained that the hotel shouldn't have said it was all down to Secret Escapes' decision, which felt aggressive.

It was an unhelpful and upsetting call.

A few minutes after his call later the hotel emailed to say policy/terms/conditions don't allow cancellations. It feels as if David called me to find out what the hotel advised and then called them to avoid any attempt at a compromise or solution the hotel might make.

Secret Escapes wasn't calling to help me but protect the booking made in error.

This company is not interested in customer experience, human error or finding a happy compromise for the Individual. Two minutes into a booking there is loads of time for the booking to be used up by someone else four weeks down the line.

It is only when there is an issue that a company truly shows its colors.

This company is only interested in itself; it's not interested in its customers at all.

Bottom Line: No, I would not recommend this to a friend

---

Never again!

By Charlie D.

,

Suffolk, England

,

Dec 7, 2018
Verified Reviewer

I wouldn't book ever again with Secret Escapes.

Unfortunately for reasons (none of Secret Escapes), I was unable to take my trip, which I booked for myself and my partner for £500.

I emailed trying to cancel the booking and claim a part refund. In my policy, it explained that if I was to cancel, I would not be able to receive the cost of my transport back but the cost of everything else would be fine. I contacted Secret Escapes with plenty of time to cancel and hopefully be partially refunded. Secret Escapes took DAYS to get back to me. After a lot of backing and forthing, I finally received information that I wouldn't be able to get ANY of my money back THE DAY of the trip. Not just the day of the trip, but after my train had already well and truly left the station. Having known that I wouldn't get ANY of my money back, I would have gone on the trip, but because Secret Escapes took their sweet time getting back to me, I missed out on not only the trip of a lifetime, however, £500 worth of hours and hours of working and saving.

Moral of the story, don't book with Secret Escapes unless you have some darn good travel insurance.

Also, they are USELESS at replying to emails.

Bottom Line: No, I would not recommend this to a friend

---

Not the cheapest rate even by their standards

By D B.

,

New Jersey

,

Apr 9, 2019
Verified Reviewer

I booked a stay for a Paris hotel this coming May with Secret Escapes, I went back on THEIR website a few days later and discovered the price was dropped by a significant amount.

I emailed the company to ask for the new discounted price, and they refused.

Not what they advertise "cheapest rate guaranteed" as they can't deliver to their own members on their own site!

Don't use them as there is NO refund, seeing rates for less elsewhere, much less by them

Don't feel the need to lock in and book with them as you will be sorry when you realize, they didn't give you the best deal. Not a way to go on vacation!

Bottom Line: No, I would not recommend this to a friend

---