Seeso Reviews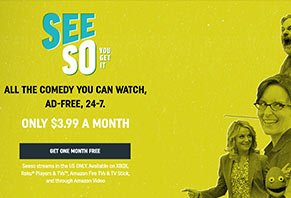 Seeso is a new comedy-focused subscription streaming service that provides access to a large library of exclusive content, your favorite classics, and more.
About Seeso
Do you enjoy watching comedy? Would you be willing to purchase another streaming subscription to gain access to all the content you can handle?
The folks behind Seeso, a new service that provides on-demand access to all the ad-free comedy you can watch, certainly hope so. Their ever-growing library promises to cater to just about every imaginable comedic taste, including exclusive high-definition shows, classics (even some that have been remastered), stand up specials, British programming, animation, and more.
Seeso also provides new episodes every week of the year—in fact, some shows like Saturday Night Live, The Tonight Show Starring Jimmy Fallon, and Late Night with Seth Myers are even available the very next day! Regardless of your preferences, Seeso claims all of their content can be streamed anywhere at anytime.
Whether you've already cut the cord, or are thinking about signing up for Seeso while hanging onto your cable subscription, is it worth your money? Who might get the most enjoyment from Seeso? Are there any other considerations you should keep in mind?
We'll help you find some solid answers, starting with how Seeso works.
How Does Seeso Work?
As soon as you sign up for a Seeso trial (more about this coming up), you'll immediately be taken to your account's home screen. Here, you'll find one of Seeso's videos automatically playing, which when we logged on, was Night Train with Wyatt Cenac.
On the right hand side of your screen, you'll be able to add videos to your playlist, immediately start watching the videos in your playlist, and add movies, shows, and clips to your favorites list. If you choose, you can also click on the magnifying glass icon in the upper right-hand corner to search for specific content.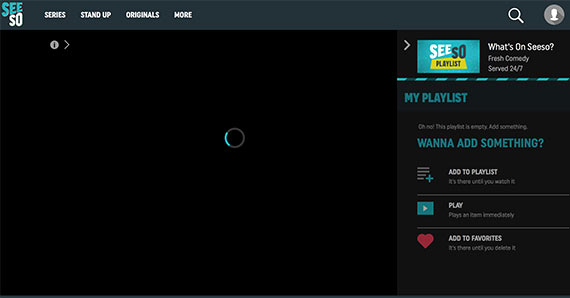 This is the screen we were immediately taken to after signing up for a Seeso account. The video took about a minute to load, although image and audio quality seemed good.
In the upper left-hand corner of the Seeso home page, you can browse content by genre (series, standup, originals, etc.). By scrolling down from your home screen, you'll also be able to view different genres and specific programs.
One cool thing we liked about Seeso is that, by simply rolling over a show or clip's icon, you can immediately view a brief description, add it to your playlist, or add it to your favorites. None of this is explained before you dive in to the Seeso website, but we found it fairly intuitive to use.

Rolling over content icons allows you to see a brief description and add it to your playlist or favorites.
Once you've browsed Seeso's content, favorited items, and added a few to your playlist, all your content and previously-viewed videos can be accessed by clicking on your account link in the upper right-hand corner of the website. Here, you'll also be able to set parental controls on a sliding scale (everything from the most rigorous "Content appropriate for all children," to the most lenient, "Content specifically designed to be viewed by adults").
Overall, we found using Seeso's site easy to use and we didn't encounter any problems. Is it the same for Seeso's smartphone apps? We'll talk more about this shortly, but first, exactly what shows will you find on Seeso?
What Shows Will You Find In Seeso's Content Library?
While Seeso's library contains much more, here are some of the more popular shows you'll find with this streaming service:
30 Rock
A Bit of Fry & Laurie
The Amazing Gayl Pile
Bajillion Dollar Properties
Before the Morning After
Big Jay Oakerson's What's Your F@%king Deal?
Caroline's Comedy Hour
The Comedy Show Show
Count Arthur Strong
Dave & Ethan: Lovemakers
Death Comes to Town
The Cyanide & Happiness Show
Fawlty Towers
Flowers

Freestyle Love Supreme
Funny As Hell
Garth Marenghi's Dark Place
Gentlemen Lobsters
Gigi: Almost American
The Guest List
Hidden America with Jonah Ray
Night Train with Wyatt Cenac
New York's Funniest
Sammy J & Randy In Ricketts Lane
Saturday Night Live
Thingstarter
The UCB Show
The World of Alan Partridge
Now, how much will you pay for access to all of Seeso's content?
How Much Does a Seeso Subscription Cost?
Currently, Seeso is running a promotion where your first month is free, which then rolls to a $3.99 per-month subscription plan if not canceled. Your subscription will be billed on the same day of the month that you originally subscribed, and can be canceled at any time.
You can sign up using your Facebook information, or by manually creating an account using your email address and choosing a password. You will have to enter a credit card to begin your Seeso free trial.
In order to avoid being charged after your trial ends, Seeso recommends canceling your subscription at least 24 hours before your next billing cycle. Once canceled, you plan will remain active until the end of the month, and there are no retroactive refunds. To do so, you'll need to click the red Cancel Subscription button under the Subscription section of your account. If that doesn't work for some reason, you can also email Seeso's Help Center at support@seeso.com.
Considering the amount of content Seeso offers, along with their lack of contracts and low monthly subscription price, what's everyone saying about their experiences?
Are Seeso Customer Reviews Positive?
If you're looking to stream comedy programming, you obviously have a lot of choices, including the comedy sections of ultra-popular providers like Netflix, Hulu Plus, Amazon Instant, and many others. There are also plenty of ways to get your audio fix as well, through services like iHeartRadio, 8tracks, satellite radio, and more.
However, if you're looking for comedy-only video content, Seeso is really the only game in town at the moment. Because of this, the company has received a fair amount of press attention over the last several months. What's everyone saying?
Decider watched "all of Seeso's currently available original series," and came away appreciating the continuous playback feature, but not the playlist (they felt it made the platform look crowded). They also claimed to have experienced excessive buffering and poor image quality, neither of which we experienced when viewing Seeso's content.
Ultimately, Decider claimed that Seeso's content is definitely targeted toward "comedy nerds." They thought the site's big selling point is the original programming, although some might consider it a little unpolished.
Entertainment Weekly featured a brief writeup for Seeso, who was impressed by the company's extensive archives, including every single Saturday Night Live Episode from the past 40+ years. If you're a British comedy fan, EW mentioned that Seeso's catalog is "astounding."
It certainly seems like Seeso features a lot of NBC content, doesn't it? According to Cut Cable Today, this is because Seeso has partnered with NBC Universal. They also noted that, "In its current state, Seeso is light on exclusive and original content, but it has a solid growth plan in place. It's hard not to recommend at its price point, but if you're a comedy buff, it's a no brainer."
What About Seeso's iOS & Android Apps?
While Seeso's website seems easy to use and has received a lot of positive feedback from media and other customers alike, it doesn't appear to be the same for their apps. Why?
On Google Play, Seeso's app had 3.1-star average rating based on 680 reviews, where most complaints cited frequent bugs, difficulty using (e.g. irrelevant search results, episodes aren't listed in order, no automatic playback, etc.), as well as lots of buffering.
Seeso's app had a similar 3-star rating on iTunes, with many of the same complaints. Interestingly, it appears the app has gone through at least a couple updates over the past 6 months, although user feedback hasn't improved as a result.
What kind of experience can you expect to have with Seeso?
Does Seeso Make Sense in the Crowded Marketplace of Streaming Content Providers?
First, let's quickly address cutting the cord (canceling your cable subscription and getting your content through other streaming services).
Make Sure You Have a Fast Internet Connection with Seeso
As we outline in 3 Easy Steps for Cutting the Cord & Saving Money, perhaps the biggest factor that ultimately determines your enjoyment is your internet connection. Why? All the content you'll watch through a subscription service like Seeso has to be streamed through the internet, which can quickly use massive amounts of bandwidth. This is even more important if you'll have multiple users in your household.
If you don't have a solid internet connection, then you might experience frequent buffering (video pausing) and/or poor image quality, thereby ruining your viewing experience. While we're sure not all of Seeso's customer complaints were related slow internet speeds, it's often a big factor.
What Devices Are Compatible with Seeso?
Almost equally important as Internet speed is the device you'll use to watch Seeso's content. The company claims you'll soon be able to view their content on "all devices," although it's currently only available in the US on XBOX, Roku Players, Amazon Fire TVs & TV Stick, and through Amazon Video.
If you don't have one of these supported devices (such as a PS4, ChromeCast, or a smart TV), then your only option will be to view Seeso's content over the web or through their iOS or Android apps.
The Bottom Line About Seeso
Based on our experience and industry reviews, it appears that Seeso is carving out a nice niche for itself in the increasingly crowded marketplace of streaming content providers. After all, as we mentioned above, while you'll likely be able to find much of Seeso's non-exclusive content through other streaming providers and elsewhere online, the company seems to do a solid job of providing the most comedy video content anywhere on the Internet.
Granted, do we think the company has some work to do on its apps (and perhaps buffering on its site)? Yes.
But with an already impressive library, exclusive content, and your first month free (and only $3.99/mo thereafter), it's difficult to recommend not at least giving Seeso a try. As such—with a continued focus on improving the user experience—we think Seeso delivers.
Speaking of which, did you give Seeso a try? Tell us all about your experience by writing a review below!
Read Next: Streaming Services: With So Many Choices, How Can You Pick the Right One?
Do not sign up!

By Marianne

,

Port Charlotte, FL

,

Mar 8, 2017
Verified Reviewer

I signed up for the free trial but paid for two months after. I tried to cancel, and they would not cancel me and kept debiting my card and never responding to my cancellation emails. I had to call my bank for advice.

Bottom Line: No, I would not recommend this to a friend

---

Worst app and customer service ever

By Tal Grindle

,

Savannah, GA

,

Dec 28, 2016
Verified Reviewer

Did a free trial, cancelled the subscription on my end, they didn't on theirs. Charged me $23 (supposed to be $4) then 6 days after I filed a dispute with their customer service they charged me $175 and refused to reverse it. I had to cancel my debit card and get another and file claims with my bank to get my money back. Please don't use them.

Bottom Line: No, I would not recommend this to a friend

---

Advertisement

---

Awesome collection, a few bugs.

By Annie

,

Erie, PA

,

Dec 27, 2016
Verified Reviewer

I didn't want to like Seeso initially because of its close ties with NBC, but after watching some of the original content I was pretty sold. Some NBC familiars like Dan Harmon and Amy Poehler have very solid original content, there is also a fantastic amount of British comedy. Some shows can be found on Netflix or Hulu, like IT Crowd and 30 Rock, but there is a trove of deep cut British classics.

The interface with the Amazon Firestick is annoying, sometimes it's hard to find the specific episode amid the extra videos. The easiest way to watch on the TV was casting from our laptop, the android app was difficult to cast from my cell phone.

We had no issues with buffering or delay, but the sound was fairly low despite the volume being maxed on all devices.

Seeso is NBC's artisanal coffee shop, the alternative gourmet experience. If you're a comedy snob, it's probably worth it.

Bottom Line: Yes, I would recommend this to a friend

---

Scam

By Steve

,

Santa Monica, CA

,

Nov 29, 2016
Verified Reviewer

I signed up for a "free trial" of Seeso through Amazon Prime. I only watched half of one movie and canceled within 24 hours through the cancellation option on Amazon Prime. However today, two months later, I noticed they have been billing me $3.99 per month DESPITE canceling through the option given on Amazon Prime. They have refused to refund me the $7.98 billed. I was on the fence about signing up because I figured this may be a scam and difficult to cancel. I don't need the refund. I'm only leaving the review because of the unfair nature of their cancellation policy. If you are able to sign up through Amazon Prime and given the option to cancel through Amazon Prime, Seeso should recognize it.

Bottom Line: No, I would not recommend this to a friend

---

Advertisement

---