SelectQuote Reviews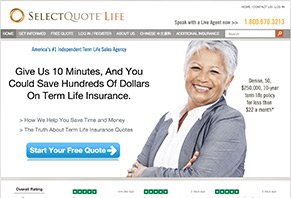 SelectQuote is an independent agency that specializes in providing term life insurance policies from some of the highest-rated companies in the industry.
About SelectQuote
If you're looking to protect your family and your assets against an unforeseen tragedy, one of the best ways to accomplish this is by purchasing a life insurance policy.
To this end, SelectQuote is an independent term life insurance agency that can help you find the best coverage at the best price, among some of the highest-rated companies in the industry. In fact, SelectQuote claims they can help you "save hundreds of dollars" in just 10 minutes.
But how do they do this? Are they a good value? Do you even need life insurance in the first place? And if so, which policy type is best for you and your family?
We know you've got a lot of important questions about SelectQuote, and we'll provide you with some key points that can help you make a more informed decision. But before we dive into that, let's take a look at how you can obtain a SelectQuote life insurance quote.
Reaching Out To SelectQuote
Overall, we found that reaching out to SelectQuote only takes about 5 minutes.
First, you'll begin by entering your zip code on the SelectQuote home page, followed by your gender, DOB, height, and weight. Then, you'll need to indicate whether or not you currently have a life insurance policy in place.
Next, select the level of coverage you need (anywhere between $0 and $5 million+) and the estimated duration of your policy (anywhere between 10 and 30 years). Afterward, you'll need to indicate if you've ever used nicotine products, any driving violations received within the past 5 years, as well as any high-risk activities you're engaged in (such as piloting aircraft, mountain climbing, scuba diving, sky diving, etc.).
Then, you'll need to list any major conditions you've been treated for (e.g. alcohol or substance abuse, cancer, depression, heart issues, etc.) in the past, as well as if any of your parents or siblings were diagnosed with cancer before the age of 65.
Finally, enter your name, address, and contact information, which will then be sent off to SelectQuote.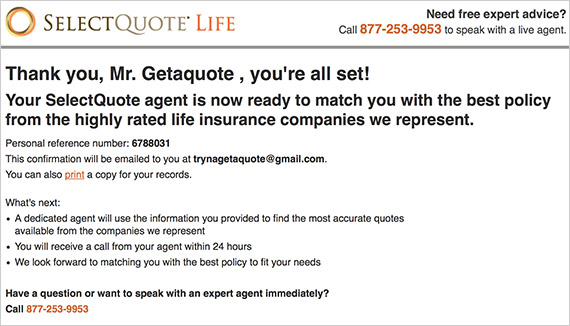 What you'll see after filling out SelectQuote's online form.
Important note: Keep in mind that filling out this form doesn't mean that you've formally applied for any life insurance policy, or that you'll be approved for a policy once you do. Instead, think of this as a contact form, which SelectQuote will use to get in touch, learn about your needs, and—if you decide to proceed—find the right company to match your situation.
In other words, as an independent insurance agency, if you decide to proceed and fill out a formal application, SelectQuote will send your information off to one of the companies they work with.
With this out of the way, let's dig into the "meat" of what SelectQuote offers by quickly discussing different types of life insurance policies.
What Is Life Term, Whole, & Group Life Insurance?
Overall, there are basically 3 different types of life insurance: term, whole, and group. While SelectQuote only offers term coverage, it's important that you understand the biggest distinctions between policy types, so we'll briefly discuss them here.
Term life insurance provides coverage for a limited period of time (e.g. 10 or 15 years), after which the policy expires. Then, if you still want to continue coverage, you'd need to take out another policy, which will likely involve a new application process, including a medical exam (if necessary). According to the SelectQuote website, "Because you only pay for it as long as you need it, term life insurance is considerably more affordable than whole or permanent life insurance."
On the other hand, whole (also known as permanent) life insurance is a lifelong policy that has no specific end date (unless the policyholder passes, of course). With whole life insurance, your premiums and death benefits are guaranteed, regardless of your age or health.
While these benefits are great, they'll also come at a cost, as whole life insurance policies are generally much more expensive than term. But on the upside, your whole life insurance policy actually has a tax-deferred cash value, which means you can leverage it to take out a loan.
Finally, group insurance policies are typically provided by employers, at little (or no) cost to their employees.
Of these, it appears that SelectQuote only offers term life insurance. But how can you figure out which of these is right for you?
Useful Tips When Shopping For Life Insurance
To help you understand some important aspects of shopping for term life insurance, we reached out to Sean Perez, a Certified Financial Planner and life insurance professional based in Houston, TX. Here's what we asked him:
How can clients understand how much term life insurance they need?
The most important aspect of determining the right level of coverage is by undergoing a full needs analysis. There isn't a general formula for accomplishing this (such as a flat 10X or 20X your current income), but there are three primary aspects to keep in mind:
What are your immediate cash needs? In other words, what expenses would your family need to pay for to make sure they're not riddled with debt? This includes outstanding debts, such as credit cards and mortgages.

Do you want your term policy to fund your children's college education? Again, there's no general rule of thumb here, but some important factors to consider are the age of your children, as well as the fact that tuition increases at a rate of about 6%-6.5% per year.

Perhaps the biggest factor is to determine if your term life insurance policy needs to act as income replacement for your family. In other words, how much does it cost to pay your bills each month to continue your current lifestyle?
To help you find answers to these important question, Sean recommends consulting with a professional financial planner. Alternately, you can use the needs analysis calculator on LifeHappens.org. Again, this won't be as exact as speaking with a professional, but it can at least help point you in the right direction.
What happens after a life insurance application has been submitted to a company?
Once you've decided on the right policy and submitted an application to the company, they'll send your information off to the Medical Insurance Board (MIB), who will pull your motor vehicle record, contact your doctors, request your prescription drug history, and more, in order to help determine your rate.
Pro tip: Although you might have already received a quote from SelectQuote, remember that this number can always change until your policy is approved and finalized.
Then, you'll likely receive a call from an independent nursing company who will ask you several medical and financial questions, as well as schedule a medical examination. Let's talk more about this.
What can clients expect during their doctor's evaluation?
Probably one of the biggest concerns for life insurance applicants is their medical examination. To help give you a better idea of what to expect (and perhaps to calm your nerves a bit), Sean gave us a little insight into the process.
During your doctor's visit, they'll take your height, weight, and blood pressure, as well as blood and urine samples. These samples will be used to test for elevated cholesterol, liver enzymes, blood sugar, and more.
Pro tip: To make sure your tests come back as accurate as possible, Sean recommends not eating 3-4 hours beforehand, not drinking coffee on the day of your exam, avoiding alcohol or any medications (other than required prescriptions, of course). Otherwise, you might end up with a much higher premium than expected—one that's not necessarily reflective of your true health.
Overall, what are your top 4 tips when clients are searching for term life insurance options?
First, determine how much coverage you need. There isn't one right answer for everyone, so be specific and don't guess. After all, this would only do you a disservice.

Check the convertibility options of your term life insurance policy (the ability to change from a term policy to a permanent one). Why is this important? Because if your health significantly changes during the policy period, this might be the last life insurance policy you'll ever qualify for. But if it's convertible, you could continue coverage in light of any health concerns (although likely at a higher premium).

Overall, term insurance works well for 99% of clients, as long as you're still investing in yourself through other means. Just because your term premium is lower than some other options, Sean recommends taking the difference in your premiums and investing the money elsewhere.

Finally, whichever type of policy you're thinking about purchasing, make sure the company you're buying from is well-known and highly-rated.
Speaking of which, what are SelectQuote's clients saying? Are they happy with their decision?
Client Feedback For SelectQuote
InsuranceBlogByChris.com provided a fairly in-depth look at SelectQuote, and noted that they're a solid option if you're looking to receive quotes from multiple companies, that they're licensed in 49 states, their "agents are very knowledgeable and well trained," and that they've "streamlined the underwriting process as much as possible."
On the other hand, the author noted that SelectQuote might not dedicate enough time during your initial call to fully determine your needs, and that other independent agencies might represent more life insurance companies, ultimately providing you with a wider range of options (and prices).
Several SelectQuote clients also provided feedback on ComplaintsBoard.com, where the most common complaints seemed to involve poor customer service, much higher premiums than originally quoted, and long approval times.
Finally, SelectQuote Insurance Services, based out of San Francisco, CA, had an A+ rating with the Better Business Bureau, based on 17 closed complaints (as of 12/28/15). These seemed to reference everything from billing issues to high-pressure selling tactics.
So, should you get in contact with SelectQuote? We'll get to that in a second, but let's first talk about how much you'll pay for one of their term life insurance policies.
SelectQuote's Life Insurance Policy Premiums
Just like with auto or home insurance policies, there can be hundreds (or even thousands) of small factors that ultimately determine how much you pay for term life insurance. And as we outlined above, these factors will be different for each applicant.
However, SelectQuote offers free quotes, and in a best-case scenario, can secure coverage for as little as $1 per day. Note: This would be considered minimum pricing. For more details, be sure to visit SelectQuote's Cost Examples page.
For more detailed pricing information without actually submitting an application to SelectQuote, you might want to give this Bankrate calculator a try.
If you'd like to reach out to a SelectQuote agent for more detailed pricing (or any other type of) information, they can be reached at 877-253-9953.
Is SelectQuote Your Best Option For Term Life Insurance?
As we noted above, term life insurance policies will probably work well if you're relatively young and in good health. But does this necessarily mean that you should purchase one through SelectQuote?
Ultimately, the company seems to have a mostly positive online customer reputation, even among some industry professionals. But remember that any policies you purchase through SelectQuote will only be priced as low as the company offering them, so it'll probably pay to work with an agency that represents as many life insurance carriers as possible.
In other words, it's important that you do your homework. Taking out a term life insurance policy isn't a one-size-fits-all process, so research all your options, talk with an insurance professional, and weigh all your options before signing on the dotted line.
Worst scam insurance ever.

By Virginia U.

,

Florence, KY

,

Aug 15, 2019
Verified Reviewer

Worst scam ever. If you call to get a quote you will get an immediate answer. If you call for a claim, it's impossible to talk with anyone. You can leave a message but no one will call you back. I have been trying for 2 days to talk with someone about a claim. I will be shopping for new insurance this week. Wow, I wonder how hard it will be to cancel my policy?

Bottom Line: No, I would not recommend this to a friend

---

Terrible process

By Wes M.

,

Rochester, NY

,

Oct 18, 2018
Verified Reviewer

This was a horrendous process. It started with the usual things, a nurse visit and mini-physical, and lots of questions, but it dragged on with no quotes. Then they asked me for my doctor's notes. But my doctor had already sent them my records. Then more phone calls and emails with questions that were previously answered. Finally, after 7 months of this, I was in a new age class, which of course costs more. They do not want to perform the work themselves, want you to do it all. All they care about is their commission, not getting you the best quote. While I used them 15 years ago, I would not use them again. Very unmotivated employees and a terrible experience.

Bottom Line: No, I would not recommend this to a friend

---

Advertisement

---