Sense Home Energy Monitor Reviews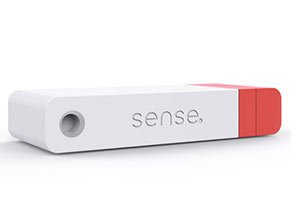 Sense Home Energy Monitor connects to the mains in your breaker box and "listens" to each appliance your home, giving you some really unique insights.
About Sense Home Energy Monitor
Today, we live in a data-driven world. The more information we have, the greater power we yield. This holds true whether we're talking about world domination, or just running your home more efficiently.
In response to this reality, a bevy of new technologies have been invented that allow us to harness data like never before. Information that—although it's been floating around for decades—simply couldn't be collected in any meaningful way.
Enter the Sense Home Energy Monitor. This small device quickly connects to your electric panel and learns to identify and "listen" to each and every appliance in your home—whether they're smart or not. Then, the information it tracks is sent to your smartphone and provides:
Helpful alerts: When a specific light is turned on, the garage door is open, early warnings when appliance needs maintenance, the wash is done, etc.
Useful information: Your energy consumption compared to other homes, how much you're using your air conditioner compared to this time last year, how much TV you're watching, etc.
Money saving tips: "Save $257 a year by switching to CFLs," track energy usage, etc.
Or, as the company puts it, "Sense listens to every appliance to make your home more efficient, informed, and secure."
We'll talk about this again in a moment, but the HighYa team has reviewed several data-gathering devices like Sense Energy Monitor. Most of the time, one of the biggest stumbling blocks we encounter is that, while it's undeniably cool to have access to all this new information, exactly how much it'll improve your life remains a little fuzzy.
Is this the case with Sense? Is it worth placing an order? By the time you finish reading this review, you should have a solid answer in mind.
How Does the Sense Home Energy Monitor Work?
The Sense Energy Monitor is a small (5.3" x 2.6" x 1.25") rectangular device that attaches to the service mains of most split-phase residential electric panels.
Once installed, Sense is able to "listen" for the unique electronic signatures (called "voices") of attached devices, and record what they're "saying" millions of times per second. Then, the Energy Monitor implements proprietary algorithms to help recognize each voice and distinguish one appliance from another.
Finally, the Sense device connected to your panel sends this data to your smartphone app.
In a nutshell, the process works over four steps:
Install the Sense Monitor in your electric panel. Note: The company recommends hiring a licensed electrician to handle this part.
Download the iPhone or Android (available August 2016) app. According to the company, they're developing a web interface as well, although there's currently no launch date.
Connect the Monitor to your in-home Wi-Fi.
Sense will automatically detect devices over the course of a day or two and "tell you what they are saying."
Speaking of devices: which ones can you expect Sense to … sense?
Which Devices Will Sense Identify?
Briefly, here's how the company puts it:
"Sense is able to identify common appliances (refrigerators, washing machines, etc.) on its own. It recognizes other devices, but may not be able to identify them — you can name these once they are detected. We're also developing a "Teach Me" feature that allows you to give an example of devices you'd like Sense to recognize."
This is certainly helpful, but in our opinion, it's still pretty vague and could have a pretty big impact on its overall usefulness. For example, if you're a home automation enthusiast (likely one of Sense's target demographics), you probably have a lot of non-traditional appliances running at all times.
If you have a decent size setup, these combined devices could consume more energy than your refrigerator and other traditional appliances. In an example like this, although extreme, it outlines that Sense might not always give you an accurate view of your energy consumption. We'll come back around to this point in the final section.
Sense states that they're constantly developing new algorithms to detect more devices as they get more data. The good news is that the Energy Monitor works regardless if an appliance is modern or decades old, although it can only be connected to "condos, townhouses, and single-family homes that have their own power meter. It does not yet work in apartment buildings unless the electrical panel is accessible."
How much will you pay for all this sensing?
How Much Does the Sense Monitor Cost?
Production for the Sense Monitor is staggered. The first two runs are sold out and shipping is underway, and preorders are being taken for the third run, which is set to ship in August.
Sense's price is $249 (which will increase to $299 after release). Shipping and handling was a flat $13 at the time of our research, regardless of address. Your order may also be subject to sales tax, depending on the state.
Pro tip: As we outlined previously, the company recommends having a licensed electrician install the Monitor, which could add $100 or more to your overall costs.
Sense Solar (it monitors solar usage) is currently available as an upgrade to existing Sense Monitors for $50. Shipping is in August for iPhone and October for Android.
The Sense Home Energy Monitor comes with a 30-day refund policy, less S&H charges, as well as a 1-year warranty against defects in materials and workmanship.
What Kinds of Reviews Has the Sense Monitor Received?
Although the Sense Home Monitor had already undergone two complete production runs, we were surprised at the overall lack of online customer feedback for the device during our research.
Reddit Reviews
Most Sense reviews we found were in a single Reddit thread, although we found it very insightful, with a must-watch app demo. In fact, we learned more about Sense's functionality in this video than we did on the manufacturer's website.
One of the biggest questions we initially had was whether or not Sense's app would allow you to see how much energy each device is using, versus the aggregate usage relative to other devices in your home. Otherwise, we weren't sure exactly how useful it might be.
Based on what we learned though, this definitely isn't the case. Within a couple taps, it appears you can see exactly how much a specific device is using (names are completely customizable), how long it's be on, and even show it on your timeline for faster future reference.
Another tap allows you to view a real time power meter. This way, you can walk around your house turning on different appliances and immediately witnessing their impact on energy consumption.
Finally, Sense's app allows you to identify trends by the day, week, month, and year, as well as see how much (and what percentage of) power each device is using.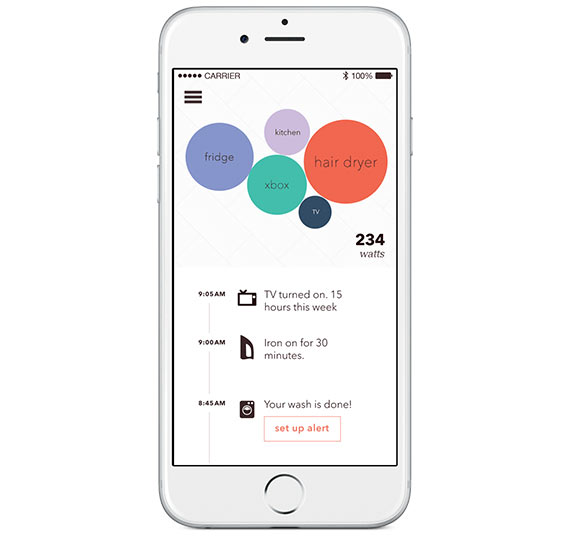 ​On the Sense app home page, you'll see the relative amount of energy each device is using (colored bubbles), aggregate watts, and alerts. Tapping provides access to even more data.
Much of the feedback in this thread was from beta and field testers, most of whom seemed very pleased with Sense's performance. In fact, the words "amazing," "super cool," and "technological leap" were used more than once.
Common compliments referenced that the Sense Monitor provided more in-depth information than the competition, and that this information was highly accurate. However, it wasn't perfect at recognizing devices, as one user noted:
"Things like cellphone chargers are finicky because of their very low voltage/draw, and it has trouble with things like multiple garage doors (I learned this over time) where the motors are virtually identical but operate independently. Which, of course, is pretty understandable because the electric signatures are functionally identical from a technical standpoint."
Sense's co-founder even chimed in to the discussion and promoted his Q&A featured on ProductHunt. If you're interested in the Sense's finer details, it's definitely worth a few minutes of your time.
Who Makes the Sense Home Energy Monitor?
Sense Labs is based out of Cambridge, MA and was founded in 2013 by three individuals: CEO Mike Phillips, VP of Product Christopher Micali, and VP of Engineering Ryan Houlette.
Prior to co-founding Sense, Mike founded SpeechWorks and Vlingo, where Ryan worked as Senior Architect. Christopher focused on the design and development of Sense's consumer-facing mobile applications.
According to their bio on the Sense website, this is the same team that "brought advanced speech recognition technology to mobile phones including voice search, voice text messaging and dictation, and voice-enabled virtual assistant technology. Our products are used globally in Samsung and other mobile phones and in Siri before its acquisition."
To date, they count 59 products launched, 415 million users, and 33 patents issued.
Is Sense Energy Monitor a Sensible Choice?
If you search online for home energy monitors, you'll quickly learn that you have several options, including Curb, Neurio, TED Pro, Smappee, and more. While Curb seems like Sense's stiffest competition—and some, like Smappee, allow you to switch appliances on and off remotely, unlike Sense—many of these other options don't offer the same level of detail and insight.
Does this mean Sense's Monitor is your best choice? Like any other purchase, the "best" option largely depends on your needs. But if you'd like the most data for appliances in your home, along with some cool alerts and tips, most testers seemed to have been blown away by its performance.
With this in mind, let's loop back to the question we posed at the beginning: Will the Sense Home Energy Monitor improve your life? If so, how? Let's quickly break it down.
Sense's main selling proposition is that it can tell you what your devices are saying, which can then help you "know where your money is going." Once you know where your money is going though, how can you use this information to enact meaningful change?
For example, if Sense's Monitor informs you that most of your television is watched between 6pm and 9pm (probably no surprise there), that it was turned on for a total of 20 hours this week, and that it's the second most energy intensive appliance in your home, what can you do from there? Do you watch less TV? Do you purchase a new one that uses less energy? All of the above?
This is our biggest question about home energy monitors like Sense (and many other "lifestyle" sensors in general): Yes, their alerts and tips are super cool, and the insight they offer into previously unknown areas of life is fascinating, but what do you do with this data?
Ultimately, this is only something you can answer. But whether you're a tech junkie that can't get enough data or are just looking for some added notifications we're you're not home (and even when you are), there seems to be something for everyone to like about the Sense Energy Monitor.
Before you go, you might find this How to Choose a Home Energy Monitor guide from HowStuffWorks useful!
Related: Nest Learning Thermostat Review
Why would I have to pay sales taxes twice?

By Sal A.

,

Vancouver, British Columbia, Canada

,

Dec 26, 2019
Verified Reviewer

I was charged Canadian sales taxes by Sense.com for the purchase of one electricity monitor to be shipped to my Canadian address. However, Canada Customs will not release the shipment unless I pay provincial and federal sales taxes.

I am waiting for an explanation from Sense.com.

Bottom Line: No, I would not recommend this to a friend

---

Inaccurate and unreliable

By Michael M.

,

Boston, MA

,

Dec 17, 2019
Verified Reviewer

I have had this device for years, it is slow to learn and identify devices and has a hard time staying online. I have moved our WiFi router and Comcast Boost Pods many times but the Sense constantly drops off. Save your money. It's just bells and whistles with no reliable data.

Bottom Line: No, I would not recommend this to a friend

---

Advertisement

---

Not worth the money or time

By Terry W.

,

Virginia

,

Mar 29, 2019
Verified Reviewer

I have had two Sense Home Energy Monitors for well over a year now. I have been totally frustrated that the monitors will not detect things that we use frequently in my home and you cannot simply tell Sense what is on during a low electrical usage period. My worst frustration is that Sense cannot tell the difference between my microwave and my wife's hairdryer.

The Sense support team is not very helpful with this issue, and they have been working on it quite a while. Don't expect to actually talk to someone from the company. They basically force you to send them an email. They respond, but their response has not let led to a solution for my microwave and hairdryer. There are numerous other things the devices have not detected over the years. Reporting stinks too. Exporting data to a spreadsheet would seem to be an easy thing to do, but not with Sense.

Bottom line, very poor product and certainly not worth $300 with its current functionality.

Bottom Line: No, I would not recommend this to a friend

---

Works great, a great tool for energy conservation.

By Scott Y.

,

Massachusetts

,

Mar 20, 2019
Verified Reviewer

I've had the Sense Solar for about six months now, and really appreciate the product. I have an older solar system that is not networked, and with the Sense, I can now see up to the second energy production from my phone. It's great! It's also educational to see the power production in comparison to our power consumption in the same graph. The home device discovery continues to identify products within our home, and teach us how they use power. Seeing our power consumption has changed our behavior a little bit, and we're using less power now than before Sense. Overall, the device does what it says, and the experience gets better as the Sense team improves the visualizations in the app and online.

Bottom Line: Yes, I would recommend this to a friend

---

Advertisement

---

Excellent

By Jason V.

,

Ohio

,

Mar 14, 2019
Verified Reviewer

I've had Sense for 15 months. My neighbor and a friend each bought another solution. Within 30 days they returned the other products, attempting to be informative because I was having so much success during my first month. They each had more success understanding their power usage in less than a week than they had with one month of their previous purchase. I feel lucky that I chose Sense to begin with.

Bottom Line: Yes, I would recommend this to a friend

---

After a couple of years, I think it's worth it

By Greg H.

,

Manchester, NH

,

Mar 13, 2019
Verified Reviewer

I had read all the reviews on this site back when I first heard about Sense, and was prepared for the worst but was just too curious not to try it. So I just went with my gut and took a chance on it.

Sense has been in my home for over two years now and I'm grateful to have it. It has detected most of the big loads like my dryer, window ACs, our sump pump, and the refrigerator, as well as a spare refrigerator we used to keep in the garage, but I actually stopped using after realizing how much it was costing me. It's also identified some random stuff that took me a while to figure out and name, like an "appliance light" which turned out to be the light inside my fridge. That might not seem like a big deal, but I actually use it to set up an alarm for when the door might be left open. The alarms you can set in the app have also been good for my sump pump because that should only cycle on for 30 minutes or so during a heavy rain. This has been nice to have when I'm away from home, and I find myself checking in on the app when I am away just to make sure nothing unusual is going. Aside from the alarms, I really don't care much about looking at the individual appliances now, I just look at the main view and see how much electricity my home is using at any given time. That's enough info to know whether something has gone wrong.

They still have a lot of work to do on the app and training, but I hope this kind of thing is going to be standard in electrical meters in the next few years. In the meantime, if you have a high electric bill like I did and aren't sure why, I think it's worth it to get one of these and start watching your use every day. Don't expect it to do everything automatically for you or you'll be disappointed. But if you take it for what it is, I think you'll still find it's a good value. I'm not positive, but I think it's paid for itself by now with just little things like my spare fridge and other stupid things I had plugged in that were just sucking energy without doing anything.

Sorry to everyone else here who had such a bad experience. Might be worth trying it again now that they've been around a bit longer.

Bottom Line: Yes, I would recommend this to a friend

---

Very useful - HighYa version pictured seems to be a very early model.

By David M.

,

Los Angeles, CA

,

Mar 13, 2019
Verified Reviewer

Great for seeing energy usage in your house in real-time. Helped me find three major household power usage offenders and fix:

- A baseboard heater that was on all the time (or Always On in Sense nomenclature).

- A set of attic lights that I never converted to LEFs and were left on all of the time.

- An old refrigerator that was using 3x as much as all the others in the house.

And no, I really wouldn't have found these with a Kill-A-Watt.

Bottom Line: Yes, I would recommend this to a friend

---

Best smart home product! Save energy use and improve home safety!

By Leo L.

,

Elgin, IL

,

Mar 13, 2019
Verified Reviewer

We installed Sense with the help of a professional electrician 5 months ago. It didn't take much effort to contact the electrician and had them come to install. But to be honest, I kept questioning myself - is this a product worth $300 + installation fee?! So far we have been with Sense for 5 months. And I can confidently say, the money is well spent! The product started helping us save money and improve house safe since Month #1!

One of the biggest gain from Sense - it helped us save money! I love my kitchen light because they are so bright and lights are warm. This is always my first light to turn on when I arrive home and I always leave them open even if I am not in the kitchen. But after Sense installed, I was surprised to see these lights are 380w! They are 42 times higher than my hue light (9w). Now, I will avoid leaving the kitchen light or similar lights on in my house if unnecessary. Without Sense, I don't think I will ever look at my energy in a quantitive way. Also, we start paying attention to high energy consuming product such as oven/stove, try to use them in a more efficient way, such as use the right stove based on pot size (1700w difference)! Without seeing the numbers on the app, we will never know how we can do better on energy saving! Sense is teaching me how to save money, and also how to change my bad energy habit.

Another big gain from Sense - helps me check if my home is safe or not! One time we were on a road trip and my sister suddenly said she was not sure if she turned off the stove before we left. She was very worried and said we had to come back to check while we were 100 miles away from home. But when I looked at my Sense App, it told me my current energy usage was only 90w and none of the stove is being used. There are many these moments - was my iron on while I left? Did I closed my garage door? Was my heat working while we were not at home...these are all answered by Sense!

I am a big IOT fan and we have so many different IOT products at home. But I would say my best investment so far is Sense! It is not only a fun or good to have product, it is a must-have product, we can see ROI on the energy bill and home safety!

Bottom Line: Yes, I would recommend this to a friend

---

Neat product!

By Peter K.

,

Chicago, IL

,

Mar 7, 2019
Verified Reviewer

I wanted to spend less on electricity but I never knew how the different lights and devices were adding up. The Sense device showed us that we have some light fixtures that use a ton of power, so we've been more thoughtful about when to use those. It's a neat app and fun to add new devices as they pop up.

Bottom Line: Yes, I would recommend this to a friend

---

Great to see what hogs the energy in the house

By Yalcin K.

,

Boston, MA

,

Mar 6, 2019
Verified Reviewer

Setup was straightforward and enjoying the real-time monitoring of our energy usage.

I love technology, but this has exceeded my expectations. It was very easy to install and in 15 minutes I knew exactly how many Watts my home was using. Now, I purchased this to understand my daily energy usage as I was upgrading my portable emergency generator but really didn't know where to begin in calculating every plug, refrigerator, freezer, or lightbulb in my home.

Bottom Line: Yes, I would recommend this to a friend

---

Sense is awesome!

By Jeff B.

,

Atlanta, GA

,

Mar 6, 2019
Verified Reviewer

I read some mixed reviews but wanted to try it out for myself. They have a good return policy so I thought I'd go for it. The install was easy, and within a day or two, it was finding devices in my home. It's now found the vast majority of my big energy users, including a fridge that was costing me a lot every month. It didn't figure out all of my appliances right away - you have to give it some time - but it was worth the wait! Check it out if you want to figure out why your energy bill is high. The app is great and easy to use too.

Bottom Line: Yes, I would recommend this to a friend

---