Sensolin Reviews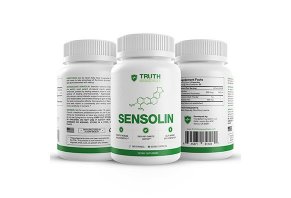 Sensolin is an all-natural blood sugar and weight loss support supplement that claims to offer appetite-suppressant effects in order to help control and manage your weight.
What is Sensolin?
Sensolin from UMZU is an all-natural blood sugar and weight loss support supplement that claims to be able to provide appetite-suppressant effects in order to help control and manage your diet and weight.
It is billed as an effective alternative to synthetic ingredient-filled supplements that might have dangerous or uncomfortable side effects, and the company behind Sensolin has gone to great lengths to illustrate this difference very clearly.
The main product website claims that Sensolin is able to provide the support that may allow you to:
Eliminate Crashes After Eating
Control Insatiable Hunger and Cravings For Sugars and Carbs
Increase Your Ability To Lose Stubborn Body Fat (Especially In The Midsection)
Increase Mental Focus
Control Insulin Resistance
Obviously, for those who suffer from ailments or symptoms such as uncontrollable cravings, Insulin resistance, or high blood sugar, this supplement could represent a fantastic product that could really do a lot of good for a lot of people.
Before we know for sure that it can, however, we need to know more about the product and its ingredients, as well as more about the manufacturers themselves. Let's take a look at the latter now by taking a close-up look at the company behind Sensolin.
How Is Sensolin Supposed To Work?
According to the manufacturer, Sensolin can be effective for everyday usage. The website states that there isn't any need to cycle the product periodically, as you would do with certain other types of medications and supplements when their effectiveness wears off. The company also claims that there are no side effects that come along with regular usage of the supplement.
The website states that Sensolin is best taken with your two main meals, equating to 3 pills per meal. Up to 9 pills may be taken each day to achieve "optimal performance", however.
What Ingredients Does Sensolin Have?
Sensolin is fairly unique in that it only includes 3 ingredients in its formula - some similar products tend to have a lengthier list in many cases. One of the company's chief claims is that they use no synthetic ingredients or "fillers" of any kind. The company asserts that they used "decades of independent research" as a guide when developing their formulation, which includes the following ingredients:
Berberine HCL
Chromium Picolinate
Ceylon Cinnamon Oil
Let's take a closer look at each of these, starting with Berberine HCL.
Berberine HCL: According to WebMD, Berberine is a chemical that can be commonly found in several plants including European barberry, goldenseal, goldthread, Oregon grape, phellodendron, and tree tumeric. The substance has been used in traditional medicine for many years, and WebMD's information page for the chemical states that Beberine has shown to be "possibly effective" for reducing blood sugar levels in patients with diabetes.
Earlier research is also listed, showing that the substance seems to help individuals lose about 5 pounds after taking it for 12 weeks.
Chromium Picolinate: Chromium is a mineral that is known as an "essential trace element", due to its importance (in small amounts) to human health. It appears that Chromium might be effective for treating diabetes, again helping to lower blood sugar levels in the body. WebMD states, however, that the jury is still out on the minerals potential benefits for those suffering from obesity.
For instance, the site states that while some limited research suggests that chromium might improve weight loss for some, the amount of said weight loss is probably "not clinically significant".
Ceylon Cinnamon Oil: This oil comes from a tree, the bark of which has many medicinal properties. According to WebMD, however, there is insufficient clinical evidence to show whether or not this oil is effective for reducing blood sugar levels in the body.
So, bringing this all together, the science is fairly clear on the first two ingredients. Both have been shown to be at least somewhat effective for treating the effects of diabetes and obesity in adults. The third ingredient is a bit more inconsistent in terms of verifiable claims, but at worst, there don't seem to be any potential pitfalls to its inclusion in the formula.
Speaking of which; do any of these three ingredients come with the potential for hazardous side effects? Let's find out.
Any Possible Side Effects With Sensolin?
The good news here is, since there are only three ingredients included in Sensolin's formula, and each one is all-natural, there aren't many potential side effects to watch out for.
For Berberine, WebMD states that women who are breastfeeding or pregnant should not use the supplement. It also states that newborns are susceptible to the chemical and that it should not be given to them either.
Finally, because Berberine can lower blood sugar levels, anyone suffering from diabetes should be careful not to lower their blood sugar to dangerous lows accidentally, in conjunction with another medication.
As for Chromium, it appears that there are few situations where side effects may occur. Again, it is stated that diabetics need to exert caution when taking supplements with this substance in it while also on other medications to control blood sugar levels.
Finally, Ceylon Cinnamon Oil seems to be just about as safe as the variants of cinnamon found in food. However, according to WebMD, it can sometimes cause side effects such as diarrhea, vomiting, dizziness, drowsiness, and others.
It is not clear whether any of these side effects would effectively translate over to Sensoline, but during our research, we were unable to find many reports of users experiencing negative side effects at all, outside of the odd mild upset stomach.
Sensolin Pricing & Return Policy
One bottle of Sensolin costs $49.95. However, if you enroll in the company's U SAVE Program, where you get automatic refills every 30, 60, 90 or 180 days, each bottle will cost you $42.95.
As for the return policy, the company offers a full, 60-day money-back guarantee. They clearly state on the main website that returns may be processed for any reason at all, and the process for receiving said refund seems fairly straightforward.
You simply need to send an email to help@truthnutra.com to have your refund processed.
What Are Other Consumers Saying About Sensolin?
Sensolin is a relatively new product, and as such, there aren't a tremendous number of user reviews out there in the wild just yet. That being said, we were able to find a number of reviews on the company's main website, as well as on Amazon.com.
These reviews were fairly wildly diversified, with some giving glowing remarks about the supplement's effectiveness and others claiming that it did nothing at all.
This is obviously a fairly common phenomenon with just about anything sold online, so feel free to take these limited reviews with a grain of salt. Overall, it seems like there are quite a few vocal, happy users of Sensolin online, which at this early stage is not something many of the supplements competitors can say they enjoy as well.
The Bottom Line: How Effective Is Sensolin?
If we're being frank, there's a lot to like about Sensolin, and to a greater extent, its manufacturer. The straightforward, non-used car salesman approach to the tone and feel of the marketing materials goes a long way to build trust in the brand, and the lack of shady business tactics like misleading autoship programs and "proprietary formulas" only serves to bolster our confidence.
The ingredients within Sensolin (and the clinical data we found for each of them) also gives us reason to suggest that taking the supplement might indeed produce some positive effects with respect to lowering your blood sugar, as well as some positive momentum with weight loss.
That being said, at least one of the ingredients found in the formula (Ceylon Cinnamon Oil) had insufficient evidence to prove that it was truly effective for managing blood sugar levels.
Overall, it's safe to say that Sensolin is one of the more straightforward, reputable products out there in the wide world of supplements, and it's also safe to say that Sensolin is likely to be worth a try if you think it might be able to help you in any way.
We feel that the company's upfront attitude and no questions asked 60-day return policy is enough to warrant giving the product a chance with confidence, and we feel that the clear pride and effort put into the formulation itself, the branding, and the company culture in general is a welcome change of pace from the status quo.
Have you used Sensolin before? Leave a review and share your experience with others!
It works for me

By James G.

,

North Carolina

,

Oct 19, 2018
Verified Reviewer

I switched from Apple Cider Vinegar to Sensolin and Glucosil. I take one tablet each before each meal. I have lost 15 lbs along with exercise, AND my blood glucose dropped from 125-135 to 110.

Bottom Line: Yes, I would recommend this to a friend

---

Undecided

By Jan B.

,

Southwest Florida

,

Oct 4, 2018
Verified Reviewer

I ordered a 3-month supply and am now on my third bottle. Sensolin has had no effect on my 6.5 A1C or glucose levels. I have a challenging time justifying approximately $40.00 for something that has not proven beneficial to me.

Bottom Line: No, I would not recommend this to a friend

---

Advertisement

---

Works well

By Roger L.

,

Salt Lake City, UT

,

Sep 20, 2018
Verified Reviewer

Six months ago I was on Metformin and my A1C was 7.9. I began taking Sensolin as directed as Metformin was tough on my stomach. We also switched over to a Ketogenic type diet, and today my A1C is 5.7!

I'm guessing it's a combination of factors, but I'm completely happy with Sensolin.

Bottom Line: Yes, I would recommend this to a friend

---

Worked great in 9 hours!

By Barbra M.

,

Carlinville, IL

,

Aug 5, 2018
Verified Reviewer

I got it in the mail today. I used one pill at lunch and one pill at supper. Shortly after supper, I did a blood test and my blood sugar was down to 90. That's the best blood test I've had in two months.

Bottom Line: Yes, I would recommend this to a friend

---

Advertisement

---

Works for me

I was pleased after three months. My A1C level went down from 7.2 to 6.2. I am going to order more for three more months supply. I have been fighting with weight gain and high sugar levels for a couple of years. I was not on board at first, but the results tell the story. No side effects noticed.

Bottom Line: Yes, I would recommend this to a friend

---