Sensor Brite Reviews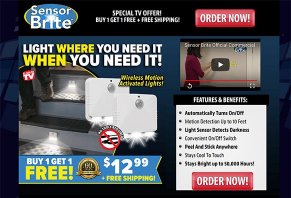 The Sensor Brite is a wireless, motion-activated lighting solution that promises to help you illuminate any area of your home, car, or anything else.
What is Sensor Brite?
Promising you light where you need it, when you need it, Sensor Brite is a wireless motion-activated LED light system that can be placed anywhere, according to the product's manufacturer. They list that it's especially ideal for staircases, bathrooms, hallways, kid's rooms, and under cabinets and cupboards.
Sensor Brite devices are battery operated, allowing for true portability and the freedom to place them anywhere, though this requires three AAA batteries per unit, and the website states that they are not included with your purchase. The lights themselves are long-lasting LEDs, and the makers of the product claim that they are able to stay bright for up to 50,000 hours.
The devices utilize a motion sensor in order to be activated only whenever you are in-range, allowing for you to stretch out their battery life for as long as possible. You can also easily turn them off manually using a switch on the casing itself, but the commercial illustrates that the built-in light sensor will prevent the lights from engaging during the daytime hours, eliminating the need to stay on top of their status.
At first glance, the Sensor Brite seems like an ideal choice for those who get up frequently at night, or just those who'd like a bit of added convenience around the house, but can you really expect the product to deliver on-demand light wherever it's needed?
How Does Sensor Brite Work?
The Sensor Brite uses a stick and peel system, which the manufacturer claims will cling to just about any surface without the need for tools or extensive setup. The LED component itself actually can be removed from the baseplate if needed, allowing for an impromptu flashlight in situations where you need more portability.
Based on what we're shown in the commercial, it seems as though the product could live up to its claims of providing light wherever and whenever you need it, but the fact that it relies on disposable batteries may be a hamper in terms of continually checking to ensure that they have enough power, especially if you have several in various areas around the home as depicted on the website.
We reached out to customer service to inquire about how long you could expect the devices to work before needing to change out the batteries, but multiple agents told us that they did not have this information on-hand.
In addition to battery life, there's also the matter of lumen count to consider. Lumens can tell you how bright you can expect a particular light to be, and for reference, a standard 60W-equivalent LED light bulb puts off roughly 800 lumens. At a comparatively small 32 lumens, you'll need to factor in how much light you actually need in order for a device like this to be helpful.
To be fair, you'll likely need much less light than an actual bulb if you're just getting up in the middle of the night to use the bathroom or to grab a snack, but nonetheless, it's important to know what kind of performance you can expect going into a potential purchase.
Another factor is the positioning of the lights, as they'll need to be able to detect your motion before turning on. Seeing as we haven't tested the product out for ourselves, we can't be certain as to just how robust its detection is in practice, though the manufacturer notes that it can be triggered from up to 10 feet away.
Based purely on what we're shown in the product's commercial and online, it seems as though the Sensor Brite should logically be able to provide you light in just about any place you need it, when you need it, as long as you're able to position them to be triggered properly and ensure that the batteries powering them remain charged at all times.
Sensor Brite Pricing & Return Policy
As of this writing, Sensor Brite was available both directly on the manufacturer's website as well as on Amazon.com. Regardless of which platform you use, it is sold in three main quantities:
Two devices: $12.99 + free shipping
Four devices: $4.99 + free shipping
Eight devices: $44.99 + free shipping
As for the return policy, the product's website did not list any terms or conditions when we checked, so we reached out to customer service, who told us that each order includes a 30-day money-back guarantee. To initiate a return, you'll need to reach out to the company at 855-721-3342. You'll be responsible for paying any additional shipping fees associated with getting the product back to the manufacturer.
Sensor Brite vs. Alternative Motion Lighting Devices
Looking around online, we were able to find a number of different LED lighting products similar to the Sensor Brite, including several that were wireless, had stick-anywhere functionality, and were motion activated.
On Amazon, the most popular (in terms of reviews) amongst these products were the URPOWER motion sensor lights. These feature a circular shape as opposed to square, and have a 10,000 hour stated lifetime. In addition, they put out just 20 lumens, compared to 32 on the product at hand.
Having said that, they are slightly cheaper than the Sensor Brite option at $12.99 per three-pack, and they also include an optional warm light variation for a dollar more. If you're looking for the cheapest option, or something with a bit more warmth and vibrancy, many customer reviews pointed out that these created a nice, warm glow that they found to be more appealing than the cooler light typical in LED's.
If, however, you're looking for the product that offers the most brightness and longevity overall, the Sensor Brite's had the longest runtime and highest lumen count of all the wireless products we encountered during our research.
Having said that, there are also a number of products that plug into a dedicated outlet, eliminating the need to worry about keeping up with batteries and power levels in general. If you'd like to find something more hands-off, something like the GE 28769 might be ideal. This also provides more ambient light than a wireless product, at 40 lumens, but its overall cost is higher as well at $59.74 for two.
Bottom Line: The Bottom Line on Sensor Brite
Illuminating everything we've learned about the Sensor Brite, is it truly the best option for delivering light whenever and wherever you need it in and around your home? Let's review what we know.
The product uses AAA batteries, allowing you to use the adhesive backing to position them just about anywhere you want. While the 32 lumen LED's aren't likely to fully illuminate any room, they should be sufficient for providing some added safety on stairs or near obstructions, as well as provide enough light to use on a doorway, cabinet, shelf, or anything else that you need.
As long as you're willing to potentially incur some added expenses on battery replacements over the lifetime of the product, we see no real reason why it shouldn't be able to live up to its main claims and provide you with on-demand lighting whenever you need it. As consumers ourselves, we feel that relative to the competition, the Sensor Brite delivers a higher level of brightness than most other wireless products, as well as a higher total life expectancy in bulb hours.
If you'd like to jump in and try them out, just be sure to remember that you can return them within 30 days if you find that they don't deliver the functionality you were looking for.
Have you used a Sensor Brite device before? How well did it work in your home? Let other readers know below!
1 out 1 people found this review helpful

Sensor Brite black outdoor 2-pack.

By Susan S.

,

Iowa

,

Sep 13, 2019
Verified Reviewer

The product is a rip-off. It doesn't work and I can't return to the store for a refund. I'm not happy about wasting $20 plus tax. There is no way to contact customer service of this company to complain either!

Bottom Line: No, I would not recommend this to a friend

---

Advertisement

---