Serexin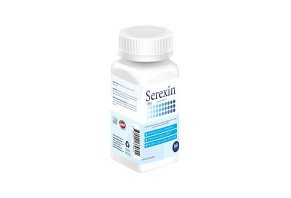 Serexin contains a blend of 16 natural ingredients the manufacturer advertises will boost your sex drive, make your penis larger, and increase your sexual confidence.
What Is Serexin?
Serexin is a men's virility supplement which the makers claim to contain a formula of natural ingredients that promise to help support optimal sexual health, function, and overall satisfaction.
Specifically, they say you can expect improved sex drive and libido, increased staying power, improved sexual confidence, and even increased penis size.
The website tells us the formula's powerful results can revitalize your confidence and performance in the bedroom, and "boost your sex life into the stratosphere."
In this review, we'll discuss whether or not you can realistically expect results of this magnitude with Serexin. We'll also take a look at the competition and help you decide whether or not it will deliver value for the price.
Let's kick things off by learning more about the condition the formula is supposed to address.
How Does Serexin Work?
The manufacturer repeatedly explains that Serexin boosts testosterone. But, what is it and why's it so important?
Harvard Health explains that testosterone is a hormone responsible for "the deep voice, increased muscle mass, and strong bones that characterize" the male gender. It also plays roles in "the production of red blood cells by the bone marrow," as well as behaviors like aggressiveness and sex drive (libido), sperm production, and cholesterol metabolism.
At about the age of 40, however, they report that a man's testosterone production starts declining at a rate of about 1% per year, which can lead to side effects like reduced sexual drive and satisfaction, depressed mood, weakened muscles and bones, and even difficulty achieving erections in some instances.
To address these concerns, the company says Serexin's ingredients work on two fronts: they increase the body's testosterone production, while also raising its levels of nitric oxide—a molecule that helps widen blood vessels and improve circulation.
Specifically, they say the formula "boosts the flow of blood to the penile chambers," expands them, and helps "you enjoy harder, longer, and stronger erections." But, is there clinical support for these claims?
Serexin Ingredients
There isn't a supplement facts label shown on the Serexin website. We called the support number several times looking for additional insight, although we were left on hold indefinitely each time, and a representative never answered. We also sent an email to customer support but hadn't received a response as of publishing.
With these details in mind, the Ingredients page on the formula's website lists the following:
Maca Powder
L-Arginine
Ginseng
Tongkat Ali
Sarsaparilla
Pumpkin Seed
Muira Puama
Oat Straw
Nettle
Cayenne Pepper
Astragalus
Catuaba Bark
Licorice
Tribulus Terrestris
Orchic
Oyster Extract
According to the cumulative clinical evidence reported by sites like the Natural Medicines Database, WebMD, and Examine.com, the body converts l-arginine into nitric oxide. Therefore, taking 5 grams per day is listed as possibly useful for addressing erectile dysfunction, high blood pressure, and leg pain associated with poor blood flow.
Taking 200–300 mg of tongkat ali (also known as "eurycoma longifolia") per day for three to nine months may also improve male infertility and sexual desire in men.
Finally, pumpkin (10 grams per day of seeds, or 1-2 capsules of oil extract) may help symptoms associated with benign prostatic hyperplasia (BPH).
Outside of these, however, the sites we listed above indicate there's insufficient clinical evidence to support the manufacturer's claims related to sexual performance, increased penis size, or overall satisfaction for Serexin.
Are There Potential Side Effects Related to Serexin?
WebMD, the Natural Medicines Database, and Examine.com indicate that if you experience any side effects at all from Serexin's ingredients, they probably won't be worse than mild, temporary digestive upset.
However, in some instances (no specifics provided), they indicate l-arginine can lead to allergies, airway inflammation, and low blood pressure. It can also moderately interact with medications that lower blood pressure or increase blood flow.
Ginseng may cause itching, trouble sleeping, rapid heartbeat, and nervousness, while astragalus may uncommonly cause rash, itchy skin, or nasal symptoms.
These sites list long-term licorice supplementation as "possibly unsafe," since it can "cause severe side effects including high blood pressure, low potassium levels, weakness, paralysis, and occasionally brain damage in otherwise healthy people."
Finally, they report it's unknown if muira puama, catuaba, or orchic extract are safe, or what their possible side effects might be.
To help you avoid potential side effects or medication interactions, it's essential to speak with your doctor before taking any new dietary supplements.
How Much Does Serexin Cost?
Serexin is only available directly through the manufacturer at the following prices:
One bottle: $49.95
Three bottles: $99.95 ($33.32 per bottle)
Five bottles: $149.95 ($29.99 per bottle)
The single bottle option also comes with a $4.95 shipping fee, while all others include free shipping.
The manufacturer offers a 30-day refund policy on all Serexin orders, which begins the date you place your order. You can reach customer service at 888-516-7344 or support@serexin.com.
As outlined above, we unsuccessfully called this number looking for information regarding quantity and dosing. We also sent an email but hadn't received a response.
Are There Other Men's Virility & Male Enhancement Supplements Like Serexin?
There are perhaps hundreds of dietary supplements competing in the same category as Serexin, many of which include similar ingredients like tribulus, maca, ginseng, pumpkin seed, and oat straw, to name just a few.
They also promise to powerfully address low testosterone levels and boost sexual health, virility, and overall satisfaction with one-of-a-kind formulas, and to also represent the number one supplements in the category.
Here were two of the top-rated choices on Amazon at the time of our research, and how they compared:
| | | | |
| --- | --- | --- | --- |
| Formula | Price | Number of Ingredients | Average Amazon Rating |
| Serexin | $49.95 | 16 | N/A |
| 24/7 Virility Testosterone Booster | $23.99 | 15 | 4.7 stars, 172 reviews |
| Vintage Boost Testosterone Booster | $47.49 | 8 | 4.4 stars, 850 reviews |
How can you choose the best option?
First, keep in mind that, according to Dr. Greg Sommer, founder and chief scientific officer at Trak Fertility, everything in a man's body is linked. As such, even if you successfully boost your testosterone levels using a dietary supplement, you can lose these gains by not getting enough exercise, getting insufficient sleep, or eating a less-than-stellar diet.
Related: How Food Affects Your Testosterone Levels: What to Eat and What to Avoid
Outside of this, the best choice will primarily come down to how much you want to pay, the level of emphasis you place on customer feedback, and the number of ingredients you prefer in your blends—although more ingredients don't necessarily translate into better results.
Using these as our guideline, we can see that Serexin contains the most ingredients in its formulation, comes with the highest price, and is new enough that no online customer feedback currently exists.
On the other hand, 24/7 Virility is the least expensive option in our table and contains only one less ingredient than Serexin. It also comes with mostly positive ratings among Amazon customers.
Finally, Vintage T-Booster is priced only a couple of dollars lower than Serexin but comes with half as many ingredients and nearly 900 mostly-positive Amazon customer reviews.
Our Bottom Line About Serexin
The bottom line is that Serexin comes with a higher price than a number of close competitors, a good chunk of which you can pick up for less than $20 per bottle.
Also, the product's website doesn't include a supplement facts label on the Serexin website, so even when referencing the couple of ingredients it contains that might provide noticeable benefits, you can't know if it contains the same amounts found in supporting clinical studies.
On top of this, no one answered at the toll-free number listed on the Serexin website, and no other response was given from their email address as of publishing.
Based on these factors, we think third-party testosterone supplements might deliver better value for your money, and represent less of a risk if you're dissatisfied and decide to request a refund.
>> Continue reading: 7 Ways to Naturally Increase Testosterone Levels