SeroVital Hair Regeneres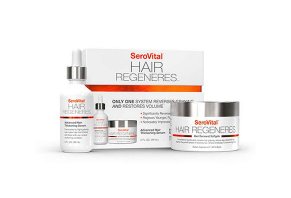 SeroVital Hair Regeneres is two-part hair renewal system that claims to reverse the effects of graying and aging hair while helping you achieve youthful hair after an average of 60-120 days.
SeroVital Hair Regeneres Review - Get Your Youthful Hair Back?
Claimed to be the number one anti-gray hair solution, SeroVital Hair Regeneres is considered ideal for men and women 18 years old and up who struggle with weak, dull, thin, or graying hair.
It involves a two-part system: taking the Hair Renewal Softgels, and applying the Advanced Hair Thickening system, which are said to work together to create thicker, fuller and more youthful-looking hair – and possibly gray-reversing benefits.
SeroVital Hair Regeneres is made by SanMedica International, a nutraceutical company headquartered in Salt Lake City, Utah that creates dietary supplements, as well as hair and skin-care formulas.
This article takes a look at SeroVital Hair Regeneres, including its efficacy, how it works and the science behind the softgels – as well as details about each of the ingredients in these supplements based on scientific studies.
Keep in mind that this article is not intended as medical advice. Before you add any new supplements to your diet, or apply serum to your scalp, it's important to talk to your medical doctor, first.
SeroVital Hair Regeneres Studies
According to information published on the SeroVital Hair Regeneres website, 94% of subjects in a 120-day clinical study rated the efficacy of the key ingredient in SeroVital Hair Renewal Softgels as "good" to "excellent."
The findings of this study noted the following:
87% agreed hair was less gray
91% saw more resistant hair
91% experienced less hair shedding
88% saw more hair growth
88% agreed they experienced brighter, more radiant hair
87% noticed improved hair volume
Another study published on SeroVital's Hair Regeneres website stated that 95.8% of participants in a double-blind, placebo-controlled, 90-day clinical trial on the key ingredient in the soft gels saw "an overall improvement" in the appearance of their hair compared to placebo.
In this study, subjects of the experienced the following:
Less shedding and hair fall
Improved brightness and luster
Improved growth of existing hair
Significantly strengthened hair
Reduced hair breakage
How Does SeroVital Hair Regeneres Work?
SeroVital Hair Regeneres is a two-step process that involves using a hair thickening serum, as well as taking a drug-free soft gel supplement "that contains a gray-reversing compound."
According to the manufacturer, key ingredients in the soft gels and serum work together to reverse gray hair while re-growing fuller, younger locks – and ultimately improves the overall health of hair.
The soft gels contain Chromaviv™, a compound that's rich in melanin, which is claimed to lead to lush re-growth of your natural hair color. Below are the other ingredients in the soft gels, which come in a 30-day supply.
SeroVital Hair Regeneres Soft Gels Ingredients
The proprietary blend of Chromaviv™ contains bioactive keratin peptides, cacao seed powder, rosemary leaf powder, and turmeric root powder. Additional ingredients in the soft gel supplements include Niacin (as niacinamide), Vitamin B6 (as pyridoxine hydrochloride), Biotin, Pantothenic Acid (as d-calcium pantothenate), Zinc (as zinc oxide), and Copper (as cupric sulfate).
The following details about each of these ingredients in the supplements was obtained from independent scientific studies, and not directly associated with claims made by SeroVital Hair Regeneres.
Bioactive Keratin Peptides
The US National Library of Medicine published a study entitled "Keratin-based peptide: biological evaluation and strengthening properties on relaxed hair," in which keratin peptide was studied as a possible strengthening agent for weakened relaxed hair.
The peptide was prepared in aqueous water formulation, and organic solvent formulations, to determine the effect of organic solvents on peptide interaction with hair and the differences in hair recovery. According to the study, both peptide formulations were shown "to improve mechanical and thermal properties of weakened hair," with peptide in organic solvent formulations showing the stronger effect.
Cacao Seed Powder
Cocoa enriched-polyphenol extracts may be beneficial for human health in different ways, according to a study published by the US National Library of Medicine entitled, "Cocoa Polyphenols and Their Potential Benefits for Human Health."
The authors concluded that the intake of cocoa polyphenol extract suppresses the toxicological effects of dioxins in the body. A dioxin is described as a highly toxic compound produced as a byproduct in some manufacturing processes, notably herbicide production and paper bleaching, and is considered a serious and persistent environmental pollutant.
In another study, "Cocoa Bioactive Compounds: Significance and Potential for the Maintenance of Skin Health," antioxidants found in cocoa protect the skin from the inside by neutralizing oxidative stress, a major factor of dermal structure deterioration and premature skin aging.
Rosemary Leaf Powder
The US National Library of Medicine published a study entitled "Rosemary oil vs minoxidil 2% for the treatment of androgenetic alopecia: a randomized comparative trial," which investigated the clinical efficacy of rosemary oil in the treatment of androgenetic alopecia (a common form of hair loss in both men and women) and compare its effects with minoxidil 2%.
For six months, patients with androgenetic alopecia were randomly assigned to rosemary oil or minoxidil 2%. According to the study, both groups experienced "a significant increase in hair count" at the six-month endpoint.
In another study, "Randomized trial of aromatherapy. Successful treatment for alopecia areata," 86 patients diagnosed as having alopecia areata were randomized into two groups. The active group massaged essential oils (thyme, rosemary, lavender, and cedar wood) in a mixture of carrier oils (jojoba and grape seed) into their scalp daily. The control group used only carrier oils for their daily massage.
Results showed that 19 of the 43 patients in the active group showed improvement, compared with 6 of 41 patients in the control group – and the degree of improvement on photographic assessment "was significant."
Niacin
A six-month pilot study evaluating the efficacy of topically applied niacin derivatives for treatment of female pattern alopecia demonstrated "statistically significant increase in hair fullness on blinded 35-mm photographic analysis."
The study, published by the US National Library of Medicine, examined the effect of topical application of two niacin derivatives, octyl nicotinate and tetradecyl nicotinate, on hair fullness in female alopecia.
The conclusion of the study noted that long-term topical application of nicotinic acid derivatives offers "promise for providing benefit in female alopecia and warrants further study."
Vitamin B6
The US National Library of Medicine published findings in an evaluation of Vitamin B6 and calcium pantothenate effectiveness on hair growth, from clinical and trichographic aspects, for treatment of diffuse alopecia in women.
The aim of the study was the clinical and trichological examination (trichogram and hair loss evaluation) conducted comparatively before and after the treatment in 46 women between pubescence and 30 years of age who had symptoms of diffuse alopecia. Calcium pantothenate was administered twice a day orally in doses 100 mg for 4 to 5 months. Vitamin B6 was injected daily for the period of 20 to 30 days and repeated again after 6 months.
On the basis of clinical and trichological studies, it was revealed that Vitamin B6 administered parenterally for a period of several weeks "induces improvement in the hair condition" in a number of women, and "it reduces the hair loss especially in alopecia of telogenic patomechanism.".
Biotin 300 mcg
According to a fact sheet for health professionals published by the National Institutes of Health, signs of biotin deficiency include skin rashes, hair loss, and brittle nails; therefore, biotin supplements are often promoted for hair, skin, and nail health; "however, these claims are supported, at best, by only a few case reports and small studies."
The fact sheet noted that only case reports are available to support claims that biotin supplements can promote hair health, and these reports were only in children; and that "future studies are needed to determine whether biotin supplements might improve hair, nail, and skin health, especially among healthy individuals."
Another study, "Diet and hair loss: effects of nutrient deficiency and supplement use" published by the US National Library of Medicine, no clinical trials have shown efficacy in treating hair loss with biotin supplementation in the absence of deficiency.
"Despite this, biotin is found in multiple supplements marketed to consumers for hair loss," the study noted. "This marketing approach may have been chosen as biotin has shown positive effects in the treatment of brittle fingernails and onychoschizia (splitting of the fingernails)."
Pantothenic Acid
A study published by the US National Library of Medicine on the nutrition of women with hair loss problems during the period of menopause noted that Pantothenic acid (B5 vitamin) prevents too early hair graying, "and can restore their natural color."
Additionally, the findings stated that it is also responsible for proper hair growth due to its part in cell division in hair follicle, and gives hair proper moisture, has anti-inflammatory properties, protects, has moisturizing abilities, regulates functioning of sebum glands and accelerates melanin creating.
Zinc
In most cases, hair loss is hereditary and is not related to the amount of zinc you consume, according to information provided by the National Institutes of Health Office of Dietary Supplements.
"But it is true that a zinc deficiency can cause hair loss in otherwise healthy individuals," the information indicated. "If you have a zinc deficiency, increasing your zinc intake to correct the deficiency should help. But this doesn't mean that taking extra zinc will make your hair thicker or longer."
Another study that analyzed serum zinc and copper concentrations in hair loss noted that it is well known that some trace elements such as zinc and copper play "a significant role in many forms of hair loss." However, the effect of zinc and copper in the pathogenesis of hair loss is still unknown.
The study also stated that the exact mechanism of how zinc affects hair loss has not been found so far, although zinc-related metalloenzymes "may have the potential to regulate hair growth."
Copper
In the analysis of serum zinc and copper concentrations in hair loss published by the US National Library of Medicine, a study was conducted with 30 health controls and 312 patients who were diagnosed with alopecia areata, male pattern hair loss, female pattern hair loss, and telogen effluvium, which is a form of hair loss characterized by hair thinning or an increase in hair shedding.
The data led to the hypothesis of zinc metabolism disturbances playing a key role in hair loss, especially alopecia areata and telogen effluvium, "whereas the effect of copper on hair growth and shedding cycles still needs more study."
SeroVital Hair Regeneres Serum Ingredients
Ingredients in the serum include water, alcohol, Butylene Glycol, Acetyl Hexapeptide-1, Biotinoyl Tripeptide-1, Apigenin, Raspberry Ketone, Oleanolic Acid, Dextran, Glycerin, PPG-26-Buteth-26, Carbomer, Ethylhexylglycerin, Potassium Sorbate, Phenoxyethanol, Sodium Hydroxide, and fragrance.
In answer to the question – does it work? – the SeroVital company noted that 42 female subjects with noticeably thinner hair ranging from 21 to 47 years old applied a serum containing the key compound in SeroVital's Advanced Hair Thickening Serum or a placebo.
Photographs were taken, and the images were analyzed at baseline and again after 4 months, "revealing a significant improvement in the hair composition. This demonstrates that the key compound in our Advanced Hair Thickening Serum is a powerful moderator of fuller-looking hair."
To give you an idea of how some of these ingredients can help with hair, the following information came from independent scientific studies not associated with the SeroVital company.
Raspberry Ketone
When applied topically to the scalp and facial skin, 0.01% Raspberry Ketone promoted hair growth in 50% of humans with alopecia at 5 months after application – as well as increased cheek skin elasticity at 2 weeks after application in 5 females, according to a study published by the US National Library of Medicine.
The study explored the effect of topical application of raspberry ketone on dermal production of insulin-like growth factor-I in mice, and on hair growth and skin elasticity in humans.
"These observations strongly suggest that Raspberry Ketone might increase dermal IGF-I production through sensory neuron activation, thereby promoting hair growth and increasing skin elasticity," the study noted.
Oleanolic Acid
Oleanolic acid (which is a component of olive oil) contains an antioxidant that strengthens hair and helps it not to fall off, according to a study that appeared in the World Journal of Pharmaceutical and Medical Research.
Tips for Best Use
According to directions provided by SeroVital, women should apply 1 dropper full of the Advanced Hair Thickening Serum in the evening to the scalp and massage the product in; and men should apply 1 dropper full of the serum twice a day in the morning and evening.
As far as the supplements are concerned, adults should take 2 Hair Renewal Softgels daily in the morning with breakfast.
The company's website indicates that test subjects saw "dramatic" results in as few as 60 days; and "profound" results were seen at the 120-day mark.
SeroVital Hair Regeneres: Cost & Where to Buy
On the company's website, a single 30-day supply of the soft gels and serum is $99. However, those who enroll in a monthly program save $20, so the cost for the serum and soft gels per month is $79.
Comparatively, on Amazon, the cost for both is $99.
SeroVital Hair Regeneres: Customer Reviews
Customer posts on SeroVital's Facebook page are mixed, with those who like the product giving it rave reviews, and others stating that they will discontinue using it. For the most part, the reviews from customers are positive.
Customer Shay Yuval wrote that she started using the product because she used to have long thick hair when she was in high school, "and secretly always wanted it back."
Yuval wrote that she's "thrilled" to finally have long hair again. "The best was when one of my close friends asked if I was wearing hair extensions," she wrote, adding that "I love using this product. It worked for me."
On the flipside, customer Lu-Ann Clenney doesn't recommend the product, stating that "I have used faithfully for four months have noticed no change not in my hair…I will discontinue this product."
Sarah Care wrote that she's had thin, straight hair all her life, and since using Hair Regeneres, "I had seen a marked improvement of the thickness of my hair and general growth. I also have a small spot on my forehead that had no hair growth until I started using this product."
Customer Zuzu Weingart wrote that after a few months of using the product, "the biggest thing I've noticed is less hair fall. I was shedding like crazy before I started using it and now I don't notice it at all! My hair feels fuller and stronger too!"
Bottom Line
For the most part, online reviews of this product are positive, which is always a good sign.
It's also good news that clinical studies on the company's website revealed significant results in people experiencing stronger and thicker hair, as well as reversed graying effects, from using this two-part system.
If pictures speak a thousand words, the proof can be seen in several before and after pictures of clients who have used this product on the SeroVital Hair Regeneres website.
The pictures show restored hair growth around the front crown of hair and thicker growth in the parting of hair, as well as improved volume. There are also photos of women that show grey in the before photos, and little to no grey in the after photos.
In other positive factors, the company's FAQ section states that this anti-gray solution is good for both men and women and works with virtually any candidate – including people who want to maintain their already healthy hair – so it seems like an ideal product to improve overall hair health.
Additionally, SeroVital Hair Regeneres comes with a money-back guarantee, with the company stating that "every formulation we create is covered by this hassle-free guarantee. It contains no fine print or misleading terms. If you don't love it, we will refund your money. A valid proof of purchase is required for all returns."
However, before you put any supplements in your body, or put any kind of serum on your scalp, be sure to talk with your medical provider or dermatologist, first.
Especially when it comes to taking supplements, talk to your doctor if you're currently taking anything else or have other medical conditions, as it could have an adverse effect if combined with other ingredients.