Shadowhawk X800 Tactical Flashlight Reviews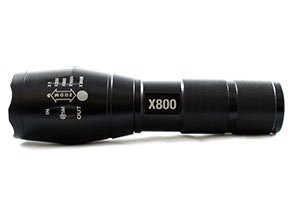 With five different modes, an aircraft grade aluminum shell, up to 2,000X zoom, and an 800 lumen LED, the Shadowhawk X800 Tactical Flashlight claims to deliver.
About Shadowhawk X800 Tactical Flashlight
Like much of the competition, the Shadowhawk X800 Tactical Flashlight features five different modes that might come in handy in a variety of situations: High, Medium, Low, SOS, and Strobe—this last one the company claims is so "powerfully disorienting" that it might cause the person on the receiving end to lose their balance.
On the outside, the Shadowhawk X800 features an aircraft grade aluminum shell that's lightweight and compact. Its telescoping focus beam ranges between 1X and 2,000X zoom, and it goes from 5.1" compressed to 6.8" extended as it adjusts.
On the inside, X800's XPE LED bulb is powered by three AAA batteries, which puts out 800 lumens (they claim the light can be seen up to two miles away) and can last for up to 10,000 hours.
As you probably know, there are literally hundreds of different tactical flashlights competing in the same market. But is there anything special about Shadowhawk's X800 model that makes it especially deserving of your money? It might come in a nifty plastic case, but does that mean it'll deliver a solid value?
By the time you've finished reading this review, you should have a solid idea of where you stand on these questions.
How Does the Shadowhawk X800 Stack Up Against Other Tactical Flashlights?
Because tactical flashlights are such a big trend right now, we figured that talking about X800's competition first would be ideal. We've even reviewed a couple other popular ASOTV options recently, such as TacLight by Bell + Howell and Atomic Beam USA.
With this said, let's split this explanation into two parts:
What Is a Tactical Flashlight?
While there's no standard definition of a tactical flashlight, traditional versions are used alongside firearms (many have the ability to attach directly to a firearm) in order to quickly illuminate an area or temporarily stun/blind an attacker. In other words, they're used as tools, but not necessarily as weapons themselves.
In order to provide the necessary amount of light, most tactical flashlights feature LED bulbs that put out a minimum of 60 lumens. Comparatively, X800 puts out 800 lumens, which is roughly equivalent to a 60W bulb.
From a construction standpoint, nearly every tactical flashlight you encounter will be constructed of aircraft grade aluminum, so you might consider it a must-have. Most will also feature multiple modes.
Does Shadowhawk X800 Deliver More Features Than the Competition?
ASOTV companies aren't exactly known for providing detailed specs on their products, although you'll find that nearly every options features aircraft grade aluminum construction and LEDs that can last up to 100,000 hours. You'll also find many other flashlights with the same XPE bulb.
X800's manufacturer provides us with some additional information by claiming it puts our 800 lumens, while neither TacLight nor Atomic Beam tell us the same. In fact, with TacLight, we're not even told how far its beam can reach or what kind of batteries it uses.
When it comes down to it, while each ASOTV tactical flashlight might feature a slightly different design (such as X800's telescoping handle), it's been our experience that they're functionally identical.
What about from a price perspective?
How Much Does Shadowhawk X800 Cost?
The Shadowhawk X800 Tactical Flashlight is available in the following quantities:
1 Flashlight: $56
2 Flashlights: $97
Buy 2, Get 1 Free: $117
Buy 3, Get 2 Free: $145
4 Flashlights: $169
10 Flashlights: $350
15 Flashlights: $525
20 Flashlights: $700
Important note: How much you pay for your Shadowhawk X800 flashlight appears to largely depend on which of the company's sites you order from. For example, the above prices were taken from here, while this checkout page featured meaningfully higher prices.
All orders come with free shipping, although no refund policy was listed on any of the company's sites. To learn more, we emailed customer service at support@shadowhawkflashlights.com and will update this review as soon as a response is received.
Comparatively, TacLight and Atomic Beam are both priced at $19.99 plus free S&H. More mainstream options from other manufacturers tend to run in the $40 to $50 range.
Do X800's customers think the higher price is worthwhile?
Customer Reviews for the Shadowhawk X800
While we didn't find much feedback elsewhere online, more than 150 customers left reviews for the Shadowhawk X800 on Amazon, giving it an average rating of 2.7 stars. Interestingly, 56% of these were 1-star.
What is everyone saying? Overall, most compliments appeared to reference its sturdy, compact construction and bright light. On the other hand, most complaints referenced poor quality (whether construction or light output). In fact, more than one reviewer called it "trash," while another claimed it's simply a rebranded—and much more expensive—version of the original Ultrafire 838.
Speaking of which, this Reddit thread talks about the Ultrafire and Shadowhawk models, and claims that if you can get one for the original $6 price, it might be worth it. Otherwise, most contributors mentioned you should save your money and spend it on something that's of higher quality.
Taking all of this together, does this mean you should give the Shadowhawk X800 a try, or should you stay away?
Is the Shadowhawk X800 Your Next Tactical Flashlight?
Ultimately, you're an adult who works hard for your money, and you should be able to spend it on whatever you please. Given this, we're certainly not here to tell you whether or not you should buy an X800 Tactical Flashlight.
What we can tell you is that, in our opinion (we're consumers too!), since the Shadowhawk X800 appears to be functionally identical to dozens of other tactical flashlights, its meaningfully higher price might not provide more value than the competition. And when you also factor in the hundreds of less-than-stellar reviews from customers, this might be even more of a reason to explore all your options before handing over your credit card number.
Even in a best-case scenario though, we're not quite sure how the Shadowhawk Tactical Flashlight will help protect you against domestic terrorism.
Did you decide to roll the dice on the Shadowhawk X800 Flashlight? Were you impressed by its performance, or did it fall flat? Give us all the details in your very own review below!
Horrible buy

By Eric B.

,

Colorado

,

Dec 9, 2019
Verified Reviewer

I bought a half dozen of these for myself and family, after the first charge they all worked. Now not one works and the battery says it is fully charged. Funny how none of the six work. And to be clear, these are all indoors and used on a limited basis, with the exception of one. The rechargeable battery only worked after the first charge.

I spent a lot of money on six and have nothing to show for it.

Bottom Line: No, I would not recommend this to a friend

---

0 out 2 people found this review helpful

Skip it

By Joel E.

,

Minnesota

,

Jan 18, 2019
Verified Reviewer

Propriety rechargeable battery. I would rather have replaceable AAs. Other conventional flashlights will outperform this one and when the battery goes dead I can replace.

Bottom Line: No, I would not recommend this to a friend

---

Advertisement

---

0 out 1 people found this review helpful

Poor quality

By Rod Z.

,

Chicago, IL

,

Dec 31, 2018
Verified Reviewer

This is not an indestructible flashlight or high quality by any means. By simply zooming in and out, the lense came loose and actually fell out. Are you kidding me? I can't get them to respond in order to take them up on the "lifetime" warranty that they advertise.

Bottom Line: No, I would not recommend this to a friend

---

0 out 2 people found this review helpful

Shadowhawk X800 is junk.

By Daniel D.

,

Pennsylvania

,

Oct 30, 2018
Verified Reviewer

I got one brand new as a gift. I think it was good at first. But I don't think I got a total of any more than 2 hours of it being turned on before the "bulb" burned out. With a fully charged battery, it won't turn on.

JUNK! Probably made in China. Everything made there is just JUNK.

Bottom Line: No, I would not recommend this to a friend

---

Advertisement

---

3 out 3 people found this review helpful

I thought they would last longer.

By Hunter L.

,

Ruffin, NC

,

Oct 8, 2018
Verified Reviewer

I bought two X800s about two years ago. Both of the X800s have a lifetime warranty. Both of the X800s are really messing up. They need to be replaced. I thought they would last longer.

They should have a copy of my account and when I bought them. When I turn it on there is a good light view, then it starts doing going dim, and I push the end button again and the light gets bright. I start using it and it starts doing crazy blinking, like SOS, not just flashing on it on. Then I have to start all over again. Both lights need to be replaced. Thank you.

Bottom Line: Yes, I would recommend this to a friend

---

0 out 1 people found this review helpful

I bought the Shadowhawk X800

I bought the Shadowhawk X800 and after a few uses the internal spring that contacts the battery pack broke off. I have to see if they stand by the warranty. I had to wait at least eight months to receive it. This was back when it was all the craze. By then I had moved and waited for my ex-roommate to send it to me. Overall it was a year before I could use it. Also, the rechargeable battery pack wouldn't charge. All said and done, for the $80.00 spent on it, I'm totally disgusted. For a fraction of the cost, buy a cheaper one.

Bottom Line: No, I would not recommend this to a friend

---

16 out 19 people found this review helpful

I bought 5

By Russ

,

Louisiana

,

Dec 5, 2016
Verified Reviewer

I ordered 5 lights, the single battery and lifetime warranty. I paid around $145 for all. I was very disappointed when I got them as they don't seem to put out any more light than a good flashlight I could buy from Walmart for around $10.

My son purchases flashlights from certain companies and I can tell you they put out a ton of light. His cost anywhere from $55 on up to $2000. And they put out like they are advertised.

One of the cheaper flashlights my son has is an 800 lumen flashlight. When I put the Shadowhawk 800 up next to it, his made the light from mine disappear.

From any distance the light puts out a weaker beam than advertised. My son's lights up the whole area like daylight. He sort of scolded me for buying the Shadowkawk but I don't care. It's a good light and works like it's advertised with the exception of the weak beam. I carry them in my vehicles.

Bottom Line: No, I would not recommend this to a friend

---