Shark IONFlex Reviews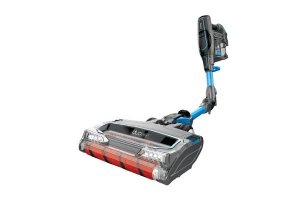 Boasting features like a rechargeable li-ion battery, a variety of useful accessories, and the use of proprietary technologies, the Shark IONFlex stick vacuum claims to make cleaning easy and convenient.
About Shark IONFlex
The Shark IONFlex is a cord-free, ultra light vacuum that features DuoClean and MultiFLEX technologies to help make picking up debris as convenient as possible.
It also comes with a rechargeable lithium-ion battery, a removable garage door for easy brush roll maintenance, LED headlights to illuminate your work area, a wide variety of tools, and the ability to easily transform into a handheld vac to provide floor-to-ceiling coverage.
But is it the right stick vacuum for you? By pulling together everything we learned during our research into a quick-and-easy article, that's the central question we'll help you answer here.
How Does the Shark IONFlex Work?
The IONFlex isn't quite like any other vacuum currently on the market, so let's briefly take a look at some of its important aspects:
IONFlex's Quick Specifications
The IONFlex comes in at 3.8 pounds, just under four feet tall, and features an eight-inch wide brush. It has two filters (a mesh pre-filter and a foam main filter), a 0.3-quart (dry) plastic dustbin, and a lithium-ion battery.
Shark tells us that IONFlex's battery will last between 11 and 23 minutes, depending on mode and the surface being cleaned, while many customer reviews we encountered cited similar 20-30 minute run times.
Technologies Found in IONFlex
Compared to other stick vacuums, perhaps the most obvious difference is that IONFlex's arm bends in the middle for easy cleaning under furniture, which they call MultiFlex Technology. This also allows the vacuum to convert to a freestanding park mode when it's not in use, without having to lean it against a wall or other surface.
IONFlex's DuoClean Technology adds a rotating soft brush at the front, which Shark tells us allows it to grab large particles—even pull in entire piles of debris—while the back bristle brush deep cleans carpet. This front roll is also said to "directly engage floors for a beautiful, polished look."
The model also easily converts into a hand vac for floor-to-ceiling versatility, including stairs, bookshelves, inside automobiles, and other hard-to-reach areas.
IONFlex's proprietary Smart Response Technology provides access to "a range of performance-enhancing power settings, tailored for your cleaning needs on carpets and floors. Simply push the appropriate button, and it will automatically adapt." Let's take a closer look at this in the next section.
Operating the Shark IONFlex
At the very top near the handle is a small display that allows you to turn the vacuum on and off, choose between surface settings ('Carpet' for high-pile carpeting and 'Floor' for bare floors and rugs), as well as suction settings ('Extend Runtime' for everyday cleaning, 'Max Power' for heavy-duty cleaning). There, you'll also find a series of battery indicator lights.
While in use, pressing the MultiFlex Wand button positions the wand at a lower angle to help reach under furniture and other low places. This same button is used to fold the vacuum forward and lock it in storage mode, and to return the wand to its original position when it's time to resume.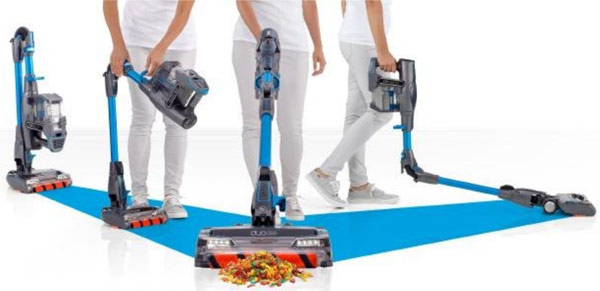 Perhaps IONFlex's most obvious unique feature is the MultiFLEX technology that bends the arm at the middle for easy cleaning under furniture and appliances, as well as folding for upright storage. Credit: SharkNinja Operating, LLC
Once the plastic dust cup is full, you'll remove the handheld vacuum from the wand, position it over a trash bin, and press the Dust Cup Release button on the side, which will empty its contents.
Shark IONFlex Maintenance Requirements
Outside of emptying the dust cup on a regular basis, the only other maintenance outlined in the User's Manual is cleaning the foam and felt filters once per month, both of which simply need to be rinsed with water and air-dried.
IONFlex Accessories
In addition to its unique technologies, the Shark IONFlex's functionality is further expanded by a variety of accessories, which can be added and removed with a click:
Pet Multi-Tool – Features a stiff bristle brush for getting rid of stuck-on debris, while the upholstery tool (revealed by removing the bristles) is ideal for picking up pet hair and lint.
Deep-Cleaning Motorized Pet Tool – A tool that's stored onboard and features a powerful motor for removing "deeply embedded allergens, dirt, and hair from multiple surfaces."
8" Duster Crevice Tool – A slim tool designed to reach baseboards, ceilings, and other tight spaces.
Anti-Allergen Dust Brush – A delicate surface tool designed to remove fine dust and other particles that can trigger allergic reactions.
Under-Appliance Wand – Designed to clean under appliances and furniture using a flexible elbow.
Standard vs. 2X DuoClean: How Much Does Each Shark IONFlex Model Cost?
Although there are a total of 10 IONFlex model numbers, the differences only come down to one of two factors: the number of attachments included, and whether or not it comes with a cord:
Shark IONFlex DuoClean Cordless Ultra-Light Vacuum (Models IF200, IF201, IF202, IF205)
Priced at one payment of $359.70, or six equal installments of $59.95. Includes two Power Pack batteries, a double charging dock, charging cord, Duster Crevice tool, Pet Multi-Tool, Under-Appliance Wand, and Anti-Allergen Dust Brush.
Shark IONFlex 2X DuoClean Cordless Ultra-Light Vacuum (Models IF200W, IF251, IF252)
Priced at a single payment of $419.70 or six payments of $69.95, this model comes with everything found in the standard version, in addition to a Deep-Cleaning Motorized Pet Tool, flexible hose, and accessory bag.
IONFlex Corded (Models HV390, HV391, HV392)
At $299.99, this is the least expensive model in the IONFlex lineup, and comes with a Deep-Cleaning Motorized Pet Tool, Duster Crevice Tool, Pet Multi-Tool, and accessory bag.
All direct orders come with free S&H, as well as a 60-day money back guarantee, less S&H. Through the manufacturer, you can also order additional battery packs and accessory packages for between $19.95 and $179.95, as well as replacement parts from $3.95 to $7.95.
Shark provides a five-year warranty on all IONFlex vacuums, and a two-year warranty for batteries. If covered under warranty, the company provides free shipping from you to the warehouse, free repair or replacement, and will ship it back to you free.
Where Else Can You Buy the Shark IONFlex Vacuum?
The Shark IONFlex is also sold through a variety of in-store and online retailers, including Amazon, Walmart, Best Buy, Target, Bed Bath and Beyond, Kohl's, and QVC, to name just a few.
However, not all of these options were closely priced. For example, Bed Bath and Beyond sold the 2X DuoClean for $449.99 at the time of our research, while Amazon and Best Buy offered the same model for $399.99 ($20 less than even through the manufacturer).
Furthermore, purchasing from a local retailer could also help you save on S&H charges, as well as make returning the product as easy as hopping in your car if you're dissatisfied. Also, be sure to check for any current coupons for in-store purchases, which could help you save even more.
What Can We Learn From IONFlex Customer Reviews?
Across sites like Amazon, Walmart, Best Buy, Target, Bed Bath and Beyond, Kohl's, and QVC, we encountered more than 400 combined customer reviews for the IONFlex, who had given the vacuum an average rating of 4+ stars.
Common compliments appeared to revolve around effective debris pickup, ease of use, good battery life, quality construction, and quiet operation. On the other hand, what relatively few complaints there were often referenced lower quality than expected, insufficient suction, and short battery life.
From a company perspective, SharkNinja is based out of Needham, MA and has been in business since 2004. In addition to the IONFlex, they also manufacture other popular vacuums like the Rocket, Rotator Powered Lift Away, and Sonic Duo.
SharkNinja held an A+ rating with the Better Business Bureau, based on 163 total customer reviews (85 percent of which were negative) and more than 330 closed complaints, as of 1/24/17. Although many of these complaints referenced less-than-stellar support, a company representative responded in each instance with a resolution.
Shark IONFlex vs. the Competition: Which Stick Vacuum Is Right For You?
Before taking a look at third-party models competing with IONFlex, let's quickly zoom out and discuss the class as a whole.
Potential Stick Vacuum Pros & Cons
As we outline in our Vacuum Cleaner Buyer's Guide, stick vacuums are generally priced between $50 and $400 and weigh less than 10 pounds, so they're ultra-portable and can be used pretty much all around the house. And without a cord, you won't have to worry about remaining within a certain distance of an outlet.
However, their cordless design also means you'll always need to make sure you have a charged battery on hand—and even then, they don't exactly have a reputation for tons of power and long operating times.
In addition, the smaller canisters on stick vacuums mean that they fill up quickly and require more frequent emptying than larger models, and their lack of attachments can limit their functionality. And even if they do come with handy attachments, their small size often means that there's no onboard storage.
Taking all of these factors into consideration, we emphasize in the article that stick vacuums are typically ideal for light spot cleanings in smaller areas, as a maintenance measure in between more thorough cleanings.
Decided that a stick vacuum is the right version for your needs? Next, we'll help you choose which models are closest to the IONFlex.
Comparing IONFlex to Other Stick Vacuums
Here were some of the most closely matched popular products at the time of our research:
| Brand | Price | Weight | Special Features |
| --- | --- | --- | --- |
| Shark IONFlex | $299.99-$419.70 | 3.6 lbs | DuoClean Technology w/front soft front brushroll, MultiFLEX technology bends wand in middle for under furniture, 5 tools and accessories, cordless |
| Dyson V6/V7/V8 | $245-$440 | 4 lbs | Converts to handheld, up to 40 minutes of battery power, includes combination and crevice tools, cordless, wall-mounted docking station |
| Proscenic P8 | $150 | 4.5 lbs | 35-30 minute operating time, converts to a handheld, removable battery, crevice and dusting brush tools, cordless |
| Hoover Cruise Ultra Light | $100 | 4.7 lbs | 2-in-1 removable hand vac, can clean hard floors and carpeting, includes crevice, dusting, and upholstery tools, cordless |
| Bissell Bolt | $90 | 10 lbs | Swivel head, detachable dust buster, rechargeable battery, automatic height adjustment, folds up for storage, cordless |
How to pick between all these contenders?
As we outline in our Buyer's Guide, in addition to identifying the type of vacuum you need, your first step should be setting a budget. And as you can see from the options above, they're available at just about every imaginable price point, with Shark and Dyson models at the top end of the price spectrum, and the Bissell Bolt at the bottom.
The next factor to address is how your stick vacuum will primarily be used. For example, if you frequently experience hand or joint pain, have mobility concerns, or simply need something to clean up high, weight could certainly play a big role. As such, while something like the Bolt might deliver from a budget perspective, it's also the heaviest of the bunch.
Do you have someone in the house with allergies? If so, while all of the models above featured two-filter designs, none of them met HEPA specifications.
Since most stick vacuums are cordless, another consideration is runtime, as options like Dyson could deliver up to 40 minutes of cleaning per charge, while some IONFlex modes could reduce operating time to as few as 11 minutes. Obviously, the bigger your home is, the more that operating time (or having a second battery on hand) will play a role in your decision.
Given everything we've covered in this article, what's the bottom line about the Shark IONFlex?
Our Final Thoughts About the Shark IONFlex Cordless Vacuum
The bottom line is that the Shark IONFlex is among the more expensive stick vacuum models currently on the market. In fact, these models are priced in line with luxury brands like Dyson.
However, by all appearances, it seems that the vast majority of Shark's customers report satisfaction with their purchases, so it largely seems that the higher price could deliver meaningfully more value. In fact, the company's vacuums are so highly regarded that seven of Consumer Report's top 10 stick models for 2018 are from Shark.
Does this necessarily mean that the IONFlex is sure to meet your needs? Of course not. But if you're not satisfied, the company stands behind direct purchases with a 60-day refund policy.
Just keep in mind that if you're looking to get one of these vacuums in your hands quickly as possible, save on S&H, and make the return process super simple if you're dissatisfied, you might consider purchasing locally.
Read Next: Learn the Right Way to Vacuum Carpet
Disappointed

By Anne Haun

,

Crestview, FL

,

Mar 4, 2018
Verified Reviewer

I was so excited when I got my Shark ION; I always buy Shark products and love them. However, I was very disappointed with the ION vaccum. Battery lasts for about one or one and a half room, and I do have two batteries, thank the Lord. Dirt canister is very small. I just wasn't happy at all with this vaccum. I will still buy Shark products but not this one. Sorry Shark.

Bottom Line: No, I would not recommend this to a friend

---

Advertisement

---