Shark Rocket Powerhead Vacuum Reviews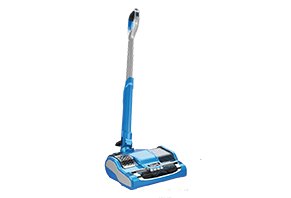 Despite its powerful suction, the Shark Rocket Powerhead Vacuum only feels like a pound in your hand, since all of its weight is centered in the cleaning head.
About Shark Rocket Powerhead Vacuum
The Shark Rocket Powerhead Vacuum is an upright vacuum that can give you "heavy duty cleaning power," without the bulk or weight of the competition. How does it accomplish this?
By placing all of the Powerhead Vacuum's features in its cleaning head, which centers its weight on the floor. This means that its weight in hand is only one pound! Ultimately, this provides the cleaning power of a heavy-duty upright, without the heavy lifting.
On top of this, the Shark Rocket Powerhead Vacuum will never lose power, uses interchangeable brushrolls to remove stuck on dirt and debris, and uses dynamic power steering for effortless maneuverability.
When the rubber meets the road (or your flooring, as the case may be), is the Shark Rocket Powerhead anything special? Will it really help make cleaning easier? Is it worth your hard-earned money?
Let's answer your important questions by first taking a deeper look at the Powerhead's features.
Powerhead Vacuum's Technology & Features
Undoubtedly, the biggest feature on the Shark Powerhead (and its namesake) is the fact that all of its cleaning components, including the dust cap, are contained in the head. As such, the distance dirt has to travel is reduced by up to 80%, providing better cleaning efficiency (including deep carpet cleaning).
And when the time comes, the dust cap features a pop up design that allows you to easily dispose of household debris.
Also compared to the competition, the Shark Powerhead features two different brushrolls; the all-surface roll can handle anything from carpets to hard flooring, while the Gentle Touch brushroll is useful for gently cleaning bare floors. And whichever one you need, the Powerhead's innovative brushroll garage gives you instant access for easy removal and cleaning.
Other Powerhead features include LED headlights, a telescoping handle, easy-to-use fingertip controls that help you transition seamlessly between floor types, as well as useful accessories (more about this below).
How much will all these features cost you?
What You'll Pay for the Shark Rocket Powerhead
If purchased directly through the company, the Shark Rocket Powerhead Vacuum will cost you five payments of $39.95, or one single payment of $199.75.
Regardless of which option you choose, your order will include free shipping and the following:
Shark Rocket Powerhead Vacuum
All Surface Brushroll
Telescoping Wand
LED Headlights
30' Cord
You'll also receive the following bonus gifts (although you'll pay an additional $24.95 to ship these "gifts"):
Shark Lift-Around Portable Vacuum
Hard Floor Brushroll
Brushroll Caddy
During checkout, you'll also find several upgrades, including an additional Powerhead Vacuum at a reduced price and a pet and dust accessory kit. You'll also receive a free VIP lifetime warranty against defects in material and workmanship, which is upgraded from the original 5-year warranty.
All Shark vacuums, including the Powerhead, come with a 60-day refund policy, less S&H charges (and potentially a 10% restocking fee).
In order to request a refund or process a warranty claim, you'll need to call customer service at 800-798-7398.
Finally, if you feel like shopping elsewhere, the Powerhead Vacuum is also available through Walmart, Target, Best Buy, Macy's, Kohl's, and several other third-party retailers.
Now that we've got a good handle on the situation, how does Shark's Powerhead Vacuum compare to other vacuums, from both a price and performance perspective?
How Does the Shark Rocket Powerhead Stack Up?
Arguably, the biggest claimed advantage of the Shark Powerhead is its weight, as well as the fact that the vast majority of this is found in its cleaning head. But how does this compare to other vacuums?
Although there don't appear to be any other popular vacuums that feature these exact same benefits (so we're not comparing apples to apples), here are a few of the competition's weight:
As you can see, with the exception of some of Shark's other models, the Powerhead Vacuum definitely falls at the lighter end of the scale. Are customers finding its light weight to their liking?
Customer Reviews for the Shark Rocket Powerhead
There were two Powerhead customer reviews on Amazon at the time of our research, both of which gave the vacuum 5 stars. There, customers complimented the vacuum's suction and power, low profile and maneuverability, and lightness.
There were another two customer reviews on the Lowe's website, where the Shark Rocket Powerhead received an average of 3 stars. One customer gave it 5 stars, noting its dual brushrolls, effective cleaning, and that it easily transitions between flooring types. However, this same reviewer didn't like that it doesn't have an extension or any attachments that could be used to reach corners, in otherwise tight places, or for removing cobwebs.
The only other customer there gave the Powerhead 1 star, claiming that it's hard to control, ineffective at pulling out pet hair, and is loud during operation.
Finally, on HomeDepot.com, the Shark Powerhead had an average rating of 4 stars, with common compliments citing ease of use (even when the dust cap is almost full), maneuverability, and good suction. Although some customers didn't like the vacuum's small dust cup size, cheaply made filters, high price, short cord, and limited replacement parts.
From a company perspective, Shark (a division of Euro-Pro Operating LLC) seemed to have a mixed online reputation, based on hundreds of consumer complaints on sites like Consumer Affairs, PissedConsumer, and the Better Business Bureau (although the company had an A+ rating).
Overwhelmingly, the most common complaints appear to reference difficulty obtaining replacement parts (whether covered under warranty or otherwise), as well as long wait times for warranty repair/replacement.
Alright, we've covered a whole lot of territory in this Shark Powerhead review. But ultimately, you want to know if it's right for you, so let's bring everything together.
Should the Shark Rocket Powerhead Be Your Next Vacuum?
Pretty much any buying decision you make is based on personal preference, but it's probably even more of a factor when it comes to vacuums. Why?
As we outlined in our Vacuum Cleaner Buyer's Guide, there are a lot of things to consider when purchasing a vacuum:
Are you more interested in light weight or lots of features?
Do you require tools that can help you clean things other than floors (e.g. upholstery, drapery, etc.)? Do you need any special attachments?
What kinds flooring are in your home? Just carpeting or hard surfaces, or a mixture of both?
Are your hard surfaces concrete, tile, or wood? Is your carpeting low or high pile?
Some of these the Shark Powerhead might be ideal for; others, not so much. For example, many customers loved how easy it was to maneuver the vacuum, but didn't like its fairly short cord length. So, if you're vacuuming a large room, you might have to constantly relocate your cord as you move around.
Customers also seemed to appreciate the Powerhead's light weight and the fact that all of this weight was centered in the cleaning head, but didn't like the fact that it doesn't come with any attachments (which, of course, would only add to its weight), or its small dust can.
What can we take away from this? Ultimately, if you're looking for more of a lightweight "powered sweeper" than a traditional vacuum, the Shark Rocket Powerhead might be right up your alley. But if you're expecting this vacuum to be perfect and not to come without its drawbacks (no attachments, only able to clean floors, etc.), then you might end up disappointed.
3 out 6 people found this review helpful

Works as advertised

By Rich

,

Beecher, IL

,

Mar 4, 2016
Verified Reviewer

I usually don't buy from infomercials but did need a new vacuum badly. My old 15 year old electric broom had seen better days so I paid about $291.00 for the Powerhead vacuum, lift away power pod, and allergy accessories. It's like getting two separate machines. One for carpeting and hard floors and another one with the hose accessories for getting those hard to reach spots. The suction on both machines is great. The only problem I had was changing the hard brush and soft brush. It has to be lined up perfectly or it won't spin properly. There's a green light on the Powerhead to let you know if everything is ok, if not you risk overheating your motor. I also had a problem emptying the cup and putting it back in, but after a few tries I'm getting the hang of it. I decided to buy the newest on the market and so far I'm glad I did. I would've bought this at Walmart but they're only selling the older versions of the Shark, Bissell, and Dyson models and they didn't have the extra lift away with the pet & allergy package.

Bottom Line: Yes, I would recommend this to a friend

---

Advertisement

---