Shark Rocket Reviews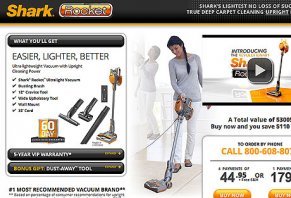 The Shark Rocket is a stick-type vacuum that's claimed to provide lightweight ease of use and better suction than the competition, while using less energy.
About Shark Rocket
Shark claims to have revolutionized vacuuming with their new portable unit called the Rocket, which is claimed to be easier, lighter, and to clean better—more suction with less energy—than their rival Dyson's machines.
Claiming to be the number one most recommended vacuum brand in the US, Shark Rocket is made and sold by Euro Pro, LLC, a houseware appliance company based in Newton, MA. They are not accredited by the BBB and had a D+ rating at the time of our research due to nearly 100 complaints in the last 3 years.;
Understanding How the Shark Rocket Works
The Shark Rocket is a 500-watt, streamlined handheld vacuum cleaner that's claimed to have "every unnecessary ounce" trimmed away to provide you with a
small unit that houses the motor and dust cup, along with an ergonomic handle and operating switch. Different types of hoses can be attached to this base, but when it's in the upright mode, a long, thin plastic tube they call a Cleaning Wand becomes the body, while a unit that contains a motorized brushroll serves as its rolling base.
What About Size?
Overall, the Shark Rocket's full dimensions are 22.8 x 10 x 31.9 inches, and it weighs 11.9 lbs (although in their video they claim it to be 8 lbs).
According to the company, Shark Rocket will not only replace a larger upright vacuum, but it will also clean better than a Dyson full-size upright and Dyson Digital Slim (DC 44), all at half the price. They say this is due to the "advanced electronics" it contains its micro transmission technology, which is claimed to give you true deep carpet cleaning without loss of power or suction.
Shark Rocket Uses
Shark Rocket's manufacturer claims that there are many different ways to use the vacuum. For example, when it is upright (as explained above) they say you have two speeds for the brush roll. Plug the unit in (it comes with a 32-foot power cord) and select the setting for carpet or hard floor as needed. Then, start vacuuming; they say its swivel steering will make it easy to maneuver around furniture and into every nook and cranny.
Not only this, but the Shark Rocket is also claimed to have been designed to make the transition from floors to walls and ceilings "effortless" and to clean "anything anywhere". They say this makes it perfect for everything from deep cleaning to quick pick-ups and dusting. The Shark Rocket comes with attachments they say are designed for a variety of surfaces, including furniture, ceiling fans, vents, counters, drapes, window sills, under appliances, and even in your car.
Shark Rocket Extras
The Shark Rocket is also claimed to be the ultimate pet vacuum with its exclusive attachments that are specifically designed to pick up dog or cat hair. A pet/upholstery tool for removing pet hair and dust from curtains or other more delicate items and upholstery is also included. For an "upgrade fee," a motorized hand tool for use on ground-in dirt on carpeted stairs and upholstery can be added to your order, which is claimed to stand up to the heavy use and extra wear-and-tear that pet hair puts on a vacuum's motor.
How To Clean the Shark Rocket
When the Shark Rocket's dust cup is full, they say you can quickly empty it with the push of a button and dump it in the trash, while its filters are washable, high-quality, and never need replacing. When you are finished using your Shark Rocket, hang it (and the optional accessory bag) from its storage hook on the wall mount, which they say takes up less closet space.
Each Shark Rocket order comes with:
Shark Rocket Ultralight Vacuum (Model HV300)
Dusting Brush
12" Crevice Tool
Wide Pet/Upholstery Tool
Wall Mount
32' Cord
Dust-Away Attachment with washable microfiber pad
Accessory bag (with upgrade)
Motorized Hand Tool (with upgrade)
Under Appliance Wand (with upgrade)
Home & Car Detail Kit (with upgrade)
18" Flexi Crevice Tool (with upgrade)
Multi-Angle Dusting Brush (with upgrade)
5-Year Warranty
60-Day Money Back Guarantee
Shark Rocket Pricing, Shipping, and Returns
The Shark Rocket is priced at 4 payments of $44.95, or one payment of $179.80, with free S & H.
During checkout, you'll also be given the option to "upgrade" your order with some of the items listed above for an added price of $89.90 plus $9.95 shipping, bringing your grand total to $279.67 (although the math doesn't quite add up, since the total should be $279.65).
In addition, they offer you many other head-spinning options and upgrades, including blenders, mops, lifetime warranties, and priority processing. As such, by the time you check out you may have spent considerably more than you initially intended. That said, we do like their generous return policy, which gives you 60 days (they'll pay to ship it back) and 5-Year Warranty, which also includes free shipping both ways.
Shark Rocket vacuums are also available through Amazon and other third-party retailers.
Bottom Line: Is Shark Rocket a Scam?
A vacuum is supposed to have a strong suction, and at least from this perspective, the Shark Rocket seems to do a pretty good job.
However, people tend to be very picky about their vacuums and this product (and Shark in general) has its share of haters. If you can't find Shark Rocket at your local big box outlet, order online from them with confidence - but be careful during checkout!
For more tips, be sure to read through our in-depth Vacuum Cleaner Buyer's Guide.
Rollers

By Janice P.

,

Grand Rapids, MI

,

Mar 29, 2019
Verified Reviewer

I have continual human and dog hair that keeps tangling in the roller head. Has to be cut out. Very disappointed in my purchase. I would advise everyone to save their money and find a better product.

Bottom Line: No, I would not recommend this to a friend

---

Very disappointed

By Jo H.

,

Illinois

,

Oct 12, 2018
Verified Reviewer

I loved it until it broke. I called customer service, explained I have two Rockets and on both the hose has split apart, and of course, it's not usable. The rep I spoke to was a joke at best. I asked if this was a common problem, oh no, it's not? Then why is there a YouTube video showing how to replace it? Anyway, he wanted me to buy new heads for $99.95 but they would forgo the $45.00 shipping fee. You can buy a hose on the internet for $19.00, which he said you couldn't. Well, the supervisor never called me back. They lost a customer over a $19.00 part. I will not buy another Shark anything, and Ninja as well. No, I would not suggest buying this product.

Bottom Line: No, I would not recommend this to a friend

---

Advertisement

---

Worst ever

By Ramona S.

,

West Virginia

,

Jun 4, 2018
Verified Reviewer

I am 64 years old. I have had several vacuums in my life. This is absolutely the worst I have ever owned. It doesn't even pick up dog hair. Hard to maneuver and so top heavy it has to be put by a wall to stand it up. I have used it for a whole year. So my review is legit. I hate, hate, hate this so-called vacuum.

Bottom Line: No, I would not recommend this to a friend

---

My Rocket rocks!

I bought my Shark Rocket three years ago, being the OCD queen of clean, I've always bought the better vacuums - Electrolux, Oreck, Dyson, to name a few.

I decided to give this lightweight a try not wanting to believe something so small would perform like my other high-priced models.

With $179.00 dollars of pure power, this machine has become my favorite most used appliance I've ever owned. I love my Rocket. It's easy to use. I have rheumatoid arthritis so I can't say enough about the ease it is to use being so lightweight. I clean the dust cup after every use, wash it out along with keeping the washable filter clean with a soak of warm water and soap.

I thankfully recommend Shark Rocket to anyone who needs to keep a clean home with ease!

Bottom Line: Yes, I would recommend this to a friend

---

Advertisement

---

Mediocre performance

The Shark Rocket's performance is at best mediocre. Suction is only fair as evidenced by its ability to pick up debris along the edge of a wall and having to go over a bare floor twice to pick up all the dirt. If you go slowly, it performs better, but that also means more time. Its suction does not compare to our low-end Kenmore canister or any of the other vacuums we've had.

The Rocket is back heavy, so comfort is poor. My wife, late 50's, will not use it because it hurts her arm even for small jobs. Maneuverability is cumbersome given the bulkiness on the back end. Vacuuming the whole house can be uncomfortable. The dust canister does not hold a lot, and if you have pets, the hair forces you to have to pull out the debris by hand.

Bottom Line: No, I would not recommend this to a friend

---

Highly disappointed.

Tuttle, OK

,

Sep 28, 2017
Verified Reviewer

I wish I could give this a negative star. Oh well.

I'll start by saying I have both a Dyson and a Rocket. I've had the Dyson for four years and thankfully no problems with it.

I purchased the Shark Rocket last year at the beginning of December. After about eight months, it lost its suction. Funny how they advertise that it never loses suction, but oh well. I called customer service today. WHAT A JOKE. The guy I spoke with had me troubleshoot with him over the phone. The vacuum would only turn on if it was hooked into the floor accessory. The wand and handle would not work at all. No suction at all. It would just push dirt around.

He questioned if my outlet plug was working. I responded with "well, yeah, or else it wouldn't have even turned on." I told him that I had a lamp plugged into it and have never had a problem with it.

After we finished all the steps, he informed me that they could send it off to have it repaired and I would need to pay $19.95 for return freight. I refused and said that this equipment hasn't even lasted eight months. Why should I have to pay anything? He stated that was their policy. I asked him again to explain why I should have to pay anything when their product was defective. He told me that if I didn't want to pay that I could always buy a vacuum cleaner from another company. Wow, great customer service.

I then asked to speak with a supervisor. After about 15 minutes he came back on the line to inform me that all the supervisors were "unavailable." I always thought the customer came first, but guess I was wrong. He then told me that they could give me a call back in 2 to 4 hours. Unacceptable. The supervisor finally called me back three hours later. I guess I should be grateful they stayed within the time block.

The supervisor then informed me that their policy was to charge the $19.95 for return freight. I told her that was not going to happen. I'm not paying to have something shipped back to me when the falsified that it never loses suction.

I told her that I would be taking their advice and buying a vacuum from Dyson. At least I know what to expect and that they stand behind their products. How I've had the same one for four years and not a single problem with it. Amazing how I've only had the rocket for nine months and can't even use it.

In closing, I just want everyone to know how they treat their customers. It isn't right. And that is definitely not the correct way to treat a customer. They should feel like a top priority, not just another number. I will make sure none of my friends, family or anyone else know not to purchase one. Pay the extra money and get a Dyson.

Sincerely,

Former customer.

Bottom Line: No, I would not recommend this to a friend

---

Customer service issues

By Jill Smith

,

Portage, MI

,

Sep 21, 2017
Verified Reviewer

I purchased a Shark Rocket model number NV48026. Just a year and ten months later, the metal wand snapped in half. They sent me a new one. Then ten months after that, the switch inside that new wand broke, and it would not snap back in place on the canister part. They decided to send me a new wand (again), and I have to pay the $6.31 tax and shipping for a part that lasted less than a year. They said this is their policy.

Bottom Line: No, I would not recommend this to a friend

---

Defect in design

My Shark Rocket is two years old. When I went to empty it yesterday, the dust cover broke at the hinge. Has this happened to any one else? I was liking it before this. All I did was open it up, and when it swung open, it broke. Besides taping it shut in order to use it, what can I do?

Bottom Line: No, I would not recommend this to a friend

---

The Shark for me

Well, I ordered this Shark from QVC and it did come with assets, however, I am 5'2" and weigh about 115 lbs. If you are anywhere near my size, don't buy this thing.

You can't adjust the height, and it is so top heavy there is no way you can lift it to clean up high. Because it is so top heavy it does not stand up by itself and you have to lay it down. It also does not let me move it around easy as I have to use two hands. Many, like me I am sure, have hardwood floors and carpets on them also. Now you have to change the head to do carpets and hardwood.

It does do a good job with the pickup, and that is it.

Bottom Line: No, I would not recommend this to a friend

---

Have wanted this for years

Omg, I absolutely love my rocket. I have wanted this for years, and I got mine for only $160.00 with six easy payments and free shipping, and all the attachments came with it from QVC, which is the best place to shop for me!

We have a black lab, and my Bissell did not ever get all the dog hair up from the stairs and couch, the Shark got it all so quick and easy. I couldn't stop cleaning, and it was truly amazing! I can't wait to use in our cars; I love all those attachments. I have to say when I was done cleaning the house, it had an amazing deep-down, clean, fresh air feel to it, like you knew you definitely got a deep cleaning done. I did the walls, all the stairs, hardwood, carpets, and furniture. It truly works great and fast.

The only this I would love is the black stand with the base (I saw on an infomercial where the Shark snaps right into the stand), I think that would be a more convenient way to store it. If that is available, please let me know.

My family and our black lab thank you Shark! My only regret is that I didn't buy this years ago.

Bottom Line: Yes, I would recommend this to a friend

---

Rocket True Pet

The vacuum (Rocket HV322) itself is wonderful. We also have a Lift-Away, that we've had for years and love, which is now going to the garage for the workout area/cat littler-box cages. The True-Pet does a great job and is fairly quiet compared to the Dyson Animal we had. Maybe a little too great, have to empty the container multiple times because of the Arizona dust. The longer cord allows us to do our house with two plug-in spots. With the Lift-Away we had to use three different plugs. The top end is heavier on the Rocket, but it moves nicely across carpet & linoleum. You have to switch to bare-floor mode for throw rugs.

If I had a complaint it would be the wall mount bracket -- very cheesy. But the Rocket stands up in the closet just fine.

Good Job Shark. Fix the darn bracket thing.

Bottom Line: Yes, I would recommend this to a friend

---