Shark Rotator Powered Lift Away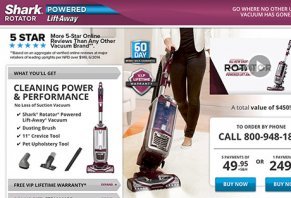 The new Shark Rotator Powered Lift Away claims to be a 3-in-1 vacuuming system that can help you clean your home, from ceiling to floor, in less time.
Shark Rotator Powered Lift Away Review: Is It Worth It?
The newly release Shark Rotator Powered Lift Away is claimed to be an advanced bagless upright vacuum that combines the cleaning power of a Shark upright, the convenience of a portable lift away, and the ease of use of a traditional canister, to help you clean your home floor to ceiling and anywhere in between. And by delivering superior, deep carpet cleaning, advanced swivel steering, quiet, lightweight usage, and Lift-Away technology at the push of a button, the Powered Lift Away claims to "go where no other upright vacuum has gone before."
If you just watched an infomercial or TV commercial for the Shark Powered Lift Away vacuum, you're probably all hyped up, not just at its cleaning potential, but at its relatively low price as well. But can the Powered Lift Away really help you clean better and faster, and is it worth the money? Let's find out.
Shark Powered Lift Away Features
When compared to other vacuums, the Powered Lift Away from Shark is claimed to provide you with 3 distinct ways to vacuum, all with one powerful machine: Upright, Lift-Away mode, and using a quick release power nozzle with a motorized brush. Shark claims that in upright mode, the Powered Lift Away uses advanced swivel steering for the ultimate in maneuverability, which can be made even more maneuverable by easily detaching the canister, allowing the motorized cleaning head to reach the tightest places and under the lowest spaces. Then, you can use the power nozzle to clean areas off the floor, such as bookcases, vents, ceiling fans, and more.
Regardless of which mode you're using the Powered Lift Away in, Shark claims that the vacuum features advanced cyclonic technology that separates the dirt from the air, keeping it from clogging filters, as well as patented, never-loses-suction technology, which is claimed to provide more consistent cleaning power for every surface of your home. Also, the Shark Rotator Powered Lift Away is claimed to feature an extra large dust cup and anti-allergen complete seal technology that traps over 99.99% of dust and allergens inside the vacuum.
Other Shark Powered Lift Away Features include a motorized brush that deep cleans a variety of surfaces, and the ability to adjust the amount of suction needed for cleaning hard floors, high pile carpets, and area rugs, or when using the accessory tools for cleaning delicate fabrics. In fact, the manufacturer claims that the surface selection buttons are located directly on the Powered Lift Away's handle, right at your fingertips. In addition, each Powered Lift Away vacuum includes an LED illuminated handle and headlight, on-board accessory storage, and washable filters.
Shark Rotator Powered Lift Away Pricing and Refund Policy
If purchased directly through Shark, the Powered Lift Away is priced at 4 payments of $49.95 or 1 single payment of $249.75, plus S&H charges, and includes the following:
Shark Rotator Powered Lift Away Vacuum
Dusting brush
11" crevice tool
Pet upholstery tool
Bonus Gift: Shark Light & Easy Steam Mop
Note: the Shark Rotator Powered Lift Away is also available through Walmart, Kohls, Target, Bed Bath & Beyond, Best Buy, and numerous other third-party retailers, sometimes for less money.
All Shark vacuums, including the Powered Lift Away, come with a 60-day money back guarantee, less S&H charges. These vacuums also come with a lifetime warranty, which means that if your Powered Lift Away fails for any reason at any time, Shark will pay for return shipping, repair or replace the vacuum, and then will ship it back to you for free.
In order to initiate the refund process or file a warranty claim, you'll need to contact Shark customer service at 800-798-7398.
Bottom Line: Is the Powered Lift Away the Best Vacuum for Your Money?
Just like anything else, you'll find that every vacuum manufacturer claims that their product cleans better than the competition, and provides you the highest level of performance for your hard-earned money. In fact, Shark claims that the Powered Lift Away even cleans better than Dyson's best vacuum. But when it comes down to it, can you expect the Shark Rotator Powered Lift Away to clean better than the competition? Perhaps, but keep in mind that the Powered Lift Away is a very new vacuum, which means that there are currently no online customer reviews related to the product.
However, the Powered Lift Away is manufactured by Euro-Pro, LLC based out of Newton, MA, who also manufactures a variety of other vacuums under the Shark brand name, including the Rocket, Sonic Duo, as well as the Ninja line of cooking devices. While these products appear to have a primarily positive online reputation, some common complaints include inadequate suction, that it does not clean as well as some of the competition, and have a tendency to quit working after only a few uses. With this said, it appears that Shark stands behind their products and customer support makes it easy to return/replace any defective units.
Ultimately, based on online customer feedback about the company's other products, it's likely that you'll be pleased with your Powered Lift Away vacuum. However, if you'd like to avoid the hassle of shipping it back to the manufacturer in the event that you're not satisfied, you may want to purchase your Powered Lift Away from a local retailer.
Shark Rotator

By Eileen quinn

,

Columbus, OH

,

Sep 9, 2015
Verified Reviewer

I would not recommend this product or brand. I purchased at Sears for $244 in April 2015 and have had it for four months. The part cannot be replaced or repaired hose elbow to unit. The only option that was available when I called customer service was just to return the defective unit by paying $50 in shipping plus their fee of $19.99 just to ship back the repaired unit or just purchase a new one at a discounted price to buy for $100. Anyway, I lost a lot of money.

Bottom Line: No, I would not recommend this to a friend

---

Shark Lift Away

By Janet

,

Turlock, CA

,

Jan 19, 2017
Verified Reviewer

The vacuum does the trick alright, but I had to discount my rating because it is WAY too heavy for me to push and turn with. To convert it to the canister vacuum, it was confusing, and I wasn't able to put it back to the original. The manual is not simplified, so I had to wait and ask my son to put it back to normal. I wish I had purchased a different brand. I spent 300 bucks too. Unreal.

If you are a senior, do not buy this unless you lift weights at the gym. Also, you wouldn't believe what I had to go through just to post this.

Bottom Line: No, I would not recommend this to a friend

---

Advertisement

---

Be careful. They really charge $388.30.

The vacuum is good, but the ad is misleading. You will pay more than five payments of $49.95. We were shocked to find that we really paid 388.30. We called to find out why and were told it was because of the extra shipping cost, and some of the extras that seemed to be free are charged. Since we don't use them, we offered to return them, but they said no.

I would never recommend a company that is deceitful.

Bottom Line: No, I would not recommend this to a friend

---

Payment option is bogus

I ordered the new Shark vacuum and set it up on the PayPal option for eight payments. They took the whole $419.00 out of my account. When I called less than 24 hours later, they said the PayPal option wasn't available and the order was in process. What a bunch of crap.

It's websites like this that make people not trust companies. I wish the big wigs would read this, but I'm sure some underpaid office person will read it and move on. You guys are the worst!

Bottom Line: No, I would not recommend this to a friend

---

Advertisement

---

So so

By Paul

,

Dallas/Fort Worth, Texas

,

Sep 13, 2016
Verified Reviewer

After reading some reviews I purchased this unit. It just does not have enough suction. The accessories work well and love the swivel and lift off feature. However, I have to go over my floors with my older vacuum to do the job right. I would not recommend. I only have wood floors and one big throw rug. To me, this was a waste of my money. So sad. Never again.

Bottom Line: No, I would not recommend this to a friend

---

Poor belt access design

By Deann S.

,

Ohio

,

Feb 27, 2019
Verified Reviewer

Only used a few times and the belt came off.

It says to use a T20 bit for some of them. Three out of four came out and it wouldn't fit in one of the screws. Ended up using a small reg screwdriver to remove it. Takes a minimum of one hour to replace. I've owned many sweepers and this is the worst.

Bottom Line: No, I would not recommend this to a friend

---

It depends on your expectations

By Bamafan

,

Cordova, AL

,

Aug 2, 2016
Verified Reviewer

I had purchased a used Rainbow for a couple of hundred dollars and wanted to test the claim of the Shark. The main feature that I was curious about was the suction compared to Dyson. I don't have a Dyson, but did buy a small "Dust buster" type Shark a few years ago that quit working a few months after purchase. Instead of all the accessories that they show on the infomercial I just wanted to see how well it vacuumed my carpet. I used it twice to make sure I gave if the full benefit of doubt. It picked up a lot of stuff, but I noticed that where I had to move my throw rugs when using the Rainbow, the Shark didn't pull them up at all. Finally I went back over my work with the Rainbow and the water got muddy just as I was afraid of. I didn't expect it to be entirely clean, but quite a bit of dirt was left after 2 uses. I'll be returning the $400+ Shark as soon as I can figure out how to get it back in the box.

Bottom Line: No, I would not recommend this to a friend

---

Works better than advertised

I was in the market for a new vacuum since the one that I owned was no longer working properly. I had heard about the Shark and all of the incredible things that is was SUPPOSE to do. I looked at other vacuums and compared (reviews) and decided to take a chance on the Shark Lift Away. If it did not work as advertised I would take it back and chalk it up to "good advertisement." I brought it home and put it together (which was pretty easy) and started vacuuming. It works better (much better) than advertised. I used it in the different configurations and it HIT THE MARK.

The litmus test was whether it would PICK UP ANYTHING. Well it passed the test with flying colors. At present it seems to be an outstanding product. I would definitely recommend. For the money it is excellent.

Bottom Line: Yes, I would recommend this to a friend

---

Great suction, would still redesign dust catcher

By Ruth

,

Indianapolis, IN

,

Feb 9, 2017
Verified Reviewer

When my 4 and a 1/2 years old Dyson for Pets broke, I shopped around for another vacuum suitable for cleaning up after two golden retrievers. I have a Shark Navigator at my other house, and it works great. It is easy to use and versatile, especially that the large dust catcher is super easy to empty (you just open and dump).

I was excited to see a pet version and thought I'd give it a try. I have never tried the canister set-up, and I am continually stunned at the amount of hair, and unfortunately, dirt, that the vacuum picks up. It is much stronger than the Dyson ever was.

The only complaints I have is that when using the wand option, the base often will tip over. That is really minor; just something to be aware of. The main thing I run into every time is that the hair gets twisted around the center cone in the dust catcher and then fails to move on to the larger cavity. I always open the bottom of the dust container, and about 10% falls out, while the remaining 90% is found when I open the top of the dust catcher and pull it all out. This just seems like a design error, but really doesn't affect the function. You just empty it as needed.

I would still recommend buying this vacuum, with or without pets!

Bottom Line: Yes, I would recommend this to a friend

---

Awesome

My kids were unhappy with the Dyson pet vacuum so I bought the Shark Powered Lift Away after watching the infomercial. After one use, I have moved the Dyson to a closet for an emergency back up vacuum. The lift away is awesome and I'm delighted with it already. I can't comment on the reliability or longevity as I just opened the box today, but I sure hope it lasts because, I love it!

Bottom Line: Yes, I would recommend this to a friend

---

Golden Retriever Breeder

By Brenda

,

CA

,

Jun 2, 2016
Verified Reviewer

As a dog breeder, my house is always full of dogs and puppies. Golden Retrievers are long haired dogs. I also have a severe spine injury that makes vacuuming painful. I live in the desert, so lots of dust with the dog hair.

I saw the Shark Lift Away infomercial and decided to give it a try. I did exactly like they did on the commercial and vacuumed and cleaned thoroughly with my old vacuum, which was a Bissell pet model. My third one in 2 years, I just wore them out.

What an eye opener. I thought my house was clean until using this product! In one room I emptied the dust cup 6 times. No matter what I did I had no loss of suction. The sealed system only requires cleaning the reusable filter every 3 months. Just wash it out and let it dry, that easy. No expensive filters required.

It is so light and easy to use I can vacuum all day compared to just a few minutes with other products I've used, and with no neck pain. It goes right under the furniture and around it with no effort on my part. I can hold on with one finger, it does the work for me.

With my order I received all kinds of free extras and free specialty attachments. I even received a free steam mop. I didn't have to pay shipping on those items either. It did cost around $300 for the vacuum itself, but after using the vacuum and all the attachments I would gladly pay double.

It has an amazing warranty, and it does what it says.

My Shark Lift Away is 9 months old and still runs like the day I took it out of the box. I am a Shark customer for life. I plan to buy one for my daughter for Christmas, with a house full of kids and several pets it is a must for any family. I tell all of my clients about it. Do yourself a favor and give it a try, they guarantee you'll like it or your money back.

Bottom Line: Yes, I would recommend this to a friend

---