Shark Rotator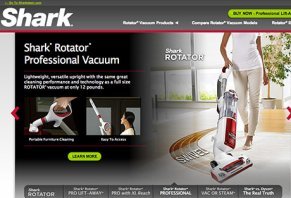 The Shark Rotator vacuum claims to feature a powerful motor and enhanced swivel steering, and to deep clean carpets better than Dyson.
Shark Rotator Review: Is It Worth It?
If you've been searching for an upright cyclonic vacuum with swivel steering technology, the Shark Rotator claims to deep clean carpets better than Dyson at 1/3 the price. If fact, the company claims to be America's most recommended vacuum brand.
But can you realistically expect the Shark Rotator to clean better than a vacuum that costs nearly three times as much? Let's suction up the facts and see what they have to say.
Shark Rotator Details and Features
The Shark Rotator is a lightweight upright vacuum that features enhanced swivel steering technology that is claimed to help you easily move around obstacles and under furniture. In addition, the Shark Rotator is claimed to clean carpets, hard surfaces, and hard-to-reach areas equally well.
The Shark Rotator also features powerful headlights and ergonomic handles, as well as:
A powerful motor that never loses suction, and cyclonic technology that separates dirt from the air.
Anti-Allergen Complete Seal Technology™ that captures and holds over 99.9% of dust and allergens inside the vacuum.
Brushroll control that automatically adjusts to different surface types.
Ultra-quiet operation
Lifetime Belt and Filters – Both are claimed to last the life of your vacuum.
Shark currently offers four distinct models of Rotator vacuums:
Professional – Uses Shark's Lift-Away technology, combined with a lightweight and portable design that lets you clean anywhere you need. Includes an 11" crevice tool, dusting brush, and premium power brush.

Professional Lift-Away – Features an extra-long stretch hose, a multi-tool, 24" flexible crevice tool, multi-angle dusting brush, and wide upholstery tool.

Professional with XL Reach – Lighter and slimmer design than the Professional Lift-Away model, but uses the same technology to allow you to clean hard to reach areas. Includes a multi-tool, 5.5" crevice tool, and 18" flexible crevice tool.

Vac or Steam – Features 2-in-1 vacuum and steam heads, a crevice/brush combo tool, and 2 multi-purpose steam pads. At 10.0lbs, this is the lightest Shark Rotator model.
Shark Rotator Pricing and Refund Policy
The Shark Rotator Professional model can be purchased directly through the company for $199.80 plus $39.85 shipping and handling. Like most "As Seen on TV" products, you'll be offered numerous upsells during checkout, including the addition of a canister caddy kit, straight suction nozzle, and car detail kit for $99.90. You'll also be able to purchase a second Shark Rotator at a 20% reduced price, add priority processing, and purchase a lifetime warranty.
Other Shark Rotator models can be purchased through third-party retailers such as Amazon.com, QVC, Best Buy, Walmart, Bed Bath & Beyond, and more. These range in price between:
Professional Lift-Away: $250-$300
Professional with XL Reach: $180-$200
Vac or Steam: $300-$320
All Shark Rotator vacuums purchased through the company come with a 60-day refund policy, less shipping and handling charges, as well as a 10% restocking fee.
What Do Other Consumers Have to Say About the Shark Rotator?
The Shark Rotator is manufactured by Euro-Pro Operating LLC based out of Newton, MA, who also manufactures the Shark Rocket and the Shark Sonic Duo. The company holds a D rating with the Better Business Bureau, based on more than 130 closed complaints, most of which appear to reference problems with the product.
Outside of the BBB, the Shark Rotator vacuum appears to have a primarily positive online reputation, although some of the most common complaints we found referenced insufficient suction, a hose that does not extend easily, and poor customer service.
What's the Bottom Line About the Shark Rotator?
Although the Shark Rotator appears to offer similar steering technology as the Dyson DC65, it's less than a third of the price and claims to perform better. But is this really the case?
Based on several professional reviews we read during our research, the answer is: No. In addition to insufficient suction, some of the most common complaints we encountered cited a hose that does not extend easily, and poor customer service. In addition, keep in mind that the Shark Rotator's attachments don't fit directly to the vacuum, which means that they'll be easier to lose and that you'll have to keep going back and forth to get them while cleaning.
With this said, the Shark Rotator lineup appears to have a positive online reputation. In fact, even among reviewers who gave the vacuum a less than perfect rating, they still gave it high marks for value. In other words, while it may not actually perform better than a Dyson, and while it may have its own set of flaws, most customers feel that it's worth the price.
However, we would recommend purchasing the Shark Rotator directly from a retailer near you. This way, you may be able to avoid shipping and handling charges and the 10% restocking fee if you decide to return it.
1 out 2 people found this review helpful

Don't buy Shark

By Thomas H.

,

Temecula, CA

,

Jun 26, 2019
Verified Reviewer

After 3 years of light use, the floor, nozzle which is a big one, disintegrated because of light plastic, possibly because the weight of canister is too much when used as an upright. I have ordered a new nozzle assembly ($116). In the future will use it in canister mode so there will be no weight on the nozzle.

Bottom Line: No, I would not recommend this to a friend

---

2 out 2 people found this review helpful

Outstanding vacuum

By Colleen T.

,

Riverside County, CA

,

Jun 6, 2018
Verified Reviewer

I purchased the Shark Rotator Professional (not the lift away) eight years ago. Wow...this has been one fantastic vacuum!

I have never had a problem with it that required professional repair. I empty the canister and clean the filter every time I used it. I'm not talking about washing the filter, just shake out the excess dirt. A few times I sucked up cat toys or Kleenex. It was easy to find the clog; usually, they are in the same spot that is an access spot behind the canister. Twice I had to shine a flashlight into the hoses and look for plugs. I easily found them both times and just pushed them through with a yardstick or wire hanger. The suction is great, and I always have long-haired cats.

Before this vacuum, I had a Fantom Fury. It was a waste of money. The belt was always snapping. The repair place finally put on a looser belt, which resulted in less suction. I never had the belt snap on my Shark Rotator. Just follow the instructions for maintenance and check the rollers after using to make sure there are no strings wound around them. Actually, I recently "won" a new vacuum cleaner in a contest. I'm debating whether to keep it or sell it, or sell the used Shark.

I keep thinking that it's about time for my Shark to die, but it doesn't. Actually, it looks like brand new. I'll probably just store the new one away until the day comes that I need it.

I would not hesitate to recommend the Shark vacuum cleaner to anyone. Yes, I suppose it is possible to receive a defective product in anything you buy, but the warranty should cover that. However, some people are just plain lazy and never do the most basic of maintenance. I certainly did not do any extreme maintenance, and the Shark Rotator has been a big winner for me! I would highly recommend it to anyone.

Bottom Line: Yes, I would recommend this to a friend

---

Advertisement

---

0 out 1 people found this review helpful

Shark vacuum cleaners are a rip-off scam.

By Donald Itjen

,

Hedgesville, WV

,

Mar 19, 2018
Verified Reviewer

Shark Ninja vacuums really suck, but they suck in the WRONG WAY. This product is an unusable piece of garbage. The support people are grossly negligent foreigners who are doing nothing competent to replace the factory defective parts. They illegally REFUSE to even let me talk to an American, as REQUIRED by law. They REFUSE to even give me a mailing address where these jackasses can be mailed registered letters for court. I have reached the absolute limit of my patience with this rip-off company!

In fact, I believe the support people are just con-artists committing a fraud scam on the customers. Of course, the problem is still NOT resolved and probably never will be resolved since this is a rip-off company. I had no alternative but to file criminal charges with the Attorney General's Office. Never buy a piece of junk Shark product! You WILL live to regret it, spread the word to everyone.

I received this vacuum cleaner for Christmas on 12/25/2017. It has never worked right since I first got it. Brand new, it doesn't work! It will never work right due to the horrible product quality and horrible customer support. The quality control totally sucks and the warranty isn't worth the paper it's written on.

Here's my horror story with Shark:

Please keep in mind that my brother asked me what kind of vacuum cleaner I wanted for Christmas, since I was talking about getting one. He needed a Christmas present idea. I said I wanted a really good motorized pet brush since my dog sheds a lot. Shark falsely claimed to have a really good motorized pet brush with their defective "Powered Lift Away" vacuum. That was a bold-faced lie. It NEVER worked right; it's a fraud! Unfortunately, I threw my old "dirt sucker" in the trash and started using this piece of crap Shark vacuum. Big mistake, my old $99 Dirt Devil is much better quality than a $300 Shark.

It didn't take long to figure out that Shark is a low-quality piece of junk when I used the Pet Brush for the first time. The "True Pet Motorized Brush" never even started spinning. It was a factory defect from day one. Read on, it gets so insane it's unreal.

I called Shark's customer support. I told the woman my issue with the "True Pet Motorized Brush," and they sent me a replacement a few weeks later. I looked at it and noticed that it's a little different from the original one. It looks the same except there's no way to open it up to easily remove the fur from inside the brush. It included the instructions for doing this, but it was a slightly different Pet Tool than the original one, and the instructions didn't match the tool. I used it anyway. I cleaned the upstairs chairs, and before I finished, it stopped working and was useless. Read on, it gets even more insane.

I called Shark's customer support again. This person told me that "Motorized Pet Brushes" don't even exist! I was sitting there with it in my hand and told her the exact words on it and everything. She rudely wouldn't shut her mouth and let me get a word in edgewise after that. I was trying to get this arrogant moron to understand reality while she yelled at me and called me a liar. After she wouldn't even let me say anything, she rudely hung up on me. If you think that's insane, read on, it gets even more insane than this.

So, I called Shark's customer support again. This woman was actually NOT mentally challenged like the last one, or so I thought. At least she wasn't calling me a liar! She CLAIMED she fixed the issue by sending me a new (and correct part). Thank God, finally, after months of jerk-a-rounds, I'll have a usable vacuum cleaner. Wrong! Two weeks later, what did I get? I got the holder that some cordless handheld "dust buster" mounts in. I have the "powered lift away" rip-off scam, not a "dust buster" thing. That's NOT the end of the Shark insanity! Read on.

So, I called Shark's customer support again. I thought I got someone who is halfway sane and competent. Wrong! He heard my story to date and PROMISED that a "So-Called Supervisor" will call me shortly. Obviously, his pants were on fire. No one ever called all day, and I wasted my whole day waiting on this rip-off scam to be resolved.

Finally, six hours later, just before closing I was totally fed up. I called them again and demanded to talk to an American as required by law. He refused to abide by the law. He also refused to even give me a mailing address for the person who ran the company. I reiterated that I WANT a mailing address where registered mail can be delivered for lawsuits and criminal prosecution for fraud. He refused to give me any info as expected from a rip-off scam operation. Basically, we ended the conversation with "F.U. Dude."

To date, the "so-called" supervisor has been grossly negligent and never called. I have never gotten a response from their email address either. No surprise there. The complaint websites I've viewed have many people complaining about the same issues with this worthless motorized pet brush and the ignorant arrogant support people who are just part of the scam to rip everyone off.

The Attorney General's Office is on this rip-off scam company, and I am now publishing this info on all the complaint websites and online stores which sell the low-quality Shark company products. People need to be warned about how this unethical Shark Company does business.

I have been going months without a usable vacuum cleaner, and apparently, the only solution to this rip-off scam is to throw this piece of trash Shark product in the garbage can and buy a product that actually works!

You can count on the fact that Shark products are low-quality trash, customer support sucks, and their 7-year warranty is as worthless as the paper it's written on. Shark rips people off with low-quality trash and is run by people who hate their sucker customers and screw them in every way possible! Need I say more?

Bottom Line: No, I would not recommend this to a friend

---

0 out 2 people found this review helpful

Worst vacuum ever

By Rita Miles

,

Texas

,

Mar 9, 2018
Verified Reviewer

We bought a Shark Rotator from Sam's Club in Tyler, Texas. It is a lousy piece of junk. I wouldn't recommend this vacuum to my worst enemy. It will not suck up anything at all, no matter how much you clean it, it is a piece of crap.

Bottom Line: No, I would not recommend this to a friend

---

Advertisement

---

Not a good vacuum at all

Colorado

,

Mar 6, 2018
Verified Reviewer

It does not work after one year. A $450 vacuum.

Facts are facts, and junk is junk. One more thing, if suction is something that you want in a vacuum cleaner then do NOT buy a Shark. Very simple.

Bottom Line: No, I would not recommend this to a friend

---

4 out 4 people found this review helpful

Best vacuum, best customer service

I received this vacuum as a gift from my father 2 years ago. He bought it from Costco. I dropped it twice over the past two years and called Shark directly and have never received better customer service anywhere. Each time I called they were pleasant and immediately shipped me a new part to replace the broken one, no questions asked. This vacuum works way better than my Kirby which now sits in the basement collecting dust. I even bought the Lift Away vacuum directly from the Shark website and decided I like my rotator much better. They sent me a postage paid sticker and returned the Lift Away no problem and let me keep the free steamer I received when I ordered the vacuum. I love Shark customer service.

Bottom Line: Yes, I would recommend this to a friend

---

1 out 1 people found this review helpful

So far, it is great.

I bought mine at a local chain store. I got home, put it together (so easy by the way) and tried it. I had just cleaned the carpet after vacuuming with my old vacuum. It had only been a couple of weeks in a room we don't really use much.

I was still amazed at how much it picked up. I have had it for a couple of weeks so far and it is great.

We got the True Pet Rotator.

Bottom Line: Yes, I would recommend this to a friend

---

1 out 1 people found this review helpful

AMAZING

By Marina

,

Austin, TX

,

Jul 10, 2016
Verified Reviewer

For a household with a bunch of husky dogs, after a broken Kirby and 2 broken Eurekas (which are the worst if you ask me), a Shark Rotator vacuum is the best we could ever buy in our price range. The suction is amazing, the cord is long, there's a ton of attachments. My house hasn't been this clean in months.

We also have a smaller Shark Navigator at another location, and it's been keeping up with a bunch of hairy puppies for over a year now.

The only thing I have to note, a canister is pretty small on all Sharks. But I'd rather keep emptying the canister than have everything covered with hair.

Bottom Line: Yes, I would recommend this to a friend

---

1 out 1 people found this review helpful

Really disappointed

I have an Electrolux canister and wanted a second vacuum for the second floor so I didn't have to lug the cleaner up and down the stairs. The Shark Rotator sounded like it would be a great vacuum and I read some positive reviews. I wish I had never bought it. The cleaner is too high to fit under a lot of my furniture and radiators. My Electrolux had a long brush that was low to the ground. Rotator doesn't even offer a brush like this as an accessory. My old cleaner would suck dirt up that was outside the vacuum head. The rotator will run right over something and won't pick it up. And when you have the carpet brush running sometimes it spits the dirt right out the back instead of sucking it up into the vacuum. Clearly a huge disappointment. The hose is too short. And it is heavy and awkward. The only thing I like about it is the removable dirt collector. Easy to remove and the dirt falls right out into the trash.

Bottom Line: No, I would not recommend this to a friend

---

1 out 2 people found this review helpful

Not a happy customer

By Sandra Ulaula

,

Auckland, New Zealand

,

Dec 26, 2015

I have the Shark Rotator vacuum, I was happy with the performance, floors were a lot cleaner. I've had the vacuum eight months, my daughter was sweeping when she heard a noise coming from the hose at the top of the handle, as she looked for the noise she spotted a split in the hose just under the handle.

I rang the place of purchase and they put me through to customers services, I explained to them the length of time I had the product and what the problem was.

I was very disappointed to be told that it didn't come under the 5 year warranty and was referred to as "Wear and Tear". I argued the point that you can't tell me a hose of that strength and durability can be classed as wear and tear in eight months.

A normal, cheaper vacuum hose would last longer than the Shark Rotator vacuum hose and is not made of the same strength and durability of the Shark Vacuum hose. I was offered a replacement hose for a payment of $30, half price. I didn't see why I should have to pay for something that should've lasted more than eight months.

The customer service person said that he has not come across this issue before and I said "Well, that should tell you something then". My meaning of that comment was that the hose is quite strong, so for there to be a split in the hose should tell them that it was faulty in the first place. I'm not a happy customer and will never recommend this product to anyone.

Bottom Line: No, I would not recommend this to a friend

---

3 out 4 people found this review helpful

Worst customer care!

By Dee Smith

,

New Kent, VA

,

Nov 9, 2015
Verified Reviewer

I have the Shark Rotator and I absolutely loved it until the clip that holds the hose to the base broke. Customer service is horrendous! I have had the vacuum for about 6 months. Have had to clear clogs in the hose using that clip maybe 2 or 3 times. Then it broke. Then I called customer service and they wanted 20 bucks from me for return shipment. Plus 20 I would spend shipping to them. They would keep it for 4-6 weeks, all for a clip and no loaner for the meantime. They offered to let me buy a replacement from her at a discounted price but it would not have a full warranty.

I think that when you pay several hundred dollars for a product, it should last for more than 6 months and if it doesn't, they should pay for the shipping and not leave me without for a month and a half. This is bad business. There was a customer satisfaction survey at the end of the call. With ratings 5 being great and 1 being awful, I tried to enter 1 to the first question twice. The computer voice said, "Sorry, I am not able to understand this entry" and hung up on me. I will not buy another product from them and I will tell everyone I know not to trust them either.

Bottom Line: No, I would not recommend this to a friend

---