Shark Sonic Duo Reviews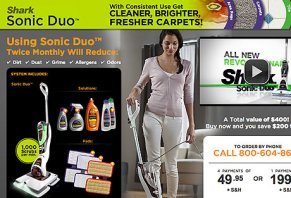 The Shark Sonic Duo uses sonic cleaning technology to lift away dirt from all types of flooring, including rugs, carpets, tile, and wood floors.
About Shark Sonic Duo
Manufactured by Euro-Pro Operating LLC and based out of Newton, MA, the Shark Sonic Duo is a complete cleaning system that claims to be the "greatest carpet and flooring cleaning system breakthrough in decades." According to the company's website, your carpets will appear 150% brighter, and you'll remove four times more stuck-on dirt than vacuuming alone.
Euro-Pro Operating LLC holds a D+ rating with the Better Business Bureau, which is based on 89 closed complaints within the past three years. From a customer satisfaction standpoint, online reviews for the Shark Sonic Duo appear mixed, with the most frequent complaint being that it works much better on hard surfaces than on carpeting.
How the Shark Sonic Duo Works
The Shark Sonic Duo's Trap and Remove™ Technology claims to remove visible surface dirt as well as deep, stuck-in dirt, thereby providing you with a cleaner, healthier indoor environment. There are two vibrating surfaces on the bottom of the Shark Sonic Duo, which move independently of one another, and move at 1,000 scrubs per minute, which helps to lift dirt from hard surfaces, as well as from rugs and carpets. Despite the effectiveness of its cleaning, the company claims that the Shark Sonic Duo uses "airglide maneuverability" to make cleaning almost effortless.

Attached to the bottom of each vibrating surface is a specialized pad, which is meant to be used for specific types of cleaning. These include:
Carpet / Rug Cleaning Pad
Carpet Scrub 'n Stain™ Removal Pad
Hard Floor Cleaning Pad
Hard Floor Polishing Pad
Dusting Pad (Optional)
In addition to the hardware, the other half of the Shark Sonic Duo are the cleaning solutions, which include:
Carpet & Area Rug Cleaners – The Low Moisture - No Rinse - Carpet Cleaner concentrate effectively traps dirt in your fibers, dehydrates it, and then allows it to be lifted away the next time you vacuum. The Activating Pretreater Carpet Stain & Odor Remover claims to not only remove stains, but also to remove the source of the odor altogether.
Wood & Hard Floor Cleaners – The Shark Sonic Duo website claims to clean hard surfaces in ½ the time as traditional methods, and its concentrate will leave your floors streak-free.
High Gloss Polish – Claims to "rejuvenate and restore" your floors, without leaving streaks.
Shark Sonic Duo Pricing
The "As Seen on TV" Shark Sonic Duo package is priced at four payments of $49.95, or one single payment of $199.80, plus $29.95 shipping and handling. This package includes:
Sonic Duo™ unit for Carpets & Hard Floors
10oz Activating Carpet Stain Pre-treater with Reusable Carpet Scrub'N Stain™ Removal Pad
8oz Low Moisture -No Rinse- Carpet Cleaner (Concentrate) with Reusable Carpet/Rug Cleaning Pad
16oz Wood & Hard Floor Polish with Reusable Hard Floor Polishing Pad
2 Reusable Bottles
2 Full size bottles of Low Moisture -No Rinse- Carpet Cleaner (28 oz Concentrate) with 2 Reusable Carpet/Rug Pads
VIP Five-Year Warranty
Similar to other Euro-Pro product sites, you'll also be offered several different upgrade options when you begin checking out.
The first upgrade offer includes the addition of headlights, as well as two speed settings. This upgrade is priced at one additional payment of $49.95.
The second upgrade offer is priced at six payments of $16.65, plus $29.95 shipping and handling, and includes the Shark Navigator Lift-Away. This technology ensures you'll never experience suction loss, makes it easier to maneuver, includes "Anti-Allergen Complete Seal" technology, and a "unique detachable canister."
The third upgrade adds two additional Bottles of 28oz Wood & Hard Floor Cleaner (Concentrate), two reusable hard floor cleaning pads, two bottles of 28oz Hard Floor Polish (High Gloss), and two reusable polish pads. This upgrade is priced at six payments of $9.99, plus $4.95 shipping and handling.
If you purchase upgrades two and three at the same time, you'll receive "special" pricing of six payments of $26.64, which will save you more than $225 when compared to purchasing separately.
Finally, just like with the Ninja Mega Kitchen System, the company will offer you the ability to purchase a second Shark Sonic Duo unit for 25% off the retail price (plus $14.95 shipping and handling), which will add $37.46 to each of your payments. You'll also have the opportunity to choose priority processing for an additional $2.49 per payment, as well as a lifetime warranty for an additional $12.49 per payment. If you choose all three, it will cost you a total of $52.44 additional per payment.
If you'd rather purchase your Shark Sonic Duo from someone other than the manufacturer, the product is also available from Walmart, QVC.com, Bed Bath & Beyond, Ace Hardware, eBay, and many more. If you choose to go this route though, keep in mind that none of the above upgrades will be available.
Shark Sonic Duo Refund Policy
As with other Euro-Pro products (see our Ninja Mega Kitchen System review), the Shark Sonic Duo comes with a 60-day money back guarantee, which does not include shipping charges. In addition, you'll also be subject to a 10% restocking fee.
If you decide to return your Shark Sonic Duo, you'll need to include all items that originally came with your order, in addition to your purchase receipt. You'll also be required to include a signed letter with your full name, telephone number, address and the reason for your return.
This means that if you purchased the basic "As Seen on TV" Shark Sonic Duo at a total cost of $229.75 ($199.80, plus $29.95 shipping and handling), you'll end up receiving a refund of about $180¾and this doesn't even include the charges you'll incur when shipping the product back to the manufacturer. In short, this translates into a $50 loss for just "trying out" the product.
Bottom Line: Does the Shark Sonic Duo Work as Well as It Claims?
Based on a wide variety of online reviews, the Shark Sonic Duo appears to work very well on hard surfaces such as tile and wood floors, but provides little to no results on carpeting. Several customers have stated that, at least when it comes to carpets, most of the cleaning power appears to be in the solution, and not in the hardware, which is far too light to effectively get into the fibers.
In addition to this, the $29.95 shipping and handling charges (when ordered directly from the manufacturer) seem a bit excessive. With this said, most "As Seen on TV" products earn the bulk of their money from shipping and handling charges, and the Shark Sonic Duo is no different.
Bottom line: Should you purchase the Sonic Shark Duo? Based on our research, if you're looking to clean hard surfaces only, the product appears to perform reasonably well. However, if your home contains mostly carpeting, you may want to stick with more traditional cleaning methods.
Also, if you decide to purchase the Shark Sonic Duo, you'd probably be better served through a traditional retailer. While you'll lose the company's 60-day money back guarantee, you'll likely end up saving much more money in lost shipping and handling charges/restocking fees.
---
Fantastic!

By Linda

,

Indianapolis, IN

,

Jun 18, 2015

Overall Experience:

I have terrible, disgusting berber carpet that has been put through a lot. I borrowed the Shark from a family member last year, and it worked wonders with just one use. I just used it again tonight after being appalled at the stains that take up at least 25% of my front room carpet (mostly from a fruit smoothie my toddler spilled while running circles around the room), but also typical wear and dirt.

I have only done half of the room, and it is amazing how great the freshly cleaned half looks. I mean...AMAZING! I have no idea how it works so well, but it does, and I love it. It is light, easy to maneuver, there is no dirty water to deal with. I would compare the ease of use to the Swifter Wet-jet. It is the same basic philosophy, except with super-fast scrub power.

I do use the pre-treater before using the machine, and have had issues finding the pre-treater and carpet shampoo in stores. It is also expensive when I did find it. It was about $20 a bottle.

Bottom Line: Yes, I would recommend this to a friend

---

Excellent Cleaner

By Nikki

,

Las Vegas, NV

,

Aug 18, 2015

Overall Experience:

The thing to keep in mind with good cleaner with regard to carpets is the way it's intended to clean. Many years ago, you had vacuums and carpet shampooers. The premise behind a shampooer is you used this machine to put down a solution of water and carpet shampoo and scrub it into a a lather. You then let it dry and vacuum up the dried suds. That's how it . It didn't clean into the pad or into the weave of the, just the fibers.

Enter the deep steam cleaner. Then come these devices that shoot steam with a little cleaning solution into the carpet, where it cold, turns from vapor to liquid, and gets sucked back out by the machine, all in a single pass. It has a tank to store dirty water that had to be emptied, etc. These cleaners tout being able to clean into the weave of the carpet, into the pad, etc, but the don't scrub and lather the way a shampooer does.

In my opinion (which is just based on logic and personal experience, not professional experience), both types of cleaners have pros and cons. But I think if you are working with a new carpet and vacuum/shampoo regularly, it's a a great solution. If your carpet is older or hasn't been vacuumed/shampooed regularly, then steam cleaner might be more effective.

The Shark Sonic Duo is closer to the notion of a shampooer, where you use it to squirt down its specific cleaner(essentially carpet shampoo), and then run the moving heads with the cleaning pads over it numerous times. I noticed it builds up quite a lather as you do. You are then supposed to let it dry and vacuum.

I noticed it didn't look cleaner until after vacuuming. I also feel it is important to have a vacuum with powerful brush to get the full effect. One with a non-moving brush does not seem like it would be as effective.

Bottom Line: Yes, I would recommend this to a friend

---

Advertisement

---

Best Price Online & Then Some!

By Ruby

,

South Bay (L.A.)

,

Oct 5, 2014

Overall Experience:

Both calls were handled professionally and both reps were patient and courteous.

Both TV & ONLINE include 5 year warranty.

I purchased the Shark Sonic Duo via TV number. I have mostly hard wood flooring and a grandson on the way so I was mainly interested in the hard wood aspect.

TV OFFER :
Sonic Duo
16 oz Polish
8 oz Carpet cleanser
8 oz Spot Stain
1 Carpet pad
1 Spot Stain pad
1 Polish pad
2 Reusable Bottles

After learning that the original TV offer didn't include HARD WOOD flooring cleanser or pad(s) I agreed to purchase their YEAR SUPPLY package consisting of:

-2-20 oz. hard wood & floor cleanser plus 2 hard
wood/floor pads
$19.95 "shipping only fee".
10% off = $179.80
Additional YEAR SUPPLY of wood cleanser (otherwise I would't have receive any at all)=$19.95
Shipping=$29.95
Tax=$16.63
Total= ( I did manage to get the 5 to 7 day expedited shipping fee of $9.95 waived)
GRAND TOTAL=$245

I called customer care to inquire about the ONLINE OFFER… MUCH better!

ONLINE OFFER Includes: $160.00
-Sonic Duo
-10oz Carpet Stain Pretreater with Pad
-8oz Carpet Cleaner (Concentrate) with Pad
-16oz Wood & Hard Floor Polish with Hard Floor Polishing Pad
-2 28 oz Carpet Cleaner (Concentrate) with 2 Pads. Shark agreed to switch out the carpet cleanser for hard wood floor cleanser plus pads!
-BONUS- 3 28 oz Hard wood floor cleanser (switched as well) PLUS 2 more pads!
-2 Reusable Bottles
-Expedited shipping
Total (includes tax. NO SHIPPING FEE!)=$174 and change….

Can't wait to get it within 7 days…will get back to you on performance on hard wood flooring!

NOTE= rating a 5 on customer service as I haven't used product yet…

Refills for Hard wood cleanser is cheapest at SEARS= $9.44 for one 28 oz bottle

Bottom Line: Yes, I would recommend this to a friend

---

Nice product

By M. Arnold

,

Detroit, MI

,

Sep 24, 2014

Overall Experience:

This carpet cleaner did a great job on my light colored carpet. It is not meant to clean a very dirty carpet. It is very light and easy to handle and not like the heavy Bissell products. It works for me!

Bottom Line: Yes, I would recommend this to a friend

---

Advertisement

---

Recommend

By Joann Stoltz

,

Dakota City NE

,

Jun 3, 2015

Overall Experience:

I bought the Shark vacuum first. It is the best vacuum I have ever used. I debated on buying the Shark Duo. I watched the advertising numerous times and finally ordered. I did not notice too much difference the first time but kept using it as recommended. My light colored carpet kept getting brighter and stains were removed. It doesn't soak the carpet like the steam cleaner I originally owned.

Bottom Line: Yes, I would recommend this to a friend

---

Got Screwed With This.

By Brian Lee

,

Medina Ohio

,

Sep 24, 2015
Verified Reviewer

Overall Experience:

Bought this machine from Costco. Thought it would be cheaper than my Hoover because I could mix my own solution for about 3 or 4 dollars. Now after getting the machine I find they don't sell the concentrate stuff anymore so I have to pay 10 bucks for a bottle of already mixed solution. Shame as I gave my nice Hoover carpet shampooer to good will. I think it was kind of a scam to make people think it would cost them only 3 bucks for a bottle to refill yourself. Then discontinue the self mix concentrate so people have no option to get the mix-it yourself concentrate. I have bought Shark vacuum cleaners .But feel I was kind of scammed with the Shark professionalism. So won't be buying or recommending Shark anymore.

Bottom Line: No, I would not recommend this to a friend

---

bought a shark duo carpet & floor

By Lisa Lanthier

,

Yucca Valley, CA

,

Jun 4, 2014

Overall Experience:

My husband and I cleaned the carpet about 15 times. The Shark Sonic Duo lifted some dirt after about 5 times of cleaning. I was a week late to send it back so now I'm stuck with a $265 crappy vacuum.

Bottom Line: No, I would not recommend this to a friend

---

Beware of cost of ownership

By Steve

,

VA

,

Jun 9, 2015

Overall Experience:

So they have not had cleaning solution available for months and now you can only buy the pre mixed for $10 per bottle instead of the concentrate for $24 that makes seven bottles.

I called to find out what's going on and was told by Chelsea, that "too many people couldn't figure out how to mix the solution." Also, she doesn't actually own or use the product but, swears "one bottle should last a long time" so I must be doing it wrong." "That I should just spray the carpet a couple of times and then just do the whole carpet..."

Just get a mop and some Murphy Oil some for your hardwoods, and a bottle of resolve and an old wash cloth for spot cleaning your carpet and rent a big one for $20 once or twice a year.

Bottom Line: No, I would not recommend this to a friend

---

Overall Experience:

I purchased this, and it arrived two days ago. It worked fabulously, then it quit. Shark won't do anything. It should work more than a year for the price. That's the second Shark purchase I've made, and both products quit, and nothing was done. I will not purchase another Shark product!

Bottom Line: No, I would not recommend this to a friend

---