ShaveMOB Reviews
Claimed This company has claimed this profile, is getting alerted on any new customer reviews entering this page, and may engage in dialogue with its customers to address their matters.

Companies cannot pay money or provide goods in order to remove or alter customer reviews.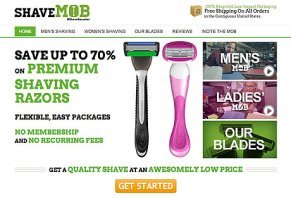 ShaveMOB is a mail order company that claims to provide premium quality, stainless steel men's and women's razors at up to 70% savings from retail prices.
About ShaveMOB
Last time you purchased replacement razors, how much did it cost? Probably a whole lot more than you wanted to pay, right? Well, the good news is that ShaveMOB claims to offer a variety of high-quality men's and women's razors at up to 70% off retail prices, all without any recurring monthly shipments.
But are ShaveMOB razors really as good as the company claims? How about their service? Let's trim away the hype and see what we find out.
ShaveMOB Details
By shipping their high-quality stainless steel men's and women's razors directly to your door, ShaveMOB claims to help you save up to 70% off retail prices. In fact, the company claims that third-party consumer testing shows that ShaveMOB razors compare equally with mainstream brands, but come at a significant savings.
According to the ShaveMOB website, the process works over six steps:
Select your razor – All ShaveMOB blades work with their men's and women's handles, so you can choose the one that most closely meets your needs without having to worry about fit.
Choose your supply – You'll receive 2 razors for each months' supply; choose from 2, 6, or 12-month supplies.
Save money – As mentioned above, Shave MOB claims that their razors can help you save up to 70% off retail prices.
Receive your razor – Receive your entire shipment at one time, and start shaving immediately.
Reorder – When your supply is close to running out, ShaveMOB will send you a reminder email. If you're ready to reorder, simply click the embedded link.
Share with friends – Earn discounts on future orders by referring your friends.
ShaveMOB Pricing & Refund Policy
Men's Razors
The Baby Face – 3 stainless steel blades with pivot head and non-stick handle. As low as $2 per month.
The Average Joe – 4 stainless steel blades and a lubricating strip with allantoin. As low as $2.50 per month.
The Caveman – 6 stainless steel blades with optional trimmer blade. As low as $3 per month.
Women's Razors
The Practical – 3 stainless steel blades with pivot head and lubricating strip. As low as $2 per month.
The Purist – Identical to The Practical, but with 4 stainless steel blades. As low as $2.50 per month.
The Perfectionist – 6 stainless steel blades with optional flexible head. As low as $3 per month.
After choosing your razor type, you can also choose 2, 6, or 12-month supply options. ShaveMOB will include a handle with your first order, although replacement handles can be purchased for an additional $3 each. Also, keep in mind that active military personnel are eligible to receive an additional 10% discount.
Unlike some other shaving programs like Dollar Shave Club, ShaveMOB does not require that you become a member, or that you accept any kind of autoship program. Instead, the company will send you an email reminder when it's time to reorder, and you can make the final decision yourself.
All ShaveMOB orders sent to an address within the continental U.S. include free shipping, although shipments to AK or HI will incur a $2 shipping charge.
ShaveMOB doesn't list a specific refund policy on their website, but instead instructs customers to contact them directly if there are any problems. Unfortunately though, there is no phone number; only a contact form.
What Do Other Consumers Have to Say About ShaveMOB?
ShaveMOB is a relatively new business, and was founded in August 2013 by Zach Randall. The company is based out of Denver, CO, and holds a C rating with the Better Business Bureau, despite only having one closed complaint over the past three years.
Outside of the BBB, online customer sentiment about ShaveMOB appears to be fairly positive, and nearly all complaints we encountered during our research were relatively minor. These included poor packaging (e.g. loose razors inside box, although this appears to have since been addressed by ShaveMOB), and noisy/clicking handles.
What's the Bottom Line About ShaveMOB?
If you're looking to save up to 70% on men's and women's razors, it appears that you can't go wrong with ShaveMOB. The company seems to offer a very good level of value for your money, in addition to the fact that they don't require membership or subject you to any kind of monthly autoship program—which might be good or bad, depending on your point of view. While we did read some complaints during our research, they were very minor, and the problems ultimately didn't affect the quality of the shave.
Have you recently signed up for ShaveMOB? If so, what's your experience? Share your story by writing a review today.
See Also: Dollar Shave Club vs. Harry's vs. ShaveMOB: Which Men's Shave Club is Best?
---
Extremely poor customer service

Placed an $80 order. Waited for two, nothing. Checked web site and it said it had been shipped. Contacted them via e-mail since they have no phone number It took several days for them to respond and only after a second irate e-mail from me. Said post office lost the order and they would overnight it via FedEx. Nada. another irate e-mail from me when I looked at the tracking number and found they had sent the order to completely wrong address. They said they would send another one to the correct address. Then one hour I get an e-mail saying they had enough. Like they were the aggrieved party and are going to refund my money. I hope they do. Beware. I am sure there product is fine but just hope nothing goes wrong.

Bottom Line: No, I would not recommend this to a friend

---

Horrible customer service

By Dorothea Sherwood

,

Castle Rock, CO

,

Jan 7, 2015

After waiting two weeks without receipt, I repeatedly tried to notify the company without success. Finally, I got one response saying my shipment was lost in the mail and they would send one out by FedEx. Tried to contact approximately 6 times with only that response. They showed absolutely no remorse. No other way to contact them without going through their website. No phone #, no email address. Absolutely horrible customer service. I was hoping to help out a local Colorado company, but no way. Pity.

Bottom Line: No, I would not recommend this to a friend

---

Advertisement

---

Handle broke while changing the first time.

Great long lasting cartridges yet with a horrible and cheaply made handle! Totally useless after the very first time attempting to change cartridge. Stay away.

Bottom Line: No, I would not recommend this to a friend

---

Disappointed

By Jim

,

Michigan

,

Jul 13, 2015

I was surprised how bad the blades on this razor are. I seriously cannot remember the last time I cut myself shaving, yet I nicked myself twice with this ShaveMob razor. The optional trimmer actually scrapes rather than trims. My face felt raw after the shave. I guess there's a reason why Gillette blades cost more.

Save your time, money, and face and skip ShaveMob. It's bad news.

Bottom Line: No, I would not recommend this to a friend

---

Advertisement

---

Product - meh. Customer service - HORRIBLE.

By Jen

,

San Francisco

,

Jun 27, 2015

I bought the kit through drugstore.com. That was my first mistake. After about 10 shaves, and two cartridges, the handle broke. It's the pink, girly handle. I contact drugstore.com. They said call contact ShaveMOB. I did that, and so far we have gone back and forth via email (no phone calls) about why they should replace the handle. Hello, it's your product and you guys offer the "great" guarantee: "we'll take care of you." Baloney. It's a $3 handle which I refuse to pay for on principle. Honor your damn guarantee. Don't bother with these guys. It's not really that great anyway.

Bottom Line: No, I would not recommend this to a friend

---

Upset a bit

The first time I shaved, I had to take a thick towel and wrap it around the razor to push the jam back in place without cutting myself.

I don't usually write reviews, but this is by far the most horrible company I've ever dealt with. If you don't want to risk cutting yourself deeply and badly while shaving, do not use this company.

Bottom Line: No, I would not recommend this to a friend

---

Horrible Customer Service

By Candi

,

NY

,

Jan 23, 2016

This is what I wrote to them: "This is troubling because if I didn't follow up with you, I wouldn't have received my razors at all. I ordered the razors on November 2nd and just received them today, November 29th. This is unacceptable. I had to go to the store and buy razors for both my husband and myself waiting for a package that wasn't even coming. I expect some sort of compensation for not receiving the razors without my urging 27 days later. I hope that you don't treat all customers as you treated me. You took my money then kept me in the dark for 27 days. I hope that if I order from you in the future you might treat me as a valued customer. I certainly deserve it. In hopes that you will make this right."

They did not make it right. If I didn't contact them I would never have received the order I placed 3 weeks before.

The only response I got was the FedEx number. Don't order from them.

Bottom Line: No, I would not recommend this to a friend

---

Horrible Blades. Very Dull.

By James Gramm

,

Indiana

,

Feb 15, 2016

I have a very tough beard and these blades were like using an old Schick disposable. When I say old, the brand name disposables are sharp and cut well for 6 to 10 shaves on my tough beard and this one new cut like it already had 10 shaves on it.

Ok to be cheap, but they have to be sharp. Too bad they could not just make a good bade for less money, but then maybe we are all wrong and it is expensive to manufacturer a good quality sharp blade. But this company is not doing that.

Do not bother to waste you money on this product.

Bottom Line: No, I would not recommend this to a friend

---

OUCH!

By Dave H.

,

Timonium, MD

,

Mar 13, 2019
Verified Reviewer

I tried my first razor this morning and I couldn't believe how rough the experience was. These (4 blade) cartridges have to be the dullest that I've ever used. Before today, I was a former 800 Razors user whose product gave me the most comfortable and closest shave by far. I cannot attribute the bad shave to just one cartridge - I refuse to tear my face up by trying another tomorrow. Thankfully, I still have 2 blades from the old company left. Once again, the WORST shaving experience EVER with a new blade!

Bottom Line: No, I would not recommend this to a friend

---

Don't waste your time or money

By Daniel G.

,

Texas

,

Mar 25, 2019
Verified Reviewer

I ordered two sets of blades and both were dull. If you are looking to pull off your facial hair instead of shave, then this is the blade for you. These blades are not worth your time or your money.

Bottom Line: No, I would not recommend this to a friend

---

Low Quality Products Break Often

I had used these blades for a few months and was constantly having the plastic on the blades and handle break, causing the blade head to fall off completely. When I contacted ShaveMOB, instead of explaining about their quality issues, they just kept sending replacements, which kept breaking on me mid shave. I've ultimately given up on them because it's such a pain.

Bottom Line: No, I would not recommend this to a friend

---