ShaveMOB Reviews
Claimed This company has claimed this profile, is getting alerted on any new customer reviews entering this page, and may engage in dialogue with its customers to address their matters.

Companies cannot pay money or provide goods in order to remove or alter customer reviews.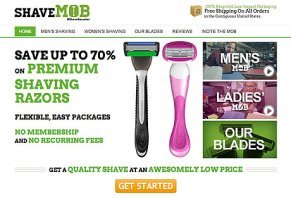 ShaveMOB is a mail order company that claims to provide premium quality, stainless steel men's and women's razors at up to 70% savings from retail prices.
---
Great Razor

By Joshua

,

Toronto, ON

,

Nov 19, 2015

Purchased 2 handles and 24 cartridges for my dad and I. I got the 3 blade cartridges (as I don't think more is always merrier) and they work fantastic. I've used Mach3 and Fusions for several years, and ShaveMOB was easily just as good a shave. The only down side for me was that I live in Canada and they don't ship here, so I had to have a friend in the US ship them to me, which cost an extra $10. Either way, my experience has been a very positive one. Very affordable and a great shave, I recommend this product to anyone.

Bottom Line: Yes, I would recommend this to a friend

---

Shavemob is the best

By Sandra Newman

,

Searcy Arkansas

,

Aug 29, 2015

I bought a ShaveMob from Fingerhut and I will never buy a different razor.

Bottom Line: Yes, I would recommend this to a friend

---

Advertisement

---

Switched back to Gillette Mach 3 with new shaveMob razors left.

By Kevin

,

Rancho Cordova, CA

,

Aug 13, 2015
Verified Reviewer

I was hoping these would be a straight replacement for the Mach 3 razors I have always used, not quite. While ShaveMob is a much better deal cost wise, they don't have the flow through design that Mach 3 does to their handle attachment design. Worse yet, the Shavemob seem to be sticky when doing short quick swipes, that the Gillette can handle with ease like a knife through butter. I have got cuts with ShaveMob even after trying to get used to them for over two months, while I never had any in 10 years of Gillette Mach 3. Maybe it's the closer spacing of the blades. I still have new unused ShaveMob and went out and bought the Mach 3 again.

Bottom Line: No, I would not recommend this to a friend

---

Extremely poor customer service

Placed an $80 order. Waited for two, nothing. Checked web site and it said it had been shipped. Contacted them via e-mail since they have no phone number It took several days for them to respond and only after a second irate e-mail from me. Said post office lost the order and they would overnight it via FedEx. Nada. another irate e-mail from me when I looked at the tracking number and found they had sent the order to completely wrong address. They said they would send another one to the correct address. Then one hour I get an e-mail saying they had enough. Like they were the aggrieved party and are going to refund my money. I hope they do. Beware. I am sure there product is fine but just hope nothing goes wrong.

Bottom Line: No, I would not recommend this to a friend

---

Advertisement

---

Solid and Affordable

By Mike Jones

,

Los Angeles, CA

,

Jul 18, 2015

For the price I thought it was a good deal. I got the monthly subscription and saved 10% on my order. Found a code on a site for 10% off $20 bucks which was "shaving10". Pretty easy and inexpensive.

Bottom Line: Yes, I would recommend this to a friend

---

Great experience

By James Katseros

,

Colorado Springs

,

Jul 13, 2015

I'm not sure what any of these negatives reviews are about. My wife bought this product for me and they are excellent - better shave the any Gillette razor I've ever had.

The website experience was easy, it was great that I could buy in bulk rather than subscribing, and their customer support reached out to me after I purchased to see if I needed anything else.

Overall, I would recommend this to anyone.

Bottom Line: Yes, I would recommend this to a friend

---

Disappointed

By Jim

,

Michigan

,

Jul 13, 2015

I was surprised how bad the blades on this razor are. I seriously cannot remember the last time I cut myself shaving, yet I nicked myself twice with this ShaveMob razor. The optional trimmer actually scrapes rather than trims. My face felt raw after the shave. I guess there's a reason why Gillette blades cost more.

Save your time, money, and face and skip ShaveMob. It's bad news.

Bottom Line: No, I would not recommend this to a friend

---

Low Quality Products Break Often

I had used these blades for a few months and was constantly having the plastic on the blades and handle break, causing the blade head to fall off completely. When I contacted ShaveMOB, instead of explaining about their quality issues, they just kept sending replacements, which kept breaking on me mid shave. I've ultimately given up on them because it's such a pain.

Bottom Line: No, I would not recommend this to a friend

---

Excellent Razors and Experience

By John Shatlin

,

Seattle, WA

,

Jun 30, 2015

These razors are great. I bought these after hearing they were better than Dollar Shave Club. Canceling my Dollar Shave Club membership was a giant pain (typical subscription), but I finally got it done and ordered these.

My Shavemob razors didn't arrive immediately and so I contacted support. They promptly found out that FedEx had delivered them to the wrong address despite the correct one being entered. They shipped me a new package within 2 days.

The razors are great. I got the 6 blade one with the trimmer and it shaves better than Gillette. I'll order these as I need them and save even more than dollar shave.

Bottom Line: Yes, I would recommend this to a friend

---

Product - meh. Customer service - HORRIBLE.

By Jen

,

San Francisco

,

Jun 27, 2015

I bought the kit through drugstore.com. That was my first mistake. After about 10 shaves, and two cartridges, the handle broke. It's the pink, girly handle. I contact drugstore.com. They said call contact ShaveMOB. I did that, and so far we have gone back and forth via email (no phone calls) about why they should replace the handle. Hello, it's your product and you guys offer the "great" guarantee: "we'll take care of you." Baloney. It's a $3 handle which I refuse to pay for on principle. Honor your damn guarantee. Don't bother with these guys. It's not really that great anyway.

Bottom Line: No, I would not recommend this to a friend

---

Takes forever to come

By Sam

,

New York, NY

,

Jun 27, 2015

The order took forever to process and deliver. I'd say about 3 weeks of waiting. Once they came, I was disappointed because the women's razors were individually packaged and creates a storage mess.

Once I began shaving, I had smooth, nick-free goddess legs in under 20 minutes. The blades were sharper, gentler, and more precise than any I've ever used. I switched from the Dollar Shave Club Lover's Blade which made shaving a gory experience.

All in all, Shave Mob is well worth the wait.

Bottom Line: Yes, I would recommend this to a friend

---