SherpaShare Reviews
If you are a rideshare or delivery driver looking for a solid app to track your mileage and prepare IRS-compliant reports, then there's a good chance you'll enjoy using SherpaShare.
About SherpaShare
SherpaShare is a mileage tracking app that automatically tracks any trips you take in your car. The app is specifically designed for freelancers who drive for rideshare and delivery companies but it can be used by anyone who needs a mileage tracker.
SherpaShare was launched in 2014 by Ryder Pearce and Jiaming Zhou and is based in Menlo Park, CA. Pearce, a Harvard grad, was with the company from 2014 to 2016 and now runs a different startup. Zhou is SherpaShare's CEO and has an extensive background in engineering.
The mileage tracker space is occupied by a lot of players; MileIQ, TripLog and Everlance are a few of the prominent names. Each company has its own unique mix of features and history.
Exactly what makes this app unique is really important to understand, especially when you've got so many options to choose from.
Over the course of this review, our goal is to provide you with a clear picture of what SherpaShare offers and how it compares to similar apps.
To do that, we'll cover how the app works, what the mileage tracking is like, prices and features and how those prices and features compare to the competition.
From there, we'll give you a brief overview of how users feel about the app and then conclude with a section on SherpaShare's pros and cons.
How SherpaShare Works
Like the other mileage apps we've reviewed, SherpaShare's sign-up process is extremely simple. Provide them with an email address and a password and you're ready to go.
Once you're in the app, you'll have to give the app access to your location so the app can automatically track your trips.
Whenever you take a trip, SherpaShare sends you a notification that it's tracking. When the trip is done, another notification asks you to classify the trip as work or personal.
For tax purposes, this is important because you can earn deductions for every mile you drive for business, charity, medical trips or work-related moves.
Since SherpaShare is marketed toward rideshare and delivery drivers, their default "Work" classifications include Uber, Lyft, TaskRabbit, Amazon Flex and more.
However, you can customize your own list of companies. So, if I need to track a trip I'm taking for HighYa, all I have to do is add HighYa to the list.
Taking a Drive With SherpaShare
We wanted to get a clear understanding of what it's like to drive with SherpaShare, so I took a 10-minute trip through neighborhoods around my house.
The first thing I noticed is that SherpaShare's tracking is in the background. The only indication that the app is tracking your trip is a notification. Visually, there is nothing that gives you a real-time peek into where you're driving, how many miles you've gone or the mileage deductions you've earned.
In our opinion, it's nice to have that visual representation of tracking because it's the easiest way to know if the app is actually tracking. Now, it's important to keep in mind that how this information is presented has no effect on the accuracy of its mileage and deduction calculations.
We suppose, however, that once you use SherpaShare enough and you've built trust with the app, it won't be necessary to have a visual cue to tell you it's working.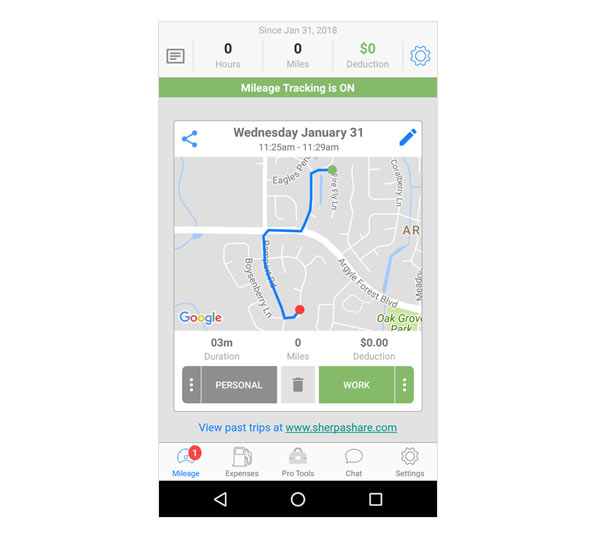 View after trip is done
Once we completed our trip, the app gave us a notification that said our trip was logged and we needed to classify it as work or personal.
As we mentioned earlier, the app lets you choose specific companies under "Work" or specific reasons under "Personal," some of which are medical and moving.
SherpaShare's Fees and Features
One of the thing that sets SherpaShare apart from other leading mileage apps is that it doesn't offer a free version. Instead, the company's website says you have 30 days to try their service. Interestingly, though, our app told us we had 15 days of a free trial.
When the free trial is over, you have the choice of paying $5.99 a month to use the app or make a yearly payment of $60.
As we mentioned earlier, SherpaShare can be used by anyone but the suite of tools it offers are very much focused on those who drive for rideshare or delivery services.
First, you get a series of features called "Pro Tools," which encompasses the following capabilities:
Heatmap: For rideshare drivers. Shows where other drivers are working in your area.
Compass: Gives you best route to next pick-up or delivery
Travis: Hardcore analytics for Uber drivers
Hotspot: Trending pick-up/drop-off locations
Another excellent tool for drivers (and everyone else) is the Expenses feature, which lets you add any work-related expenses that you can write-off during tax season.
The final main tool you get is a chat feature that lets you talk with other SherpaShare drivers via Slack, a popular chat site that businesses use for team communication. You can participate in a #Global chat with all app users or narrow it down to drivers nearby (#Nearby) or trending topics (#Trending).
And, as with all the mileage tracking apps we've talked about, SherpaShare creates IRS-compliant logs of your trips that include, among other data, how far you went on each trip and the deductions you earned.
Pro tip: At the time of publishing, the IRS-approved reimbursement/deduction rate per mile was $0.545.
SherpaShare vs. Other Mileage Tracking Apps
| | SherpaShare | TripLog | MileIQ | Everlance |
| --- | --- | --- | --- | --- |
| # of rides w/free version | Unlimited w/15 day free trial | Unlimited | 40 | 30 |
| Monthly/yearly cost of paid version | $5.99/month or $59.99 a year | $2/$20 or $3/$30 | $5.99/$59.99 | $8/$60 |
| Manual tracking? | Yes | Yes | No | Yes |
| iTunes average rating | 4.2 | 4.8 | 4.5 | 4.9 |
| Google Play average rating | 4.5 | 4.6 | 4.5 | 4.8 |
As far as pricing goes, SherpaShare costs exactly the same as MileIQ and its monthly payments are $2.01 cheaper than Everlance.
We noticed that the app's ratings in the iTunes and Google Play stores were lower than the competition (more on that later).
Moving beyond the chart, we observed that the app's tracking feature lacks the real-time mapping and deduction amount that we saw with Everlance.
We do like, however, how the app integrates a user chat, something that you don't get with any of the other tracking apps listed above. We see this feature being very helpful in the event that you experience issues with the app or have questions about how to maximize what it offers.
» For Further Reading: The Best Mileage Tracking Apps
Public Opinion About SherpaShare
Of the more than 2,000 reviews users submitted to the Google Play store about SherpaShare, nearly 75% were five stars.
Many of the recent reviews we read were positive. A notable complaint came from a driver who decided not to renew his membership.
When he contacted the company to get a copy of his IRS mileage report, he was told he'd have to sign up for a one-month membership in order to get the information.
According to SherpaShare Head of Marketing Jennifer Israel, users have access to their tax documents during their membership and during a grace period after the membership is cancelled.
For security reasons, they don't provide tax information once the grace period is over, she said.
The app's reviews were slightly worse in the iTunes store, where 75 users gave it an average rating of 4.2 stars.
One review was quite interesting. A user noted that the app's ridesharing tools are only as good as the number of drivers in your area. If ridesharing isn't big where you live, then the various Pro Tools offered may not produce the level of information you want.
Another reviewer complained that it was difficult to cancel their membership because it was hard to get in contact with SherpaShare's customer service team.
Final Thoughts: Pros and Cons of SherpaShare
Choosing the right mileage tracking app has a lot to do with why you're using it.
SherpaShare is a great fit for Uber and Lyft drivers because the rideshare-related tools are pretty powerful in areas where there are a lot of drivers. These tools are definitely the app's strength.
We also like how the app offers global, local and trending chats. In our opinion, crowdsourcing the information you need is, in many cases, more expedient than waiting to hear back from a company's customer service department or poring over FAQ pages.
The downsides of this app aren't that terrible but are worth noting. First, the mileage tracking doesn't provide live map, mileage and deduction data like Everlance does.
Also, we discovered is that the app's mileage reports are far less polished and visually appealing than Everlance's.
If you aren't using the app to track your rideshare trips, then we'd say that you might like other apps better because the extra features you pay for are probably more relevant to your situation.
However, if your job is delivery or rideshare, then this app has a host of tools specific to your job that you'll probably enjoy.
» SEE ALSO: 12 Best Tax Tips for Freelancers