SherpaShare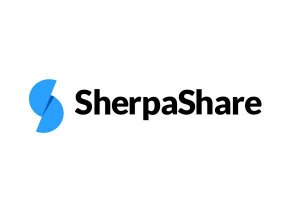 Summary
If you are a rideshare or delivery driver looking for a solid app to track your mileage and prepare IRS-compliant reports, then there's a good chance you'll enjoy using SherpaShare.
SherpaShare Review: A Detailed Look
SherpaShare is a mileage tracking app that automatically tracks any trips you take in your car.
What makes this app unique is that its features are tailored for rideshare and delivery drivers. If you're a rideshare or delivery driver, then you know the difficulty of tracking miles as you work.
Also, your job requires an awareness of high-demand neighborhoods (rideshare) and traffic (rideshare and delivery). This app helps you identify both.
In our review of this app, we'll identify its strengths and weakness to help you decide if SherpaShare is right for you.
Pros:
Cons:

An excellent suite of features for rideshare drivers
Options for priority support
Highly-rated in app stores

No free version
Complaints about slow customer service are common
How SherpaShare Works
Like the other mileage apps we've reviewed, SherpaShare's sign-up process is extremely simple. Provide them with an email address and a password and you're ready to go.
Once you're in the app, you'll have to give the app access to your location so the app can automatically track your trips.
Whenever you take a trip, SherpaShare sends you a notification that it's tracking. When the trip is done, another notification asks you to classify the trip as work or personal.
For tax purposes, this is important because you can earn deductions for every mile you drive for business, charity, medical trips or work-related moves.
Since SherpaShare is marketed toward rideshare and delivery drivers, their default "Work" classifications include Uber, Lyft, TaskRabbit, Amazon Flex and more.
However, you can customize your own list of companies. So, if I need to track a trip I'm taking for HighYa, all I have to do is add HighYa to the list.
Test Drive
I took a 10-minute trip through neighborhoods around my house to get a first-hand perspective about how SherpaShare works.
The first thing I noticed is that the app's tracking is in the background. The only indication that the app is tracking your trip is a notification icon at the top of your phone screen.
Visually, there is nothing that gives you a real-time peek into where you're driving, how many miles you've gone or the mileage deductions you've earned.
In our opinion, it's nice to have that visual representation of tracking because it's the easiest way to know if the app is actually tracking.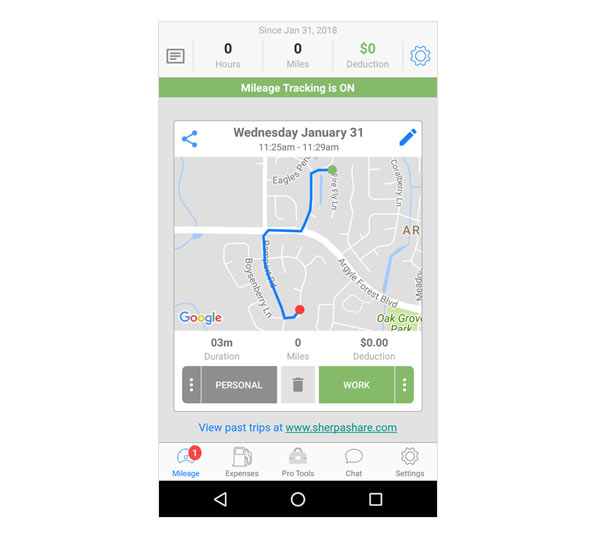 View after a trip is done
Once we completed our trip, the app gave us a notification that said our trip was logged and we needed to classify it as work or personal.
As we mentioned earlier, the app lets you choose specific companies under "Work" or specific reasons under "Personal," some of which are medical and moving.
Pricing and Features
One of the things that set SherpaShare apart from other leading mileage apps is that it doesn't offer a free version. Instead, the company's website says you have 30 days to try their service. Interestingly, though, our app told us we had 15 days of a free trial.
When the free trial is over, you have the choice of two subscriptions:
Standard: $5.99/mo or $59.99/yr
This subscription offers a package of rideshare-focused features called "Pro Tools," which encompasses the following capabilities:
Heatmap: For rideshare drivers; shows where other drivers are working in your area
Compass: Gives you best route to next pick-up or delivery
Travis: In-depth analytics for Uber drivers
Hotspot: Trending pick-up/drop-off locations
Driver-to-driver communication through the app
Charts detailing your year-to-date profits
Designate working hours (trips in these hours automatically classified as business)
In addition to these rideshare-specific perks, you get the following features, too:
In-app, 24/7 support
IRS-compliant PDF mileage reports
Running total of the deduction amount
This mix of features is an excellent fit for rideshare drivers. The app's analytics, Compass, and Hotspot features help you streamline your strategy for maximizing your pick-ups and minimizing time wasted by traffic or driving in areas of low popularity.
Super Premium: $10/mo
This subscription package includes everything in the standard tier plus the following perks:
Priority support
SherpaShare Slack channel for real-time support
Access to exclusive promotions and deals
Exclusive car-accessory deals from DriverOps
The key tool you get here is a chat feature that lets you talk with other SherpaShare drivers via Slack, a popular chat site that businesses use for team communication.
You can participate in a #Global chat with all app users or narrow it down to drivers nearby (#Nearby) or trending topics (#Trending).
One of the advantages of this Slack access is that you can get quick advice and tips from fellow drivers. And, if your priority support isn't answering questions fast enough, you may be able to get faster responses from drivers.
SherpaShare vs. TripLog, MileIQ, and Everlance
| | SherpaShare | TripLog | MileIQ | Everlance |
| --- | --- | --- | --- | --- |
| Free version | No (two-week free trial) | Yes | Yes (40 trips/mo) | Yes (30 trips/mo) |
| Paid version cost | $5.99/mo–$10/mo or $59.99/yr–$120/yr | $4/mo–$6/mo | $5.99/mo or $59.99/yr | $8/mo or $60/yr |
| Manual tracking | Yes | Yes | No | Yes |
| Expense tracking | Yes | Yes | Yes | Yes |
| Multiple rideshare-specific features | Yes | No | No | No |
| Swipe-based trip classification | Yes | No | Yes | Yes |
| iTunes average rating | 4.5 | 4.7 | 4.6 | 4.9 |
| Google Play average rating | 4.4 | 4.7 | 4.4 | 4.2 |
SherpaShare's many rideshare features make it the best choice among the apps listed in this table if you're a rideshare driver.
If you aren't doing rideshare or delivery jobs, then the decision becomes a bit more difficult. You can help yourself narrow down which app is best by asking yourself the following questions:
How often do I drive for business or work?
Do I need detailed trip-by-trip reports of my mileage?
Can I afford a paid subscription?
Do I want to manually start and stop the app?
The answers to these questions will dictate which apps you should choose. If you take less than 40 business trips a month, you may want to consider free versions of TripLog, MileIQ, or Everlance.
If you want detailed reports of your mileage because you take multiple business drives each day, then free versions of apps aren't going to meet your needs.
Also, if you don't want your mileage tracker to drain your battery as quickly, you'll want an app that provides manual tracking start and stop so the app isn't running in the background all the time.
» For Further Reading: The Best Mileage Tracking Apps
Analysis of Customer Reviews
Knowing the trends among user reviews of SherpaShare will help you understand how this app's features work in real life.
Below is our analysis of reviews in the iTunes and Google Play stores:
Common Compliments
Works seamlessly: Reviewers consistently praised the app for tracking miles in the background. Users often used the word "easy" to describe how the app works.

Excellent for rideshare and delivery drivers: We found many reviews from rideshare and delivery drivers saying the app works well for them and is a good solution for the mileage tracking their jobs require.
Common Complaints
Didn't track miles: We read multiple complaints from users who said their app wasn't tracking their trips. Some noticed it after a day or two, while others noticed after a month.

Poor support: Among negative reviews, there are multiple instances of users complaining that it took too long to hear back from SherpaShare's support.
The Bottom Line
SherpaShare's focus on providing rideshare and delivery drivers a suite of tools that helps them be more efficient is what makes this app a valuable asset.
Unless you want the option of talking with other drivers through Slack and getting priority support, the standard version of the app should suit you well. It has the data tools that will most benefit your efficiency and success.
Customer Reviews