Shift Reviews
Claimed This company has claimed this profile, is getting alerted on any new customer reviews entering this page, and may engage in dialogue with its customers to address their matters.

Companies cannot pay money or provide goods in order to remove or alter customer reviews.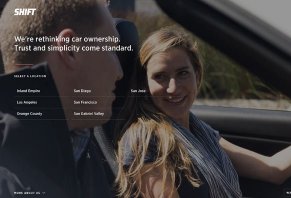 If you live certain regions of CA, Shift can help you browse thousands of cars, request a test drive, and obtain financing, without involving a dealership.
About Shift
Currently serving the Bay Area, greater Los Angeles County, and San Diego county metro regions, Shift is an automobile listing service on a mission to transform the peer-to-peer buying and selling experience using the power of technology.
This includes competitive pricing, no haggling, a rigorous 200-point inspection on every vehicle they sell, financing, test drives that come to you, friendly Car Enthusiasts that can provide advice, and simple paperwork.
Together, Shift tells us they're using convenience, value, and trust as their three guiding principles to deliver real convenience and a no-hassle experience to their customers. In fact, they claim their goal is to "turn what is universally regarded as a burdensome life event into a delightful experience."
But does the company really represent a better way to buy, as claimed on their website? Are they the right buying or selling option for you, or should you explore the competition? Let's start off by taking a look at how Shift works.
Buying and Selling a Car Through Shift
Buying or selling a vehicle through Shift is meaningfully different than through a traditional dealer, so in this section, we'll briefly outline everything that's involved to provide some perspective.
The Buying Process
Note: As of this writing, Shift only serves the Inland Empire, Los Angeles, Orange County, San Diego, San Francisco, San Gabriel Valley, and San Jose metro regions of California.
If you live in one of these areas, finding available cars on their website is fairly simple and straightforward. You'll start by selecting a location, which will then display the total number of matches.
From there, you can filter the results by the maximum purchase price or max monthly payment, maximum mileage, body style, make, transmission, drivetrain, options (backup camera, heated/leather seats, navigation, sunroof, third-row seating, etc.), and fuel type.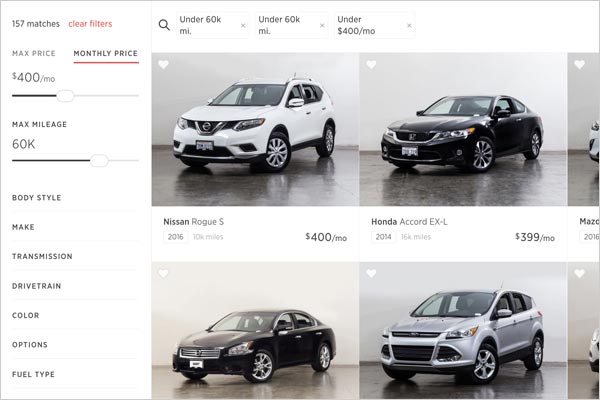 An example of Shift's search results screen, with filtering options on the left. Credit: Shift Technologies, Inc.
Depending on the number of options listed, you can set up notifications to alert you any time Shift acquires a vehicle that matches your criteria.
Clicking on a result will take you to a separate page that features additional (and larger) high-resolution images of the vehicle, along with year/make/model specs, mileage, price, and estimated monthly payment. Scrolling down provides additional details, features, service information, the results of Shift's mechanical inspection, and wear and tear photos.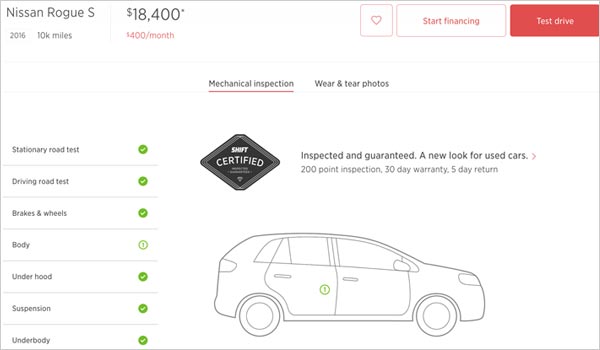 Clicking on any search results will (among other things) display the results of Shift's 200-point inspection and related photos. Credit: Shift Technologies, Inc.
As you can see in the image above, you can click the Start Financing button if you're ready to purchase (more about this soon), or you can scroll further down the page and request a test drive.
Shift's Test Drive Process
Shift offers free test 30-minute drives, which are handled by their Car Enthusiasts who bring the vehicle to your home or office, seven days per week between the hours of 8a and 7p (which can vary by location). Simply request one online, and they'll follow up with an email confirming timing and contact details.
Before this occurs, you'll need to fill out a short questionnaire on their website so that you can know what to expect during your appointment, what to do if you have additional questions, and how to prepare if you're ready to purchase afterward. If the questionnaire isn't completely filled out, a representative will contact you beforehand.
In addition to giving you time to test drive the vehicle, your Car Enthusiast will also walk you through the car's certified inspection report. Let's talk more about this next.
More Information About Shift's 200-Point Inspection
The Shift website reports that each car undergoes a thorough 200-point inspection process that helps ensure "everything is operating as it should be, and make any replacements or tune-ups, so the car is as good as new when it gets into a buyer's hands." This includes (see website for a complete list):
Engine – Noise, motor mounts, oil level/condition, oil leaks/seals/gaskets, smoke, drivability

Electrical System – Alternator/regulator, starter, power window/seat motor, all manual switches, power locks, instrument panel gauges, horn

Drive Axle – Vibration, noise, fluid level/leaks/seals/gaskets, CV boots, locking hubs

Steering & Brake Systems – Fluid levels/leaks, pump/gear, lines/hoses, shaft/couplings, master cylinder, pump/booster, percent remaining on discs/pads, lines and fittings

Transmission – Shift points and slipping for automatic. Noise, transmission mounts, shift linkage, fluid level/condition

Cooling & Fuel Systems – Water pump, engine fan motor, radiator, gaskets/hoses, fuel/injection pump

Suspension – control arms, wheel bearings, struts, stabilizer shaft and links

Air Conditioning – Blower motor, condenser, evaporator, idler pulley
Selling a Car with Shift: How Much Will You Get?
Whether you're interested in selling outright or trading in your existing vehicle on a new purchase, finding out how much your car is worth with Shift is as easy as obtaining an instant estimate using their online pricing engine.
If you find their price acceptable and agree to a contract (which we're told typically lasts between 60 and 90 days, depending on market demand), they'll pick up your car and complete their 200-point inspection. If they decide to proceed, compared to some of the competition, Shift could present you with one of two offers:
A guaranteed minimum, plus a projected seller bonus (if they believe your car will sell for more than the guaranteed price)
A single price, which may be slightly lower than the projected bonus, but one that eliminates the variability of an uncertain sales price
Afterward, they'll create and post the listings for the vehicle and handle the test drives and paperwork. Then, once your vehicle is sold, they'll send you the payment within five days. How much might you expect?
Shift tells us their prices are calculated by tracking millions of data points, including what "cars within the same parameters (year, make, model, trim, mileage) would sell around the area." This way, we're told their listing prices are honest and well informed, and are always below average dealership list prices.
And because they don't take ownership of the vehicles they sell, there's no need for retail or showrooms (or the associated overhead), which they can further pass savings on to their customers.
The Shift's iOS App
For all intents and purposes, Shift's smartphone app provides access to all of the same functionality and features as their desktop site, only optimized for smaller screens.
In other words, users can find cars, set up custom notifications, schedule test drives, obtain financing, view inspection results and photos, and obtain instant estimates if they're looking to sell a car.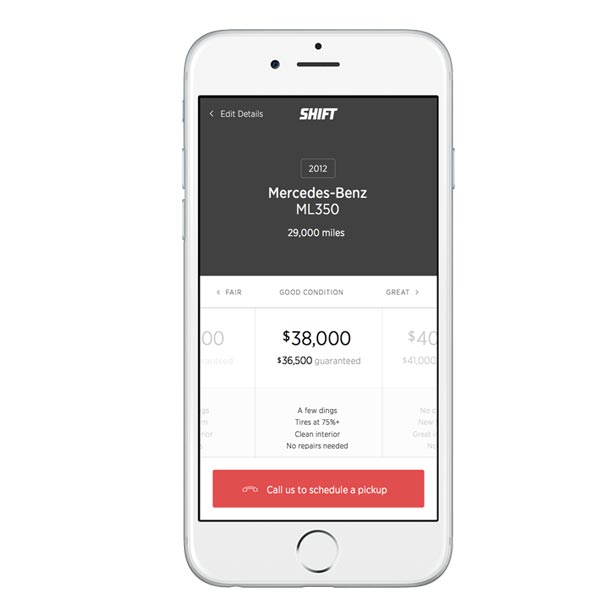 The Shift iOS app is largely an extension of the desktop site and doesn't seem to add any meaningful features or functionality. Credit: Shift Technologies, Inc.
What Are Shift's Pricing and Financing Details?
Obviously, the price of any vehicle will depend on factors like the year, made, model, trim level, mileage, and overall condition, many of which can be filtered on Shift's site.
However, their FAQ explains that "the total price of purchasing a car through Shift will include Shift's car prep services charge [200-point inspection, report, vehicle history, final prep], sales tax, registration, applicable DMV paperwork and processing fees, and associated financing charges if any." In other words, the price you see is the price you pay.
Although Shift doesn't provide in-house financing, they partner with a variety of reputable banks and credit unions that could help make the process as seamless as possible, which is something your Car Enthusiast can assist with. You can apply through the website or before, during, or after the test drive.
Alternately, customers can pay with cash, cashier's check, or ACH transfer.
In addition to financing, the company claims to love handling all the paperwork and fine print associated with vehicle purchases or sales, including "DMV forms, title transfer, and registration." They "also take care of the coordination between the seller, lender, and everyone involved."
All vehicles purchased through Shift come with a five-day/200 mile return policy, should you decide it's not for you.
Finally, if you put the value of your current car towards your new Shift vehicle, they would credit $500 to your purchase at the time of our research.
If you have additional pricing or financing questions, a customer service representative can be reached at 855-744-3873 or support@shift.com.
What Can We Learn from Shift Customer Reviews?
Between their Noe Valley (San Francisco), Los Angeles (Downtown), and North Park (San Diego) locations, more than 800 Yelp reviewers had given Shift an average rating of about four stars.
Collectively, common compliments referenced ease of use (including sales, test drives, financing, delivery), great customer service, and competitive pricing. More than one mentioned that other than actually driving the vehicle, the whole process was handled without leaving the house.
On the other hand, what few complaints there were frequently related to less-than-stellar vehicle condition (varying degrees of mechanical/electrical problems) and customer support experiences. Several customers also emphasized that the listed price for the vehicle they were interested in didn't include the several-hundred-dollar fee for the 200-point inspection.
Shift's iPhone app had a similar average rating of 4.5 stars on iTunes, along with many of the same compliments and complaints.
From a company perspective, Shift Technologies, Inc. is based out of San Francisco, CA and has been in business since 2013, with three co-founders:
CEO George Arison, who previously worked as a product manager for Google and co-founder of Taxi Magic (now known as Curb)
COO Minnie Ingersoll, who also currently works as COO for Code for America and an advisor to Akash Systems
CTO Christian Ohler, a former software engineer for Dropbox, Google, and Stryker Navigation
Does Shift Have Any Competition?
If you're looking for a company that provides the ability to browse, schedule a test drive, and purchase a vehicle completely online, there are only a couple of companies competing for the same customers. How do they compare?
| Company | Test Drive? | Return Window | Financing Options | Service Area |
| --- | --- | --- | --- | --- |
| Shift | Yes | 5 days/200 miles | Third-party or through partners | Inland Empire, Los Angeles, Orange County, San Diego, San Francisco, San Gabriel Valley, and San Jose metro regions |
| Vroom | No | 7 days/250 miles | Third-party or one of their 30+ financing partners | Delivery to anywhere in the lower 48 |
| Carvana | No | 7 days/400 miles | Third-party or direct | Atlanta, Nashville, Houston, Austin, San Antonio, Frisco, Raleigh, or Jacksonville |
Since these sites work pretty much the same way, which one should you choose? The reality is that it largely seems to come down to two things: where you live and whether or not you want to test drive the vehicle first.
For example, while Shift is the only company above to offer test drives, their service area is limited to larger metro regions in CA. On the other hand, Vroom and Carvana offer longer return periods and higher mileage restrictions, but getting a refund on a vehicle will obviously be more involved than handing the keys back after a test drive, should you find it's not the right fit for you.
Obviously, any customer has the option of purchasing a one-way plane ticket and then driving one of these company's cars back, although this could greatly reduce any savings compared to buying local (flight costs, gas, state registration fees, etc.), while also putting more miles and wear and tear on a car that you just bought.
Our Final Thoughts About Shift
When it comes down to it, Shift has been in business for the better part of five years and comes with mostly positive online customer feedback.
And since they're the only option among this new breed of peer-to-peer auto sellers to offer test drives, if this is something that's important to you, it seems you might not have much more to lose than a few minutes of your time by scheduling a test drive or obtaining an instant estimate—if you live in a major CA metro region, that is.
» Recommended Reading:
Selling a car to Shift

By Jeanine S.

,

California

,

Nov 27, 2019
Verified Reviewer

I called Shift to sell my vehicle which was in very good condition. Five years with only 31000 miles on it. The initial estimate was $6400 on the telephone. They went through the vehicle, no mechanical or cosmetic issues. The tire light was on and they claimed it needed new tires. Even though they had at least 10,000 miles of tread left. So they deducted $1250 from the initial estimate. Even with the repairs would be $500 at the most. If you accept the price you sign over the title and give them the keys where it is further checked at their lot where they may lower it more. Then beware they have the car and title.

Bottom Line: No, I would not recommend this to a friend

---

Ease of buying

By Edmund S.

,

California

,

Aug 13, 2019
Verified Reviewer

The website was easy to navigate. I was able to set an appointment fairly quickly. The test drive was efficient. There was no upselling. I didn't feel pressured. Once I decided to move forward the process was fast and efficient. I may buy all my cars this moving forward. What a revolutionary idea! I shop at home and they deliver to my door. Overall an outstanding experience.

Bottom Line: Yes, I would recommend this to a friend

---

Advertisement

---

Not good for sellers

By Meryl R.

,

Beverly Hills, CA

,

Aug 6, 2019
Verified Reviewer

I had a 2015 Smart Car that I wanted to sell. It had a little over 10,000 miles on it and was in excellent condition. I registered it on Carvana but I was contacted by Shift. They sent me an estimate for $6500 and wanted to come and see the car. The person who came was very nice but it appeared he was more concerned with finding things that would allow him to lower the offer. He found such minor scratches that I could barely see them and claimed that they would need to repaint the car. The worst offense was that he took off for the fact that I had put in a Pioneer stereo system with a backup camera, Bluetooth, and GPS. He said they wanted the original equipment, which I kept when I installed the new system. I showed him the Smart radio which didn't even have a CD player. The final offer was $5200! Although I rejected the offer they emailed and called me several times until I told them to stop. I would do better selling it on my own.

Bottom Line: No, I would not recommend this to a friend

---

This company is shady

By Andrew B.

,

Oregon

,

Jun 25, 2019
Verified Reviewer

This company is incredibly shady. First they quoted me $5,000 for my 2011 Dodge caliber in fair condition. Figured I'd go forward with it. Then after I booked the appointment I got a message an hour later that it would be $4800. Which was for no reason at all. Then a couple days later I get a call and the gal said that since the mileage was incorrect, it would bump down $4800...Ok, that's fine, seeing how they changed the quote to that anyway for no reason at all. Then 5 hours later I get a text from some guy who can't get his story straight at all. And says now it's down to $4200...Why? Because of the milage. If a company cannot keep their story straight, what makes me think I'll even get paid after I sign the vehicle over?

Don't trust these hacks.

Bottom Line: No, I would not recommend this to a friend

---

Advertisement

---

They don't honor the "first come first serve" rule

By Add P.

,

San Jose, CA

,

Mar 29, 2019
Verified Reviewer

They don't honor the "first come first serve" rule, instead, they commit to multiple potential buyers, keep rescheduling appointments until closing on the easiest deal, then cancel the rest; who cares if the other customers had to blocked their day or take a day off work to commit to their appointments. They charge $1200 +/- "Shift Service fee." No other dealers charge such fee...

On Saturday, I scheduled a test drive for the following Monday, they canceled it half hour before the appointment, sighting an issue found with the car. They said they'll get back to me to reschedule, but they didn't. On Monday night I scheduled another appointment for Wednesday and called them on Tuesday to make sure the appointment is set. They said yes, the car was repaired and my Wednesday appointment is good to go, I asked the operator a few questions about the car, she transferred me to my representative. After talking to him for few seconds, he said "you know what, I was going to call you, the concierge who was bringing the car to you tomorrow had called-in sick and we don't have a backup." I said fine, let's reschedule to another day. I picked Friday and they said okay. A couple of hours later they texted me to let me know the car was sold. I'll let the readers draw their own conclusion. I live about an hour away from where the vehicle is and thought if the distance is too far they will let me know. They accepted the appointment; after all, they do charge $1200 +/- "Shift Service fee."

Very poorly executed business model! STAY AWAY!

Bottom Line: No, I would not recommend this to a friend

---

Scam!

By Ish E.

,

Los Angeles, CA

,

Mar 24, 2019
Verified Reviewer

Avoid buying a car from this platform at all cost. Their advertised cars seem to have hidden/undisclosed damages that were unprofessionally fixed/patched to mislead the public! Once that so-called five-day return policy expires you'd be done - money lost! Moreover, be aware of their last-minute cancellation tactic, which they unethically use to push you to pay that non-refundable $250 deposit - DO NOT pay it! In my opinion, this entity is operated by some con artist(s) in the Bay Area/SF! Consumer be aware!

Bottom Line: No, I would not recommend this to a friend

---

Terrible - run, don't walk

By Cindy H.

,

Pasadena, CA

,

Mar 15, 2019
Verified Reviewer

The idea sounds great, takes the headache away from the used car stress, right? I thought so.

I found a car for my daughter. I did everything they asked, and I was expecting to buy the car on her birthday as a surprise. I was paying cash, so I thought it would be easy.

First, they show up late. They were supposed to meet me at the location of her party and they blew it. No car with a bow like I had planned.

Second, the car was a used piece of crap. My friend looked it over and said that it had bad steering, which caused the tires to run noisy on the freeway. Also, there was damage to the seats that they never told me about. My friend noticed that the car had been repainted too - come on, it's a three-year-old car!

I kept my cash and sent them back with the typical used car - junky and worn out. Can you imagine giving this as a birthday present!

Keep away from them!

Bottom Line: No, I would not recommend this to a friend

---

Shift is revolutionizing how we buy used cars

By Stacy B.

,

San Francisco, CA

,

Jan 10, 2019
Verified Reviewer

Seriously, buying a used car should not be a headache, should not require hours and hours of quality research, should not require hours trying to get a good deal. Shift addresses all of these key points for the person that doesn't have time and just wants assurance that you're buying a good car six months after the deal is done! I had a great experience with Shift and would opt to use their service again over a dealership or Craigslist anytime! My car was priced reasonably and cargurus.com lists all of their inventory as "great deals." Plus you get a free Carfax! Can't beat it!

So "Shift" on over to this new concierge's approach to buying used cars, and sit back and enjoy your new ride!

Bottom Line: Yes, I would recommend this to a friend

---

Trust your gut

By Mrs G.

,

Walnut Creek, CA

,

Jan 9, 2019
Verified Reviewer

These days, there are so many scams that it's hard to determine the good folks from the bad. So, I tend to do my due diligence and double check on things. Shift's process to sell your car is to:

1) Get an online estimate.

2) Schedule an inspection (they come to you...nice touch).

3) They can drive away with your car (NO), or you can schedule a drop-off.

4) They process the DMV paperwork and resell the car.

I completed my original online estimate a few days prior to my scheduled inspection (prior to pulling out my original sales sticker). On the day of the inspection, I realized that I had selected incorrect features. So, I completed an additional online estimate to see how much different the new estimate would be from the former. There was a $100 difference (nice!).

Here's the due diligence part - I decided to call Shift to confirm that the new quote would match the quote I'd receive from a live person. I spoke with a not-so-polished representative, who quoted me $1000 less than the new quote, stating that based their search of my VIN, the packages I selected were not accurate. When I mentioned that I selected the wrong packages and ran a new estimate that was $1000 higher than what he quotes, he stumbled and rambled on about the online amount being "just an estimate." Intentional or not, it certainly felt like the old "bait and switch."

Needless to say, I canceled the inspection appointment, disinterested in wasting my time with yet another person who would try to justify an instant $1000 drop-in the offer from what I was provided online.

Bottom Line: No, I would not recommend this to a friend

---

Do not do business with this company.

By Nyor H.

,

San Francisco, CA

,

Aug 24, 2018
Verified Reviewer

Do not do business with this company. After placing a deposit down on a $75,000 Porsche, one of their technicians tore the leather dash overnight and caused $6,500 worth of damage. Rather than offering to pay for the damage, Shift said they would only refund my deposit. They are going to try and scam another buyer. They are probably going to try and fill the hole with a synthetic material. It will be noticeable. Unbelievable lack of professionalism. This company cannot be trusted. If I could give them a 0, I would.

Bottom Line: No, I would not recommend this to a friend

---

Worst experience with any company ever.

By Zander F.

,

Los Angeles, CA

,

Jun 28, 2018
Verified Reviewer

Shift's slogan (it's on the side of the building) claims they will bring you a car to test drive. To you. After Shift canceled two appointments on me at the last minute, I finally tracked them down for a third try. The car did not show up. A half an hour after appointment, I called Shift, who did not have any idea where their driver was or what he was doing, but would find out. Another half hour. Shift calls back: the driver never FOUND the car in the first place, and had no intention of letting anyone know until I tracked Shift down to find out.

That afternoon, I get a call from Shift and amazingly they were able to find their own car. But they don't have any drivers available, so I have to go to them. Slogan failure.

I humor them by driving an hour to Commerce. Their facility looks like a bad startup company, like season one Silicon Valley.

A nice young man nervously shakes my hand, and I wait for a half hour while he finds the car key. He promptly leads me out to the wrong car. It takes another half hour to find the real key to the real car that I saw across the parking lot.

The nice young man knows nothing about this car. He can't answer any questions about it and has to look up any information on his phone, but because I'm a responsible buyer I've already done the internet phone research which renders him useless.

However, the car is nice and competitively priced.

I agree to purchase the car, but it has been such a terrible experience that I want compensation for my time an energy. A nice young man comes back from his Manager and offers me a $100 gift card from Amazon. They won't budge, and the manager actually bullies me, telling me he's not worried the car won't sell and he doesn't need my business.

Almost done here.

The car is almost signed over. Nice young man makes creepy inappropriate comments about my friend's sunburn, which is more important to him than doing the paperwork in front of him. Then he sells me a warranty. Then he messes that up and overcharges me the warranty, but promises it will refund in a couple days.

This has seriously been my worst experience with any company ever.

Bottom Line: No, I would not recommend this to a friend

---