Shiftgig Reviews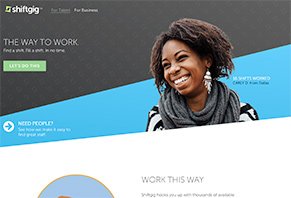 Shiftgig's website and mobile apps can help you pick up temporary shift work whenever you want. Here, we'll take a look at whether they're worth your time.
About Shiftgig
How would you like to work where you want, when you want, and for whom you want? Shiftgig can make it happen! How?
Shiftgig helps connect hard-working professionals with hospitality companies who need on-demand staff. This way, you'll have flexible work opportunities that fit into the rest of your life, while businesses gain direct access to qualified, skilled workers.
What kinds of opportunities, you ask? According to Shiftgig, their jobs take place "at some of the largest sports stadiums, coolest venues, and hottest companies in town" (we'll go into greater detail in a second). And finding your next job is as easy as logging on to their Android or iPhone apps and claiming whatever meets your needs.
In our increasingly connected world, the old 9 to 5 work model is quickly going by the wayside, as we're able to instantly access thousands of different employment opportunities with just a few clicks of the mouse. Because of this, freelancing and shift work (think Uber) is becoming more and more popular.
But when it comes down to it, can you find what you want on Shiftgig? What kind of pay can you expect? Ultimately, is it worth your time and money? We'll explore all of this and more here. To begin, let's find out how the Shiftgig process works.
How Shiftgig Works
The first thing you'll need to do is fill out a quick application on the Shiftgig website, after which someone from the company will contact you for an in-person interview and orientation. Once you're on-boarded, you can browse Shiftgig's available opportunities on the Jobs section of their website (or their mobile apps), which can be filtered based on keyword and city.
Keep in mind that Shiftgig's opportunities are focused within the hospitality field, such as food service, event, hotel, and retail industries. Specifically, you'll finds jobs for servers, bartenders, cooks, porters, customer service, call center, warehouse packers, and more.
Once your results are filtered, you'll find each job and a brief description on the left-hand side of the screen, with a corresponding map showing each position's location on the right. If you want to know more about an opening or apply for the position, simply click on it.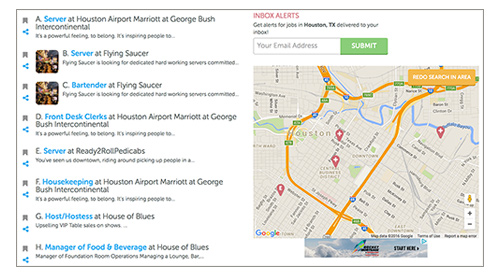 An example of what you'll see after filtering your job search results on the Shiftgig website.
Once you've applied and been accepted for a job, Shiftgig's app will remind you when your shift starts, and will even track the time you've worked using a mobile timecard. Need to drop a shift? The app can handle this as well—just make sure you do so responsibly, or you might be subject to disciplinary action!
Shiftgig pays all their workers bi-weekly (every other Friday), which can be handled by direct deposit through Paylocity. There, you'll also be able to view hours worked, pay rates, and tax information. Alternately, you can get paid by check, although this will take longer.
Sounds simple and straightforward, right? Just because it's easy, though, doesn't mean it's profitable. In other words, how much can you expect to get paid through Shiftgig?
Does Shiftgig Pay Well?
As you might imagine, because there are so many types of jobs available through Shiftgig, your hourly pay will depend on the position you're filling, as well as your experience level in the field. As such, the company doesn't give prospective workers any idea about what they might earn.
However, based on employee feedback on Glassdoor, servers and cooks might expect to earn between $12 and $13. But what's unclear is if Shiftgig takes their cut from the employee, the company who hired them, or both. So, outside of the normal taxes, it's unclear how much of this $12 or $13 per hour you'll actually bring home.
Given the technology they use and the rates they might pay, is there anything else out there quite like Shiftgig?
Does Shiftgig Have Any Competition?
The answer to this question depends on what you consider competition. For example, there aren't any other companies that 1) specialize in hospitality industry shift work, which is 2) available in most major US markets, and 3) can be accessed and applied for in real-time using mobile apps. So, at least from this perspective, Shiftgig is unique.
However, if you've ever worked for a staffing agency, you'll immediately recognize Shiftgig's core business model. In a very real way, they're simply a national staffing company that's turned to technology to separate them from other large-scale staffing companies.
What's this mean for you? While Shiftgig's nationwide presence and mobile apps make them difficult to beat from a convenience standpoint, local brick-and-mortar staffing agencies might have a greater variety of shift work to meet your needs. So be sure to keep them on your radar, even if you do decide to sign up with Shiftgig.
For those who decided to sign up for a Shiftgig account, what's everyone saying?
Are Shiftgig's Workers Happy?
Although Shiftgig, Inc., based out of Chicago, IL, was founded in 2011, there was surprisingly little online feedback at the time of our research. In fact, the only place we found any online reviews was on Glassdoor (mentioned above). While some of these referenced full-time work with the company, there was also a lot of feedback from shift workers, too.
Overall, it seems that most temp employees were satisfied with their Shiftgig experience, although many claimed that work can be infrequent depending on the season, and that pay was low. Many also noted that it's a very competitive marketplace, where positions can be filled almost as soon as they're posted.
Finally, more than one temp worker complained of poor management; specifically, that they're very condescending. In the even of a complaint though, it seemed like Shiftgig responded quickly.
From a company perspective, Shiftgig had an A rating with Better Business Bureau based on six closed complaints (as of 1/29/16).
Is Shiftgig the Right Staffing Agency For You?
It's hard to deny that having so many temp jobs in one place is ultra-convenient. Just log on to Shiftgig's app (or their website), claim the position, and earn a little extra cash on the side. And based on the fact that Shiftgig's Android and iPhone apps come with high marks from users, it seems like you can expect solid performance along with this convenience.
But in our opinion, even if Shiftgig turns out to be an ideal solution for you, we think you'll still want to stay in contact with at least a couple local staffing agencies, who might provide a more well-rounded list of opportunities, and who might not experience as much seasonality.
Have you used Shiftgig to pick up some extra work? Tell us about your experience by writing a review below!