ShiftWear Reviews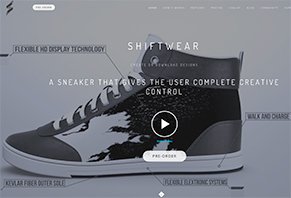 ShiftWear is a high-tech sneaker brand that will show still or animated images. Despite just starting up, they promise to take custom shoes to the next level.
About ShiftWear
Whoever said that you can't judge a man until you've walked a mile in his shoes hasn't gotten a good look at ShiftWear's customizable digital sneakers.
Claiming to be the future of footwear, these high-tech, high-, medium-, or low-tops plan to make use of flexible HD display panels on the each side of each shoe. But, unlike those old canvas Converse sneakers you once used to proudly showcase high school Sharpie art, ShiftWear's panels will display both still and animated images that each wearer can create or purchase on the Shiftwear app.
Want to change it up? The smartphone app is supposed to communicate faster than three clicks of the heel, giving ShiftWear's wearers complete creative control.
If you want animations instead of still imagery (and why wouldn't you want magical moving pictures on your feet?), the batteries powering ShiftWear's HD panels are expected to last a month. They'll apparently stay juiced via a mix of kinetic energy, from walking in the shoes, and a wireless charging option.
Of course, every masterpiece deserves a frame—ShiftWear has proposed that the eyelet panel, heel and toe caps will be available in up to five color choices.
Because ShiftWear kicks don't come cheap, the brand is reportedly extending the life of each pair by coating the soles of their sneakers with Kevlar fiber. Lower maintenance than your laptop, ShiftWear shoes don't even require a fancy screen cleaner. Instead, the brand claims that their shoes will be waterproof and machine washable.
Who's Behind ShiftWear's Innovative Shoes?
According to the brand's Indiegogo page, the ShiftWear team is a group of entrepreneurs, futurists, and engineers who dream of disrupting the fashion and technology industries.
We don't have too much information on the creative minds behind ShiftWear, with company founder David Coelho as the only named representative. That lack of accountability could be unnerving to some potential customers since it turns out that ShiftWear's shoes don't even exist yet.
Think ShiftWear Sounds Too Good to Be True? You're Right.
ShiftWear began as a campaign on the crowd-funding website, IndieGoGo. The campaign was initially seeking to raise $25,000—the amount they need to "move forward with development."
While the campaign, which closed on December 23, 2015, was wildly successful, many early-bird investors are realizing that making ShiftWear's shoes a reality will actually require way more money.
To be clear, ShiftWear doesn't have a working prototype—or even proof of concept design. Instead, that enticing image you see above showcases, not the technology that ShiftWear is testing, but a team member's glorious Photoshop skills.
ShiftWear's Success Reveals a Glaring Problem with Crowdfunding
When faced with criticism for a seeming lack of action, Coelho explained to The Daily Dot that "the initial $25,000 was simply what was required to boost ShiftWear beyond the prototype phase and toward mass production," and that "We are still aiming to continue raising funding on our website or through IndieGoGo until we reach the $2-million mark."
Basically, ShiftWear is trying to raise funds by selling advance units which are backed only by a digital promise.
Coelho defends ShiftWear's position by stating that the technology they propose to use for their shoes has been around for nearly a decade—it's the same e-ink that Amazon uses in the Kindle.
And since e-paper has already been used in clothing (such as in the Pebble smartwatch display technology) and walk-to-charge technology seems to be on the brink of mass release, his position certainly seems rational.
And with crowdfunding support, this could be the monetary push needed to unite these various technologies in a single product.
But, what happens to that near-$100,000 if ShiftWear doesn't make good on their promise to start delivery in Fall of 2016?
There's no legal recourse for backers and those who've already plunked down cash will be left standing in their socks—an unfortunate fate we've seen happen first-hand with other startup products, such as Coin Credit Card and Vessyl.
What It Costs to Get Your ShiftWear Kicks
Those who made the leap of faith to back ShiftWear in their early stages were promised a pair of the low-top L1 Classics for $150.
While the door to ShiftWear's Indiegogo campaign has closed, they opened a window and are now offering all three styles of shoe for pre-order on their website. Pre-orders are stated to ship in Fall of 2016. Customers can choose from:
L1 Classic (from $349) is the low-top design
M1 Classic (from $399) has a medium rise
H1 Classic (from $499) is a high-top shoe
Aside from how far each model comes up on the wearer's ankle, there's no difference between models. Each is available in five different accent colors and, while not explicitly stated, "a range of true shoe sizes."
While the site says that the shoes will start at the given price, no information is given as to what would make the cost go up.
Note that the FAQ section of ShiftWear's website states that the corresponding app will be free, but there's no word on how much it will cost to purchase another ShiftWearer's e-ink creation for display on your own shoe.
ShiftWear Offers Limited Guarantees and Refunds
Per ShiftWear's website:
"Pre-orders are final and non-refundable upon receipt by ShiftWear of the corresponding payment, however, refunds will be issued if the pre-ordered products and Services are deemed by ShiftWear as undeliverable and to the extent of available assets for refund.
"We are engaging in a new industry and we are attempting to produce a product of extremely high quality. When you pre-order, you are reserving your very own pair of ShiftWear Classic shoes and will receive them before the rest of the world gets a chance to purchase them at retail stores. We will have to produce and assemble materials needed to fulfill your order and as such cannot issue refunds."
In plain language, ShiftWear promises to refund your purchase only if the products are deemed undeliverable and they feel as if they have capital left over to do so. Basically, don't hold your breath.
ShiftWear Is Already Showing a Lack of Direction and Delivery
This realization that a prototype hasn't yet been developed is stoking a fear that's already begun to float around online—and discussions surrounding the sneakers have started to grow suspicious that ShiftWear bears all the marks of a crowdfunding scam.
Adding to the fire? While the ShiftWear team promises that they can make the first batch of sneakers for its early backers, there are whispers that the first-generation shoes won't come with the features that are touted so heavily in the rest of the campaign.
ShiftWear is now claiming that the HD color display won't come to fruition until their next campaign passes $1 million, and walk-to-charge technology and wireless charging won't be available until the $2 million target is reached.
This means that those who had faith in ShiftWear from the get-go are getting shorted the range of colors that could make their HD displays that much more interesting—a realization that's making many see red.
The Botton Line: Should You Pre-Order ShiftWear's High-Tech Shoes?
Is it worth risking over $349 for a pair of shoes you might not ever see? What about if you're disappointed with ShiftWear's fit, comfort, or quality?
That depends on how much you like to gamble. For my money, ShiftWear too risky to hand over your hard-earned money for the hope of getting some shiny shoes several months before the rest of the world.
After all, it's not like holding off means that you're losing out on the opportunity completely: Assuming that the team at ShiftWear stops shifting responsibility onto backers to pledge more money before they make good on promises, the shoes will be readily available for purchase in person not long after the early birds get their worm.
There is a special place in hell for David Coehlo

By Lisa R.

,

Kaneohe, HI

,

Jul 29, 2019
Verified Reviewer

I was one of the first investors when this was an Indiegogo project. After one year of waiting, I asked for a refund. David begged me to be patient. After two years of waiting, I asked for a refund. David begged me to be patient. After three years of waiting, I asked for a refund. There was no reply. It's been four years and David has vanished.

Contribution Details

Status Contribution Placed

Your payment has been processed successfully. You can edit your shipping address (if applicable) until the campaigner updates the status to "Locked" to prepare for fulfillment.

Contribution ID

####

Contribution Date

December 8, 2015

Selected Perk

L1 Classic - Get your kicks

$150 USD

One pair of the L1 Classics in your color choice. You save $100. Shipping info: Add $25 for shipping to US and Canada. An additional $10 for each extra pair. Add $50 for International shipping. An additional $25 for each extra pair.

Subtotal

$150 USD

Shipping

$25 USD

Total

$175 USD

Bottom Line: No, I would not recommend this to a friend

---

"crap wear"

By Jonathan M.

,

Kentucky

,

Jun 27, 2019
Verified Reviewer

Ordered these shoes back in 2015, got emails for 2 years saying they were on the way. Been asking for a refund for 3 years now and still nada, nothing. No shoes, no refund, no contact for 3 years.

Bottom Line: No, I would not recommend this to a friend

---

Advertisement

---

My email from their person George Bell

I paid up front nearly two years ago and there is zero communication except this from George Bell (ShiftWear):

Mar 3, 22:54 CST

Hi C

We apologise for the delay with getting orders out to backers - we know this is frustrating but we're working hard to make this one-of-a-kind product perfect.

We're working with our developers now to get a more specific timeline together for you - we'll let you know as soon as we've released it.

Thank you for being patient with us :)

Best,

George

Hello, can you please send me an update on my previously paid order as I have not heard from you in almost a year! Thank you.

Sent from Yahoo Mail for iPhone

On Friday, March 11, 2016, 9:25 PM, ShiftWear wrote:

Thank you for placing your order with ShiftWear!

This email is to confirm your recent order.

Order #

1x M1 Classic - Green for $399.00 each

Subtotal : $399.00 USD

Bottom Line: No, I would not recommend this to a friend

---

No communication

I really felt that the company could make this product. But over the last few years, they've had practically no communication with their backers and leaving us clueless for months. They even removed the community forums because a lot of people were concerned about the lack of communication and were demanding refunds. They replaced it with a blog where they're supposed to give us monthly updates that we can comment on, but they've given us one update, and that was a few months ago, and the comments have to be approved before they show up on the blog, so pretty much no one gets approved. I read a review from an ex ShiftWear employee that said David had him do a bunch of work and then didn't pay him and let him go.

Bottom Line: No, I would not recommend this to a friend

---

Advertisement

---

Not happy!

By Matt

,

Australia

,

Aug 29, 2017
Verified Reviewer

I donated to this project, but since then there have been endless delays, I don't think they will ever deliver the shoes. They have gone more and more quiet, shut down the forums, deleting negative posts on Indiegogo, and never reply to emails! Now they don't even have a release date for the shoes, not even a prototype! It's just a big scam, they have $1 million of our money, and they're still taking preorders. Not happy!

Bottom Line: No, I would not recommend this to a friend

---

ShiftWear shoes

By Kelvin Edwards

,

Kent, United Kingdom

,

Jul 25, 2017
Verified Reviewer

I saw an advertisement and thought, "WOW, the wife would love these," and the advertisement said "pre-order." The wife's birthday was in March so in February of 2016 I pre-ordered, just like you would for the release of a new iPhone etc. After ordering and paying $449.00 plus $50.00 for shipping, I was told in an email from George-SW@shiftwear.com that the release date would be December of 2016. Fair enough, a Christmas present then. Not to be.

I have sent several emails asking for a refund, as I understood their refund terms to be, as they didn't deliver by the said promised date. I am still waiting for a reply and have no other updates either. This appears to be a con trick made legal, and I fell for it.

Bottom Line: No, I would not recommend this to a friend

---

Advertisement

---