Side Winder by Fuse Reviews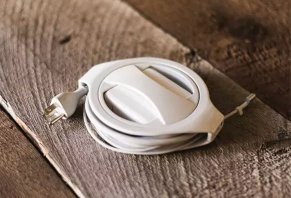 Invented by BYU graduate Logan Bailey, the Side Winder by Fuse MacBook charger reel claims to help prevent damage and improve on-the-go organization.
About Side Winder by Fuse
Advertised as the best MacBook accessory on the marketplace, Side Winder by Fuse is a patent pending charger reel that promises to eliminate cable damage and fraying, while also helping you organize and stow your charger in less than six seconds.
Just insert your charger, wind it up, and you're ready to go, even in the smallest of pockets. This design also allows you to choose the desired length of the cable as needed, anywhere between 10 inches and 12 feet.
Although the MacBook Pro is an extraordinarily popular laptop, as mentioned on the Side Winder website, its charger currently holds an average rating of 1.5 stars among well over 100 reviews on Apple.com. Most complaints reference its tendency to tear or become otherwise damaged.
And even if it isn't damaged, the cord's 12-foot length can be unwieldy, especially if you're using it on the go. But has Fuse's Side Winder reel changed all of this? Is it really the ultimate MacBook accessory, as advertised on their website?
Although the reel won't release until January 2018, here's what we learned during our research to help you make a more informed decision in the meantime.
How Does the Side Winder Charger Reel Work?
Side Winder features a simplistic revolving shell design. After opening the top, the charger itself rests inside, with the cables on opposite sides (see below).
Shown here with its top open, you can see how the MacBook charger brick sits inside the Side Winder reel. Image credit: Fuse Reels LLC
After the top is closed, winding the reel will cause the charging brick inside to spin, thereby pulling the cables on each side in a circular motion—almost like a smaller, dual-sided garden hose reel.
Once wound, the Side Winder reel can provide adjustable length between 10 inches and 12 feet, while also organizing and protecting your MacBook charger from fraying and other damage. Image credit: Fuse Reels LLC
According to their crowdfunding campaign, Side Winder is compatible with all MacBook Pro chargers using Magsafe 1 and 2 attachments. These include the following models:
85W (15" MacBook Pro)
87W (post-2016 15" MacBook Pro)
60W (13" MacBook Pro)
61W (post-2016 13" MacBook Pro)
45W (MacBook Air)
However, it's important to note that Side Winder does not fit Apple's 29W charger for 12" MacBook models. Also, using the reel requires the charger's extension cable, which is not included with your order.
Speaking of which, how much will you pay for this device?
Taking a Closer Look at Fuse Side Winder's Price
Fuse's Kickstarter campaign ended 10/19/17, with more than $270K raised based on an original goal of $20K. Pledge options ranged between $20 and $110, with expected shipping in January 2018 and customer receipt in February.
Customer support can be reached at (520) 609-2233 or reelthefuse@gmail.com. We sent an email requesting additional refund and warranty information, but hadn't yet received a response at the time of publishing.
Are There Other MacBook Charger Reels Like Side Winder?
While we didn't encounter anything designed exactly like Fuse's Side Winder during our research, we did find a couple of options that could provide similar reel-based organization and protection functionality.
One of the top choices on Google Shopping was the Powercurl Pop Cable Organizer ($13), which supports 45W, 60W, and 85W MacBook Pro chargers. While the charger's brick sits in the center like Side Winder's version, there's no twisting motion, which means that you'll be responsible for manually wrapping the cord.
Related: The Risks of Backing a Crowdfunding Campaign
Another popular option on Amazon was the Powerplay cable organizer, priced at $35. These featured a more compact design than the Side Winder, although the leather cable wrap attached directly to the adapter brick. This version also required users to manually wrap cables.
Outside of these, we encountered several different MacBook charger pouches, pockets, and bags priced between $7 and $30, which could help you better organize your cables at home and when you're on the go.
However, as with some of Side Winder's closer competition, you'll be responsible for wrapping and unwrapping the cables yourself, which might not provide the same level of fraying and damage protection.
Finally, back in 2013, LifeHacker's Melanie Pinola wrote an article about the best way to wrap MacBook's power cord, which involves first wrapping the big cord around the brick, with the smaller cord wrapped around the brick's built-in hooks to hold everything in place.
Again, not to sound like a broken record, you'll obviously be responsible for doing this yourself, and it might not prevent the frequent bends that can eventually lead to the cable's rubber sheath fraying. However, it's completely free and could at least address the organizational aspect, if that's your major concern.
Our Final Thoughts About the Fuse Side Winder Reel
Fuse Reel's founder, Logan Bailey, graduated from Brigham Young University in 2016 with expertise in entrepreneurship, business, management, and marketing, according to his LinkedIn page. And based on what we learned from his bio on the Side Winder website, he came up with the idea for the reel after noticing during class that, "every table was covered in an ugly mess of chargers."
After creating a makeshift design from electrician's fish tape purchased at Home Depot, Logan tells us that he turned his college house's basement into a workshop and quickly made Side Winder into a reality.
For us, this MacBook reel represents a "why didn't we think of that" moment, as many of us on the HighYa team have experienced damaged MacBook chargers and frequent disorganization. As a result, we pledged, so be sure to bookmark this page, and we'll update the article as soon as we receive our reel in January or February 2018.