Sightbox Reviews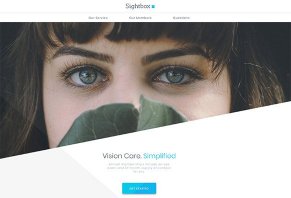 By booking an appointment and pre-paying on your behalf, Sightbox claims to help roll the cost of your eye exam and annual contact lens needs into a manageable monthly price.
About Sightbox
Sightbox is an online annual membership service that delivers an eye exam and a 12-month supply of contact lenses for a low monthly price, without having to worry about insurance-related issues like co-pays, deductibles, reimbursements, confusing paperwork, out-of-network hassles, or catches or exceptions.
According to their website, the process works over two steps:
Sightbox calls a doctor, books an appointment on your behalf, and then pays the full price of your exam and fitting.
After receiving your prescription, they deliver a one-year supply of contact lenses to you from many of the most popular brands.
Based on what we learned from the website, it really does seem like Sightbox is on a mission to simplify vision care for contact lens wearers. But does that necessarily mean they're your most appropriate option?
In this article, we'll briefly cover everything we learned during our research, so you can be one step ahead of the game when it comes time to make a decision.
How Does Sightbox Work?
What Does a Sightbox Membership Entail?
As a self-proclaimed "hybrid of vision insurance alternative, payment plan, and concierge service," a Sightbox membership is available to anyone who wears contact lenses and lives in the United States, and includes a comprehensive eye exam, contact lens fitting (in addition to training, if needed), and a 12-month supply of contact lenses delivered to your door.
Pro tip: However, membership does not include a digital retinal screen (Optomap, Optos, retinal scans, or fundus photos), visual field screening, or any type of medical services. While you're free to choose these if offered by your physician, they won't be covered under your Sightbox plan.
How Do You Sign Up For a Membership?
To sign up, you'll need to start by indicating if the standard plan fits your needs, or if you need to upgrade to one-day contacts (more about this in the pricing section). If you have an existing prescription, you'll need to check the appropriate box as well, after which you'll be required to provide a clear image or PDF (including expiration date and your doctor's signature) later in the signup.
Then you'll complete the process by entering new member details (e.g., name, DOB, gender, shipping address, email address, and phone number), accepting the terms of service, entering your billing information, and choosing an account password.
How Can Sightbox Help You Get a Prescription?
If you don't' already have a prescription, Sightbox will ask several questions during the signup process that can help you find an optometrist in your area who best meets your needs, and who can provide the required eye exam and contact lens fitting.
The website indicates this typically takes about five business days to process, but if you already have an optometrist in place, the company can work with any office—as long as they're accepting new patients and can handle payments over the phone.
Once your appointment is reserved, Sightbox will send you an email and only involves quickly clicking a button to confirm. Following the appointment, you'll need to verify with the company that your prescription was finalized, who will then process your 12-month order and deliver your lenses accordingly.
If you receive a new prescription for your doctor mid-year, the company can easily adjust your future deliveries to match any changes.
Finally, once your prescription nears expiration, Sightbox will reach out to schedule another exam on your behalf, and the process starts anew.
Which Contact Lens Brands Does Sightbox Offer?
The Sightbox website indicates they support all popular contact lenses, including daily, two-week, and one-month; color lenses, toric lenses for those with astigmatism, and multifocal lenses for those with presbyopia.
Brands include Acuvue, Biofinity, Biomedics, Biotrue, Clariti, Extreme H2O, Proclear, PureVision, SofLens, and Ultra, to name just a few.
Do you wear rigid gas permeable (RGP), scleral, or custom lenses? If so, keep in mind that Sightbox is only designed to support soft, disposable contact lenses and won't be able to accommodate.
Sightbox Pricing, Shipping Details, Refund/Cancellation Guidelines, & Fees
Sightbox's standard service is priced at $39/mo for 12 months, or $468 per year, while daily contact lenses will increase this price to $89 per month, or $1,068 annually. Either way, this amount will automatically be deducted from your credit card on file once per month.
All Sightbox orders are shipped via UPS Ground and are delivered once every 30 days to six months, depending on the specific type of contact lens you wear.
Since the company advertises themselves as an alternative to vision insurance, it might not come as any surprise that they don't accept insurance coverage as payment for memberships. However, you can pay using your Flexible Spending Account (FSA) or Health Savings Account (HSA) credit card, as long as you haven't reached your annual limit.
The FAQ emphasizes that all Sightbox subscriptions are 12-month commitments, and that the company "covers several upfront costs for members and expects them to uphold their commitment to making payments for the duration of their membership."
As such, if you're a current member and decide to discontinue your service, you'll be responsible for any services they already paid for (contact deliveries, appointments, fittings, etc.), and potentially a $30 cancellation fee. Although you'll get to keep your prescription and have it filled by your provider of choice.
If you miss a scheduled appointment, you'll also be assessed a $25 fee. Cumulatively, this is why the Sightbox website points out that "memberships are not intended for people who want to "try out" contact lenses."
Sightbox customer service can be reached at 844-503-9900, support@sightbox.com, or via live chat.
What Do We Know About the Company Behind Sightbox?
We found Sightbox covered in major outlets like Buzzfeed, The Wall Street Journal, and US News and World Report at the time of our research, although most of these didn't provide a lot of direct feedback.
Instead, they were largely short write-ups and quick blurbs covering their core services, or topics unrelated to consumers (such as news regarding recent funding rounds, or their sale to Johnson & Johnson). Furthermore, the majority of these were well over a year old.
From a company perspective, Sightbox, Inc. was founded in 2014 by Travis Rush (also the founder of Lucky Labs Studios) and is based out of Portland, OR. They held an A Better Business Bureau rating, based on one consumer complaint related to billing/collection issues, as of 1/9/18. No additional details were available.
Sightbox vs. Hubble Contacts: Which Is the Right Option For You?
While there are several other companies that can provide vision tests (online or otherwise) and subsequent prescriptions; or, those that can provide monthly auto-delivery services for contact lenses (whether manufactured by them or a third party), we didn't encounter any other services that provided all of this under one roof, like Sightbox.
As such, if these are your primary criteria, they're currently the only game in town. With this in mind, the Sightbox website emphasizes that their "goal is to make being a contact lens wearer more affordable by spreading costs over the year, not to be the cheapest possible option."
On the other side of this equation is a company like Hubble Contacts, who specifically helps their customers save money on contact lenses—which are made in-house and don't come from a national brand—via a monthly subscription.
However, they can help you schedule an eye exam with a doctor in your area. You'll have to pay for the cost of the exam up front, but like Sightbox, they could help you split the cost of contact lenses into monthly payments.
Speaking of cost, Hubble's customers pay $30/mo compared to Sightbox's $39 (or $89 if you require dailies). Does this $9 per month, or $108 per year, represent a valuable use of money?
Let's answer this question by running some simple numbers as we wrap things up.
Is Sightbox Worth It? Our Final Thoughts
Which of these options is 'best' for you largely depends on key personal factors like the specific clinic you visit, the region of the country in which you live, and the presence of any eye conditions such as astigmatism. Why?
Because according to CostHelper Health, the price of a contact lens eye exam can range anywhere between $25 and $250, based on these specific factors.
Taking these numbers and spreading the cost out over the course of a year, this means you'd pay anywhere between $2.08 and $20.83 per month. So, considering what we learned in the section above, if you decided to subscribe to a service like Hubble, you'd cumulatively pay about $32 to $50 monthly for the cost of your lenses, plus the cost of your exam and fitting.
Thus, at $39, Sightbox seems to mostly split the difference. Meaning that, if the price of your eye exam falls at the higher end of the spectrum—or if you need to pay for your exam and lenses on a monthly basis, then they might be an ideal fit.
On the other hand, if your exams typically fall at the lower end of this pricing spectrum, or you can afford to pay for your exam in one lump sum, a value-focused contact lens-only company like Hubble might better meet your needs.
Another potentially important aspect to keep in mind is that Hubble offers a 30-day refund policy on all their contact lens shipments, while in most instances, it seems you're locked into a 12-month Sightbox membership as soon as you sign up.
Outside of this, while we didn't try the service ourselves to provide firsthand feedback, Sightbox seems to come with a mostly positive—although perhaps quite limited, considering the length of time they've been in business—online customer reputation.
Wonderful

By Christy E.

,

Montana

,

Oct 13, 2019
Verified Reviewer

I used Sightbox for my contacts. They sent me to a great doctor. The same one my kids use. It was so simple. They paid all a head of time so I was in and out in an hour. This is an amazing way to buy contacts and I plan on staying with them.

Bottom Line: Yes, I would recommend this to a friend

---

1 out 1 people found this review helpful

Good and bad

By Jami S.

,

Nevada

,

Nov 3, 2018
Verified Reviewer

I have terrible eyesight, but my insurance won't cover contacts even though the doctor considers them "medically necessary" because of the high cost. I'm on my second year with Sightbox, and it wasn't all great. I had financial issues and missed a few payments, so my account was suspended for a few months. I spoke with someone to get my payments back on track and had a couple of payments go through unauthorized. The customer service was more than friendly and resolved the issue quickly, reversing the charges even though I still hadn't caught up on payments. This was last year. I haven't had any issues since then, except when the year was up I wasn't automatically contacted to renew. I had to contact them to renew for the second year. Because of my high prescription and the cost of my lenses (were I to use insurance, yes, the optometrist office figured out pricing for me), I'm saving $20 a month. It's worth it for me.

Bottom Line: Yes, I would recommend this to a friend

---

Advertisement

---

3 out 4 people found this review helpful

Worst customer service ever!

By Rylee G.

,

Arizona

,

Oct 19, 2018
Verified Reviewer

I have been waiting for a return phone call from Sightbox for three days! They have charged my card an authorized amount and will not respond to me via phone or email. After sending me an email saying my contacts were out of stock and will not be available until October 26th, they then ran my credit card for $69, an amount I never authorized! I am not sure what it is going to take to get them to respond!

Bottom Line: No, I would not recommend this to a friend

---

5 out 6 people found this review helpful

Love, love, love!

This company has been amazing to work with. They scheduled exam just blocks from my house (Dr. Courtney Perry, Eye Gallery, Plano) and the optometrist and her staff were friendly and receptive to my needs and questions.

I find Sightbox is actually saving me money as last year, I paid over $300 for just the exam (and then had to purchase the contact lenses, as well). Sightbox is easy, convenient, and affordable! They sent messages confirming appointments, pre-payment of appointment, and even a reminder! They sent follow-up messages with precise communication, too! The Sightbox communications have been friendly and very organized throughout the whole process. My contacts were sent UPS "rush" shipping with tracking.

I have no negatives to report! I am more than satisfied with my decision to utilize Sightbox! Plus, as a bonus, my optometrist was able to change my prescription and wearing plan that has my sight and comfort level better than it has been in years! This is how it SHOULD BE! Vision care should be easy and comprehensive!

Oh, and I was happy to pay $39 extra for eye mapping as it is a valuable tool and even with vision insurance, I have had to pay for this service in the past!

I love, love, love the Sightbox Contact Lens plan and cannot wait until they include glasses, as well!

Bottom Line: Yes, I would recommend this to a friend

---

Advertisement

---