SignalTech Booster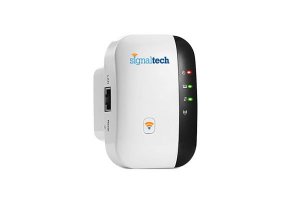 The SignalTech Booster can improve the internet signal in your home by capturing you router's Wi-Fi signal and extending it into dead spots.
SignalTech Booster Review: Does It Work and Is It Worth It?
SignalTech Booster is a Wi-Fi repeater that boosts your internet signal further than what your router can do on its own.
This type of device helps you escape the frustration of "dead zones," the areas in your home or apartment where the internet signal is so weak it's either barely usable or completely unusable.
This could allow you, for example, to use your wireless network in a second-floor room or the backyard when it wasn't possible before.
In our review of the SignalTech Booster, we will help you see why this device could be the solution for the weak signals in your home.
How the SignalTech Booster Works
This device boosts your signal through dual-band technology, which means it provides speeds up to 300 Mbps for devices blocked by walls and speeds of up to 433 Mbps for devices without any walls/obstructions between it and the repeater.
The SignalTech Booster site nor the device's customer service department tell you what the device's range is. Most routers can reach up to 150 feet, which means you can realistically expect your repeater to extend the signal less than 150 feet.
You can set up your SignalTech Booster as an access point or a Wi-Fi repeater. Both modes have simple instructions for setting up the device.
Access Point
With this feature, you'll connect the SignalTech Booster to your router via an ethernet cable. The device acts as part of the router's existing network. So, when you go to connect to the internet, you see one network instead of a network for your router and a network for your SignalTech.
The advantage of using your device this way is that you get "full-duplex" information transfer, between the device and your router. This means your SignalTech Booster sends information to your router and receives it from your router at the same time.
Full-duplex results in smoother information transfer and, as a result, a more stable, faster internet connection than what you'd get through a wireless connection.
The drawback to this method is that it's not the best option to extend an existing signal. You'd have to run an ethernet cable all the way to the place where you want to extend your signal. For this reason, most people use the repeater function when they buy devices like this.
Wi-Fi Repeater
When you choose to use your SignalTech Booster as a Wi-Fi repeater, you connect it to your router wirelessly. You do this by clicking on the device's network ("Wi-Fi Repeater"), selecting the "Repeater" function and then connecting to your existing network.
Once it's connected to your existing Wi-Fi network, the repeater will show up as its own network. The device becomes a second router, basically. You can give it its own name and set up a password for it.
The advantage of this is that you don't have to use an ethernet cable to connect the device to your router. You can connect anywhere within your Wi-Fi signal range. So, if your office is right on the edge of your wireless signal, you can plug this into a wall outlet and extend the range.
The downside is that you're dealing with two wireless ("half-duplex") connections: the one between your router and your SignalTech Booster and the one between your devices and the booster. This can result in communication issues that slow down your internet speed.
However, you'll probably accept that tradeoff to get the benefit of a stronger internet signal in areas where the signal was too weak.
SignalTech Booster Pricing and Return Policy
You can buy between one and four SignalTech Boosters at a time:
$35.96 for one device
$62.96 for two devices
$89.96 for three devices
$116.96 for four devices
Shipping is free for all purchases.
If you need to make a return, you need to do it within seven days of delivery. Also, be sure to keep the original packaging.
SignalTech requires you send your device back in the original packaging it came in. Also, you need to return it in like-new condition. You might not be eligible for a refund if your device shows signs of wear.
To start your return, call SignalTech customer service at (800)269-0706 or email them at support@signaltechbooster.com.
The return mailing address is SignalTech Booster; 5694 Mission Center Rd.; Suite 602-615; San Diego, CA; 92018.
Warranty
SignalTech offers a lifetime warranty on your Wi-Fi booster. It costs $9.97 and provides free replacements for the life of the device. However, the SignalTech website offers no further details about the warranty program.
The customer service department could not provide any information about it, either. This lack of information is a red flag indicating you're taking a risk by paying extra for the warranty.
How SignalTech Booster Compares to Popular Name Brand Wi-Fi Repeaters
The TP-Link AC750 Wi-Fi repeater is a highly-rated, popular Wi-Fi repeater on Amazon. Like the SignalTech Booster, it has dual-band technology. You can use it as an access point or a repeater.
The main difference between the devices is three-fold. The TP-Link can connect to Amazon Alexa, it's around $15 cheaper than the SignalTech Booster and has thousands of reviews on Amazon that average around 4 stars.
TP-Link offers multiple types of Wi-Fi repeaters equal to or cheaper than the SignalTech device. In fact, TP-Link sells a repeater that supports speeds up to 1.2GB for $38.32, which is just a few dollars more than the SignalTech Booster.
If you're someone who likes to stick to name-brand electronics, there are multiple options from TP-Link that have the same performance specifications as the SignalTech Booster.
Another advantage of choosing a name-brand repeater is that TP-Link provides a two-year limited warranty that covers the repeater if it fails.
There is a wealth of information about this warranty on TP-Link's website, whereas SignalTech offers very little information. This disparity in information makes TP-Link the more reliable company for warranty fulfillment.
The Bottom Line
The SignalTech Booster uses proven technology to act as an access point or Wi-Fi repeater for your router's internet signal. You can extend your router's signal within minutes of taking the repeater of the box.
However, there are a few things you need to remember to get the most safety and effectiveness out of this device:
To ensure that you create a safe network, create a password for your SignalTech Booster network that's different than your router's Wi-Fi network.

You'll need to strategically place your extenders to maximize how far your internet signal goes. Place the device in a spot where there are the fewest obstructions between the SignalTech Booster and the area in which you want internet.

SignalTech doesn't say how many devices their boosters can support. However, you can test the device's capacity by connecting three or four devices to its network. If the internet speed starts to drop below 50% of what it normally is, you know you've reached its limit.

If you're trying to increase the signal in a room that's bigger than 150-square-feet, you'll need to buy more than one device. You'll likely face this situation if you want to extend your internet to a living room, family room or a big deck or patio in your backyard.
Horrible product! Scam! Do not buy it!

By Luciano K.

,

Woodbury, MN

,

Jun 11, 2020
Verified Reviewer

Length of Use: Less than 3 months

Overall Experience:

Terrible product, cumbersome, USELESS. I tried to return the product, but 30 days had lapsed since I had placed the order, couldn't get any kind of refund. STAY AWAY FROM THIS PRODUCT AND COMPANY, unless you want to throw money down the drain! I wasted $123 on this garbage product!

Pros and Cons:

No "pros" were specified in this review
I liked nothing, this company is a fraud!

Bottom Line: No, I would not recommend this to a friend

---

Advertisement

---