Silk'n ReVit Microdermabrasion Device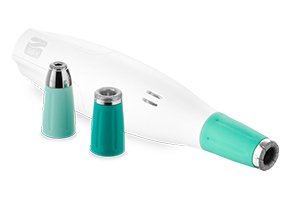 Silk'n ReVit is a microdermabrasion system that claims to reduce the appearance of age spots, fine lines and acne scars without costly trips to your derm.
Silk'n ReVit Microdermabrasion Device Review: Is Legit or Just Hype?
If you've ever been a spa skincare junkie, you're likely familiar with the fantastic results of professional microdermabrasion treatments—and, at upwards of $80 per session, the not-so-fantastic cost.
The Silk'n ReVit is a diamond microdermabrasion system that claims to make at-home microdermabrasion more accessible (and affordable). Think of it as a luxurious little pressure washer for your skin—except dead skin cells and other gunk are sucked through the device instead of just blasted to the side.
It's that vacuum stimulation, along with diamond-tip exfoliation, that Silk'n ReVit claims helps them deliver professional results; including a glowing, healthy complexion with diminished acne scarring, age spots, and even fine lines.
Unlike professional microdermabrasion kits (and some at-home versions), the Silk'n ReVit is a smaller, pen-shaped device. Does the Silk'n ReVit still pack all the power needed to provide quality skin resurfacing, despite its small size? Let's take a look:
How the Silk'n ReVit Works
Microdermabrasion is a non-chemical, non-invasive procedure that uses an exfoliating surface, either a spray of microcrystals or a diamond-tipped nozzle, to remove the outermost layer of dry, dead skin cells and reveal younger, healthier-looking skin.
Silk'n ReVit uses the latter, and more preferable method—a diamond tip. Why is diamond tip microdermabrasion better? Several reasons:
Those microdermabrasion machines that exfoliate via a spray of microcrystals can be extra-irritating to the skin, and excess fallout can find its way into your eyes and mouth.

Alternatively, the dermabrasion tips of Silk'n ReVit machines are etched with tiny diamond chips that stay put.

Diamond microdermabrasion systems offer the strongest dermabrasion. Basically, you're going to get better results, faster.

Diamond-tipped nozzles generally do not require regular replacements or refills, which helps save ongoing costs.
When the Silk'n ReVit is turned on, vacuum suction is activated. Unlike simply scrubbing your skin with an exfoliant, the vacuum suction helps stimulate your circulation and assists the diamond tip in getting a better "grip" on the surface of your skin.
Once the device is pressed against the skin, the exfoliating diamond tip begins to remove dead surface layers of skin, revealing fresh, smooth skin underneath. The dead skin cells are collected in a replaceable filter. When you remove the device's tip, you get the oddly satisfying experience of seeing just how much gunk was removed.
The results? Silk'n ReVit claims to deliver more youthful looking skin by improving skin tone, texture, and elasticity. It also claims to help reduce the appearance of age spots, and the appearance of fine lines around the eyes for an overall smoother looking skin.
Using Silk'n ReVit
Silk'n Revit is suitable for every skin type (just adjust intensity settings accordingly). And, while it's primarily marketed as a facial treatment, it can also be used on your neck, hands, feet, or basically anywhere you'd like to experience the benefits of microdermabrasion.
For the best results, expect to use Silk'n Revit every three to four days. The product website states that treatments only take five minutes. But, as someone who's used at-home microdermabrasion kits, I feel that's only accurate if you count treating each area of your face, such as cheeks, forehead, nose, etc., separately.
That's because, to use Silk'n Revit properly, you should follow the "facial maps" that are provided, as shown here.
Imagine taking about 10 seconds for each of those lines, but being careful not to miss a spot as you draw the device repeatedly across your face—it's going to take more than five minutes!
Other than being time intensive, using Silk'n ReVit is pretty easy:
Before each treatment with Silk'n ReVit, wash your face with soap and water, then dab dry.

Choose a tip head, depending on your skin sensitivity and which area you'd like to treat.

Hold the device like a pencil and lightly drag across your face with short, careful strokes.

Rinse your face with cool water. Applying a moisturizer afterwards is recommended.

Be extra-careful to apply sunscreen. Microdermabrasion reveals new skin that is more vulnerable to sun damage, reversing all your results.
Silk'n ReVit claims that how often filters should be replaced depends on each individual. Personally, I'd recommend changing them every time. Filters are purchased by the hundreds and are very inexpensive, but allowing buildup to travel into your device reduces its overall lifespan and effectiveness.
Buying and Returning Silk'n ReVit
The Silk'n ReVit is available online, through their official website or several other authorized retailers. Silk'n ReVit, which is part of the parent company Home Skinovations, is accredited by the Better Business Bureau and receives an "A" rating.
This important to note, because Silk'n ReVit is only covered through Home Skinovations' warranty and return policy when purchased through the official site. Unofficial websites do not offer the same protection. Home Skinovations gives more information on their authorized retailers here.
You can purchase a Silk'n ReVit for $99. Each order of a Silk'n ReVit comes with three detachable diamond treatment nozzle heads. Shipping to the US and Canada is free.
Once you're sure that the website offering Silk'n ReVit is an official or authorized retailer, your order is protected with:
A 'double warranty'—meaning that your first purchase if covered up to one year, and a repaired Silk'n ReVit is covered for an additional 90 days.
A 30-day, money-back guarantee
It should be noted that filters are an ongoing cost of at-home microdermabrasion—though not a steep one. Packs of 100 can be purchased for $15 on Amazon.
If you're not satisfied with your purchase, Silk'n ReVit will provide a refund (up to 30 days) providing you complete the following:
Include proof of the purchase by providing an invoice or receipt that specifically lists the date of purchase, such as a confirmation email.

Ensure that the device arrives safely and undamaged, packed in its original packaging, and including all accessories or parts and pieces.
How Does Silk'n ReVit Stack Up?
Finally, the Silk'n ReVit does boast FDA approval—however, consumers unfamiliar with the administration's guidelines should be aware that doesn't guarantee safety of effectiveness. What that approval does mean is that the Silk'n ReVit has been judged to fall into a category of devices whose potential benefits outweigh their potential risks.
On Amazon, the Silk'n ReVit has earned an average of 4.1 out of 5 stars, after 35 purchases. The general consensus is that consumers were pleased with their purchase. However, what one review mentions as a pro, others might consider a con: device strength.
The Silk'n ReVit is designed for non-professional use. As such, it's safe for you to use at home, gleefully removing gunk from our skin, as one reviewer commented:
"The main "pro" about this product is that, as far as I can tell, it will not harm your skin in any real way unlike other products on the market that can scratch your skin or cause permanent scarring. This one is gentle enough that you can go over the same areas multiple times during one use. Your skin will tingle, maybe even slightly burn afterward, but when you see all the dead skin that was collected in the filter, you'll know why! I love that you can actually see how much skin was removed, because as with most skincare products - the results are cumulative, so don't expect a miracle after one use, but seeing the dead skin helps you know it's working."
-By Amanda on April 1, 2015
Another reviewer stated she failed to see any dramatic results, updating her review after three weeks to say:
"My daughter used this machine about ten times over three weeks, and saw no change in the scars on her chin, nor did the machine actually suction out any plugged pores. Her face is nicely exfoliated, but the current price of $97 is way too much for a glorified sander."
-By Lisa Kearns on May 6, 2015
Our Bottom Line
For safety reasons, the power of at-home microdermabrasion systems is typically lower than those you'll find in professional settings. The problem is that we're not told about Silk'n ReVit's power level, so it's difficult to discern how much suction you'll get for your money.
With this in mind, SafeMicrodermabrasionEquipment indicates that higher-end at-home devices will feature up to 16 Hg vacuum suction, while models recommended for professional use will go up to 25 Hg.
Assuming Silk'n ReVit provides this minimum 16 Hg suction, though, this should work for your needs, unless you're looking to address severe scarring. Here, a professional microdermabrasion treatment could deliver more bang for your buck.
Also, while at-home microdermabrasion systems tend to deliver lower power than professional devices, neither should be used on skin with rosacea, eczema, or cystic acne, which could lead to irritation, inflammation, and perhaps other complications.