Simple Mileage Tracking App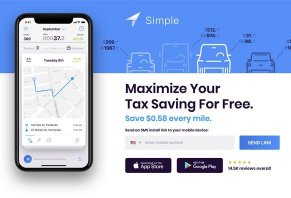 Summary
Simple is a free mileage tracker whose ability to track miles and provide IRS-compliant reports exceeds the value that you can get from other mileage trackers with long-term or temporary free options.
Simple Mileage Tracking App Reviews: Is It Right for You? Pros and Cons
Simple is a free mileage tracker you can use to log the business miles you drive and create end-of-the-year, IRS-compliant reports that provide a summary of your mileage-based tax deductions.
What makes this particular app so interesting is that it is the only app among the mileage trackers we've reviewed that provides unlimited trip tracking and cloud storage for free. Most mileage trackers will give you a certain number of trips for free before charging you a nominal monthly or yearly fee.
The company who developed the app is SherpaShare, a paid mileage-tracking app that provides a specific suite of tools for rideshare drivers. SherpaShare is a well-known app among mileage trackers and gets excellent reviews in the iTunes and Google Play stores.
In this review, we'll talk about how Simple works, discuss some of its features, give you an overview of customers' experience with the app and then compare it to other mileage trackers.
How Simple Mileage Tracker Works
Once you download the app, you'll want to turn on your location settings. The app uses your phone's location information to know when you're driving somewhere and when you're stopped.
You have the option of choosing to turn on Simple's drive-detection function, which automatically logs trips whenever you drive your car somewhere. Or, you can choose to turn off drive detection and chose to manually turn on trip tracking.
Which option you choose, once you start tracking the app detects where you started driving and when you stop. Once the app detects that you've stopped at one location, it will catalog your drive and send you a notification. The notification tells you the trip was logged and, by tapping on it, you can access the trip and classify it as a business trip (swipe right) or a personal trip (swipe left).
Each trip card shows you:
Route you drove
To and from address
Time you left and arrived
Number of miles you drive
Date of the trip and
Dollar amount you're able to deduct because of the trip, assuming it was for business.
As you swipe, a small window pops up with a label icon you can tap to further categorize the trip. For example, default business categories include:
Rideshare
Delivery
Between office
Customer visit
Meeting
Errand/supplies
Meal/entertain
The apps default personal categories include:
Commute
Medical
Charity
Moving
Travel
Entertainment
Other
You have the ability to customize the sub-categories available on your app, too, to further refine how you organize your trips.
In terms of navigating through the app, Simple is really user-friendly. At the top of the screen, you can tap the month to see a summary of the number of drives, number of miles and deductions you racked up during the month as well as the same numbers for the year-to-date.
This screen is where you can edit the drives you've logged as well as email yourself a report of the month.
We sent ourselves one of these reports and found that you get a PDF with a summary of the miles you drove for business and personal trips, as well as total distance traveled and the dollar amount of the deduction you can claim.
You also get a spreadsheet that provides you with a line-by-line breakdown of the trips you took, providing information that you'd get from the trip cards you classify.
Pro tip: At the time of publishing, the federal government allotted $0.58 a mile for miles driven for business, medical or charity purposes.
Customer Reviews of Simple Mileage Tracker
At the time of publishing, Simple had 115 reviews in the Google Play store and 233 ratings in the iTunes store. The app received an average rating of 4.5 stars on Android phones and 4.6 stars on iOS phones.
Of the 10 most recent reviews in the Google Play store, eight were 5-stars and two were 1-star. Some of the common themes among positive reviews included "easy to use." What we noticed is that the company was very good at responding to both positive and negative reviews.
This information tells us that there's a good chance Android users will have a positive experience with the app and that, should problems arise, the company may very well be friendly and helpful in resolving your issues.
IOS users rate the app highly but a couple of recent reviews express frustrations over the app taking up battery power and always running in the background. As an Android user, I noticed this, too. The Simple icon was always on in my notifications panel and, in order to get rid of it, I had to stop the app.
Either way, even the reviewers who pointed this pout still gave the app four stars, which tells us that the app is good enough to where even this small drawback doesn't impede your overall experience.
Comparing Simple Mileage Tracker to Other Mileage Trackers
As we mentioned in the introduction to this review, there are many choices you have for mileage trackers. In our research of the topic, we've had the chance to review some of the more popular options: Everlance, MileIQ, TripLog, and SherpaShare.
Based on our research, we believe that Simple compares favorably to these apps, especially if you're looking for a free mileage tracker that won't try and charge you fees once your free trial is over.
If it's just mileage tracking you want, then you can save between $20 and $80 a year, depending on which of the four apps we mentioned earlier you'd use.
In terms of how Simple functions compared to the other apps, we'd say it's very similar. All the apps allow you to look at a trip and swipe left or right to classify it as personal or business. In our personal use of the apps as part of our research, we found that they all were accurate in their understanding of where we drove, when we were stopped and when we started a trip.
The main difference in the daily function is that the Simple's notification symbol was always present in the notifications bar and you had to stop the app in order to make the symbol disappear, rather than just swiping the "this app is running" notification away.
Where Simple falls short in comparisons is when it comes to extra features. For example, SherpaShare provides various tools for rideshare drivers that includes maps of where other drivers are at, tailored routes that can increase your chances of pings and analytics for Uber drivers.
Everlance, TripLog, and MileIQ also give you the ability to log other business expenses besides miles you drive, which could be an important feature for those who need to record parking fees, tolls, and other business-related driving expenses.
Our Bottom Line About SherpaShare
Based on all of our research, we believe there are some clear pros and cons to Simple.
First, we think the app is an excellent fit for someone who is looking for a streamlined mileage-tracking app that automatically tracks your trips and provides a simple way to classify your trips as personal or business.
We believe there is no better app for this purpose, as Simple is the only mileage tracking app we've researched that provides full-fledged mileage tracking for free.
Now, if you're the kind of person whose job requires that you track expenses beyond mileage, we think there are better options out there. Everlance, TripLog, MileIQ and SherpaShare all offer some level of expense tracking.
As we point out in our rankings of the best mileage tracking apps, we think that Everlance is the best option for those who want robust expense tracking.
Customer Reviews